The Spike (un)Heard Round The World: Rudisha Almost Lost a Shoe
Also: World's Fastest 800m Man Not Considered For Kenya's 4x400 Team That Qualified For The Final
By LetsRun.com
September 1, 2011
Daegu, South Korea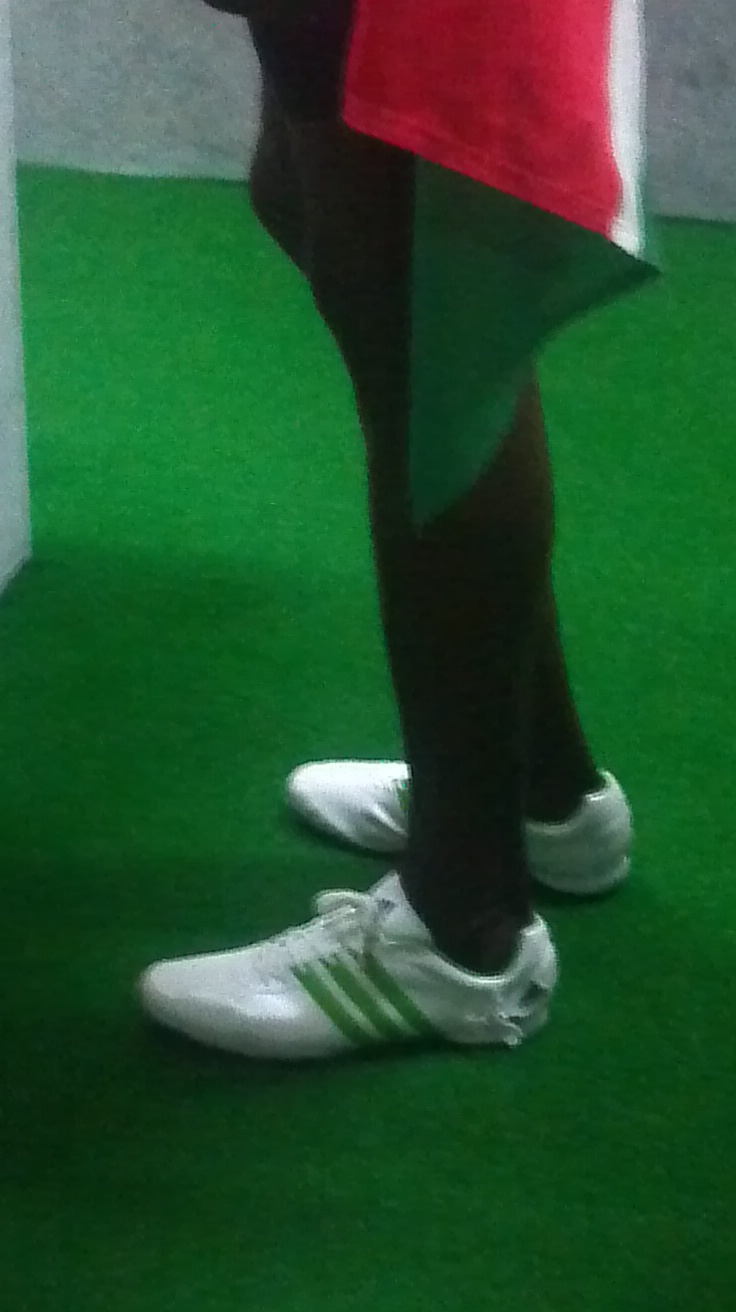 Hoping to avoid traffic and win his first world championship, Kenya's David Rudisha used his fantastic opening speed to run a 23-point opening 200 to get a jump on Abubaker Kaki and the rest of the men's 800m field - a lead that would hold for both laps. Admitting afterward that, "I have never been under so much pressure than in that race," Rudisha orchestrated a perfect tactical race with the world waiting for him to make a mistake. As it turns out, Rudisha was flawless, and left his competitors in awe. But even the world's fastest-ever 800m runner in his prime, running perfect tactics, nearly saw his gold medal dreams dashed in the notoriously unpredictable 800m final. Seeing as how not many people have noted this, we wanted to point out that Rudisha almost had his shoe fall off after getting spiked early in the race.
Even When You're The Fastest Of All-Time, It Takes Some Luck To Win The World 800 Title
As Rudisha navigated the mixed zone under the stadium, posing for photos with adoring journalists fans and their families, we noticed that his adidas spike's left heel was shredded. As if the world 800m title isn't hard enough to win when you have a giant bulls-eye on your back, Rudisha's spike showed that you need even more than the world's best-ever speed and tactics to win, you even need a little help from lady luck.
Rudisha's Competitors Weigh In: "Superhuman", "I can not run as fast as him", "Dominating", "I'm sure he will improve on his record."
Another element of the 2011 men's 800m final that is hard to communicate to the fan watching at home is the way Rudisha's competitors essentially see him as unbeatable. Sure, every finalist says they came to win - and history shows every man in the 800m final has a chance - but Tuesday after the race the other athletes let their guards down and basically said, to a man: "he's dominant."
While it's common to hear an athlete grab unwaranted publicity by pronouncing that they plan to lower their own world record, it's quite rare to have an athlete's rivals predicting it for him. Rudisha, who ran a staggering 1:41.01 in 2010, is a very quiet, soft-spoken athlete, and perhaps for this reason his peers take it upon themselves to predict his future success. Former world champ Alfred Kirwa Yego, 7th in Tuesday's final, wasted no time in saying of Rudisha, "If he gets a good pacemaker, he can do 1:40 in Rieti." 4th-place finisher Marcin Lewandowski of Poland didn't hesitate to egg on Rudisha, saying "I'm sure he can break the world record." The Rieti meet comes on September 6, meaning Rudisha may be a bit jet-lagged, but certainly no less fit than he was on August 30.
Kenyan Dilemma: Run Rudisha In the 4x400 Final?
After Wednesday's rest day, Kenya qualified their 4x400m team for the relay final, running 3:00.97 to earn an automatic top-3 qualifying spot. In terms of time, Kenya's 4x4 were 8th out of 8 qualifiers, but if one looks closer, Kenya took a major scalp in their heat, beating medal favorites Bahamas (though Bahamas, touted in May as legitimate rivals to US 4x4 dominance, for reasons unknown, held out at least two of their top guys, Demetrius Pinder and Chris Brown).
We asked Kenya's top sprinter Vincent Kiplangat Kosgei after the race if Rudisha will be considered for a spot on the team, and he said unequivocally, "No." (see video right) Apparently Kenya does have a 5th relay member who will be substituted on their final squad, but according to Kosgei, the world's fastest-ever 800m runner with a PR of 45.50 run in February of 2010 will not be on the team.
Does team Kenya, with virtually no support for a sprint program, have a shot at a 4x400m medal?
In short: they're a huge longshot. With the Bahamas out, Kenya definitely has a better medal chance than they had before. Coming into the meet, Kenya had a season's best of 3:04. In the first round they took 4 seconds off that time, and had their leadoff leg managed a reaction time faster than an atrocious 0.458 seconds, they might be looking at a #5 lane pick going into the final.
We wonder if, given the chance, Rudisha and the 400 runners would want him on the team that will run in the final. It certainly would be a fan's dream to see team Kenya, with Rudisha on the anchor, vying for a medal.
Lead-Off Pistorius Helps South Africa Break National 4x400m Record
While we're talking about the 4x400... With the help of "Blade Runner" Oscar Pistorius, the South African 4x400m relay team broke their national 1600m relay record in qualifying - with the 3rd-fastest qualifying time, no less - for tomorrow evening's final. With their star 400 hurdler LJ van Zyl set to join the team in the final (he's resting for tonight's 400 hurdle final), South Africa seems a legitimate contender for a medal behind an expected gold by a US team that looks unbeatable.
By rule of the IAAF, who fear an injury caused by Pistorius handing off in traffic with his prosthetic lower limbs, Pistorius has to run the first leg of the relay, a leg run totally in lanes. This works out perfectly again for Pistorius as South Africa, based on qualifying time, have chosen to start the final in lane 8. The stadium will be buzzing for the fan favorite Pistorius, and as South African sporting site SuperSport is reporting, American LaShawn Merritt (who should be far ahead of South Africa by the time he gets the anchor stick) is at least one athlete who has no problem with the IAAF decision to allow Pistorius to vie for a medal.
---
Runner's World &
Running Times



Combined Only $22
a Year
Save $87

---

Running & Track and Field Posters
---

Great Offer: Nike Lunar Glide Sale Multiple colors of this shoe available.

*Nike Air Max Moto 7 Get 2 Pairs for a Crazy $112
---