Other US Results/News
Saturday: Chelanga Ends His Career In Style, Centro Outkicks Ulrey, Reid Wins Again, Coburn Comes Through & Both Meets Come Down To The 4 X 400, As Texas A&M Three-Peats (Times 2) The final day of the 2011 NCAA outdoor track and field championships was simply incredible. Teamwise, Texas A&M used thrilling victories in the 4 x 400 to capture the men's and women's titles for an unprecedented third year in a row by the narrowest of margins. As for the individual action, the triple jumpers got a standing ovation, as Christian Taylor and Will Claye waged an epic battle that saw Claye jump 57'9.75" and lose, there was a 19.99w in the 200, and Jessica Beard had the fastest split in NCAA women's history (49.14). But we know the LRC nation cares most about the mid-d and distance action, where Matt Centrowitz blitzed a 53.38 last 400 to win the 1,500 over Dorian Ulrey before celebrating with a throat slit, Sheila Reid reigned supreme again over Jordan Hasay, who struggled home 8th, Emma Coburn came through as expected, and then Sammy Chelanga proved the doubters (including us) wrong with a sensational victory in the 5,000 to cap a magnificent career with style. We recap that all plus talk to Centro about starting a Centro nation.
*Was Jordan Hasay Over-Raced? If So, Then No More Than Was Sheila Reid
*Matthew Centrowitz Gets A NCAA Title For The Centrowitz Family "My dad made the Olympics as a sophomore in college and he was on an NCAA championship cross country team. But he never won an individual title. He's here, so it's going to be awesome tonight."
*Oregon's Women's 4x4 Set A School Record, But It Wasn't Enough To Beat Texas A&M Texas A&M's 4x4 win gave them their 3rd straight title, but also gave Oregon their third straight runner-up finish.
MB: *NCAA 5000 updates *F*ck Yeah Sammy!!!! *Centro's throat slit *JESSICA BEARD!!! 49.14 split!!! *Laura Roesler (FR) spilt 51:45! *Hasay Falters..Reid completes the double *Look at Garcia overtake Coburn!
*AP Recap Of Overall Meet
*Jessica Beard's Record 49.14 Split Ensures 3-Peat For Texas A&M
*Oregon Women Let Title Slip Away As Coach Lananna Wonders If He Should Have Doubled Hasay Or What Would Have Happened If She'd Run Conservatively 3 years in a row, the Oregon women finish second to A&M. The big bright spot for Oregon came from the 10th-placed men, where Matt Centrowitz was "brilliant" according to Lananna.
*Florida Men Have Too Many Things Go Wrong - Suffer Yet Another Two-Point Loss As Coach Mike Holloway Says He's "At A Loss For Words" Sprint phenom Jeff Demps had a horrible meet and didn't make the 100 final and then didn't get the baton home on the 4 x 100, but his coach Mike Holloway took the blame. Holloway: "It's another two-point loss and I'm almost at a loss for words. I am the guy in charge of the program and I need to look at myself first. I need to figure out what we have to do to quit coming up short like this. I am proud of our team, but we didn't perform like the champions that I know we are." *Florida Coach Upset After 3rd Straight Narrow Loss The Gators lost by 1 in 2009, 2 in 2010 and 3 in 2011.
*AP: Reid Becomes 1st Woman To Ever Win 1,500 And 5,000 At Same NCAAs "I gave probably the most embarrassing celebration ever."
*In Less Than 24 Hours, Sheila Reid Becomes A Legend Reid: "It was not easy ... but it was a lot of fun."
*CU Coach Mark Wetmore Was Pleased That Steeple Champ Emma Coburn Had Company Up Front From UVA's Stephanie Garcia
*Most Track Athletes, Including Carl Lewis Ngonidzashe Makusha Are Happy With NCAA Scholarship Amounts That may be the case, but we'd be stunned if Makusha doesn't go pro early.
*FSU's Ngonidzdashe Makusha Completes Long Jump/100 Double Victory, Setting A Collegiate Record In The 100 At 9.89 Seconds
*USTFCCA: NCAA Division I Championships, Final Day Notes
*Athletics Weekly: Highlits From NCAA's
Des Moines Register: Meet Former Drake Stud & NCAA Decathlete Champion And Two-Time NCAA Final Four Basketball Player Rick Wanamaker
*Small Crowds Disappoint "And on the fourth day, the sun finally came out. Alas, the crowds did not."
Friday: ***** Wins Epic Men's 800m in 1:44.71 We don't want to ruin the men's 800m for you if you have don't know the results. If you don't know the results, click on that link, as you can watch the race in the article.
*The Science Of The Sport Takes A Look At The Different Pacing Strategies During The Men's 800 Final And Which Was Optimal They also talk about Caster Semenya and ask an interesting/crazy question: Is she losing on purpose?
LRC Day 3 Recap: What A Day!!! An Unreal Men's 800, 3 Titans Clash At 10k, A Repeat Champion In The Seeple And Sheila Reid Vs. Jordan Hasay Round 1 Friday night certainly was one to remember for a long, long time, as an incredible men's 800 field more than lived up to the hype and delivered a truly epic final and three titans clashed in the men's 10,000. Also, Sheila Reid vs. Jordan Hasay Round 1 in a great and fast women's 5,000 final and a repeat champion in the men's steeple. Plus, let us introduce you to Abbey D'Agostino.
More Day 3: *A Must Read: Charles Jock Overcomes Father's Death & Journey From Africa To 800m Stardom As a 3-year-old, Jock had to walk hundreds of miles to get out of Africa. Then his beloved father passed away in 2005. See how those experiences have made him into the stud that he is today.
*AP Recap Of Day 3
*Move Over, King Carl?: Ngoni Makusha Runs 9.89 NCAA Record In 100m And Wins Long Jump At NCAA Meet Makusha is the long jumper who earlier this year ran 9.97 in his first 100m in 4 years at the ACC meet. A star is in the making.
*Oregon Women In Good Position To Win Title As Melissa Gergel And Anne Kesselring Win Individual Titles
*Foul Weather Can't Stop Oregon Women From Great Day
*Women's Team Race Close - Oklahoma Could Pull Off Upset?
*Duke's Beach 2nd In Decathlon After Record 1,500
*Matt Hughes Repeats In Steeple
*Quick Day 3 Recap From View From The Finishline Blog
*Curtis Beach's 3:59 1,500m In Decathlon Takes Him From 6th To 2nd At NCAAs

LRC Preview Of Day 4 Of 2011 NCAA Champs: Hasay Vs. Reid Round 2, A Great 1,500 Men's Final, The Arrival of Emma Coburn and Can Korir Complete The Double? Thanks 2011 edition of the NCAA champs come to a close in Des Moines. Will Hasay be able to rebound or will Reid double? Speaking of doubles, will Leondard Korir complete the 10/5 double just hours after beating two sub-27:30 guys? Who will win the men's 1,500? Plus Emma Coburn and the women's steeple.
LRC Day 2 Of 2011 NCAA Champs: Reid And Hasay Lay Low As Wallace Struggles In Women's 1,500, Favorites Minus Foster Shine In Men's 1,500, And Lightning Delays Men's 10,000 In the 1,500 semis, Lucy van Dalen got knocked down but got up, while Jordan Hasay and Sheila Reid decided not to battle until Friday (5k) and Saturday (1,500), but it looks like the expected 3-way battle might only be a 2-person affair, as Lea Wallace struggled. An epic men's 1,500 final might also be in store on Saturday as the LetsRun.com favorites impressed, as the collegiate career of 2010 NCAA runner-up AJ Acosta and his fans (the AJ Nation) came to an end. All of that plus a Penn State mid-d runner once again showed great emotion in the media zone. The women's steeple prelims also took place, but not the men's 10,000 final, which was delayed until Friday due to a late thunderstorm.
LRC Preview Of Day 3 Of 2011 NCAA Champs: An Epic Men's 800 Final (Plus 10k Thanks To The Rain) & Hasay Vs. Reid (Round 1) In The Women's 5,000 Thanks to a lightning delay, Friday could be one of the greatest mid-d/distance days in NCAA history as the greatest 10,000 in collegiate history will be run - as will an 800 men's final that is simply one for the ages. All of that plus, Hasay vs. Reid Round 1 in the women's 5,000, the women's 800 final and the men's steeple final.
LRC Day 1 2011 NCAA Champs: LetsRun.com Dark Horse Bottorff Wins 10k, Hot Men's 800m Semis, And Jeff Demps Out Of 100 The women's 10,000 featured an exciting finish with 8 women battling it out for the win over the final 1k before the LetsRun.com dark horse obliterated the field with a stunning last lap that was a thing of beauty. The men's 800 was simply amazing, as 22 guys broke 1:49 and 7 guys ran 1:47 but didn't advance. We recap it as best we can and get great insight from Elijah Greer, great class from Fred Samoei, and lots and lots of passion from a PSU 800-meter runner (maybe too much, malmo?)
LRC Preview Of Day 2 Of 2011 NCAA Champs: Stellar Men's 10k Final, Great 1,500s Start Two great 1,500s get underway, as does the women's steeple, before the day concludes with the greatest 10,000 ever run in collegiate history, as 3 of the 4 collegians to ever have broken 27:30 will square off against each other. Who will win the women's 1,500? Jordan Hasay or Sheila Reid? What about the men? Centro, Ulrey, Batty or someone else?
Was Wanjiru Murdered? Case Still A Mystery
*Doctor Says That Sammy Wanjiru Did Not Die From Balcony Fall But From A "Fatal Hit To The Back Of The Head" "Medical experts have zeroed in on two possible scenarios that could have led to the death of Olympics champion Samuel Wanjiru three weeks ago - and they both point to murder." That's one doctor's opinion, but this thing is far from settled.
*In Pictures: Life Of Sammy Wanjiru Sammy looks so young wearing his Olympic gold. We guess that makes sense since he won at age 21.
If You Want To Get Into Barefoot Running Or Are Constantly Injured, Read This
The Barefoot Running Debate: Born To Run, Shoes & Injury: The Latest Thinking The Science Of Sport guys look at everything you'd ever want to know about barefoot running: the arguments for and against, why your shoes might increase chances for injury, who should/how to make the transition to barefoot, and more.
LRC Prefontaine Saturday Distance Scoop: Lagat, Kaki And Sinclair Impress, Lukas Verzbicas Gets High School Record The distance races at Prefontaine were stellar as always. Bernard Lagat won the men's 2 mile with his patented kick, Lukas Verzbicas smashed the high school 2 mile record, 5 guys went sub-3:50 in the mile, Kenia Sinclair ran a world leader to win the 800m over Caster Semenya, and Abubaker Kaki ran the first 1:43 in the history of Hayward Field. Plus, the Oregon 800m crew disappointed, and more. We have analysis, video, post-race reaction and results.

Saturday Recap From Eugene Register-Guard Eugene is not known for its sprinting, but the top marks were in the men's and women's 100m. The results made us scratch our heads (13 of the 16 ran seasonal bests, which we attributed to the legal tailwinds) and apparently even Usain Bolt, who tweeted "Listen to me ppl that's the same track last US trial was kept and everybody ran fast and them they couldn't repeat."
Friday Night At Pre
LRC Moses Mosop Smashes 30k World Record And He And Renato Canova Say He Can Run 2:02 For The Marathon Moses Mosop put on an exhibition to smash the world record at the Prefontaine 30,000m. Not only did he run a 63-second lap on his 45th lap of the race, but he aferwards talked of a 2:02 marathon in Chicago and his coach Renato Canova said a 2:02 is possible next year.


LRC Pre 5,000m And 10,000m: Rupp Doesn't Start, Solinsky Stops, Mo Farah Shocks, Vivian Cheruiyot Wins Again The men's 10,000m was the most shocking race of the night. The much-hyped American showdown between Chris Solinsky and Galen Rupp did not take place, as Galen Rupp did not toe the line despite warming up. Chris Solinsky then dropped out before two miles and before it was all done, Mo Farah, who had had been near last place early on, pulled a huge upset and defeated the strongest 10,000m field since the World Champs. Interesting post-race comments from Solinsky, Alberto, and Mo. In the women's 5,000m, Vivian Cheruiyot showed she's the top female track distance runner on the planet. *Chris Solinsky, Mo Farah, Shalane Flanagan And Alberto Salazar Reaction At 2011 Pre Classic Distance Night In Eugene
It's Time We Revisit The Yuppie Vs. Blue Collar Runner Debate - Blue Collar People Rejoice, You Have A New Leader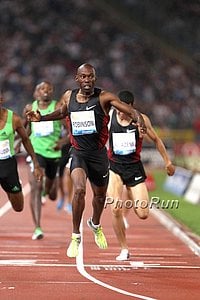 LRC 34-Year-Old "Regular Guy," Working Dad Khadevis Robinson Talks To LetsRun.com About Beating The World's Best In Rome KD has always been one of the best interviews in the sport, and now we feature him when he's on top of the world after his shock win in Rome. Robinson, who went to Rome in part last week as he wasn't sure he could even get a lane at the upcoming two US Golden League meets, has almost always worked in addition to running.
April Fools News
LetsRun's 2011 April Fools Edition
Tokyo Marathon: A Legend Is Born *Photos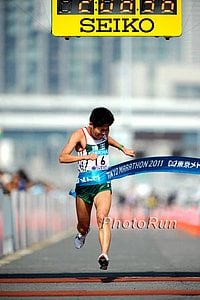 Hailu Mekonnen Wins, Japanese Amateur Yuki Kawauchi Runs Amazing 2:08:37 For 3rd And Faints At Finish Yuki Kawauchi's story is amazing. A 13:59 5ker and 29:02 10ker, he has a full-time job and has stayed away from the Japanese collegiate and professional system, yet he stunned all of Japan with a 2:08:37 run. Dreams do become reality.
*On The Boards: 13:59 5k, 29:02 10k Japanese AMATEUR Runs 2:08:37 at Tokyo Marathon and Passes Out
The 10 Best High School XC Runners Ever
LRC Week That Was: The 10 Best High School XC Runners Of All Time, Verzbicas, Tribute To Gary Reed, The NY Times & The NE Patriots And More We've got the entire running world covered from San Diego to Japan, from the high school ranks to the pros, and even talk about the NE Patriots and the NY Times.
More Weekend Results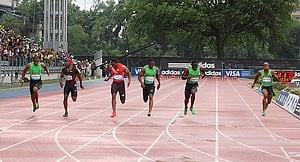 Steve Mullings Edges Tyson Gay, Bernard Lagat Outkicked In 5k, Allyson Felix Wins 200 In the 100, Tyson Gay was slow out of the blocks, made up the ground, but then mistimed his lean, losing to Steve Mullings, who clocked an identical 10.26 time with a strong headwind. In the 5k, Dejen Gebremeskel held off a late surge from Bernard Lagat to win in 13:05.22, only .24 ahead of Lagat. Tariku Bekele was 3rd in 13:06.06. The 800 saw late entry Alfred Yego winning in 1:46.57 with World Champ Mbulaeni Mulaudzi in 2nd (1:46.68) and Boaz Lalang in 3rd (1:46.75). Abubaker Kaki dropped out with a hamstring issue. Jeremy Wariner wins close 400. Blanka Vlašić's 9-meet Diamond League winning streak ends.

*LRC Lukas Verzbicas Breaks Four The Dream Mile saw 4 high schoolers at 4:03 or better, as LV became only the 5th HSer to ever break 4 in the mile. LV: "At 600 meters to go, I thought sub-4 was off the table, but I still had a race to win. I wasn't about to give up." MB: LV 3:59.72!!!!!! **Lukas V Photo Gallery #1, Photo Gallery #2
*Post Sub-4 Interview With Lukas Verzbicas
*Kenia Sinclair Wins 1500, Showing Jamaica Is About More Than Sprints "Whenever I go to Jamaica, I try to perform at my best no matter the competition and run sub-two-minutes on the track so that they know it is possible. We have it in us. I want to set the standard for the younger ones who want to do something over 400m."
*US 1 Mile Road Champ David Torrence Beats Out Nick Willis In 1500
*Nick Willis Interview After Runner Up Finish
*adidas Girls Dream Mile Video And Recap: Cami Chapus Wins Close Race In 4:42.71 Cami Chapus wins close race in 4:42.71.
*Kenya's Milcah Chemos Stutters On Last Barrier, But Recovers To Win Steeplechase In 9:27
*"Blade Runner" Oscar Pistorius Misses Olympic "A" Standard But Runs Near PR Time In Rainy/Wet Conditions Standard is 45.25, and he overcame the wet conditions and Lane 1 assignment to run 45.69.
*Athletics Weekly Recap Of adidas Grand Prix UK's World Champ Phillips Idowu wins TJ in 16.67m unchallenged by France's Teddy Tamgho, who failed to make the 6-man final cut, jumping a miserable 15.55m.
*SA's Van Zyl's Winning Streak Ends In Slow 400 Hurdles Time
*USATF Event-By-Event Recap Of adidas GP
Olympic News
NYRR New York Mini 10k *Video
Kenya's Lenet Masai Dominates For 2nd Consecutive Year; Deena Kastor Makes Return To Racing Masai won by 29 seconds in 31:40 over a field that included NYC marathon champ Edna Kiplagat (4th in 32:24) and NZ's Kim Smith (6th in 32:32). Magdalena Lewy Boulet was first for the US in 9th at 33:09. Deena Kastor made her return to racing only three months after giving birth, finishing in 25th with 35:00. *IAAF Recap
Sammy Wanjiru Can Finally Rest In Peace *Funeral In Photos
*Wanjiru Gets 21 Gun Salute At Funeral
*1000s Attend Funeral As Wanjiru Is Burried In Kenya Many top Kenyan runners attended, including 3k WR holder Daniel Komen, former women's marathon World Champ Catherine Ndereba and former 5k World Champ Benjamin Limo. However, conspicuously absent was Hannah Wanjiru, his mother.
*Samuel Wanjiru's Final Journey
*Sammy Wanjiru's Death Turned Into Tabloid Fodder
International Results
Other News Of Note
adidas Pre-Meet News
New York Mini 10k Pre-Meet News
Kathrine Switzer: "Fred (Lebow) was a total male chauvinist, but he was an egalitarian guy." Wall Street Journal

40th New York Mini A Tribute To Grete Waitz Nice article in the New York Times that talks about the history of the New York Mini (they had playboy bunnies at the first running, no doubt some LRC visitors wish the marketing dept could turn back the clock) and how important Grete Waitz was to the sport of running.
*Professional Field For 2011 New York Mini 10k World 10k champ Linet Masai vs. marathon stud Liliya Shobukhova and many, many more, including Edna Kiplagat, Kim Smith.
*After Birth Of Daughter Piper, Deena Kastor Is Back Racing And She Still Wants Olympic Gold Deena's pregnancy was not running-friendly, but she's back competing.

Usain Bolt Blasts 19.86 In Rain, Asbel Kiprop Shows He's The Top Miler In The World, And Caster Semenya Beaten Again This is how our sport works - wherever Usain Bolt goes, he is the story. Bolt did not disappoint on Thursday in Oslo, as he ran 19.87, beating second place by .57. In the Dream Mile, Asbel Kiprop showed he's the top miler in the world, as he got revenge on Prefontaine winner Haron Keitany. Kiprop had horrible tactics at Pre, but here he was near the front and got the win on the homestretch. On the women's side, Halima Hachlaf, who burst on the season with an early season 1:58 last year, did it again this year to win the 800 over Caster Semenya. Meseret Defar won the women's 5,000m with another stellar kick, showing her speed is still there.
*Usain Bolt Storms To 200m Victory In Oslo
*Athletics Weekly Recap
*Video Highlights: US Visitors Watch The 200, 800 And Dream Mile
Tuesday's Action
Yohan Blake's 9.95 Defeats Christophe Lemaitre's 9.96 French Record Lemaitre, the Great White Hope, was running on French soil. *Results
Three Recommended Reads Because All Three Articles Are Very Entertaining And Are About More Than Running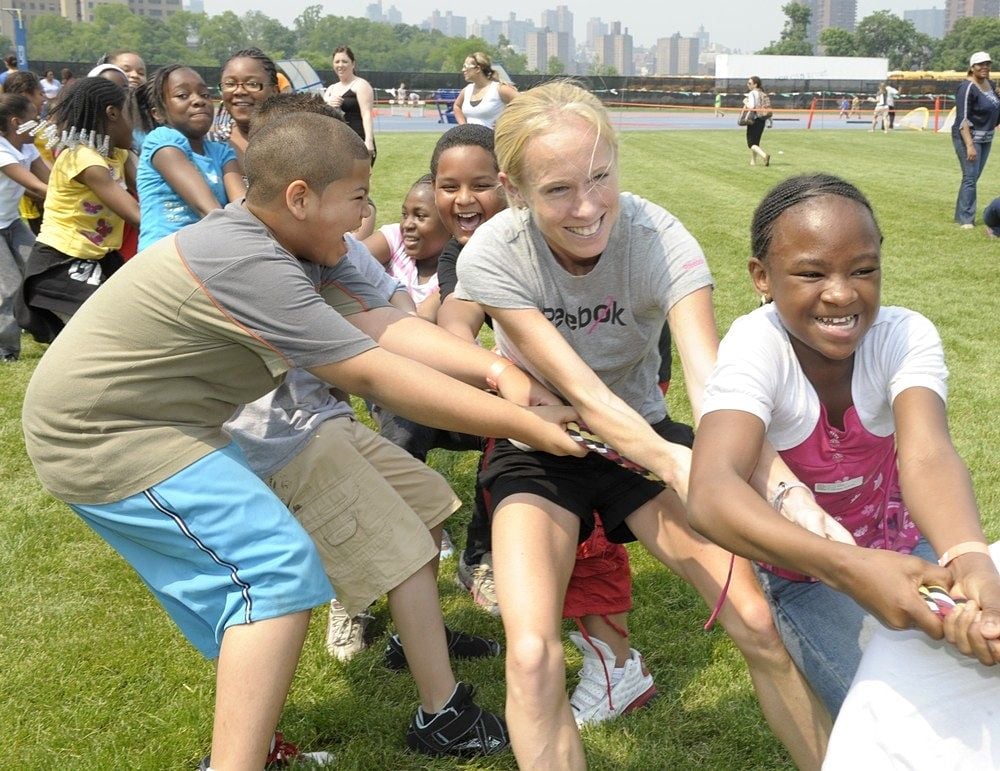 1) Molly Huddle And Kim Smith To Both Race In New York The Weekend Of 2011 ING New York City Marathon Huddle will race a new 5k the day before the 2011 ING New York City marathon, whereas Smith will run the marathon (as well as an upcoming 10k, which is good news, as she's almost healed after being injured in Boston). We were hoping that Huddle was going to run the marathon as well - many Americans will be skipping fall and spring marathons to get ready or recover for the Trials. Please click on this article to see who won the Tug of War Contest - Huddle or Smith.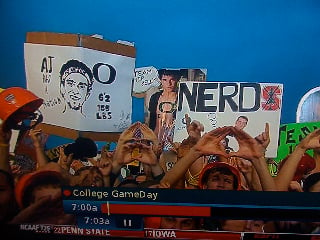 2) As AJ Acosta's College Career Comes To An End; He And The AJ Nation Will Be Leaving Behind A Huge Legacy At Oregon This article is a fantastic recap of AJ's impact at the U of O. The writer clearly understands AJ as well as LetsRun.com, as he called AJ "perhaps the most quotable individual in any Oregon sport." That certainly has to be true. However, our favorite line of the story was this: "The denizens of the forums at LetsRun.com - the country's premier track and field website, covering professionals and amateurs alike - took to their keyboards." To read more about the AJ Nation, click here or here.

3) AP: Wallace Spearmon Wants In On Tyson Gay/Usain Bolt Rivalry At 200m Spearmon, who currently is hurt and swimming as an Achilles injury heals, wants in on the biggest rivalry in track and field. Spearmon: "When we first started off, there was Bolt, Tyson and myself. I beat them, they beat me." The article also talks about his Twitter fight with NFL star Chris Johnson, who responded to Spearmon with the classic line of: "Beat bolt then holla at me."
Ostrava & Usain Bolt On Tuesday *Results *Photos
Ostrava: Bolt Wins Again With 9.91, Veronica Campbell Brown Blasts 10.76 PR Usain Bolt got the attention like he always does and ran 9.91 for the second time in a week, but this time into a headwind. Veronica Campbell Brown (VCB), however, had the performance of the night. She blasted a 10.76 100m. Last year, she had the top 100 and 200 times in the year despite racing infrequently.
Sammy Wanjiru Will Probably Be Buried On Wednesday According To His Wishes - Wanjiru Loved Wednesday, As He Supposedly Won Several Marathons On A Wednesday The only problem is Wanjiru never ran a marathon on a Wednesday from what we can tell. Meanwhile, the article also says his Mom has asked for a lawyer to be removed as the head of his burial committee, as she represented Sammy and his wife in matters and is biased.
Recommended Read/Free Coaching Advice
Struggling AJ Acosta Tells How He Was Able To Qualify For NCAAs In 1,500 After Finishing 7th At PAC-10s - "I treated (regionals) as the NCAA final." We like this article, as it provides great advice to up-and-coming mid-d runners. AJ apparently share some of our same beliefs about mid-d racing. Remember: 1) It always opens up and 2) Don't kick too early. "I didn't want to make the same mistake I made at PAC-10s, which was all-out with 300 meters to go. I kind of closed my eyes a little bit and was telling myself to be patient, something will open up, because I didn't want to swing out to lane three. I told myself just be patient, it will open up, it will open up, it will open up."
Hengelo: Maryam Jamal Runs 4:00 World Leader In 1,500m, Dayron Robles Shows It's A 3-Man Battle In 110 Hurdles With 13.07 Win This is always one of the better non DL meets, but the withdrawal of Kenenisa Bekele and David Rudisha with injuries hurt. *Results

Comrades: Stephen Muzhingi Becomes First Man To 3-Peat, Elena Nurgalieva Recovers From Fall To Beat Her Twin Sister

Hypo Götzis: World Champs Jessica Ennis And Trey Hardee Dominate Heptathlon And Decathlon At Götzis

Canada: Taylor Milne Sets Canadian 2,000m Record Of 5:01.37

Ottawa: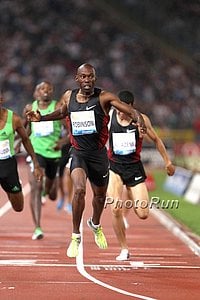 LRC: Usain Bolt Nips Powell, Khadevis Robinson Storms From Last To First To Shock The World In 800 47,000 fans and a worldwide television audience were focused on the Usain Bolt-Asafa Powell showdown and it did not disappoint, as Usain Bolt - who said he was nervous for the first time ever - overtook Asafa Powell in the final meters. The surprise of the evening was the men's 800m, where 8 time US champion, 34-year-old Khadevis Robinson put on a stunning display the final 250m, going from last to first to win (video here). Last year, KD was rabbiting Golden League races, now he's winning them. In other action, Allyson Felix went sub-50 to defeat Sanya Richards-Ross in the 400 and world XC Champ Imane Merga showed his great finish in the 5,000m, running 12:54 and throwing down the gauntlet to Bernard Lagat, whom he'll race in 25 weeks in NYC. Sara Hall had a 9-second PR to get a Worlds and Olympic qualifier in the steeple and Christin Wurth Thomas led the women's 1,500 at the bell before finishing 6th in a qualifying 4:03.72.
More Rome:
Time To Learn Some T&F History - 40 Years Ago, Jim Ryun & Marty Liquori Ran A Dream Mile In Philly & It More Than Lived Up To The Hype
"The Road Of Death"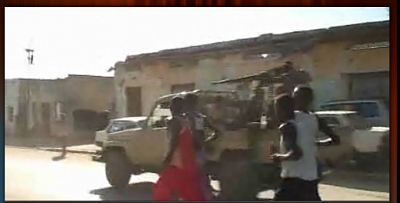 Feature On Somali Runners Training Each Day On "Road Of Death" For London 2012 (Video) The video shows how some Somali athletes avoid gunfire each day to realize their dream of competing and winning at the 2012 Games. *LRC MB: Top Video on MSNBC Is Feature on Somali Runners Training Each Day on 'Road of Death' For London 2012
One For The Ages In Boston: Desiree And The Fastest Marathon Ever Run "Unbelievable" is probably the best way to describe the 2011 Boston Marathon. First, American Desiree Davila, off the back of the lead pack multiple times, was gutsy as hell, battling for the win with Caroline Kilel down the final straight. There were 4 lead changes on the final straight before Kilel came out on top. In the men's race, American Ryan Hall ran 2:04:57 and lost by nearly 2 minutes. Yes, ladies and gentleman, Geoffrey Mutai and Moses Mosop ran faster than anyone else ever before the in the marathon, 2:03:02 and 2:03:06 respectively, thanks in part to 20 mph tailwinds. Mutai cemented his status as the strongest runner on the planet with the win. We give you some post-race comments below but purposely are holding off discussing the wind.
Dream Mile - LV Goes Sub-4
Centro Nation is Born (More Coverage Here)
Sheila Reid Makes History at NCAAs (More Coverage Here)
Worthy News
Usain Bolt Blasts 19.86 In The Rain In Oslo (More Video Here, Including Dream Mile)
Lagat Wins 2 Mile At Pre, Verzbicas Gets HS Record!!! (More Coverage Here)
Definitely The Interview From Pre Classic - An Upset Solinsky (If You Were Gone Over the Weekend, Read All About It Here, Men's 30k WR And 2:02 Marathon Prediction Here, Saturday Pre-Distance Recap Here)
Photos Of The Week
Jerry Buss Track & Field Photo Album Buss, the 77-year-old owner of the Lakers, is notorious for dating much younger women, and in all the photos of him at USC track meets the last two years, he's seated next to a much younger woman. Surprised no one has discussed this on our forums. No doubt Phil Jackson is upset. *LA Lakers Owner Jerry Buss Is Track Fan Who Knows The Name Of Oregon Sprinter English Gardner
African 10k Champ Wilson Kiprop Wins 10k In Iten In 28:55 Be sure to check out the photo of the timing clock being powered by a car battery.
Remembering Sammy Wanjiru (News On Events Surrounding His Death In Left-Hand Column)

LRC RIP Sammy Wanjiru: The World's Greatest Marathoner Has Died Yesterday in the article above, we paid tribute to Sammy's incredible career and now athletes, journalists, and industry insiders are all paying their respects to the incredible marathoner Sammy Wanjiru.
Desiree Davila Pure Guts
Women's World XC In Photos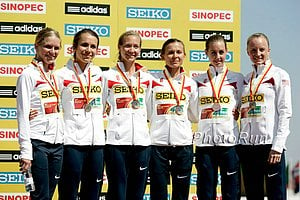 Men's World XC In Photos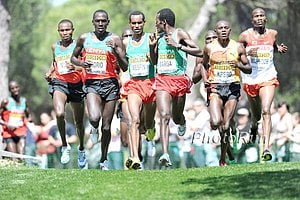 Great Deals

Universal Sports Back To Top