34-Year-Old "Regular Guy," Working Dad Khadevis Robinson Talks About Beating the World's Best In Rome
By LetsRun.com
June 1, 2011
34-year-old 8-time US Champion (4 times indoors, 4 times outdoors), Khadevis Robinson (KD) was the surprise winner of the Rome Golden Gala 800m last Thursday in 1:45.09 as the last 100m he crushed the field that contained three 1:42 800m runners and the last two World Champions, 2009 champ Mbulaeni Mulaudzi of S. Africa and 2007 champ Alfred Yego of Kenya. Although Khadevis has won two Prefontaine Classic 800s, it's fair to say this was the biggest win of his pro career (KD's PR is a 1:43.68 win in Rieti in 2006, and he did run 1:43.86 for 2nd in Rome in 2006).
The victory in Rome was a huge surprise, especially considering Khadevis missed much of the 2010 season due to injury. He missed USA Nationals and then when he did go to Europe, it was to serve as a rabbit. Rabbiting is what a lot of guys and gals do on the tail end of their careers when they are in desperate need of a paycheck and no longer think they can compete with the world's best. After talking to Khadevis, you'll learn that rabbiting, while a nice paycheck, was part of the plan for Khadevis to stay sharp for the much more important 2011 season.
Another thing a lot of people may not know is that Khadevis throughout his pro career has almost always had another job to help pay the bills. The married father of two has never had a huge shoe contract, access to underwater or anti-gravity treadmills, or even the luxury of a traveling masseuse. The Yuppie Vs. Blue Collar Runner debate is always popular on LetsRun.com and it's almost unthinkable that a Golden Gala winner could be a Blue Collar Runner, but Khadevis may be one.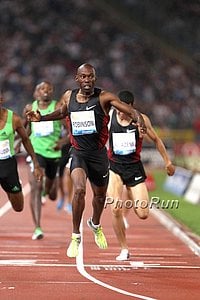 Not only is Khadevis coming back from injury in 2011, but 2011 also is different for Khadevis because it's the first year he is competing while also servicing as a college track coach. Robinson has been in charge of the women's distance program at UNLV this spring as Khadevis skipped the US indoor season and moved to Las Vegas in February ("I love coaching. I love the University. It's a lot of work. It's time consuming.").
Khadevis, who worked with American record holder Johnny Gray (who ran 1:44.00 to win the 1996 Olympic Trials on his 36th birthday) for a while in the past, is still with long-time coach Dr. Frank Little. But the move to Vegas now means Robinson does his speed work by himself but that may be a good thing for someone who is getting up there in age. After talking to him, our impression was that this fall Khadevis focused on his base. The subsequent move to Vegas and the coaching ranks and having to train alone have almost forced him to be a bit fresher for his outdoor races because he can't work out quite as hard by himself and he skipped the indoor season. As Robinson said, "Now I'm not loading up as much because I'm older. That's how I kept getting injured. My workouts are intense and pretty long. People are amazed at my workouts. So this year I've been able to adjust a bit and I'm just a little bit fresher and I think that is helping out."
Khadevis said his focus this year is on running well at nationals and running his fastest when it counts. Instead of telling you what Khadevis thinks we let his words do the talking below. We've broken up his comments to us into various sections. He discusses the victory in Rome, running well when it matters, being a regular guy, and inspiring others. Worth a read if you want a little inspiration.
Rome:
Khadevis' Win In Rome Does Not Mean He's Changing His Frontrunning Ways
In Rome, the normal frontrunning Khadevis was in last place at the bell and passed the entire field the last 250m. However, he says this was not intentional and does not represent a new strategy he wants to repeat. Heading into Rome, Khadevis said his thoughts were:
"Whenever you go into a race, you always think you have a chance of winning. That was a extremely tough field ... You feel on your best day you can compete or beat anyone. I felt that (way), but as far as going in and saying, 'I'm going to win' to psyche yourself up, when does that actually happen versus a field like that? It doesn't happen often.

I only had 2 races (this year before Rome) but I had won both. I knew I was in better shape than what I had run. I knew I could run faster, that is one thing I wanted to get done to validate the training. Obviously you get in a race like that and things work out the way you want them to and you run your race plan and pattern and it just so happened on that day it gave you the win."
When asked whether his last-to-first strategy was a new tactic, he was pretty adamant it wasn't:
No, no, no. I kind of want to run a tempo. It just so happens that everyone got out quicker than me. I was sharing lanes ... and found myself in a bad position and ... was thinking to myself 'Crap. I didn't want to be this far behind.' But once you're there, you're there. From that point, especially for me, since I like to run from the front ... I had to say, 'Just stay in it, stay in it.'

When I'm leading, I'm thinking certain things, when I'm tucked in I'm thinking certain things, and so when I'm in the back I'm not thinking the same things. I had to tell myself to just stay in the race ... and work with what I've been doing in training."
Khadevis Robinson's Win In Rome:

Khadevis smoked the field over the final 100m. If you haven't seen the video, it is embedded here. We asked Khadevis when he took the lead with 100m to go if he knew he had it won. He said:
"I felt pretty good to be quite honest. But again, That race was stacked. I'm in the race with the current world champion, the previous world champion, the Olympic champion, all of that. You don't know what these guys are going to do. I thought, 'I might have this, but I know someone is going to be coming' ... I was trying to maintain my speed. That is what I need ..."
We asked Khadevis how the other 800m stars reacted to him winning. KD said:
"My situation is a bit different as I've been running forever and most of those guys came up and I was running well and they knew me when they were first coming into the game and I know them personally. It was a good reception. It was congratulatory. That is one thing I am blessed with. I have a pretty good relationship with all the runners (in the field) because most of them are so much younger than me they were watching me running fairly well for so long.

It's a race and after its over they're happy for you but in their minds they are like 'Good race. You ran well. That was tough, but I'll see you next time. You've got to do it again.' That's how they think. That's who they are. It's the competitive nature of the sport."
As for Khadevis' own reaction? No wild parties, no spending sprees. He went back to the hotel and went to sleep. Although super-pleased with the win, the focus all along for Khadevis in 2011 has been the USA Championships.
The Focus For KD Is USATFs
Numerous times, KD said he wants to run fast, but most important to him is running fast when it counts. The first place where it really counts is the USATF Nationals in Eugene, which have been a huge focus for KD all year. He said:
"For me at this point, the only thing I'm concerned with is (USATF) Nationals (June 23-26 in Eugene, qualifier for World Champs in Korea) to be quite honest ... it's great to run fast times and I want to run them, but the main thing is Nationals ...

I'm confident enough to think if I'm fit and healthy I can get pulled to a fast time (in Europe) ... but what is that going to do for me? My thing now is to get in races and try different things. I'm not going to be running forever, so now I have to get in a race and mix it up and try different things at different points and then take those lessons and use them at the races I'm really targeting. That's where I'm at. I never want to be at last or in the back. That's not how I like to run. That wasn't part of the plan. My main thing is to go to Nationals and put in a good effort and see what that does for me and after that make the World Championships team and then really give myself a chance to run well at Worlds and that is it."
KD Looks Back To 2010 And How It May Have Set Him Up for 2011 Success
The nagging injuries finally caught up to KD in 2011. A foot injury sidelined him indoors and then a hamstring injury caused him to miss USATFs. Then, despite having run 1:45.76 in 2010, lanes were hard to come by in Europe. KD said, "If you're not running well, you can't get into the races." He then decided to rabbit not only to make some money but also to prepare himself for 2011 as he "didn't want to come into 2011 off of nothing." He said on the injuries:
"I've been having these type of nagging injuries for a while. I've always run through them and found a way to make it through it, but last year, it was an off year, and I thought I can't have this be bothering me next year ... At this point, at the age I'm at ... these small injuries come and they hang around for a while and the truth of the matter is for me with my talents, because I'm not so talented, I have to max out on everything to just be competitive. Those guys are already super-good. I can't give them any kind of head start and think I'm going to beat them ..."
KD: "Just can't go to Europe and hang out."
Everyone has to find the right work/life balance and that applies to pro athletes like KD. Injuries and the difficulty in getting into top races played into his decision to rabbit in 2010, but so did his family responsibilities. He said:
"Pacing the races not only allowed me to make some money, but it allowed me to figure out some thing on what I wanted to do. My situation is a bit different - I'm married and I have 2 kids. I'm not at a place where I can just go to Europe and hang out ... I have to think really strongly when I'm going to compete and where I'm running because I have to work (a real job). I've always worked. My whole career I've only had two years in there where I didn't work, really one year where I tried just running. I've always had to work to pay bills. I'm like every other regular guy out there. If I'm over there (in Europe) and I'm not running well and not making any money, I'm going to have some issues because I have a family to provide for.

I don't have the (shoe) contract and situation where I could do some of the things and just go over and pick races like that ... all of those things played into the fact of me rabbiting."
Is KD Jealous Of The Runners With The Big Contracts, Alter Gs And Altitude Tents?
We asked Khadevis, who is president of the Track and Field Athletes Association, if he ever got jealous of some of the runners who have huge contracts and can train full-time without working.
He said:
"At the end of the day we're human, you get to a point where I wish I had a situation in which I could go to a training camp for a month somewhere, and do altitude training, or have my coach, a physio, a chiropractor or masseuse travel with me, but you know what? That's the wrong way to look at it and I learned that ... (I thought) If I could go train here and have an altitude tent and an Alter G machine, maybe I'd be able to ... (run faster), but I don't have those things. The reality is that's not where I'm at. Why use energy on it? Can you do it, can you run well without those things? Yeah. I've never had those things and I've run fairly well. I'm happy for the individuals that do have the huge contracts and those things. That's the way it should be. Professional athletes, which we are, we should be treated as such. We should be treated as professional athletes and those things should be part of the deal. I'm happy they have it.

As president of TFAA, we want to make it so more individual sand more groups have those things ..."
Khadevis: A Regular Guy Who Needs To Run Fast When It Counts
Khadevis, who is a motivational speaker on the side, runs to inspire others:
"Am I still able to go out there and put the effort in and be happy with myself and still be able to inspire, motivate and help others? That's the only reason I'm running. Period."
If KD wants to keep inspiring others, he understands he needs to run his fastest when it matters most. We all try to complicate the simple sport of running and search for the secrets, but KD said, "There's not secrets." That's a theme KD reiterated in an interview with Runners World this week.
KD said this:
"I'm just a regular guy. There is nothing inherently special about me. I think a little bit differently and that's about it. Sure I train hard, but everyone is training hard. Sure I make sacrifices and I dedicate myself, but everyone is doing that. At the end of the day, I'm just a guy and I keep plugging away. I have bad races and good races. I try and keep moving forward and have positive energy at the same time."
KD realizes to get the most out of his talents, he needs to run his PRs in the biggest races.
"Here's the deal - at the end of the season, those same guys (I beat) are going to be running 1:43, 1:42. Where should my focus be? I've got to get my focus on getting keyed up for the main races. (Rome let me know) 'Hey, if you're on top of your game, you can run with anybody at anytime, but it's not automatic.' If I go to a race (not ready), I'm going to get my butt kicked ...
And in the US, with the Nationals being the World Championships qualifier that means running well at USATFs:
"The main thing is Nationals. You can run fast, run all these great times, but if you don't do it at Nationals for us (in the United States, it doesn't matter). These guys are going to be running well when it counts ... For me, I need to focus on, 'How do I really maximize what I have left?' Maybe I have a 1:42 in me left, or two 1:42s in me left, or a couple of 1:43s in me left. How do I maximize so I run those at the right place at the right time in the next two years? That's what I'm trying to figure out; how do these guys get it right at the right time? (I'm beating them now) and later their smoking (me) ... I need to be in the mix when these cats are running 1:41 or 1:42. I've yet to be in a race and get pulled to a fast time."
The fact KD didn't go out and party after winning in Rome not only shows his maturity, but shows that for him, a lot of it is about the process. He said:
"I didn't go out (and party after winning Rome), I didn't buy myself anything new. If I win a race, cool. I'm hard on myself when I lose. I think winning is a by-product of working hard and doing the right thing. I think you're supposed to win when you work hard and do the right things. It's the losing that is tough. When you're doing everything right day in day out, everything right year after year after year and you're still getting your butt kicked, that's what is tough for me. I take the losing really hard. I'm not talking getting dead last, I'm talking about getting 2nd, 3rd or 4th, that is what messes me up. ... In life, you reap what you sow - if you work hard, you believe in yourself, you do the right thing, good things usually happen."
More: KD's Website
*Recap Of His Win In Rome
---
Runner's World &
Running Times



Combined Only $22
a Year
Save $87

---

Running & Track and Field Posters
---

Great Offer: Nike Lunar Glide Sale Multiple colors of this shoe available.

*Nike Air Max Moto 7 Get 2 Pairs for a Crazy $112
---