The Week That Was In Running - September 27 - October 3, 2010
To read last week's LRC Week That Was, click Here.
To read any 2010 LRC Week That Was, click Here.
By LetsRun.com
October 6, 2010
Our weekly recap is way briefer than normal. We apologize for the brevity in advance but figured it was better to give a little analysis than none at all. Plus, there wasn't a whole lot of action as the pros either were enjoying their time off or getting ready for fall marathons or the Commonwealth Games.
Ryan Hall Drops Out Of Chicago And The Race Actually Gets Stronger
Last week, Ryan Hall announced that he wouldn't be competing at this weekend's Bank of America Chicago Marathon and yet when the week was over, the field was actually much stronger than it had been at the start of the week. How can that be?

Well, after Hall dropped out, it was announced that Chicago was adding Ethiopians Deriba Merga an Feyisa Lelisa. The 27-year-old Merga is of course best known for being the 2009 Boston Marathon champ. Prior to that, he was best known for pushing the pace for much of the race in the ridiculously fast Beijing Olympic marathon. Hall's PR of 2:06:17 is slightly better than Merga's but considering the fact that Merga is a former Boston champ and was 4th in the Olympics and that he beat Hall in Boston this year, Merga has to 100% be considered to be a better marathoner than Hall.
Additionally, Chicago added the 20-year-old Feyisa Lelisa. Lelisa is proof positive that guys are moving to the marathon earlier and earlier in their careers. He made his marathon debut at age 19 when he ran 2:09:12 to win Dublin in October of last year before winning again in Xiamen, China in January in 2:08:47. If two marathons in the span of 10 weeks sounds like a lot, well ... youth does have it's advantages, as Lelisa ran another marathon 14 weeks later - in April in Rotterdam as a 20-year-old.
In his third marathon in 24 weeks, Lelisa ran a ridiculous 2:05:23 to finish 4th.
So Chicago lost Hall but gained Lelisa and Merga, so the field is definitely stronger on paper.
The only question we have is if Lelisa and Merga were planning on doing Chicago all along or if they were added simply because Hall dropped out. At the very least, were Lelisa and Merga training for a fall marathon? We'll probably find out more later this week at media day.
(Editor's note: We wrote the Chicago Marathon about the question above and they have written back: "Lilesa and Merga were planning to run prior to Hall having to withdraw. It was coincidental timing that we learned of Ryan's withdrawal the day prior to our final elite field announcement going out.")
New York Also Gets Way Stronger
The 2010 ING New York City marathon also got a lot stronger last week as it was announced that past champions Marilson dos Santos, Martin Lel and Derartu Tulu would be competing. We are very pumped to see the snake-bitten Lel race again, as he hasn't raced a marathon since the 2008 Olympics.
After all of the additions and subtractions of last week, we decided to try to briefly compare the New York and Chicago fields for the men. Form the best we can tell, here are the expected 2010 elite fields for each race.
2010 ING NYC Elite Field (Personal Best/Best Time Since 2009)
Haile Gebrselassie 2:03:59/2:05:29
James Kwambai, KEN 2:04:27/2:04:27
Martin Lel 2:05:15/No races
Abderrahim Goumri 2:05:30/2:06:04 (2nd Chicago last year)
Hendrick Ramaala 2 2:06:55/2:07:44
Robert Kipkoech Cheruiyot 2:07:14 - 2:09:56 (2nd NY last year)
Marilson dos Santos 2:08:37/2:08:46
Meb Keflezighi 2:09:15/2:09:15 (NY champ)
Dathan Ritzenhein 2:10:00/2:10:00
Peter Kamais debut
Gebre Gebremariam debut

2010 BOA Chicago Elite Field (Personal Best/Best Time Since 2009)
Samuel Wanjiru 2:05:10/2:05:10
Vincent Kiprutu 2:05:13/2:05:13
Tsegaye Kebede 2:05:18/2:05:18 (London champ)
Feyisa Lilesa, ETH 2:05:23/2:05:23
Robert Kiprono Cheruiyot, KEN 2:05:52/2:05:52 (Boston champ)
Deriba Merga, ETH 2:06:38/2:07:52
Negari Terfa, ETH 2:07:41/2:07:41
Wesley Korir, KEN 2:08:24/2:08:24
Laban Moiben, KEN 2:09:43/2:09:43
The thing that is remarkable to us is how similar the fields are in terms of PRs. Nearly identical in terms of the number of sub-2:06/2:07/2:08s, etc.
In terms of personal bests since 2009, Chicago definitely has a slight edge (but New York gets no credit for having Lel in that stat).
Overall in terms of in-form guys (well in form at some point in 2010), Chicago gets the nod as it has the two top stars from the spring, Kebede (winner in London and if we had to pick one guy as the top marathoner in the world right now it would be him) and Cheruiyot (course record in Boston). However, with marathons six months apart it is very hard to tell who is in form now and gives no credit to guys like Keflzezighi (defending champ) and Gebremariam (debut), so that is why you need to watch.
PRs Of Elites For 2010 New York/Chicago Fields
# Sub-2:05s - 2/0 (Edge New York by 2)
# Sub-2:06s - 4/5 (Edge Chicago by 1)
# Sub-2:07s - 5/6 (Edge Chicago by 1)
# Sub-2:08s - 6/7 (Edge Chicago by 1)
# Sub-2:09s - 7/8 (Edge Chicago by 1)
# 2:10:00s or better - 9 (Even)

Best Times Since 2009 For 2010 New York/Chicago Fields
# Sub-2:05s - 1/0 (Edge NY by 1)
# Sub-2:06s - 2/5 (Edge Chicago by 3)
# Sub-2:07s - 2/5 (Edge Chicago by 3)
# Sub-2:08s - 4/7 (Edge Chicago by 3)
# Sub-2:09s - 5/8 (Edge Chicago by 3)
# 2:10:00s or better - 8/9 (Edge Chicago by 1)
Editor's addition at 9:50 pm on 10/6/2010: David Monti who is an elite athlete consultant for New York has written us and it's clear that the field we have listed above for New York is no where near complete. The New York field will end up being really incredible. We don't want to ruin NYC's ability to generate press so we won't announce who else that they will be announcing in the coming weeks. But it's important to note that New York has already secured commitments from three more sub 2:07 guys and 6 six sub 2:08s. In the end, the PRs of the two races will look something like this.
PRs Of Elites For 2010 New York/Chicago Fields
# Sub-2:05s - 2/0 (Edge New York by 2)
# Sub-2:06s - 5/5 (Even)
# Sub-2:07s - 8/6 (Edge New York by 2)
# Sub-2:08s - 12/7 (Edge New York by 5)
# Sub-2:09s - 14/8 (Edge New York by 6)
# 2:10:00s or better - 17/9 (Edge New York by 8)
Thoughts On Hall's Dropout
As for Hall's dropout, we've got to give him a Thumbs Up for pulling the plug when he knew he wasn't going to run a good race. Hall has been criticized by some as being a quitter, but far from it. It's very hard for a marathoner to admit they aren't in the best of shape and give back a huge amount of money to a race, but it's the right thing to do and Hall deserves props for not just showing up, collecting his full appearance fee and running subpar.
That being said, the whole thing to us reveals how often times it's just totally futile to listen to what athletes are saying about their condition prior to races. On September 18th, the Philadelphia Inquirer quoted Hall as saying, "I wasn't totally in top-notch shape last year, but I think I'm in better shape this year."
Yet on September 30th after the pullout, Hall told Time Out Chicago that things had actually been going quite badly for the last six weeks.
More: *Ryan Hall Pulls Out Of Chicago Marathon *Ryan Hall Thinks He's One of The Most Consistent Marathoners In The World - Phil Hersh Wonders If He'll Ever Be A Winner *Ryan Hall Talks Extensively About Why He's Not Running Chicago *Chicago Adds 2009 Boston Winner Deriba Merga As Well As 20-Year-Old 2:05:23 Guy Feyisa Lelisa To Field *Past Champs Martin Lel, Dos Santos, Tulu Seek More Glory In NY
College XC Heats Up / AJ Nation Shows Up On ESPN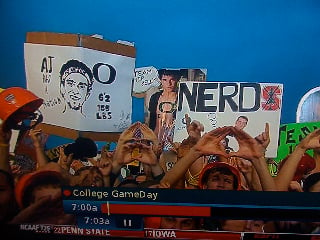 Last week, there wasn't a whole lot of actual action, as the pros either enjoyed the off season or got ready for Commonwealths or the fall marathons. But in terms of the amateurs, the NCAA D1 cross-country season heated up as teams went to meets across the country looking for NCAA at-large points. You can follow the action at the links below, as it's too early to really analyze it in our minds at this point.
To us, the biggest news the collegiate ranks was the "AJ Nation" sighting on ESPN's College Game Day. What is the AJ Nation you ask? AJ Nation refers to 2005 Footlocker National Champion and current Oregon Duck and 3:53 miler AJ Acosta and his fans.
In college football, Oregon routed Stanford and ESPN was in Eugene to cover the action. And in the background of their on-site studio, there was a giant poster of Acosta. See the photo on the left.
Now some people in the LRC community are up in arms about the fact that lots of people are talking about the sighting of the AJ Nation. We think they are way off base.
To us, it's great to see that college kids can still have fun - even at powerhouse programs like Oregon where the pressure is intense and the head man Vin Lananna loves secrecy.
LetsRun.com believes the sign was the result of Mac Fleet and a teammate staying up all night behind the set to get a prime placement. And for that, Fleet (if that's who did it) and his teammates deserve a huge Thumbs Up for being real college kids. Clearly, Fleet is not letting the fact that he ran 3:57.70 in the indoor mile and was NCAA runner-up as a freshmen get in the way of him being a normal college kid. Way to go, guys. Keep on having fun and running fast.
And one last thing about the sign. A PHD/MD candidate from the University of Pittsburgh has written us to let us know where the sign originates from:

"(The poster) is a parody of the Andre the giant poster from Shepard Fairey. Not sure how everyone missed this. But pretty funny actually. http://en.wikipedia.org/wiki/Andre_the_Giant_Has_a_Posse."
More: *AJ Nation Sign on College Game Day *College XC Results *College Forum
Quotes Of The Week (That Weren't Quotes Of The Day)

Recommended Reads
*The Science Of Sports Conjectures About Contador
*Mary Wittenberg Talks To Runner's World
*The WSJ Profiles New York Contenders Gebre Gebremariam And Werknesh Kidane
*Ben Johnson's Autobiography Seoul To Soul Is Coming Out Next Month And It's Going To Drop Some Bombshells
Other Happenings Of Note
US Men's Marathon Champs: Sergio Reyes Runs 2:14:02 To Win Twin Cities And US Marathon Title Over Jeffrey Eggleston By 7 Seconds It was Reyes' first US crown and the 7 seconds for the win were worth at least an extra $10,000. Debra Buzenesh won the women's title in 2:27:23, winning by nearly 8 minutes as she got the win here to go with her win in Grandma's.
*Minnesota Newspaper Recap *Results *USATF Recap *Results/Prize Money *Live Thread
US Women's 10-Miler Also In Twin Cities: Katie McGregor Wins 2010 US Title McGregor won $10,000. If she had run 1:20 slower, she would have received $9,750 less, as the first 9 women were all within 1:20 of each other. *Results
Quotes Of The Day From Last Week
Monday: "I had a lot to learn. I was out of college, I was a 10K guy on the track and I thought the jump (to) the marathon shouldn't be too bad - I've run a half or two before. I had a lot to learn back in '05 to get me to where I am now."
- Sergio Reyes on his marathon debut at the 2005 Twin Cities Marathon (a 59th-place finish in 2:38:04). Sunday, five years later at Twin Cities, it went much better for Sergio as he ran 24 minutes faster and picked up the 2010 USATF Marathon crown and $26,900.
---
Sunday: "We could repeat our performance at the African Championships and take all the medals."
- Former world 5,000m champion Eliud Kipchoge, brimming with confidence in Kenya's distance running prowess and potential for domination at the Commonwealth Games, which get underway Sunday. Kenyan athletes garnered zero medals in their first Commonwealth Games 56 years ago. Now Kenyan distance runners are dominant at the global level.
---
Saturday: "I ran for Canada between 1995 and 2003 (2 OGs, 4 WC). It was a blast and I had some good performances. But the emotional and physical effort that goes into a marathon race is draining. If you invest everything you have for months and then get a bad day, it is devastating. It can set you back for months or years.

I was a journeyman and not a star like Hall. The pressure I felt was nothing compared to what he feels. He made a smart decision not to have a bad race, but rather to regroup and go when he is ready. Sometimes stuff doesn't work out and your training doesn't come together how you hope. Better to back away when you know you aren't set to go.

People can slam him for scratching, but they have no idea what is involved in racing at his level. He is not out there for a fun run. He is a professional who has to manage a career that might only include less than 8 more solid marathons. Why waste one when he is not really fit?"
- Message board poster "Has it come to this" posting about Ryan Hall's decision to pull out of next Sunday's Bank of America Chicago Marathon.
---
Friday: "I feel like I'm one of the most consistent marathoners in the world. I'm constantly up in the top five, fighting to get on the podium. I don't at all see that I have been struggling over the past couple years ...
I ran well at New York last year. I was fourth there by just a couple steps (from third), behind a guy (Jaouad Gharib) who is a 2:05 marathoner. In Boston (this April), I was fourth by a couple steps to a guy (Deriba Merga) who nearly got the bronze medal at the Beijing Olympics. On courses like New York and Boston, you really can't look at the times.''
- Ryan Hall talking to the Chicago Tribune's Phil Hersh.
---
Thursday: "Because of this wonderful experience, I am emailing you guys at letsrun to first thank you for your advice (to go and support top American running events in person). But mostly to give a huge thumbs up to Mary Wittenberg and the people of the New York road runners. They were able to make a trip a few college kids took to burn some time on the weekend into one of the most inspirational and awesome experiences of our lives. They truly made our Dreams Become Reality."
- Concluding portion of an email LetsRun.com received on Monday detailing the amazing experience four rabid fans from the UMBC cross-country team had at Sunday's Continental Airlines 5th Avenue Mile. The quartet drove up for the race and the NYRR and Mary Wittenberg were so impressed by their spirit that one of them ended up holding the finishing tape. We in turn give the UMBC guys and the NYRR a huge Thumbs Up for representing the very best that our beloved sport has to offer.
---
Wednesday: "I was very excited to run the Bank of America Chicago Marathon but my workouts haven't been good. I'm very much a guy that when I show up at the starting line, I believe everything is possible, and I go after things with my whole heart, so if I'm not ready to go, I'm not going to show up and have a performance that doesn't reflect that."

- Ryan Hall announcing to Philip Hersh and the Chicago Tribune that he was pulling out of the Chicago Marathon, which takes place in 11 days (10/10/2010).
---
Tuesday: "Being realistic, running a sub-2:47 is really going to take a huge effort."

- 1984 Olympic gold medallist, Joan Benoit Samuelson, telling the Associated Press she'd like to qualify for the 2012 Olympic Trials at the Bank of America Chicago Marathon on October 10th at the ridiculous age of 53. At the very least, Samuelson wants to break 2:50 for the third time as a 50-year-old.
Last Week's Homepages
*Mon (Oct. 4) *Sun (Oct. 3) *Sat (Oct. 2) *Fri (Oct. 1) *Thur (Sept. 30) *Wed (Sept. 29) *Tue (Sept. 28)


---
Runner's World &
Running Times



Combined Only $22
a Year
Save $87

---

Running & Track and Field Posters
---


More Nice Offers: Nike Lunar Glide Savings Super popular shoe from Nike featuring Flywire and Lunar Foam

*Nike Air Max Moto Sale $69.99 for this shoe from our partner.
---