Sad
Alvin Harrison, Former Olympic 400m Silver Medallist (And Drug Cheat), Getting Second Chance Coaching High School Team, Drunk Drives A High School Van At Arcadia, Flips Another Car, Jailed On $50,000 Bond Less than 10 years, ago he was on Oprah. Now he could be in prison for a while (we also were surprised to read he competed for the Dominican Republic last year and ran 47 seconds).
Let Us Continue To Celebrate Grete's Great Life
European News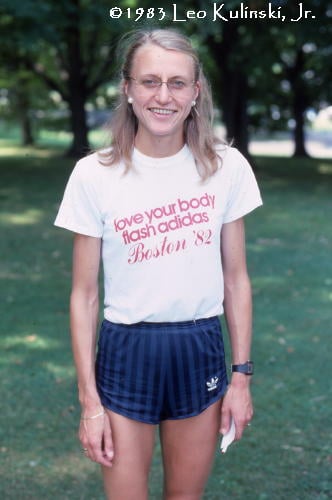 Grete Waitz Loses Battle With Cancer Waitz is best known for being a 9-time New York City Marathon champion, a class act, and a pioneer in the sport, but she also was a 4:00 1,500m runner and an 8:31 3,000m runner. As a kid, watching her on ABC win NYC every year was one of the site founders' earliest running memories. She will be missed. Thanks to Leo Kulinski for the photo. Another one here.
*Pay Your Respects In This Thread
*Grete Waitz: In The Long Run, A Legacy Of Triumph For Women And Sport
*IAAF: Grete Waitz, Distance Running Legend, Passes Away
*The Independent: Norwegian Marathon Legend Grete Waitz Dies Of Cancer At Age 57
*Runner's World: Remembering Grete Waitz
*Runner's World: 2005: When We First Learned Of Grete Waitz's Battle With Cancer
US Elites Left Homeless/Other US News
Other International News
LRC Emmanuel Mutai Runs The Best 10km Ever In A Marathon To Destroy The Field & Arrive As One Of The World's Best A lead pack that was a who's who of marathoning went through 30km together, but soon the race would be nothing but a coronation for Emmanuel Mutai, who destroyed the field with a 28:44 4th 10k and ended up with a 2:04:40 course record. Almost as big of a story as Mutai's incredible run was the fact that the 2nd placer ended up being one of the all-time greats - Martin Lel - who shocked even himself in his first marathon since Beijing 2008. American Jason Lehmkuhle was the only elite American finisher as the three rookie American marathoners went out too fast and blew up - none worse than Mo Trafeh, who ran with the lead pack for 15 km.


LRC Women's Marathoning Has A New Star Named Mary Keitany Keitany knocked nearly 10 minutes off her personal best and knocked Liliya Shobukhova off her pedestal as the best in the world, as Keitany ran the first sub-2:20 since 2008 and made mincemeat of "undoubtedly" of the strongest women's field in London history. All together, a record 22 women broke 2:30 - but that didn't include US Olympian Magdalena Lewy-Boulet.

More London:
Haile G's Back & A Winner In Vienna Only Haile G could be upset with a solo 60:18 at age of 37 years and 364 days. Happy B-Day Haile!!!
Other Action From The Weekend
NCAA News
LRC The Week That Was This week, we investigate German Fernandez's Shoe-Gate, quote a 9th or 10th grader who says that more fans watch his 9th-10th grade meet than Leo Manzano, tell you why to be truly elite in the marathon you now need to be a sub-2:06 guy, and re-introduce you to Leilani Rios, the runner who was a national sensation 10 years ago when she was kicked off the Cal State-Fullerton track team for making a lot of money each night she worked.
*Athletics Weekly Weekend Recap: 9 World Leads Set, Including Men's Steeple, Marathon, Decathlon, And Men's/Women's 4 X 1 And 4 X 4
Doping News
Interesting Reads
When To Start?
Early Vs. Late Specialization: When Should Children Specialize In Sport?
Usain Bolt & Tyson Gay In The News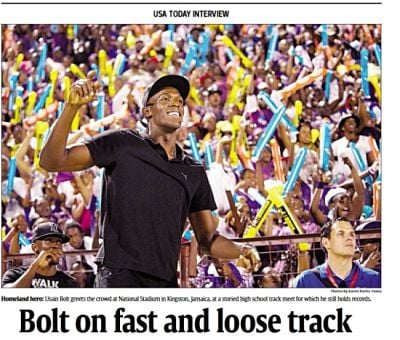 Recommended Read: Usain Bolt Shares His Unique Perspective On Running And Life In Profile On Front Page Of Sports In USA Today We promised to use this article as Quote of the Day for today, as there are enough quotes to last a week. Bolt talks about partying, psychologically destroying his opponents, the stupidity of getting married before your late 30s, and a pro soccer career after London 2012 (print edition only). Bolt: "Dancing is good physical activity. So don't think about partying and dancing as negative." Bolt also hints in the video that him and Gay talk a lot less since Bolt took over as the main star. *5 USA Today Questions With Bolt (video)
*AP: One-Track Mind - Gay Closing Gap On Bolt
April Fools News
LetsRun's 2011 April Fools Edition
Recommended Read Ato Boldon's 10 Pieces Of Wise Advise That Current Pro Track Athletes Don't Understand (But Retired Ones Do) Among the highlights, he advises staying away from European wine and women and to beware of falling in love with insincere shoe companies.
The Only Required Reading In The Industry

LRC: Week That Was: Flanagan Gets Bronze, Rupp Makes An Impressive Debut, An American Runs 2:27 At LA, And The US XC Dream Team Sure, we bet you know about Shalane Flanagan's bronze at World XC and Galen Rupp's half marathon in NYC. But we help put these in perspective and tell you about the American who ran 2:27 in LA (Amy Hastings) and wonder how well the US dream team of Lagat, Rupp, Solinsky, Tegenkamp and Ritz would do at World XC. And of course the most important news of the week, the fight at World XC.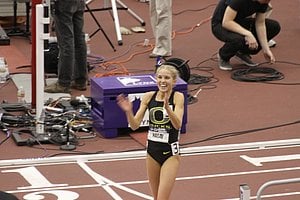 Day 2: LRC 3ks: Hasay Becomes A Legend, Heath Unleashes His Legendary Kick As of Fri. night, Jordan Hasay was viewed as the former teen prodigy who couldn't quite kick for the big one in college. Now, just as was the case for Galen Rupp two years ago, she is college distance running's biggest star, as she won the mile and then came back in the 3k to make herself into a legend by turning the tables on Sheila Reid. Stanford's Elliott Heath's kick was even more lethal, as he destroyed a super-talented men's 3k field over the final 140m. Includes last lap video coverage.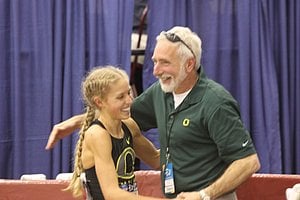 Day 2: LRC Mid-D: Hasay Gets Title #1, Batty Gets Title #2, Fred Samoei Wins A Nailbiter, And BYU's Bleazard Dominates After being outkicked in the DMR on Fri. night, Jordan Hasay outkicked the competition to grab her first NCAA title as BYU's Miles Batty completed the double in the men's mile, holding off a spirited challenge from Tulsa's Chris O'Hare. The men's 800 featured the best finish of the night as Michael Rutt's bold move to the lead 400 meters in almost held up. In the women' s 800, BYU's Lacey Bleazard won her 2nd indoor title - it's a shame the ESPN3 announcers had no idea who she was. Includes last lap video coverage.
Day 1: LRC DMR: Villanova's Reid Outkicks Oregon's Hasay, BYU's Miles Batty Holds Off Incredible 3:53 Anchor From Andy Bayer Both DMRs had great finishes. The women were first and 'Nova's Sheila Reid and Oregon's Jordan Hasay put on a battle for the ages. On the men's side, Andy Bayer split a sick 3:53 to take Indiana from 9th to 2nd, but it was not enough to overtake BYU's Miles Batty, as the night of incredible men's distance running continued with three sub-3:55 splits. Arizona's Lawi Lalang split 3:56.9 and his team lost 3 spots. Recap, interviews, photos, and video of last laps.


LRC 5,000m Recaps: Unheralded Leonard Korir Storms To NCAA Record, Jackie Areson Impresses, Mia Behm Surprises Everyone The men's 5,000m witnessed Iona's Leonard Korir winning a scorching-fast 5k in 13:26.01 over Sam Chelanga, as three guys broke the previous NCAA meet record. On the women's side, Jackie Areson put on a display over the last 600m and Mia Behm, who was 7th at the Big 12, shocked everyone to get 2nd.
Sad News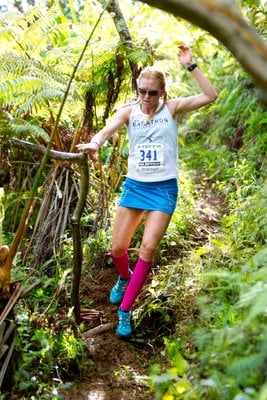 Sad News: Sally Meyerhoff Killed In Cycling Accident The two-time All-American and US Olympic Trials qualifier as well former US champion at 25km was killed on Tuesday in a cycling accident at the young age of 27 while she trained for the Ironman World Championship. *LRC MB: Sad News: Sally Meyerhoff Killed in Accident
*Abc15.com Article With Video On Meyerhoff's Death
*Ahwatukee.com Article On Meyerhoff's Death
*AZcentral.com Article
*USATF Article
*New York Road Runners Article
*More Sad News: Florida High School Track Athlete Sarah Landauer Dies After Collapsing At Practice
The Secret Is ... There Is No Secret
Coaching: There Are No Secrets, Substitutes Or Shortcuts For Success ... Do The Work
Wednesday's Action On And Off The Track
Latest On "Wind-Gate" In Boston
A World Record For Boston?
Non-US Track News
More Boston News:
Webb Coaching Search
Previous Boston Marathon News
Last Sunday's South African Champs *Results (Scroll Down)
Tokyo Marathon: A Legend Is Born *Photos
The 10 Best High School XC Runners Ever
Boston And London Prediction Contest Scores
Check Your Scores Here And See If You Won The $450 Our very own Rojo opened his mouth and said if 1 of 4 guys didn't win London we'd throw in additional $300. Rojo is famous for his bold predictions. If you liked our contest, remember the easiest way to show your appreciation is by buying shoes from our partners. Click here to save 15% off at Road Runner Sports.
Fast Action In Oregon This Weekend
AJ Acosta And Matt Centro Jr. Shooting For 3:35 Worlds/Olympic Standard At Oregon Meet This Weekend
Game Changer If You Got A Lot Of Coin
Washington Post Columnist Calls Alter-G Treadmill A Game Changer Problem for athletes is that they cost $75,000. The rehab model for some reason is "only" $30,000.
2:03:02 In Boston: Men's Highlights From Boston (More Here)
Desiree Davila Pure Guts
Emmanual Mutai Becomes A Star, Legend Martin Lel Outkicks Makau (You Can Watch The Full Race Here)
Mary Keitany Crushes London (Highlights And Post Race Comments)
Results The 2011 US outdoor season unofficially heated up for the first time on Friday night in Southern California, as US star Shalane Flanagan edged collegiate star Sheila Reid in the 1,500m (4:11), Russell Brown blitzed a 53.84 last 400 to catch Chris Solinsky in the 1,500m as both pros ran 3:35 to NCAA champ Miles Batty's 3:36 (Matt Tegenkamp 3:40, video on right), American record holder Molly Huddle held back a challenge from Jenny Simpson in the 5,000m (15:10) and Aaron Braun held off a fast-closing Jorge Torres in the men's 5k.
More: *53.84 Last Lap Gives Russell Brown Victory Over Chris Solinsky At Mt. SAC *BYU Release On Miles Batty's 3:36.25 Not mentioned in the release is the fact that Batty came within .41 of the American collegiate record and within 1 second of the collegiate record. *LRC MB: DID SOLINSKY JUST RUN 3:35? *Jenny B got OWNED

*Jeff Demps 9.96 With 2.4mps Wind

2nd-Year UCLA Coach Loves Dual Meets, Deserves Praise For Keeping UCLA/Oregon Dual Meet Alive
Mt. SAC Men's 1,500m Video (Russell Brown And Solinsky) *Meet Results
Desiree Davila Ready For Boston (More In-Depth Here)
Texas Relays Photo Gallery (That's The Final 100m Of The Men's Mile Below)
Updated Carlsbad 5,000m Photo Gallery
Question Of The Day?
Women's World XC In Photos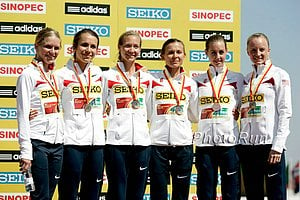 Men's World XC In Photos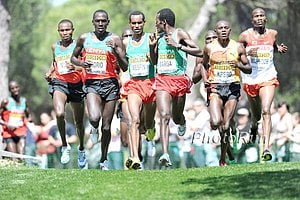 The Greatest Comeback Ever?
Training Talk Is Back
Training Talk With New Marathon Star Stephanie Rothstein And Ben Bruce Stephanie lowered her marathon PR by over 10 minutes, skipping the 2:30s entirely, running 2:29:35 in Houston. And she's still got her sights on lowering it another 10 minutes. Textual recap coming later, but you can listen above or download the podcast here (1:30).
Last 250 (Or Full Race - Rewind It) Of Dejen Gebremeskel Outkicking Mo Farah In Boston With 1 Shoe
Save Some Cash

Two Of The Best Running Movies Of All Time (Don't Believe Us? Click Here)
Relive Men's NCAAs: *Recap *Results *Photos *New (2nd Photo Album Added Here)
Save Some Cash

Train Smarter
Great Deals

Universal Sports Back To Top