Sunday Results
Other Weekend Action
Mid-D News
Two Interesting Reads From The UK
Re:Run San Diego Was Sunday Morning
Saturday Conference/US Track News
Doping News
2 Reviews & 1 Book Excerpt From John McDonnell: The Most Successful NCAA Coach In History
Weekend HS Results
IAAF Article On US LJer Brittney Reese Who Had The Farthest Jump In The World For 9 Years In Doha With A 7.25m Leap Her goal now is to break Jackie Joyner-Kersee 19-year old US record of 7.49m. The WR is 7.52m set in 1988 by Russia's Galina Chistyakova.
Doping News: Well Done WADA
Great News: WADA Confirms Changes To World Anti-Doping Code Which Will Double Length Of First Offense Bans From Two To Four Years The decision now has to be confirmed when it is presented to stakeholders on November 12 and will take effect in 2015. Besides longer bans, the code will help WADA to punish the athlete's accomplices - such as coaches and teammates.
Diamond League: Shanghai Is Saturday
7 Olympic Champions Highlight Fields For Saturday Shanghai DL Meet: Meseret Defar Will Face Linet Masai, Sylvia Kibet And Genzebe Dibaba In The 5000 Asbel Kiprop will take on Silas Kiplagat, Mekonnen Gebremedhin and Nixon Chepseba in the 1500 as Brimin Kipruto leads a steeple field including Paul Koech, Richard Mateelong, and Abel Mutai. Pamela Jelimo is the top name in the women's 800m. Other highlights include Kirani James vs LeShawn Merritt and Luguelin Santos in the 400, Yelena Isinbayeva in the PV, Warren Weir vs Justin Gatlin in the 200, Shelly-Ann Fraser-Pryce vs Carmelita Jeter in the 100 and Aries Merritt and Jason Richardson in the 110H.
*Doha-Based Television Broadcast Company Al Jazeera Has Expressed Interest In Becoming The New Sponsor Of The Diamond League
Pretty Amazing: 15-Year-Old Legally Blind Charlotte Brown Is One Of Best Pole Vaulters In Texas She is pretty good as she qualified for the state meet with 11-6 and said she's recently jumped 12-5.
Interesting Reads From Africa
2-Year Anniversay Of Sammy Wanjiru's Death Is Wed., May 15th, And Fuller Picture Of His Downfall Is Emerging "He spread fear and affection in equal measure in Nyahururu and its environs." "He was generous to a fault, especially in bars, where he would buy any drink to whoever recognised his status ..." "In one of his drunken episodes, he drove his SUV vehicle inside a market and sent women scampering for safety as he crushed their wares, tomatoes, chillies, onions and vegetables. But he made good for the damage, compensating them for more than the damage he caused."
Dumbest Column Ever: Did Boston Bombers Target Finish Line Because They Were Racists And Wanted To Hurt African Blacks? Simple answer: No. If they wanted to target Africans, they wouldn't have chosen the 4-hour mark. "The two brothers came to the USA and chose to specialize in sporting events that are dominated by black people."
Interesting Distance Runner News
His Reign Continues: Isaiah Kiplagat Is Unopposed For Athletics Kenya President Position
Thursday Night's Medtronic Twin Cities Mile *Full Results *Photos
Nick Willis And Sarah Brown Win Over Competitive Fields At Medtronic TC 1 Mile In Minneapolis (link updated) Nick Willis (3:56.2) was the class of the field where six men broke 4:00, as Garrett Heath was 2nd - Will Leer 4th. Brown got a narrow victory over Nicole Sifuentes, 4:33.3 to 4:33.4. *Elite Results
*Longer Medtronic Recap From DownTheBackStretch
Two Recommended Reads
Recommended Read: Religion Blog: What Truths Does Iconic Image Of Boston Marathon Truly Capture? "Just as Jews pray to celebrate Passover 'next year in Jerusalem' and Muslims pledge to visit Mecca, marathoners want to 'run Boston.'"
*More Boston: Runners Start An Online Petition To Grant A Spot In The 2014 Boston Marathon To The 5,700 Runners Who Were Stopped Before They Could Finish More than 21,000 have signed; the BAA say they haven't made a decision yet.

RR#2: John Mayer: Western State's Ian Butler On Remarkable Run In Life's Goal To Succeed The D2 All-American suffered two brain injuries as a kid and has had people tell him he's retarded and the memory of a goldfish. Hanging out with the wrong crowd in 9th grade, he's now of track to be a college grad.
LRC The #1 Recruit In The Land Signs With ... New Mexico? The #1 recruit in the land has decided where he'll be running next year and coach Joe Franklin is a very happy man as a result. Whom do we consider to be the top recruit???
The Week That Was - Our Weekly Recap
LRC Mary Cain And Tyson Gay Are Fast, Pat Casey's Undefeated, Cory Leslie Gets The "A," David Rudisha Doesn't Run Very Much And Paula Radcliffe Leads The Anti-Doping Fight This week, we show you a breathtaking video of Mary Cain, annoint Pat Casey as the NCAA mile favorite, praise Paula Radcliffe for leading the anti-doping fight, talk about David Rudisha's mileage, praise Tyson Gay, unearth a 12-year-old video of Matt Tegenkamp dusting Dathan Ritzenhein and wonder why the Big 12 sucks so much at the 800.
Think The Sub-2-Hour Marathon Is On The Horizon? Think Again
LRC The Myth Of The Sub-2-Hour Marathon The mainstream media thinks it may be close but in reality most people reading this will be dead when it happens.
*Science of Sport's Ross Tucker agrees: Pacing, fatigue and the brain. Lessons from London.

*Jason Henderson Of Athletics Weekly Disagrees: Why the two-hour marathon is possible
*MB: Sub 2 Hour Marathon Discussion: My Thoughts and Yours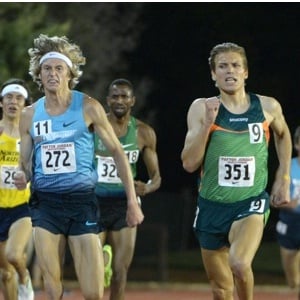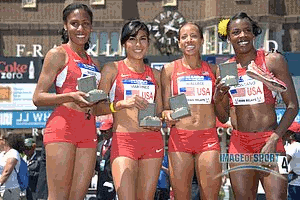 What Americans Can Go To Worlds?
Blue Collar / Inspirational Runner Of The Week
LRC Meet Conner Paez: "Please don't cut off my leg. Please just don't amputate my leg. I can't lose my leg. I need to run." Two years ago, Conner Paez was on top of the world as a freshman at the University of Pennsylvania (8:16, 14:18). Then his life turned in a second as he was broadsided by a car while on his motor bike. The injuries were bad, very bad. He almost lost his leg, then some toes. Doctors told him he'd never compete again. What's he doing this weekend? Competing again.
Prince Harry And Richard Branson In London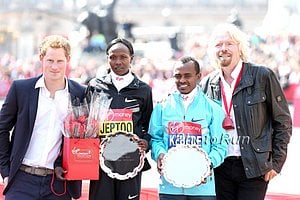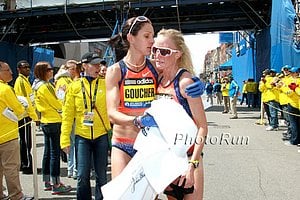 Learn From The Pros
LRC Ten Training Tips From Bernard Lagat, Dathan Ritzenhein And Abdi Abdirahman The American men took center stage at the NYC Half on Thursday. You can watch video interviews with the top American men (Lagat here, Ritz here and Abdi here) and we will have more on their race preparations on Friday, but in the meantime we compiled ten training tips from Bernard, Dathan, and Abdi that you can use in your own training.