2013 UAE Healthy Kidney 10-K: Leonard Patrick Komon (27:58) Wins But Comes Up Short in Bid for $30,000 Course Record
Komon Slows After Running First Two Miles Both in 4:18; American Meb Keflezighi Returns To Racing and Finishes 9th (28:57)
By David Monti, with additional repoting by LetsRun.com.
(c) 2013 Race Results Weekly, all rights reserved
NEW YORK (11-May) – After a furious start, Kenya's Leonard Patrick Komon's attempt to break his own UAE Healthy Kidney 10-K record here this morning fizzled, and the world record holder had to settle for his second victory in three years, clocking 27:58.  Race organizers had put up a USD 30,000 bonus for the winner had he broken Komon's 2011 record of 27:35.
Article continues below player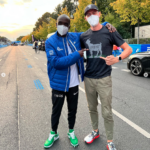 Kipchoge loves the 1:59:40 Shirt Get Yours Today
What a legend!
Komon, who holds the world records for both 10-K and 15-K on the road, ran both of the first two miles in 4:18, immediately breaking open the race, and was alone through 5-K in 13:40 with a seven-second lead over his primary chaser, Uganda's Moses Kipsiro, the three-time world cross medallist who was 4th i the 5000 at the 2008 Olympic and 2009 World champs.
"Like a bullet," Kipsiro said of Komon's opening mile.
But the soaking humidity, wet streets from earlier rains, and Central Parks' challenging hills began to take their toll on the Kenyan.  He slowed significantly in the second half, splitting the course's certified 8-K mark in 22:18, then working hard in the uphill final two kilometers just to maintain his lead.  He crossed the finish line with a four-second advantage and collected the $25,000 first prize award, the largest of any 10-K in the world.
"I will get the record next year," Komon said after event sponsors, the Embassy of the United Arab Emirates, said that they would raise the course record bonus to $50,000 for next year's 10th edition of the race.
Behind Komon, Kipsiro and former NCAA standout Stephen Sambu of Kenya sprinted for second place.  Both men were credited with a 28:02 finish time, but Kipsiro was clearly in front of Sambu who appeared to ease up just before the line.  Ethiopia's 13:00/60:19 man Abera Kuma (28:18) and Australia's Collis Birmingham (28:29), who was 8th at world cross country earlier this year, rounded out the top-5.
LetsRun.com additions: 2008 Olympic bronze medallist Edwin Soi, who ran 12:55 last year for 5000, was 6th (28:37).
American Meb Keflezighi returned to racing for the first time we think since his 4th place finish at the London Marathon. Keflezighi, who missed last months Boston marathon due to injury, was 9th in 28:57. Top American honors went to Ayale Feisa in 8th (28:53).
Showing how deep the field was Aussie Ben St. Lawrence, who won the Payton Jordan 10,000 at Stanford a few weeks ago in 27:37, was just 10th in 29:00.
Top 25 Results Below
Last Name
First Name
Sex/
Age
Bib
Team
City
State
Country
Overall
Place
Gender
Place
Age
Place
Net
Time
5K
Split
Pace
per
Mile
AG
Time
AG
Gender
Place
AG %
Komon
Leonard Patrick
M25
1
NIKE
Eldoret
–
Kenya
1
1
1
0:27:58
0:13:39
04:31
0:27:58
3
96.04 %
Kipsiro
Moses
M26
3
PUMA
Bukwo
–
Uganda
2
2
2
0:28:02
0:13:46
04:31
0:28:02
4
95.79 %
Sambu
Stephen
M24
8
Tucson
AZ
Kenya
3
3
1
0:28:02
0:13:52
04:31
0:28:02
5
95.79 %
Kuma
Abera
M22
4
NIKE
Addis Ababa
–
Ethiopia
4
4
2
0:28:18
0:13:52
04:34
0:28:18
6
94.91 %
Birmingham
Collis
M28
10
NIKE
Ballarat
–
Australia
5
5
3
0:28:29
0:14:09
04:36
0:28:29
7
94.28 %
Soi
Edwin
M27
2
NIKE
Kericho
–
Kenya
6
6
4
0:28:37
0:13:52
04:37
0:28:37
8
93.84 %
Korir
Leonard
M26
5
NIKE
Colorado Springs
CO
Kenya
7
7
5
0:28:44
0:14:09
04:38
0:28:44
10
93.46 %
Feisa
Ayele
M25
636
AODF
New York
NY
United States
8
8
6
0:28:53
0:14:09
04:40
0:28:53
12
92.96 %
Keflezighi
Meb
M38
7
SKE
Mammoth Lakes
CA
United States
9
9
1
0:28:57
0:14:09
04:40
0:27:46
2
96.70 %
St Lawrence
Ben
M31
6
NEWB
Centennial Park
–
Australia
10
10
1
0:29:00
0:14:09
04:41
0:28:51
11
93.08 %
Ngetich
Eliud
M19
61
New York
NY
Kenya
11
11
1
0:29:16
0:14:13
04:43
0:28:40
9
93.71 %
Robinson
Brett
M22
12
NEWB
Ballarat
Australia
12
12
3
0:29:38
0:14:42
04:47
0:29:37
13
90.69 %
Mack
Bobby
M28
9
REEB
Raleigh
NC
United States
13
13
7
0:29:45
0:14:28
04:48
0:29:45
14
90.26 %
Assefa Dube
Tesfaye
M29
16
WSX
New York
NY
Ethiopia
14
14
8
0:29:53
0:14:28
04:49
0:29:51
15
89.97 %
Girma
Tesfaye
M30
11
WSX
New York
NY
Ethiopia
15
15
2
0:30:25
0:14:45
04:54
0:30:21
17
88.50 %
Grey
Jon
M25
21
TMIN
Minneapolis
MN
United States
16
16
9
0:30:35
0:15:05
04:56
0:30:35
18
87.80 %
Thompson
Christian
M24
18
NJNY
Elkins Park
PA
United States
17
17
4
0:30:39
0:15:22
04:57
0:30:39
19
87.61 %
Jefferson
Fidele
M35
68
WSX
Flagstaff
AZ
United States
18
18
2
0:30:45
0:14:53
04:58
0:30:06
16
89.22 %
Wendimu Genbere
Mulugeta
M27
17
WSX
Silver Spring
MD
Ethiopia
19
19
10
0:30:55
0:14:48
04:59
0:30:55
20
86.89 %
Tesfaye Kahsay
Mikael
M26
89
WSX
Bronx
NY
Ethiopia
20
20
11
0:31:18
0:15:11
05:03
0:31:18
21
85.82 %
Bokan
Tariku Aboset
M31
58
WSX
Washington
DC
Ethiopia
21
21
3
0:31:27
0:15:21
05:04
0:31:18
22
85.80 %
Saunders
David
M28
84
ATLA
New York
NY
United States
22
22
12
0:32:37
0:16:00
05:16
0:32:37
24
82.34 %
Bartlett
Peter
M26
56
New York
NY
United States
23
23
13
0:32:57
0:16:21
05:19
0:32:57
28
81.52 %
Lhuissier
Francois
M34
378
CPTC
New York
NY
France
24
24
4
0:33:16
0:16:14
05:22
0:32:44
27
82.03 %
Pinter
Daniel
M26
474
New York
NY
United States
25
25
14
0:33:25
0:16:21
05:23
0:33:25
32
80.36 %