USATF Recap of 2013 USA 25km: Trafeh Sets American Record at USA 25 km Championships
INDIANAPOLIS – A quick early pace and a competitive field helped to propel Mo Trafeh to an American record of 1:14:18 as Dot McMahan took the Women's title in 1:25:52 at the USA 25 km Championships in Grand Rapids, Mich., hosted by the Fifth Third River Bank Run.
The USA 25 km Championships are the fifth stop on the USA Running Circuit, which will conclude this fall with the .US National Road Racing Championships. The top ten finishers at each race on the circuit qualify to compete in the .US National Road Racing Championships.
Article continues below player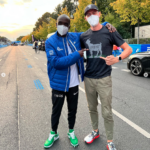 Kipchoge loves the 1:59:40 Shirt Get Yours Today
What a legend!
Through the first five miles Saturday morning, a large pack of leaders maintained a steady pace, led by Team USA Minnesota's Andrew Carlson. Following closely behind, Matt Tegenkamp, Trafeh, Christo Landry, Craig Curley and Josphat Boit trailed just off Carlson's pace.
At the seven mile mark, the pack of five dropped Carlson and were quickly moving through the streets of Grand Rapids. Running a downhill eighth mile, Curley fell off the back of the pack and by the twelve mile mark, Landry had done the same.
Coming up to the thirteen mile mark, Trafeh started to gap Tegenkamp and Boit, opening his stride and running home to victory. Trafeh put 16 seconds on Boit, who finished second in 1:14:43. Tegenkamp finished third in 1:14:43, while Landry and Curley rounded out the top five in 1:15:00 and 1:16:14 respectively. Trafeh's victory bettered the previous American record of 1:14:21 set by Fernando Cabada in 2006.
Trafeh's winning effort moved him up to third place in the USARC standing with 18 points, while Tegenkamp's third place effort put him one point behind USARC leader Ben True, with 20 points.
In the women's race, Lindsey Scherf set a strong early pace, clearly chasing the American record of 1:24:36 set by current USARC standings leader Janet Bawcom in 2012. Scherf gapped the field by nearly 20 seconds after the first two miles and maintained that lead for the first six miles of the race.
Between miles six and seven, the chase pack of Mattie Suver, Dot McMahan, Tera Moody, Brianne Nelson and Melissa Johnson White, went to work, closing the gap to five seconds as the women crossed the seven mile mark, then quickly passing Scherf heading into mile eight.
At the eleven mile mark, Suver and McMahan started to pull away from Moody, Nelson and Johnson White, putting a sizable lead on the trio fairly quick. At mile 12, Suver tried to surge away from McMahan, working a little gap between the two, only to have McMahan catch back up.
Into the final stretch the two athletes ran neck-to-neck. Suver put in a valiant last effort to break McMahan, but the Michigan-based athlete fought tough, cheered on by the crowd, and pulled away from Suver for a two second victory, 1:25:52-1:25:54.
Behind McMahan and Suver, Moody finished off a fine race with her third place, 1:26:12 effort. Melissa Johnson White held tough for fourth place in 1:26:35, while Brianne Nelson finished fifth in 1:27:03.
In the USARC standings, while Bawcom continues to cling to the lead with 30 points, Suver's victory and Nelson's sixth place effort leave the two athletes tied for second with 25 points a piece.
About the USARC
The USARC is a USA Track & Field road series featuring USA championships from one mile through the marathon and consistently attracts the best American distance runners with more than $500,000 to be awarded in total prize money. A total of $30,200 in prize money will be awarded at the USA 25 km Championships.
The first ten U.S. runners earn points at each USARC race (15 for first, 12 for second, 10 for third, 7, 6, 5, 4, 3, 2 and 1), with those earning the most points receiving prize money at the end of the series.
The mission of the USARC is to showcase, support and promote U.S. runners. Since its inception in 1995, the USARC and its races have provided over $7 million to U.S. distance runners.
Contributed by Scott Bush