2013 Fifth Third River Bank Run: Race Results
by LetsRun.comMay 11, 2013
Below you will see the top 10 results for the USA 25 km Championships hosted by the Fifth Third River Bank Run in Grand Rapids, Michigan.
Below that we give you the top 25 men's finishers overall and then top 25 women's finishers overall.
Article continues below player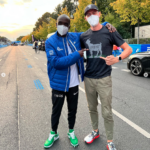 Kipchoge loves the 1:59:40 Shirt Get Yours Today
What a legend!
For additional results, see the race website.
Official Results for US Champs

Men
1. Mohamed Trafeh 1:14:18 AR
2. Josphat Boit 1:14:34
3. Matt Tegenkamp 1:14:43
4. Christopher Landry 1:15:00
5. Craig Curley 1:16:14
6. Andrew Carlson 1:16:21
7. Joe Moore 1:16:48
8. Michael Reneau 1:17:04
9. Zachary Hine 1:17:28
10. Ben Sathre 1:17:42
Women
1. Dot McMahan 1:25:52
2. Mattie Suver 1:25:54
3. Tera Moody 1:26:12
4. Melissa Johnson White 1:26:35
5. Brianne Nelson 1:27:03
6. Wendy Thomas 1:28:52
7. Stephanie Pezzullo 1:29:07
8. Katie McGregor 1:29:39
9. Theresa Taggart 1:29:41
10. Lauren Jimison 1:30:46
Overall Top 25 Race Results
Men
All Ages
All Divisions