The Story Behind The Fall
LRC The Collegiate Career of Jake Hojnacki, The Guy in the Epic Steeple Fail, Comes to An End If you're like the other 516,654 people who have seen this video, you know Jake Hojnacki as a guy who took a dive into the steeple pit and pretty much almost drowned. Turns out Employee 1.1 is one of Jake's coaches. Jake's collegiate career came to an end this past weekend in notable fashion. We bring to you his story as runners like Jake represent the heart and soul of LetsRun.com.
The Wait is Over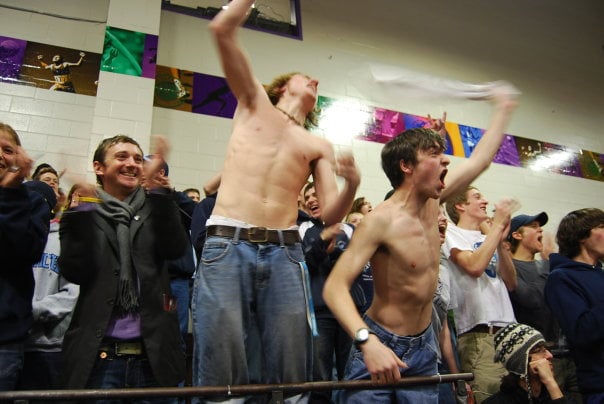 LRC LetsRun.com TShirt Design Contest The Empire State Building was built in a year, Hoover Dam took 5, so we figured 12 years is long enough for LetsRun.com tshirts. We pay homage to the 99%, and you let your LRC faithful come up with the design.
Recommended Read: Two Years Ago Joey Stoltz Almost Died And Today He Is A Marathoner "Less than two years ago, I was at the hospital and the doctors told me I wouldn't run again so those last two miles [of the marathon] were so emotional."
Kenyan News
More US News
US News: Lolo Jones Talks About Being A Virgin, Shalane Thinks The Kenyans Underestimate Her *NCAA Regionals Start Lists
Olympic Trials Start 1 Month From Today
1 Month And Counting:

Track & Field News Olympic Trials Men's Form Chart They've got Khadevis Robinson, Leo Manzano not in the top 3. Which reminds us, when is Centro Jr. going to race? He could not make the team.

On The Boards: Pick Em (Oly Trials 2012)
*answer this: webb, andrews, centro, wheating, lopez, leo are together with 400 to go at oly trials 1500... Plus Robby Andrews indicated he could run it and so did Nick Symmonds as the 1,500 is after the 800.
*Men's US Olympic 1500m team 2012



Track & Field News Olympic Trials Women's Form Chart They've got Shannon Rowbury not making the team. 1 of the big 4 in the 1,500 will be left out.
BUPA Great Manchester Run
Haile Gebrselassie Wins In 27:39, Thinking Olympic 10,000m The great one turned back the clock in Manchester on Sunday with a comfortable win 27:39 over Tsefaye Kebede, Patrick Makau and Ayele Abshero. After the race, Geb turned his attention to making the Olympic team next weekend in Hengelo at the Ethiopian Olympic Trials, saying, "I am not surprised to run that fast. I wanted to run under 27 minutes."
*BBC Interview With Geb After Race *Top Results *IAAF
On The Boards: Great Manchester 10km - Gebrselassie DOMINATES!

Manchester City Games Street Meet: Wallace Spearmon, Sanya Richards-Ross, Jessica Ennis All Got Wins In Cool Conditions Ennis beat Olympic champ Dawn Harper in a PR but afterwards they found out there were only 9 hurdles instead of 10. She was understandably very annoyed. Spearmon looked great in his 14.87 150m win.
*Dwain Chambers Admits He Was Worried How The Crowd Would Greet Him He got 2nd to Spearmon.
Other Weekend Pro Results
High School: MileSplit: Edward Cheserek Triples 9:03.51, 4:11.35 & 1:49.98 Izaic Yorks US #1 1,600m at 4:04.00, Cayla Hatton runs another 10k (34:19), Kaitlyn Merritt freshman national PV record at 13-3.
*Nevada State Meet: Nick Hartle Is State Champ In 4 Events, 400 Up To 3,200
*H.S. Sophomore Girl Runs 4:48 In 1,600
LRC Men's Recap: Mo Farah Wins Twice! Galen Rupp 3:34 & Robby Andrews 3:34! Donn Cabral Collegiate AR! Ritz 13:14! What a meet! The men's very entertaining from start to finish. The meet started off with an Evan Jager face plant and American collegiate record in the men's steeple and ended with a world champion rabbitting and then winning the men's 5,000. Along the way, Galen Rupp showed speed he's never shown before that made us think he might be a medal contender and Robby Andrews PRed by 5.99 seconds as both ran 3:34, David Torrence got the "A" and a whole lot more, including an Andrew Wheating loss to a guy you've probably never heard of. Oh yeah, so much happened we almost forgot Alan Webb ran 3:37.
*Dathan Ritzenhein Visibly Happy And Excited In Interview After 5k


LRC Women's Recap: Morgan Uceny Loses, Anna Pierce Almost Wins & Deena Kastor Does All The Work The women's action at the 2012 USATF Occidental High Performance meet confirmed what we already knew - the US women's 1,500 team is going to be very hard to make (world #1 Morgan Uceny was beaten and world champion Jenny Simpson ran 2 seconds slower than she did last year), Deena Kastor is very tough and still motivated at age 39, and Bridget Franek, Lisa Uhl and Jackie Areson are all in good form even if Uhl and Areson did zero work and let Kastor do it all. Plus Shannon Rowbury wins.


Occidental On The Boards:
Pre-Race
*Lithuanian Ok. State Star Natalja Piliusina Loves Coach Dave Smith "He's a great coach," Piliusina said of Smith. "It's so different than home. Home, your coach, you treat him like how you talk to your professor over here. With Dave, you can joke around; you can mess around with him. "He's more like your friend than a coach, but at the same time, he can be really strict. My relationship with Dave is great and I couldn't imagine having a better coach than him."
*Schumacher Downplays Expectations For Lomong & Jager - Says Solinsky Is Too Hard On Himself "(Solinsky will) come back wiser. You can push hard and work hard and still make good decisions. Sometimes, maybe, that got lost in his desire to be great. That happens. I'll take an athlete who has that type of passion and drive over someone who doesn't. It's a fine line to be sure. But to be the very best, and to do the things we talk about trying to do is not easy."

More US News:
*75-Year-Old Gags - Former GTown Legend - Still Coaching Strong & Hoping To Add To 11 Lifetime Olympians
*Oregon Ducks 1:47 800 Man Travis Thompson Leaves Team
*Robby Andrews Hasn't Signed With Nike
*Kirk Webb Runs 1:51.75 HS State Meet Record In CO
*A Brief Chat With NCAA Steeple Leader Shalaya Kipp
News From The UK
A Fantastic & Informative Read: Learn All About 9-Time Olympic Gold Medallist Paavo Nurmi A fascinating read. Nurmi was an absolute machine. Did you know that in 1924 that after winning the 1,500 and 5,000 he was mad he wasn't named to the 10,000 team so he ran a 10,000 on the practice track faster than the winner of the 10,000 at the same time of the race just to show he should have been selected to the event? He also divorced his wife because his son was born with feet too small for a runner.
Lots Of Additional Action
Thursday: Craig Miller And Heather (Dorniden) Kampf Take Titles At 2012 USA 1 Mile Road Championships *Results Kampf will always be a LRC heroine for winning one of the most amazing races we've ever seen.

Sunday: Meb Keflezighi Racing Bay To Breakers Up against former Boston Marathon winner Deriba Merga and CR holder Sammy Kitwara.
*Bay To Breakers To Feature Sobriety Checkpoints

*Kara Goucher Running Sunday's Rock N Roll Portland Half Marathon Ryan Bak and Sage Canaday headline men's field.
75 74 73 Days Until London - USOC Media Summit
LRC: Bernard Lagat Talks London 2012: "I'm More Hungry Now" The American 5,000m star talks about the Olympic Trials, admits Chris Solinsky almost cracked him last year, looks ahead to London, and gives his assessment of rivals Kenenisa Bekele and Mo Farah. Text and video.


LRC: Michelle Obama Gives Track Athletes Some Love The First Lady attended the US Olympic Media Summit to expand her "Let's Move" campaign. In the process, she gave LaShawn Merritt and Wallace Spearmon great TV time standing behind her, Lashinda Demus got a hug, and Bernard Lagat a handshake.
*Alan Abrahamson On Michelle Obama's Visit

LaShawn Merritt: "When I was at home, looking at a bank account when I wasn't getting paid, it was, 'OK, what am I going to do if I won't be able to run in the Olympics?'"
Day 1 Media Summit
LRC: Team USA Sprint And Field Love: Allyson Felix, Wallace Spearmon, Sanya Richards-Ross, Lashinda Demus, Trey Hardee, Jillian Camarena-Williams, Brittney Reese, Hyleas Fountain Talk Olympics The London Olympics start in 75 days and some of Team USA sprint and field events stars kicked off the USOC Media Summit in Dallas. Allyson Felix talked 100/200 double, Sanya Richards-Ross talked 200/400 and her health, Wallace Spearmon talked about working hard and no more NBA pickup games, Trey Hardee talked choking, Jillian Camerena-Williams talked Diamond League and much more. Letssprintandthrow.com had all the coverage.
*Allyson Felix At The Olympic Summit: The 100/200 Double Is A Real Possibility In London Video.
*Wallace Spearmon Video From 2012 Olympic Media Summit
*Sanya Richards-Ross At The 2012 Olympic Media Summit Video.
*WP: USOC Officials Defend Slow Pace Of Revenue-Sharing Talks This is an important issue because there will be no U.S. bids to host the Olympics until it is resolved.
*Philip Hersh's Take On The USOC-IOC Debate: Revenue Conceded To IOC Would Come From Athletes
*400m Hurdles World Champ Lashinda Demus Says Track Is "a dying sport." "People are making $15,000 a year and calling themselves a professional athlete. To me that's not a good job."
Doha: LRC LetsRun.com's Recap Of Doha 2012: The Samsung Diamond League Starts Off In Style If all the meets this year are as good as this one, we're going to have an incredible Olympics. Asbel Kiprop went sub-3:30 for the first time ever and lost to Silas Kiplagat, a race was perfectly designed for Vivian Cheruiyot to lose and she won, Kenenisa Bekele looked average, Paul Koech tore up the steeple, and Pamela Jelimo may have a new challenger. American stalwarts LaShawn Merritt and Allyson Felix impressed, and Americans Russell Brown and Molly Beckwith did what they wanted in the distances.

Flash Recaps Included In Overall Recap:
LRC Men's 1,500: Fabulous Start To 2012: Silas Kiplagat Wins, Asbel Kiprop Finally Breaks 3:30 As He Nearly Gets Knocked Down The men's 1,500 started off with a bang with the World #1 and World #2 colliding, racing all the way to the line, and running faster than anyone in all of 2011.
LRC Men's And Women's 3ks: Bekele Is Well Beaten, Vivian Cheruiyot Finds A Way To Win We want you to read our full recap up top, but if you're pressed for time, Kenny B was well beaten in the 3,000 and we were left wondering when Vivian Cheruiyot will be beaten again.

More:
*US Sprinters Feeling Confident After Solid Showing LaShawn Merritt on World Champ Kirani James: "He's a great talent, and he's definitely learning the race. But I'm here. I'm here to whup him."
*Is The 100m A Golden Opportunity For Allyson Felix In London?
*IAAF Recap: Middle Distance Magic Highlights
*Doha Stats - Gatlin's Is Fastest 100m By American Ever In Early May
*Doper Justin Gatlin Talks Big After Win: "I want everyone to know Justin Gatlin is back and I want the Olympic title." "You've got to take track and field as a soap opera with spikes on."

Doha Flash On The Boards:
Pro Distance News
Korir Running Chicago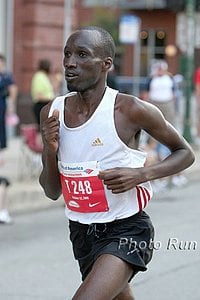 LRC Wesley Korir: From #T248 To #1 At Chicago The first time Wesley ran Chicago (photo here), he paid his entry fee like everyone else and started with the masses. Now 4 years later he's returning as the Boston Marathon champ. Learn more about Wesley (he hopes to be a US citizen soon) and how the late Sammy Wanjiru inspired Wesley to be a champion.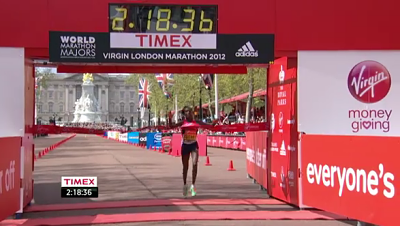 LRC Mary Keitany Runs Fastest Final 10km In Marathon History To Repeat & Become The #3 Performer In History The Kenyans certainly came to play when it was time to battle it out for the title and London Olympic spots, as they went 1-2-3-4-5, but in the end, everyone was left talking to about Keitany, who used a 5:07 23rd mile and 4:59 24th mile to pull away from world champion Edna Kiplagat and mark herself as the Olympic favorite.

On The Boards: *Live Update Thread *Kenyan Olympic team

Recommended: Excellent Post By Science Of Sport On Boston Conditions: The Surge Between 25 And 30k And The Sun Did The Leaders In We'll have more LRC analysis but this post does an excellent job of explaining what happened. Also read this post that explains why telling people to over-prepare for the heat may not be the best idea. And only 427 people deferred to next year's race.
NCAA Regionals Start Today (West Live Stream @ 11AM CT, Track Events @ 4:30CT), Ostrava Tomorrow, And Other Meet Action
2020 Olympics In Tokyo, Madrid, Or Istanbul ...2024 In The US???
Cambodia: 800m Runner Kieng Samorn Chosen For Cambodian Olympic Team Replacement for Japanese-born comedian Hiroshi Neko.
News From Over The Pond
A Result We Missed From The Weekend: Pasalia Chepkorir Kipkoech 30:57 10k On The Roads In Brazil
Upcoming Action
Bizarre: Bill Bowerman's 41-Year-Old Daughter-In-Law Takes 17-Year-Old To Prom And Is Rightfully Fired As Volunteer Track Coach Her husband is 73-year-old Jon, son of legendary coach Bill. They are the two who found the original Nike Waffle Iron and gave it to Nike earlier this year and in return got a track built. *Deadspin Has More Message board thread here.

Shameful: Pennsylvania Officials Claim To Kick Star Sprinter Out Of Meet For Being Disrespectful, But Reporter Overhears The Real Truth Officials said they kicked Eric Futch out of a meet; a reporter, however, overheard them conspiring in the press box. Thanks to Milesplit.com for sending us this. More here.
Get Off The Roads And On The Trails: AP: "Born To Run Barefoot? Some End Up Getting Injured" We may have been meant to run barefoot, but definitely not on hard concrete.
International News
Random But Great Video: 91-Year-Old Woman Long Jumps, Throws The Disc And Shot
2012 & 2020 Olympic News
International Ladies News
Booze And Bolt
News From Kenya
Sprint News
Good Read: Tim Layden Of Sports Illustrated Takes An In-Depth Look At Allyson Felix's Double Chances At The Olympics We'll have more on Felix this week, but for a 10-minute interview with her at the USOC Media Summit, click here.
*Shanghai Diamond League #2: Saturday *Results *Yahoo Photos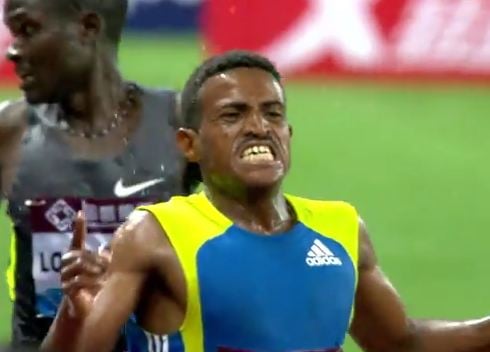 LRC: Shanghai In The Books: Liu Xiang And Genzebe Dibaba Impress, Bekele's 5,000m, 17-Year-Olds Go 1-2 In Tthe 800, And More Liu Xiang's 12.97 in the rain was incredible, as was Genzebe Dibaba's 3:57.77 world leader in the 1,500. There wasn't a sub-4:00 all last year and now there was one in the first DL race of the year. In other action, two "17"-year-olds went 1-2 in the 800, VCB and Carmelita Jeter battled in the women's 200 in a driving rain, and of course Kenenisa Bekele's return to 5,000. Recap, analysis and results.
*Race Videos In Recap

LRC: Women's 1,500 And Men's 5,000: Genzebe Dibaba Runs Brilliant 3:57.77! And Kenenisa Bekele 5th In 13:13.89 We break down the two most important distance races of the night. The full recap of the meet above has this story as well.
*5,000m Winner Hagos Gebhriwet Only Started Running 2 Years Ago

On The Boards: *Bekele's Done!
*Shanghai Live Thread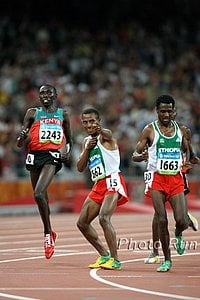 LRC Rojo Speaks: Is Kenenisa Bekele Done? Rojo says everyone who is predicting Kenenisa Bekele's demise is jumping the gun. He compares Bekele's run to Dathan Ritzenhein's the night before.

Non-LRC Coverage: Liu Xiang Happy And Looking Forward To Racing Dayron Robles At Pre World champ Jason Richardson: "What was surprising was to see an entire country get behind [Xiang]. I tip my hat to the Chinese and I wish we had a bit more of that in America."
*SA's Andre Olivier Gets Some Scalps In 800, Beating Alfred Yego And Asbel Kiprop 1:46.74 for 3rd.
*Steve Hooker No Heights In PV
*Asafa Powell Ran 10.02 For The Win In Wet And Windy Conditions
*IAAF Recap
*AP Recap
*Joe Battaglia On Liu Being Back
*5,000m Winner Hagos Gebhriwet Only Started Running 2 Years Ago
*Liu Xiang's Time Of 12.97 Was His Best In 5 Years
*Philips Idowu Starts Olympic Campaign Well
Saturday Road Action
North Dakota: Andrew Carlson Celebrates Too Soon & Gets Beaten By Joe Moore At Fargo Half Marathon

Virginia: Kevin Castille Wins The 8k U.S. Masters Championship In Williamsburg, VA *Results

Austin: Craig Nowak Wins Congress Avenue Mile He ran an 8:59/4:06 3,200/1,600 double at the state neet last week with a 55.53 last lap in the 1,600.
Mo Farah & Bernard Lagat, Are You Paying Attention?
Isiah Koech Edges Paul Kipsiele Koech In 1,500 At Kenyan Police Champs As Double World Champ Vivian Cheruiyot Drops Down To 1,500 & Wins The men's 1,500 was very hotly contested as the 18-year old I. Koech, who was 4th at Worlds in the 5k last year, won over P. Koech, who ran 7:56 last week in the steeple, 3:39.01 to 3:39.07 as both beat 3:31 1,500 man Nicholas Kemboi.
Doping News
Ethiopian Marathon Team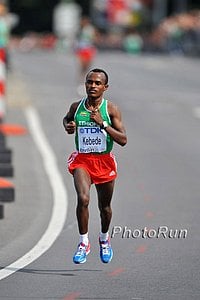 LRC: Ethiopian Olympic Marathon Team Announced And Tsegaye Kebede Is Not Even An Alternate Kebede, Ethiopia's best marathoner the last four years, wasn't even named to the team as an alternate as Ethiopia went solely off of times people ran in races in 2012 and did not factor in courses or fields. 21-year-old sensation Ayele Abshero leads the men's team and 2:18 perfomer Tiki Gelana leads the women's.
*Discuss
Distance Men & Women In The News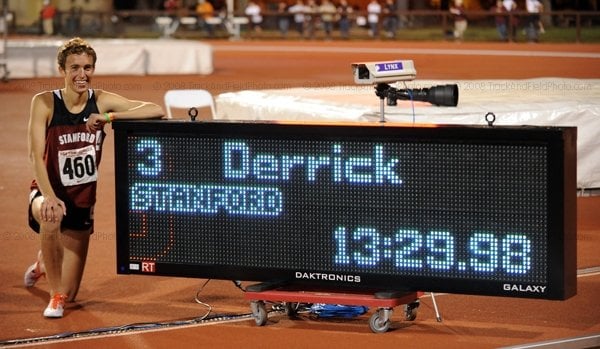 Stanford's Chris Derrick - Representing Stanford & Going For 2 NCAA Titles Is Important To Me "For a lot of people, it's 'Trials, Trials, Trials.' I think I'm fortunate to have a collegiate season and a team to worry about. I don't race my best when I'm just thinking about one race for six months."

Geoffrey Mutai Beats London Marathon Champ Wilson Kipsang At Kenyan Police Champs 10,000 - Says Focus Is Fall Marathons, Not 10,000 He's also not sure if he'll defend his NYC title (can you say negotiating tactic?). Lucy Kabuu won the women's 5,000 and said she'll go for the Olympics in the 10k after being left off the marathon team. Mutai also talked about what went wrong in Boston. "The weather in Boston was very humid and when I took water, I felt pain in my stomach and this cost me." *Discuss

South Africa's Stephen Mokoka May Do 10,000 So Hendrick Ramaala Can Run 5th Straight Olympics Mokoka already is qualified in the marathon and has an "A" in the 10,000 but has to get a 2nd one - ridiculous!

Surprising Visa To Sponsor Steeple Champ Brimin Kipruot And Vivian Cheruiyot
Sammy Wanjiru RIP: Nov 10, 1986 To May 15, 2011
4 Really Great Recommended Reads *Also Look For A Great Wanjiru Article In Print Version Of The New Yorker
#1 - Journalism Still Exists: ESPN The Magazine's Shaun Assael Writes 5,122 Word Epic On Sammy Wanjiru's Life And Death From his start as a schoolboy to details as to why his mother claims he was murdered, Assael leaves no stone unturned. He also points out that many other successful Kenyans before Wanjiru have also struggled with fame, including Paul Kipkoech, Richard Chelimo and Benson Masya, who all died young. Sadly, Wanjiru was going to train in San Diego to get away from it all but couldn't because of a gun charge. *Interview Of Author On Right Column

#2 - 50 Stunning Olympic Moments No. 30: Zola Budd In 1984 Do most people remember Budd was just 17 when she set the WR in the 5,000 at 15:01 and when she collided with Mary Slaney? The article reveals that Budd's family disintegrated after she left South Africa to compete for GBR and it also reveals Mary Slaney to have been unbelievably rude to rip a 17-year-old. *Zola Budd - In Pictures

#3 - Wall St. Journal Profile Nails Abdi Abdirahman's Personality Perfectly!!! "Going for Gold - or Whatever The Secret to an Aging Olympian's Endurance: Don't Let Training Get in the Way of Fun" Is Abdi's love of life (ohers might say laziness) an asset?

#4 - What Really Happened At 1st Olympic Women's 800 In 1928? Despite what was reported, 5 of the 11 runners didn't drop out with another 5 collapsing at the finish. The only person collapsing at the finish that year was Paavo Nurmi, but women's mid-d and distance running would be banned for years nonetheless.
Swarthmore Last Chance Meet
Columbia's Kyle Merber Sets American Collegiate Record* Of 3:35.59 updated *Instagram Proof If You Don't Believe Talk about your dreams becoming reality. Merber pulled a Brian Hyde and beat a stellar field and lowered his PR nearly seven seconds!!! A guy who was recently 14th at Stanford in 3:42.49, got outkicked by Donn Cabral at Penn, and has never scored a point at NCAAs is the NCAA American record holder. Unbelievable. But Merber is legit as he was a former Millrose champ in HS who missed all of last year with an injury. He may have just missed the Olympic "A" of 3:35.50 but we bet he doesn't care as he likely started the race hoping to not embarrass himself. Merber was in 9th with a lap to go. Nick Willis paced for 1,300 before dropping out. Jordy Williams 2nd (3:36.74), Nate Brannen 3rd (3:36.77). Will Leer and Lee Emanuel were back in last and second to last. *MB Thread
*Video Of Merber's Race
Kenyan News
One Year Later, The New Yorker Looks At Sammy Wanjiru's Death & Says He Looked Into Running For Qatar We imagine that piece of info was included to get people to read it, as he wasn't hurting for money. *New Yorker Article On Wanjiru (Subscription needed for whole article)

A Brief Chat With "Running With the Kenyans" Author Adharananand Finn The subtitle is "Discovering the secrets of the fastest people on earth."
Ryan Hall
Meb, Abdi, Ryan Go To The Empire State Building

LRC: Ryan Hall Talks Olympic Marathon Atop The Empire State Building Prior to Saturday's UAE Healthy Kidney 10,000m with a $25,000 first prize, the US men's Olympic Marathon team of Meb Keflezighi, Ryan Hall and Abdi Abdirahman talked to the media on Thursday atop the Empire State Building. Employee #1 talked Olympic Marathoning with Ryan Hall. Read all about it.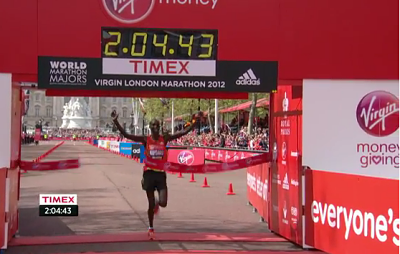 LRC A New #1: Wilson Kipsang Destroys One Of Greatest Marathon Fields In History In his first marathon major, Kipsang certainly wasn't scared of the bright lights, as he did something unheard of in major marathoning in the year 2012. He took off before halfway and used a 14:09 fifth 5km to obliterate the lead pack, as a 1:02:12 halfway wasn't fast enough for him, and he went to earn the largest margin of victory in 30 years, while Martin Lel was second. We recap it and speculate as to who gets the Kenyan Olympic spots and tell you why a DNF in our minds is a positive for someone's Olympic hopes.

LRC Meet Wilson Kipsang: "If I had to compare him to an NFL quarterback, I'd compare him to Peyton Manning."
Great Read If You Didn't Read It Yesterday: Alberto Salazar Unplugged - Part II This interview with Amby Burfoot is great. From Ritz's struggle in the marathon, to Ritz's form change, to Alberto's competitive relationship with Jerry Schumacher, to Galen Rupp's marathon future and, to Alberto's biggest regrets, Amby Burfoot leaves no question unasked and Alberto doesn't shy away from any of them and talks about Rupp running 12:45 and in the 26:20s.
*Part I: Alberto's Book & The "Duel In The Sun"
MB: An Incredible Amby Burfoot Interview With Alberto Salazar
Non-London Marathon News
Meet Glenn Randall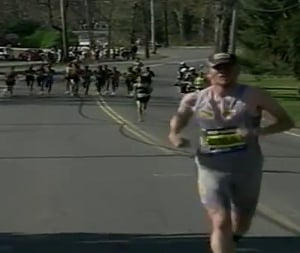 LRC The Story Behind Glenn Randall (The Guy Who Led Boston) Who was that dude leading the first 10k of the Boston Marathon? Believe it or not, he's an NCAA champion (in another sport). LetsRun.com talks to the guy who made the first 10k of the marathon entertaining. His frontrunning was no stunt and has paid off big time in the past. This time it resulted in a 2:37:13 61st place finish.
Usain Bolt Earns Some Of His $10-15 Million By Being Beaten by 2 Year Old Girls
Show Me The Money
New Running Documentary On Chris Derrick, Kyle Merber, Erik Van Ingen And Riley Masters Now Out! (More Info Here, Trailer Below)
Doha Photos Now Up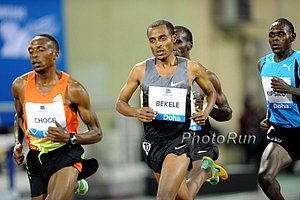 Shanghai Photos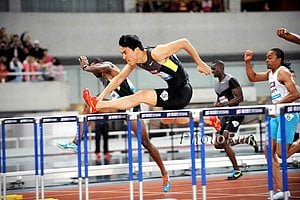 Other News
*Video Interview With Kyle Merber After His Huge 3:35 1,500 PR
*EatRunSwag: Life Through The Eyes Of A LetsRun Message Board Poster
*Fan "Deflated" After Watching Time Trial Races At Oxy Races "In essence, Track & Field does not have track fans. It has a group of unapologetic masochists. We sit through heat after heat; long pauses between them; and all without, god forbid, a beer garden that is all too expected at any other professional sporting event ..." He goes on to say that everyone should send LetsRun.com $10.
*Bernard Lagat Wants 5K Gold To Cap Career (Video Interview)
Drug Corner
Big Story? Doping widespread in Kenya? Fresh allegations by German journalist

Unbelievable: Convicted Drug Cheat Dennis Mitchell Coaching Justin Gatlin This isn't new news and has been the case all spring, we just didn't realize it. 6 years ago, little LRC pointed out Mitchell, the guy who claimed he tested positive because he had five beers and sex four times with his wife (maybe Dennis can give his advice here), an excuse USATF accepted, was coaching a USATF international team. USATF then tried to claim a different Dennis Mitchell, the University of Akron coach, was the actual coach. Mitchell is free to coach whomever he wants. You'd think Gatlin might be concerned about public perception.
A True Genius Of The Sport
Donovan Bailey's Coach Dan Pfaff Has Helped Marathoner Mara Yamauchi Get Healthy Again We've said he and JK are the two geniuses we know in the sport. Pfaff has advised sprinters, field eventers, and now marathon stars.
NCAA Entries
*NCAA Men's East Entries *NCAA Men's West Entries *NCAA Women's East Entries *NCAA Women's West Entries
Week In Review
LRC WTW: Lawi Lalang, Charles Jock, Nick Symmonds, Russell Brown, Nervous Drug Cheats, Ryan Hall, Kenenisa Bekele And More This week we wonder if Lawi Lalang is cooked, teach Nick Symmonds and Robby Andrews and you about the merits of frontrunning in the 800m, talk about something inherent about track and field that makes it unpopular, analyze the fantastic Diamond League opener in Doha, and Ryan Hall speaks and we listen.
UAE Healthy Kidney 10k Photos
Eight Days Of Glory
LRC Eight Days Of Glory Surprise: Kenyan Olympic Marathon Team Analysis The marathon world has turned upside down in 2012, as the six best marathoners in the world in 2011, all from Kenya, have run their spring marathons and only one, Wilson Kipsang, came out on top. The Kenyan Olympic team of Kipsang, double World Champ Abel Kirui, and Moses Mosop is not the team that would have been selected at the end of 2011. Emory Mort, author of the 8 Days of Glory Series, tries to make sense of it and he looks at the Kenyan and American medal chances in London.
LetsRun.com Track/Training Talk
32 Minutes With Diego Estrada And NAU Coach Eric Heins (Listen Below Or Download Here)
Another Steeple Fail (Getting Picked Up By USA Today Blogger)
We Never Posted These: Paula And Haile G In Vienna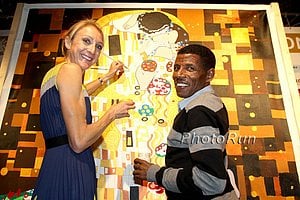 Updated Boston Photos (Now With Many More Men's And Women's Photos)
Interesting Read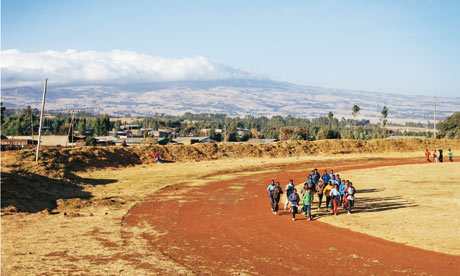 Bekoji, Ethiopia: Town Of Runners By now many of you have heard of Iten, Kenya - the tiny town where many Kenyan stars train. The Ethiopian town of Bekoji may be even more impressive, as it is where Kenenisa Bekele (3 Olympic golds), Tirunesh Dibaba (2 Olympic golds), Derartu Tulu (2 Olympic golds), and Fatuma Roba (1 Olympic gold) were all born. Lengthy Guardian profile on the town and its unheralded coach Sentayehu Eshetu. A movie on the town - "Town of Runners" - comes out later this month.
*Bekoji Photo Gallery
Virgin London Marathon Photos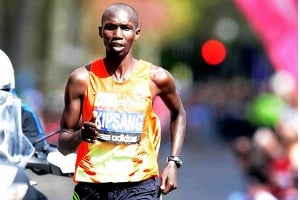 More London
Employee #1 Goes To Kenya

LRC Meet Mary Keitany The half marathon world record holder destroyed the best women's field in the world last year in London. Then on the hilly New York course, she went out faster than Paula Radcliffe during her world record before falling apart miserably. Now she has to qualify for the Olympics in London. Get to know Mary Keitany.
*Keitany Photo Gallery *Getty Images Photos From Kenya


LRC Meet Wilson Kipsang: "If I had to compare him to an NFL quarterback, I'd compare him to Peyton Manning." link fixed We share with you this unpublished segment on Wilson Kipsang from Employee #1's final piece in the 8 Days of Glory Series. Short segment with video interview with Kipsang overlooking the Rift Valley.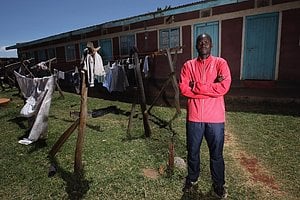 LRC The Electrifying Abel Kirui The two-time World Champion has dominated non-rabbited races. Can he do the same in London on Sunday? Learn about his training and his set-up in Iten as he talks about phantom planets and more - from Employee #1's trip to Kenya.
New: Renato Canova Talks About Abel Kirui (Video)
Training Corner (More In The Training Forum)