The Collegiate Career Of Jake Hojnacki, The Guy In The Epic Steeple Fail, Comes To An End
LetsRun.com Catches Up With The Fifth-Year Senior Whose Steeple Crash Earned Him Over Half-A-Million Views On YouTube
By Steve Soprano
May 22, 2012
Jake Hojnacki, a 5th-year senior at Division III Franklin College, on March 24, 2012 had what has been titled "the best steeplechase fall, seriously." If you haven't seen the video (embedded below), we definitely recommend you take a look as you will see Hojnacki take a dive into the steeple pit and then get landed on by another runner. The video has generated over half a million YouTube views and has appeared on other share sites such as AOL.com, College Humor, FailBlog.org, and Oh…Dios! (a South American version of Tosh.0).
It turns out LetsRun.com Employee 1.1, Steve Soprano, is the assistant coach at Franklin College. LetsRun.com's corporate headquarters eventually found this out and tasked Steve with interviewing Hojnacki about his epic fall. Steve then told the powers that be that Hojnacki's collegiate career had just come to an end in a notable fashion. Runners like Jake are the heart and soul of LetsRun.com. Here is his story.
Anyone who's watched track and field meets for long enough has seen someone bite it in a steeplechase. In fact, that's often why people watch in the first place. It never fails. At every high school or college track meet when they are getting ready to run the steeple, a crowd of people forms around the water pit. Spectators can't help it. It's interesting; it's so different and random compared to your traditional track and field events. Seven-and-a-half laps jumping over 35 horse steeples (including 7 water pits). And with each of those water jumps there is a high probability that eventually (maybe hopefully?) someone is going to fall. It's the same reason people watch NASCAR waiting for a crash or hockey games hoping for a fight. It adds excitement and generates threads like this: Jager - Face Plant on Final Water Jump!
So, aside from the crowd moaning in unison (described by Evan Jager at 3:10 into this video), what happens when someone finally does fall? Well, if the race is being videotaped, you can guarantee that video is going up somewhere online before the night is over. These videos often go "viral" and epic steeple falls are probably the only reason people in the non-track world know the event exists. The victims of the fall become semi-celebrities as their videos generate thousands of views. Except no one actually ever finds out anything about them or their story.
It's time for that to change.

Best Steeplechase Fall - Seriously
Who Is Jake Hojnacki And Why Does He Steeple?
Like many runners, Jake Hojnacki fell into running (pun not intended) by accident as he started high school as a soccer player and was forced to do track by his parents. However, he found that his track teammates were not as "douchey" as the soccer team and decided to be a runner full time. He ran 2:01 for 800 as a sophomore, going to the Indiana State meet for his 4 x 8 team, and ran a 4:31 1,600 by senior year.
After high school, he moved on to Franklin College, a small DIII school in central Indiana. It was here that he was first introduced to the steeplechase. After doing some practice water jumps which he found surprisingly easy (he later discovered they were actually at the women's height), he ran his first steeplechase in 10:26 for 3rd place in a 4-person race.
Jake did not fall in love with the steeple right away or even become a steeplechaser by choice. In a video interview last Sunday, the day after his collegiate career had ended, Hojnacki said, "I guess I was kind of forced into the steeple after my sophomore year because of my leg injury. It was the only race I could do over a mile without having to drop out."
The injury he refers to is chronic exertional compartment syndrome, and for a while it kept him from being able to do more than a mile-and-a-half of hard running. He struggled with it for 2 years before getting a diagnosis and finally had surgery on it this past fall. As Hojnacki put it, the surgery "worked kinda sorta" as now he can get a whole two or two-and-a-half miles of hard running before his leg starts acting up. In effect, the longest event he can do is the 3k.

LRC Interview With Jake Hojnacki
So that was it. The doctors told him he has permanent nerve damage which may or may not get better. Two years of running through pain, frustration over not having a diagnosis, and grueling surgery followed by rehab and tons of elliptical cross training (which Hojnacki calls the "devil's exercise") got him one extra mile. This is a pretty limiting situation for a collegiate distance runner where cross-country races are 8 kilometers and track races 5 or 10k. Even after the surgery, Hojnacki still cannot do tempo runs of more than two miles so his training is severely limited as well. Placed in such a situation, even the most dedicated runners might decide to "hang 'em up," but Hojnacki didn't want to do that.
When asked if he thought about quitting, he said, "Yeah, it's pretty frustrating just cause I showed some decent potential as a freshman and sophomore and then my junior year I took a lot of time off before [the compartment syndrome got really bad]. But after that I couldn't do any more." He says what motivated him to stick with it was: "Just being part of the team and being an NCAA athlete. ... You only get one chance to compete for a school and regardless of division, it's not something many people can say. So might as well make the most of my opportunity."
The Fall
Hojnacki's epic steeple fall happened at this year's Rose-Hulman Early Bird meet. It was his first steeple of the year and he was pleasantly surprised to find himself 6 laps in on PR pace, with a lead over the cross-country conference champion, Jacob Naegeli. Then, on the second-to-last water pit, disaster struck and Hojnacki found himself face down in the water and getting landed on by Nageli. He struggled to even get up and after climbing out of the pit, he tried to continue. But he only made it 20 meters before dropping out and then proceeded to have an Alan Webb-esque "mental breakdown on the infield." While some might not have appreciated all the "4-letter words" he threw out, the whole episode (both his attempt to continue and reaction when he could not) displays the passion and determination with which he approaches his running.
Of the fall he said, "It happened so fast ... and next thing I know I'm laying face down in the water pit. The water was really cold and I just went into shock and I thought I was going to drown in 6 inches of water. ... I thought my world was coming to an end."
Hojnacki is good humored about it though, saying, "I'm definitely the kind of guy who laughs when people eat it during hurdles and I guess that was just karma catching up with me. But now I don't feel bad about it because I know there are half a million people laughing their asses off at me." He also says he holds no grudges against Naegeli, but would like to race him again in the future.
Ending A Career in Epic Fashion At The "Stanford Of DIII"
Moving on from this, Hojnacki had a successful season, PRing in his next 4 steeplechases, ultimately running 9:37.42 at the Louisville Invitational on May 11th. Then, with only one more weekend in the regular season, Hojnacki traveled to a last chance meet at North Central College in Illinois. He was hoping to end his college career with one more big PR at what he calls the "Stanford of Division III." Going into the race, workouts were going well and he knew he had a sub-9:30 in him.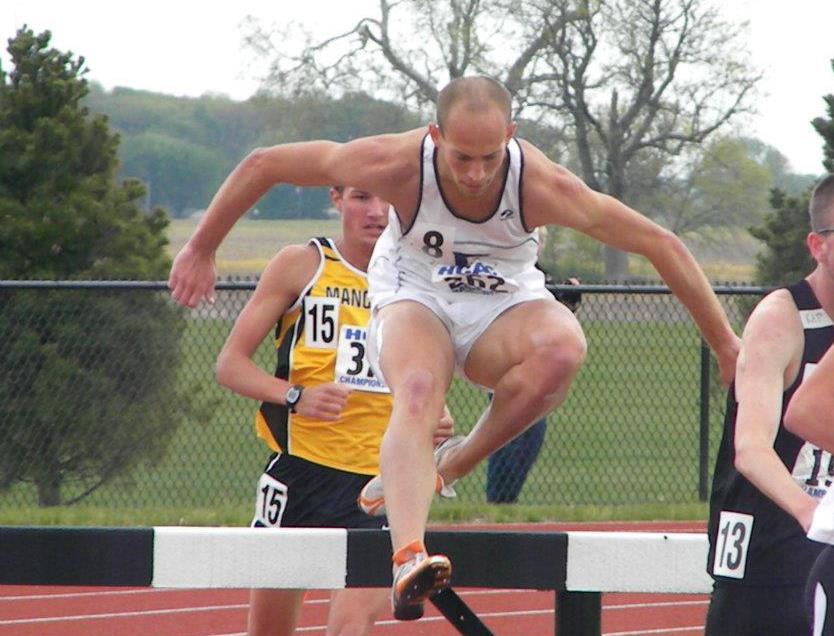 And he was right. For 6 laps he was on pace for a 9:27 or 9:28; maybe even faster if he closed well. But then it was "déjà vu all over again" on the second-to-last water jump as his foot slipped and he found himself laying face down in the pit once again. No one landed on him this time and he was able to get up and finish the race, but the shock of the fall and loss of momentum hurt him a lot and he ended up only running 9:55.
For a 5th-year senior in his last college race and someone who had gone through so much just to be able to run, this was a hard pill to swallow.
"When you visualize your last race, you don't ..." Hojnacki pauses. "That's not how I visualized it. I think most runners, they think about how they're going to go out on their career. Storybook ending where you PR by 50 seconds and qualify for nationals. Go on to be an All-American and everyone had written you off. And I was like 'Yeah, that's what's going to happen to me.' And then I'm 6 laps into my last steeple and I'm laying there in the water. ... I didn't even want to get up.'"
Hojnacki's story is one many college athletes can relate to when they graduate. Four years come down to one last race, one last chance, and not everyone gets a fairy tale ending.
Looking Back And Ahead
When asked if he was happy with his career Hojnacki said, "Yes and no. I guess I'm proud to say I didn't quit when I had plenty of opportunities to. But I'm competitive. I wanted to be up there. I wanted to win races. I wanted to run fast times. I ran faster than some, but there's still a lot of people better than me and I felt like I had a lot more in me."
Looking ahead, he says he'd like to race road 5k's and maybe a marathon, but it's all about what his "body will let him do" if the compartment syndrome improves. Of the steeplechase, he says, "I've thought about doing it over the next couple years. Really, if I spent another four years working as hard as I did the first four, I feel like I could break 9 minutes. But it's just a matter of do I really want to do that? It's a commitment and sub-9, it'd be cool to say, but it's not really going to get you anything." He says it also depends on his future career as he wants to go into teaching and coaching, but has also applied to the Peace Corps.
Hojnacki ended the interview with some comments on Katy Andrews from BYU, who had her own epic steeplechase crash not long after his.

No One Even Landed On Her
"I was a little upset. That got a lot more publicity than mine. I thought my fall was much better. She made Sports Center and stuff like that, but I guess guys want to see cute girls fall in face first." He added, "Hopefully we never reproduce with each other, because I feel like that child would be very clumsy and a lot of bad things would happen to that kid."