Athing Mu holds Off Ajee' Wilson, 8 Straight for Emma Coburn, Elise Cranny Makes it 2 in a Row – Day 4 USAs Women's Distance Recap
By LetsRun.com
June 25, 2022
EUGENE, Ore. – Good news American track and field fans.
The 2022 World Athletics Championship are less than three weeks away and American distance stars Athing Mu, Ajee' Wilson, Raevyn Rogers, Emma Coburn, Courtney Frerichs, and Elise Cranny will all be on team USA as they all finished top 3 on the final day of the 2022 USATF Outdoor Championships to book their tickets back to Eugene.
Article continues below player
We recap all the women's final day distance action below. Go here for our recaps of the two men's distance finals (the 5000m and 800m) and go here for our recap of a hotly contested men's 200m.
The women's distance race of the day was the women's 800, where Ajee' Wilson battled Olympic champion Athing Mu to the line. Wilson pulled ahead of Mu, but Mu battled back to get the win in an epic battle.
Embed from Getty Images
Emma Coburn got her 8th straight US title in the women's steeplechase, and Elise Cranny led a Bowerman 1-2 sweep in the women's 5,000m.
Women's 800: Athing Mu Wins Thrilling Women's 800 After Ajee' Wilson Pushes Her To The Limit 
Looking at just the results of the women's 800 at the 2022 USATF Outdoors – Olympic champion Athing Mu first, world indoor champ Ajee' Wilson second, and Olympic bronze medallist Raevyn Rogers third – the women's 800 very much went according to form.
But the results don't tell the whole story. This race was thrilling as Ajee' Wilson unexpectedly nearly beat Athing Mu as Wilson took the lead just 30 meters before the finish before Mu responded for the win. Watch the race yourself if you haven't seen it.
The Race
Athing Mu went straight to the front leading Olivia Baker and Ajee' Wilson through 400m in 57.25. Since the pace was honest, hardly anything behind them changed and that order would continue all the way through 200m to go where Mu started to pull away and was followed by Wilson. At this point it looked like this would be another race where Mu walked away from the field, but Wilson was full of run down the homestretch and started gaining on Mu, and then Wilson pulled even and for a split second actually passed Mu. But Mu somehow managed to respond and was able to just beat out Wilson 1:57.16 to 1:57.23. Behind them, Raevyn Rogers came from sixth to third in the final straight to take the final world spot in 1:57.96.
Quick Take: Athing Mu was tested today, and she rose to the challenge
20-year-old Athing Mu has not had a whole lot of setbacks since her ascent to the top of the sport began last year. She lost just once last year, at NCAA indoors in the 400, and when she won, she usually won in dominant fashion. She has not been in many situations where she has had to battle with someone else all the way to the line.
But today another fantastic athlete, Ajee' Wilson, gave Mu a real challenge, and Mu responded like a champion, digging deep and passing Wilson back on the home straight to take the title. As the Olympic champion, Mu is favored to win every race she enters, and that comes with a certain degree of pressure, but Mu hadn't felt much of it this year until USAs. 
"They usually say oh, you have target on your back," Mu said. "But I never really felt that until today – not today, but just this whole week."
The pressure only figures to increase from here with a home World Championships next on the docket.
Quick Take: Worlds just got a lot more interesting
Mu fended off Ajee' Wilson's challenge but it was great to see her challenged. Mu is still winning everything in sight but she's not quite at the same level this year as last year. Last year, she won the Trials at 1:56.07. If she drops back a little bit and Wilson finds something close to her old peak, things could be really interesting at Worlds like they were today. Remember, Wilson has a 1:55.61 pb and four times broke 1:57 in 2017 and 2018.
Quick Take: Ajee' Wilson looked great at USAs, but felt she went a little too early today to get the win
Wilson stayed patient and waited until the final 40 meters to make her move on Athing Mu. But even that may have been too early as Mu responded and passed her back just before the line. 
"I think I went a little too early now in hindsight, but I'm glad I was able to be competitive and really go for it," Wilson said.
In a tight situation like that, you typically want to pass as close to the finish line as possible to deny your opponent time to mount a response. But that's difficult to do in the moment and in fairness usually once an athlete is passed in the homestretch they don't come back. It's hard to be too critical of Wilson as she came closer to beating Mu today than anyone in the last three years.
Wilson's record at USAs is simply incredible. Since 2013, she's made every world/Olympic team, indoors and outdoors, and never finished outside the top 3 except at 2015 USA indoors when she fell.
2013: 1st indoor 800, 3rd outdoor 800
2014: 1st indoor 800, 1st outdoor 800
2015: 6th indoor 800, 3rd outdoor 800
2016: 1st indoor 800, 2nd outdoor 800
2017: 1st indoor 600, 1st outdoor 800
2018: 1st indoor 800, 1st outdoor 800
2019: 1st indoor 1000, 1st outdoor 800
2020: 1st indoor 800
2021: 3rd outdoor 800
2022: 1st indoor 800, 2nd outdoor 800
As impressive Wilson's record is, she hadn't run 1:57 in an official women's competition since 2019 (She did it last year once with male pacers). Ajee' looked great in all the rounds at USAs and is a serious medal threat once again.
Quick Take: For the 2nd straight year at USAs, all 8 women broke 2:00
The 8th placer in this one was Boise State's NCAA champ Kristie Schoffield who ran 1:59.80, a huge improvement over the 2:01.09 she ran at NCAAs, and to think that going into NCAA regionals her pb was 2:02.45. So congrats to her.
This is the second straight year at USAs that all 8 finalists have broken 2:00 (Hanna Green ran 1:59.55 for last last year). Prior to 2021, the most ever sub-2s in a US final was 5 – achieved three times, 1996, 2012, and 2018.
Emma Coburn Wins Another US Title As Courtney Wayment Ends The Coburn-Courtney Frerichs 1-2 Streak
Coming in, Emma Coburn and Courtney Frerichs had gone 1-2 at the last five US Championships. Today, Coburn kept her streak going as she won her 8th consecutive (10th overall) US steeplechase title in 9:10.63. But behind her, recent NCAA champion for BYU (now sponsored by On) Courtney Wayment ended the Coburn-Frerichs streak as she finished runner-up in 9:12.10, well ahead of Frerichs in third at 9:16.18. Further back, Gabi Jennings ran a big PB of 9:25.05 (previous pb of 9:32.06 from the semis) to finish fourth. 
Embed from Getty Images
The Race
Courtney Wayment went straight to the front and set a hot pace that would continue through the race. Behind her, Gabbi Jennings followed in second with Emma Coburn and Courtney Frerichs in third and fourth and the rest of the field strung out behind. Wayment took them through a 3:04 first 1000m and the top-4 had started to separate themselves with Coburn and Frerichs moving ahead of Jennings. Wayment continued to lead, going through 2000m in 6:12 at which point the top-4 had a huge gap on the rest of the field. With two laps to go, Jennings started to fall off the pace and Frerichs moved up to second on Wayment's shoulder. Coburn didn't stay in third for long though as with 600m to go she powered around both Wayment and Frerichs to take the lead and at one lap to go had put two seconds on them. By 200m to go, Coburn had created a huge lead and while Wayment closed the gap a bit on the homestretch, she still finished comfortably ahead of Wayment, 9:10.63 to 9:12.10 while Frerichs claimed the last World spot in 9:16.18.
Quick Take: Emma Coburn answers all questions
Coming into USAs, there were questions if Coburn was vulnerable here as she was coming off a terrible Olympics last year and a less than stellar 9:18.19 race at the Pre Classic (where she was 8th). But today she showed she's still the dominant force in the US steeplechase as she won yet another national title. With 10 US steeple titles to her name, Coburn has never lost a US Champs steeple race she's entered (she didn't run in 2013). She absolutely walked away from the Wayment and Frerichs at the end of this race giving herself a big lead with 200m to go. And while Wayment closed quicker over the last 200m, it's likely Coburn could have run faster if she was challenged and didn't have such a large cushion going into the final stretch. 
Quick Take: Courtney Frerichs was spiked early and struggled to keep herself in it mentally after that
Frerichs was spiked 100 meters into the race, suffering a nasty gash and opening up the stitching in her spike. Though her foot was quite bloody by the end of the race, she didn't feel any pain. But Frerichs was worried about the rip in her spike widening and chose to adjust her landings on water jumps to avoid getting the foot wet. She was thinking about the foot with every step, and that made it difficult for her to focus on the women she was racing.
"All that energy you want to have to be able to dig down toward the end was being used having this extra worry," Frerichs said.
Overall, Frerichs is feeling optimistic heading towards Worlds. Though she still hasn't run particularly fast in 2022 – her 9:16 today was a season's best – she feels she has turned a corner in training recently and is hoping to replicate what happened last summer, where her biggest gains came between the Trials and the Olympics. The turnaround is tighter this year – the first round of the steeple at Worlds is 20 days from now – but Frerichs noted that in 2018 she went from 9:18 at USAs on June 23rd to 9:00 in Monaco on July 20 and is hoping to follow a similar progression this year.
Quick Take: Courtney Wayment PRs again
In her first race as a pro for the OAC, Courtney Wayment ran 9:12.10, faster than the 9:16.00 collegiate record she set when winning NCAAs earlier this month. Some on the messageboards have also noted that it's faster than the 9:12.50 that Jenny Simpson ran at the 2009 World Championships in the summer after her final track season at Colorado (Simpson still had XC eligibility but was done in track).
MB: Courtney Wayment Now All-Seasons College Steeplechase Record Holder She ran 9:12.10 to finish 2nd behind Emma Coburn (9:10.63).
Quick Take: A great meet For Gabbi Jennings
Before USAs, Jennings' PB was the 9:38.24 she ran to finish 7th at last year's NCAA Championships. But at this meet she lowered her PB by 13 seconds, first running a 9:32.06 PB in the heats and then a 9:25.05 PB here in the final. She was ultimately outclassed by the top 3, but she hung with them for a long time, going out at a pace way faster than what she's run before, so props to her.
Post-race she said it's been a bit of an up and down season as she's adjusted to living and training at altitude with Joe Bosshard's group who had a great day today in this race with 3 of the top 5 (winner Emma Coburn and 5th placer Katie Rainsberger also are in the group).
Women's 5000: Elise Cranny Gets it Done
A month ago, things were going so poorly for Elise Cranny she decided to not run the 10,000 meter trials out of the hope she could recover in time for today's 5,000 trials. That decision paid off handsomely as Cranny won her second straight US 5,000 title in 15:49.12 thanks to a 65.50 final lap that closed off a fantastic final 1600 of 4:25.72. The winning time was the slowest since 1994, a product of the slow early pace and sunny 80-degree temperatures.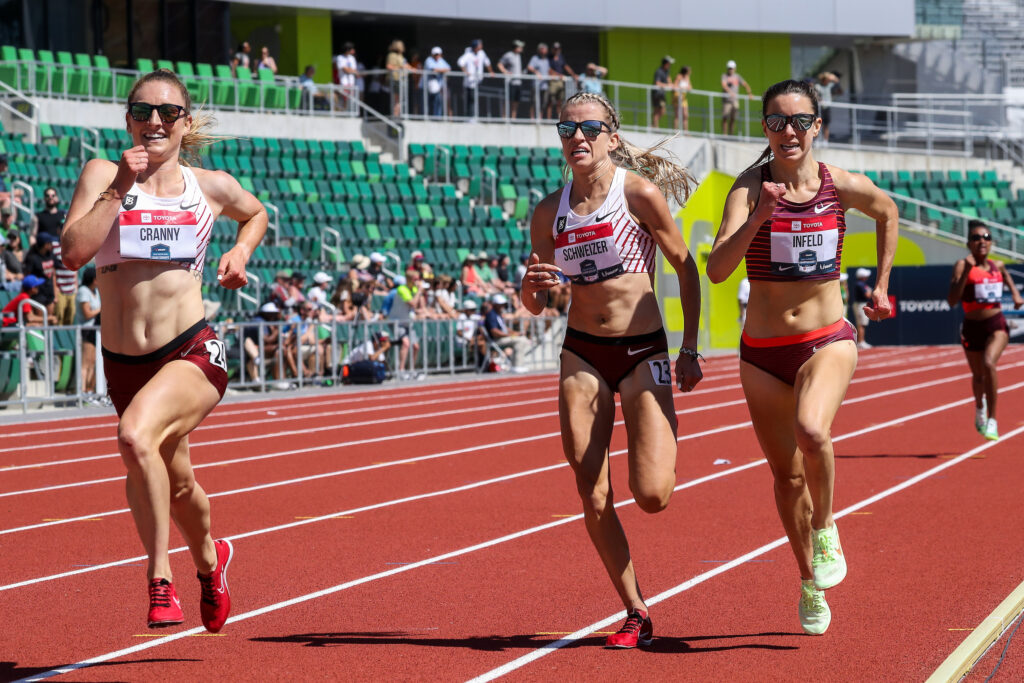 Cranny's Bowerman Track Club teammate Karissa Schweizer, who was the one that finally got this race going when she took the lead with 1600 to go, was second in 15:49.32 while their former teammate Emily Infeld, the 2015 World Championship bronze medallist in the 10,000, made her first US team in five years by finishing in third in 15:40.42. All three closed incredibly quickly for their final 1600: 4:25 for Cranny and Infeld, 4:26 for Schweizer.
The trio had a great final stretch battle. Coming off the final turn Schweizer had the lead in the middle of lane 1 with Cranny just behind her right shoulder with Infeld in third on the rail. Running down the straight, Schweizer did what virtually all runners do even though we repeatedly tell them not to do it – she drifted to the outside of lane 1 which gave Infeld an opening on the inside. Halfway down the final straight, they were three abreast before Cranny went clear. Infeld briefly passed Schwezier before Schweizer returned the favor.
Weini Kelati, the 2019 NCAA 10,000 and XC champ, was with the top 3 at the bell but didn't have the kick and ended up 4th in 15:52.57.
NCAA champ Katelyn Tuohy ran in the back for the first two miles, but then sensed things were slow and about to pick up. She started to move up just before 4 laps remained which is when Schweizer dropped the pace. Tuohy never got into the top 10 in the race and ended up 15th in 16:08.80. (Interview with Tuohy here).
The Race
The pace was pedestrian for the first 2 miles (5:21/10:45) before Schweizer got things going with 4 laps remaining. She led until the bell thanks to a 66.96, 66.38, 67.21 before Cranny finished things off.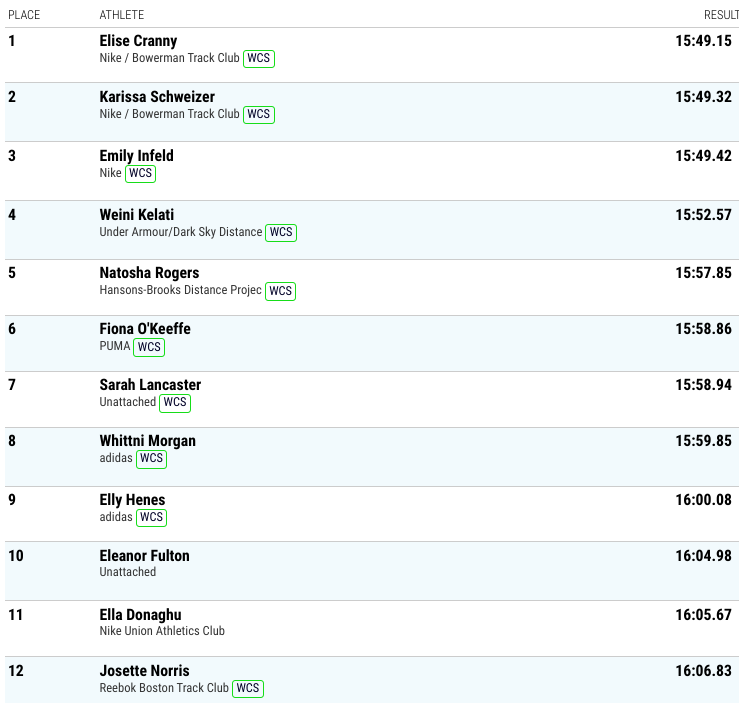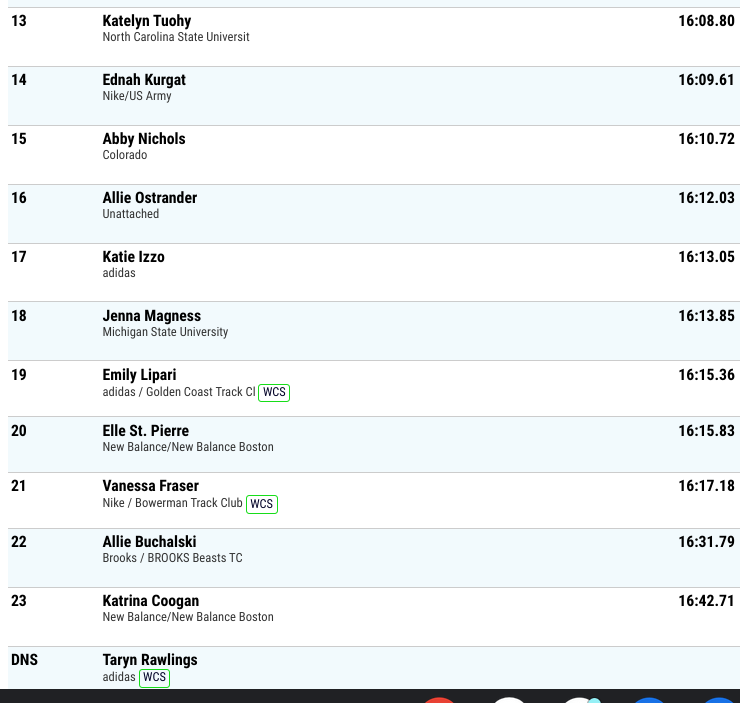 Quick Take: Sometimes in life the best decisions are the most difficult
We can't imagine it was easy for Elise Cranny to skip the 10,000 Trials a month ago. After all, in March she just missed Molly Huddle's American 10,000 record when she ran 30:14.66. But she and her coaches decided things were going so poorly she'd only put herself in an even bigger hole if she ran the 10,000. So they sat it out and were rewarded with a second straight US 5,000 title.
Quick Take: Finally healthy, Emily Infeld is thriving and back on Team USA
Infeld spent nine years with the Bowerman Track Club before leaving the team at the end of last year. Those nine years included some very high highs: two World Championship berths, one Olympic team, and one World Championship medal.
BTC coach Jerry Schumacher's workouts are notoriously tough, and while they undoubtedly produce results, Infeld found herself struggling to keep up as she aged (she's 32 now) and caught in an injury cycle. While she said Schumacher is a "phenomenal" coach, she felt it was time to move on and try something new in 2022.
"I just can't train as hard as I used to when I was younger," Infeld said. "…I think I can do different workouts and still be at the level I need to be."
Infeld began working with Flagstaff-based Jon Green, and the biggest difference has been the ability to adjust her training. After she got outkicked at USAs in the 10,000 a month ago, Infeld felt she needed more speed workouts in training and took it upon herself to write her month of training leading into USAs – something she says Green was on board with.
"He would send me workouts, and I'm like this is too slow, I need to do something else," Infeld said. "I need to do something that's going to give me confidence. And he was really, really encouraging and let me do that."
The extra speed clearly worked as Infeld closed her final 1600 in 4:25 – faster than her mile pb of 4:30 set last summer.
Quick Take: Weini Kelati has nothing to be ashamed of
Kelati's problem in championship track races is obvious. Her speed is not great. Her 1500 pb is just 4:10.88.
This afternoon she was full of run and she closed very well. She came very close to running a 1500 pb at the end of a hot 5000 as she ran her final 1500 in 4:12.88 but she got dusted by the top 3 by more than 3 seconds on the last lap. For her to have beaten Infeld, she would have needed to run a 4:09.65 final 1500.
Complete 2022 USATF Outdoor Coverage
More Day 4 Messageboard Talk:
DAY 4 MESSAGE BOARD TALK