Noah Lyles Three-Peats as US 200m Champion, Sending a Message to his Doubters – and to Erriyon Knighton
By Jonathan Gault
June 26, 2022
EUGENE, Ore. – Sunday's USATF men's 200-meter final was 20 seconds' worth of the absolute best track & field has to offer. Two all-time talents racing head to head. A dramatic come-from-behind victory. And an instantly iconic gesture that added a gallon of gasoline on top of an event that was already burning hot this year.  Why can't we build the entire sport out of this stuff?
Well because it's track & field, where true best vs. best matchups with genuine stakes are few and far between. Noah Lyles, as the defending world champion, had no reason to run this afternoon's 200m final at Hayward Field. He could have scratched and still been assured of his place on the US team for next month's World Championships, an option athletes such as Christian Coleman, Nia Ali, and Grant Holloway all took, ducking out of the final after running the prelims and semis in their events.
That Lyles did not is commendable. He wanted to send a message, and after running down teenage star Erriyon Knighton over the final 100 meters of today's race, he accomplished that and a whole lot more. Lyles, running to Knighton's outside in lane 5, trailed Knighton by 2.5 meters off the turn. For most sprinters, this is a problem. Guys with 19.49 personal bests – the time Knighton ran in April to become the fourth-fastest man in history – don't usually come back.
Article continues below player.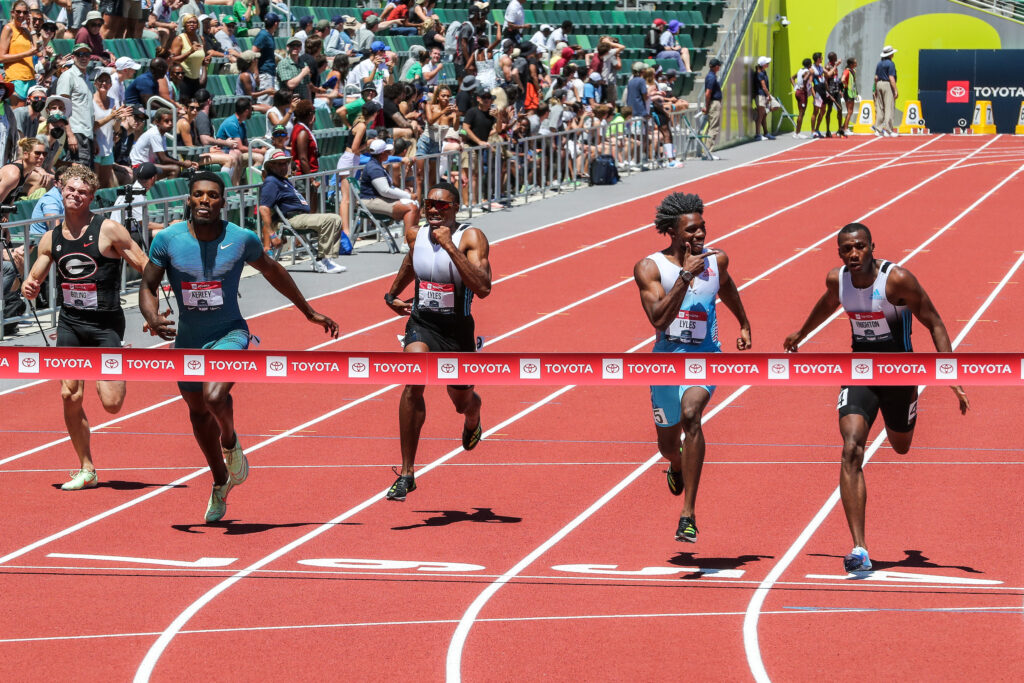 But most sprinters don't have Noah Lyles' top-end speed, nor his ability to hold it. Lyles calmly stalked Knighton down the straightaway, drawing level with 10 meters to go. Then, just before the line, he went by, turning his head past Knighton and pointing with his right hand in the process. Lyles was the US champion for the third time in a row, running 19.67 to Knighton's 19.69 with 100m champ Fred Kerley third in 19.83. Kenny Bednarek, fourth in a season-best 19.87, rounds out the team the US will send to Worlds.
It was a statement performance for Lyles, who tested positive for COVID two weeks ago. And the statements kept coming after the race. 
"Erriyon got the best of me on the turn," Lyles said immediately after the race to NBC's Lewis Johnson. "I ain't worried about that. I saw him reach his top speed and I said mine's faster. I said I'ma catch him, but it's going to take the whole rest of the 100."
It was a frank, truthful account of what had just unfolded on the track. It was also delivered with Knighton standing directly to his left, and the 18-year-old didn't stick around to hear any more, telling Johnson "Just come back and win. Job not finished. It's never finished," before leaving the interview.
(Video of race and interview below)
"The point" may still have been fresh in Knighton's mind, and it will surely be dissected for the next 25 days until the World Championship final on this same track on July 21. Lyles said, after the fact, that he was not targeting Knighton with the gesture, even tagging him on Twitter to make sure that was clear.
"That was a message to everybody who keeps doubting me," Lyles said. "A lot of people who come out like, 'Oh yeah, Erriyon's running 19.4.' This wasn't a message for Erriyon. Erriyon is an amazing competitor. He looked a little disappointed. I think he's now getting that feel of what it's like to have a target on your back, but he'll be fine."
Whether Knighton accepts that explanation remains to be seen. Knighton declined to elaborate when asked about the gesture post-race – "I'm not answering that" – but when your #1 rival looks across your chest and points while beating you across the finish line on national television…well, it's hard to forget a thing like that, particularly when the Ato Boldon commentating on NBC points it out on the replay and says, "That's called being posterized right there."
Regardless of whether today's episode conjures any bad blood, the stage is set for a blockbuster showdown at the World Championships. In one corner, Lyles, the US and world champion – fast finisher, expressive, emotional before and after races. In the other, Knighton, world U18 and U20 record holder – fast starter, guarded, all-business on the track. It's the kind of matchup the sport needs, and now it's got a backstory to match. 
"I know he's going to come to Worlds and he's going to bring it," Lyles said. "I expect him to PR and I expect myself to PR at Worlds."
Twenty-five days to go.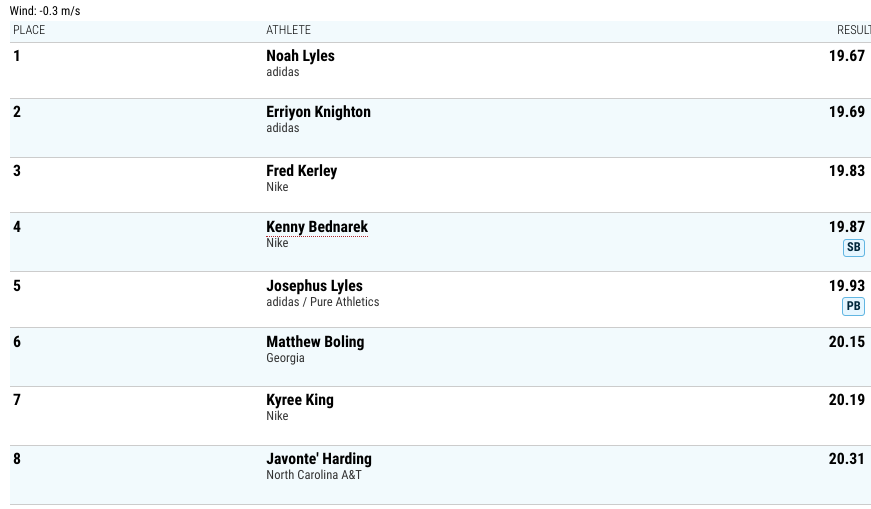 Talk about the race on our world-famous fan forum / messageboard: Noah Lyles celebrates in Erriyon Knighton's face: "That's called being posterized right there." 
Complete 2022 USATF Outdoor Coverage
More Day 4 Messageboard Talk:
DAY 4 MESSAGE BOARD TALK