2022 USAs Day 4 Men's Distance Recap: Grant Fisher Runs A Masterful 5000m, Bryce Hoppel Comes Out On Top In 800m
by LetsRun.com
June 26, 2022
EUGENE, Ore. – There were two men's distance finals today on day 4 of the USATF Outdoor Championships at Hayward Field. In the men's 5000m, Grant Fisher won the first US title of his career in a meet record 13:03.86 while in the men's 800m, Bryce Hoppel ran a smart and hard-fought race to win his first US outdoor title in 1:44.60.
We recap and analyze these two races below. Go here for our recaps of the three women's distance finals (the 5000m, 800m and steeplechase) and go here for our recap of a hotly contested men's 200m.
Men's 5000: Grant Fisher wins with masterful 13:03.86 meet record performance
Grant Fisher had accomplished an awful lot in his career before today – two Foot Locker XC crowns in HS, a sub-4 mile in HS, an NCAA tile, a spot in two Olympic races in Tokyo where he was 5th in 10,000, an American record in the 10,000 — but one thing was missing: a USATF pro title. That hole on the résumé is no longer there as Fisher won the 5000 in dominant fashion. 
Fisher had a 3-second lead at the bell and cruised to a meet-record time of 13:03.86. Fisher's  Bowerman Track Club teammate Woody Kincaid joined him on the team thanks to a massive 54.24 last lap that took him from fourth to second. NAU's Abdihamid Nur, the NCAA indoor 3k and 5k champ, made his first Worlds team in third in 13:08.63 with Conner Mantz fourth in 13:11.81. 13:00 man Emmanel Bor once again came up short on making a team after once again he had nothing over the final 400. Bor was in third at the bell, 5.05 seconds up on Kincaid, but could only manage a 65.74 last lap and would end up fifth in 13:13.15.
Two-time Olympic medallist Paul Chelimo, whose only track result all year was a 3:41 1500, tried to will himself to yet another team, but after running in the top 5 for 4k and even taking the lead briefly just after 3200 meters, he had nothing left over the final 1k and was 11th in 13:24.82.
The Race
Article continues below player.
There were two unofficial rabbits in this one. 3-time steeple champ Hillary Bor took the first 2k in 5:16, trying to help his brother Emmanuel out with an honest pace. Then it was Evan Jager who pushed things through 3200 in 8:28, before Emmanuel Bor kept things honest for a lap. And then it was time for the Grant Fisher show.
Fisher took the lead with 1300 meters left and when he went to the lead he meant business. Instantly, the lead pack of 9 was splintered as only Bor and Nur went with him as Fisher dropped his 100m split from 16.61 to 15.11 between 3700 and 3800 meters. He then went 59.71 and 58.09 and was all alone, before finishing things off with a 60.71.
Quick Take: Grant Fisher learned his lesson from last month's 10,000 champs
In the US 10,000 champs last month, Fisher, the American record holder at the distance, was content to let the race come down to a kick and wound up getting beaten by Joe Klecker. He was not going to make the same mistake twice. 
Today, Fisher made sure to burn off the kickers early, splitting 1:57.81 for the 800m segment from 3800 to 4600 to break the entire field before the bell. Fisher had some help from Bor and Jager setting the pace early, but running 13:03 from the front in 85-degree weather with a 4:03 final 1600 is super impressive running and a heck of a way to win your first national title.
| | |
| --- | --- |
| Overall | |
| Comfort | |
| Cushioning | |
| Durability | |
| Appearance | |
| Value | |
At Worlds, though, he'll have to make sure his kick is on point – we doubt he's going to have any teammates willing to sacrifice themselves to set the pace.
Quick Take: Abdihamid Nur revealed he had food poisoning ahead of NCAAs; uncertain about future plans
After winning the 3k and 5k titles at NCAA indoors, Nur was only 3rd in the 10,000 at NCAA outdoors two weeks ago. It was a surprising result given how dominant he looked indoors but today Nur revealed he had a case of food poisoning at NCAA outdoors and couldn't eat any solid food the day of the race. He looked far better today, running just two seconds off his 13:06 pb in tough conditions to make the team.
Nur has another year remaining at Northern Arizona and is unsure whether he'll use it or not. The main thing that would compel him to return? Cross country. And even though Nur would be favored for the individual title – an honor no NAU athlete has ever claimed – it's the team aspect that excites him.
"For me, it's the team man," Nur said. "We can do something special if we win #6. To be a part of that would be amazing for me."
Quick Take: Paul Chelimo said he took more than a month off at the end of 2021 but still hasn't felt like himself since the Olympics
Chelimo had made every US team since 2016, winning global medals in 2016, 2017, and 2021, but his results this year had been poor heading into USAs, with a 3:41 1500 in Nairobi and a DNF in the 5k at Pre. Considering Chelimo's championship record, many still expected him to contend for a spot on the team today, but he was a nonfactor and wound up 11th.
Chelimo said that while he hasn't been injured this year, the 2021 season took a toll on him and even though he took his longest break ever at the end of the year – he didn't train from the USATF road 5k champs on November 6 until January 1 – he couldn't get back into the shape he needed to be for USAs this year. 
"I just need more time to get back into it," Chelimo said.
It's a reminder of just how tough it is to compete at a high level year after year – particularly when you hit your 30s (Chelimo turns 32 in October).
"It's just been tough, year-in, year-out racing fast," Chelimo said.
We give Chelimo credit for putting himself in this one though. He gave himself a chance and we wonder if when he took the lead at 3200 if he was hoping to slow things down as his kick is quite good.
Quick Take: Talent doesn't go away – Thomas Ratcliffe PRs in 80-degree temps
The Bowerman Track Club's Thomas Ratcliffe was the only person who PR'd in this race, which wasn't a surprise as it was pretty darn warm for a 5000 (temp in the low 80s). Ratcliffe, who ran 4:01.50 for the mile as a part-time runner in HS, came into the race with a 13:20.88 pb which placed him 7th at NCAAs last year. Today, he ran 13:17.48 for 7th. The 24-year-old Ratcliffe's best collegiate performance also came on a hot day as he was third in the 2019 NCAAs in 14:07.92.
*More Interviews: Woody Kincaid *Conner Mantz *Hillary Bor *Emmanuel Bor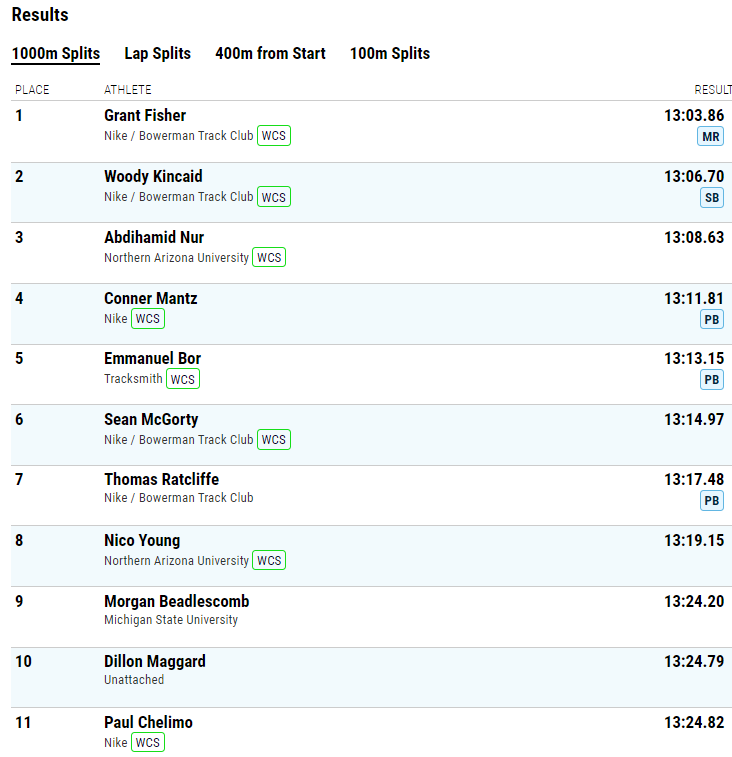 Men's 800m: Bryce Hoppel Wins A Wide Open Final With A Season's Best 1:44.60
Without Donavan Brazier in this race and with no Americans having run super fast this year, this was a wide open final. But if there was a pre-race favorite, it was Tokyo Olympian Bryce Hoppel and he came through to win his first US outdoor title in 1:44.60 after a hard-fought battle with US Army's Jonah Koech. Koech wasn't a pre-race favorite as he had the second slowest SB and PB of anyone in the final (only Mississippi's Baylor Franklin had run slower), but he ran a nice 1:44.74 PB to challenge Hoppel and take the second spot. Behind the top-2, Clayton Murphy went way wide and tried to run down NCAA indoor champ Brandon Miller for the final Worlds spot, but ran out of room as Miller beat him out by .04.
The Race (Full race video is above)
Brandon Miller went to the front setting a fast pace going through 200m in about 24.9 with Bryce Hoppel in second. After a 51.62 first lap, it was Miller leading Hoppel with Jonah Koech in third and Erik Sowinski in fourth. Clayton Murphy was back in sixth. With 200m to go Hoppel went to the lead and Koech moved up to second right on his shoulder. Koech challenged Hoppel the whole way down the final stretch, but Hoppel was able to fend him off to win in 1:44.60 to Koech's 1:44.74. Behind them, Murphy had a hard time moving up and had to go all the way out into lane 4 to try and challenge for a spot on the world team. In the end, Miller used a diving finish to just beat him out, 1:45.19 to 1:45.23.
Quick Take: Clayton Murphy's positioning cost him a spot on the Worlds team
Coming from behind is nothing new for Murphy. He was only 4th with 200 to go in last year's Olympic Trials and wound up winning handily. This time, he was 5th – and a lot closer to leader Bryce Hoppel than he had been to leader Isaiah Jewett at the Olympic Trials – but Murphy could not get around Isaiah Harris and as a result had to run the second half of the final turn in the outside of lane 2. And he still wasn't done moving out – on the home straight, Harris started drifting to lane 3 in an attempt to pass Miller, forcing Murphy out to lane 4. Considering Murphy lost out on the final spot by .04, that extra distance came back to bite him.
Problem was, Murphy didn't have many other options over the final 200 with the top three blocking off the inside and Harris forcing him wide. 
Update: That being said, we'd still think if Murphy was in top form, he'd easily have run Miller down as Murphy was only a meter behind him with 135 meters to go. And Miller ran a ton of extra distance himself as somehow despite having the lead on the rail he ended up in lane 3 at the finish. And we watched the race yet again. Murphy did have another option if had some major guts. If he's just stayed on the rail, he would have had clear sailing as was wide open. He could have easily finished 3rd by staying on the inside as Miller drifted out to lane 3 himself.
Quick Take: Jonah Koech surprises
Koech never finished higher than 6th at NCAAs while at UTEP and had never made a US final until today. After last season, he left the District Track Club in Washington to join the US Army WCAP team in Colorado Springs and it's safe to say it's working out as he ran the race of his life, a pb of 1:44.74 to make the team – important considering Koech did not have the 1:45.20 World Championship standard before the race.
*More Interviews: Bryce Hoppel *Brandon Miller *Erik Sowinski
Complete 2022 USATF Outdoor Coverage
More Day 4 Messageboard Talk:
DAY 4 MESSAGE BOARD TALK