2013 USA Indoor News

LRC Day 1 Distance: Chelsea Reilly Wins National Title As Lisa Uhl Nearly Impales Herself, Will Leer Dominates
Chelsea Reilly won her first national title in NASCAR fashion as she and Lisa Uhl collided right before the finish with Uhl catapulting herself head first off the track. Fortunately, both women survived without serious injury. Will Leer dominated the men's as expected. Can he pull off the 3k/mile double tomorrow? In the 800, the "names" - Mulder, Andrews, Centro, Sowinski - all advanced except for Mark Wieczorek.
(Video of 3k finish in article or to right on homepage)

Jerry's Boys Take On The Big Apple
LRC
Lopez Lomong Sets New American Indoor 5,000 Record - Runs 13:07.00!!! We recap the historic night in NYC that saw Lomong get the AR, Chris Derrick get the "A" at 13:12.00 and the rest of Jerry's boys struggle a bit at the end as the pace was super hot. Includes exclusive post-race interviews that include Teg, Lomong, and Derrick, who talks about German Fernandez and Alan Webb.
*Race Video *Post-Race Interviews *Race Results Weekly

*Great News From Another Schumacher Stud: Chris Solinsky's 1st Track Race In Nearly Two Years Is Successful - Dominant 8:05 Win At UW
Non-Championship News
Previous US Indoor News
LRC

2013 USA Indoor Track & Field Championships: A Fan's Guide: Does Mary Cain Win Her First Title? A Centro Double?

Who wins the men's 800? Andrews, Mulder, Sowinski, Wieczorek or possibly Centro? Mary Cain tries to win US senior title #1 - Will she face fellow teen phenom Ajee Wilson?
Alberto Scratches Mary Cain From 800 - Wants Her To Practice Running Tactical Miles A very smart move in our minds, as Alan Webb never seemed to learn how to run in a pack. "She needs to learn how to run in packs when the pace is slow. After this there are few meets that I could get her into that would be like that."
Like Bolt, Aries Merritt Eager To Become Household Name Everyone knows who the world's fastest man is - few know the world's best hurdler.
USATF US Indoor Champs Preview On the women's side, Mary Cain vs. Ajee Wilson in the 800 should be interesting. Matt Centrowitz is in the 1,500 and 800; Jeremy Wariner is running the 400 in what will be his first time competing at US Indoor Champs.
Alberto Salazar Having Mary Cain Race The 800 At US Indoor Champs Even Though "She is not really trained for it." Talking about whether she'd go to college, Salazar said, "She is so good she could turn professional right now ... but she hasn't decided that she wants to forgo the college experience. I think she will make that decision at the end of high school."
Guest Column By A HS Coach The Salazar Effect: A Lasting Impact? West Genesee (NY) coach Jim Vermeulen: "My central question is whether the trends toward greater scholastic runner visibility (via meet sites, Flotrack, Milesplit,etc) and the increased potential of scholastic runners opting out of school programs is ultimately positive for ALL of scholastic running?"
Jamaican News
Other US News
Wrestling: Olympic Wrestler Returns Medal To IOC In Portest Of Wrestling Getting Cut He's the second to do this.
NYC Half On March 17th
NCAA Stuff
This Weekend: Three Big Japan Races On Sunday: Lake Biwa Mainichi Marathon Will Help Choose Last World Champs Spots The international field at Lake Biwa includes 2:05:13 man Vincent Kipruto, 30k WR holder Peter Kirui and 2012 Houston Marathon winner Tariku Jufar. Also Sunday are the National University Men's Half Marathon Championships and Yuki Kawauchi leading the field at the Tamana Half Marathon.
Milers In The News
LRC Meet Jacob Burcham: West Virginia's 4:02 High Schooler Wants To Go Sub-4 This Spring Joel Wolpert has produced a short film on the WV star, who while certainly very talented, is far from obsessed with running. Burcham, "I used to think of myself as a football player all of the time. I still kind of do in my head."
Distance News
News From Kenya
Jessica Ennis Is Prepared To Pay Her Coach Toni Minichiello's Wages We've never understood why agents get a ton of cash from runners but their coaches get often zero.
More From The Weekend
Under Armour Suing To Stop Nike's Use Of "I Will" Slogan
LRC Farah Outkicks Gebremariam, Meseret Defar Over Shalane Flanagan, Kara Goucher Way Back Meseret Defar's second half marathon was much like her first one, a win (1:07:25) over Shalane Flanagan (1:08:31). Mo Farah doesn't lose and he found a way to beat Gebre Gebremariam 1:00:59 to 1:01:00.
*On The Boards: Cool Race Blow by Blow

*Mo Farah's 1:00:59 Is A New British Record This is actually slower than the 60:23 he ran in his debut at NYC, but NYC is not a record-eligible course.
*IAAF Recap Farah said he had a brief side stitch at the ninth mile which might have had to do with drinking too much water.
*Pre-Race Article On Mo Farah
*Farah Says Running The First Half Of The London Marathon Isn't About The Money
Previous Conference Champs Coverage
Stockholm Meet *Results
LRC Friday Tidbits From Stockholm: Update On Galen Rupp's Record, Plus Dibaba News We've got splits for Galen Rupp's last 600m, plus news that Genzebe Dibaba is not now coached by Jama Aden, the coach to Taoufik Makhloufi, who has strong USA ties.
On The Boards: Jama Aden Coaching Philosophy


LRC Galen Rupp 7:30.16 American Record! Aregawi Just Misses 1,500m World Record Galen Rupp's tremendous 2013 continued with his finest performance yet. Not only did he get the American record, but perhaps most importantly he got his first European win of note. The other big news was new Swedish citizen, Abeba Aregawi, just missing the world record by .12 in the women's 1,500m. In other action, Genzebe Dibaba blitzed an 8:26.57, Mohammed Aman ran a world leader in the 800m, and Matt Centrowitz came up well short of the American 1,000m record. Flash recap.
*IAAF Recap: Olympic Silver Medallist Yarisley Silva Breaks Her Own Cuban Record And Sets World Lead In PV With 4.71m Shelly-Ann Fraser-Pryce set a PR in her 2nd-ever 60m to win with 7.04.
*Pre-Race Interview With Rupp

On The Boards: *Rupp 7:30.18!!! *GALEN RUPP NEW 3000 AR 7:30.18 *STOCKHOLM MEET updates! *Galen Rupp Will NOT Break U.S. 3000m Record In Stockholm
US Distance News
Kenya Gives The US Some Respect: Kenya World XC Team Reports To Training Camp: Mercy Cherono Says She "Relishes The Challenge From Ethiopia AND USA Athletes" Other good news for the US, it seems Kenya is going back to it's potential killing pre-championship training camps as 28 are at the camp, but only 24 make the team. The head coach said, "We will have a serious and tough training. And those who want to escape the axe must prove their mettle."
LRC: Records Galore At 2013 Millrose Games: Lagat, Mary Cain, 2 X 600, Chris O'Hare Mary Cain started the record-setting night in the women's mile and it continued all night after that until Chris O'Hare set a collegiate record in 4th place in the Wanamaker Mile. In between, Bernard Lagat barely got back his 2 mile record, unheralded Erik Sowinski upset Duane Solomon AND Nick Symmonds to set the American record in the 600, and Alysia Montano crushed the field and the AR in the 600.
*IAAF Recap
Daring To Ask The PED Question
A Must Read: Daring To Ask The PED Question: "If everyone is secretly suspicious of so many athletic achievements, why aren't we talking about it?" In our last Week That Was, we said, "There are two types of runners - those that either 'get' letsrun.com or don't." Well, sports writer Bill Simmons might not be talking about running, but he definitely "gets" LRC as he explains why questioning today's professional athletic performances in is not only okay, but has become part of sports. As he says, "There is no such thing as 'the benefit of the doubt' anymore. Not in sports. Too many people took advantage. All the benefits are gone." It is for this reason that we allow threads like this one to exist: MB: Solomon suddenly world class and Rupp soloing 3.50 indoor miles - Come on Letsun, ask the questions!
LRC Photo Gallery


LRC Chris Derrick!?! - National Champion! link fixed The wait is over. Arguably the greatest American collegiate distance runner not to win an NCAA title, Derrick pulled away from Dathan Ritzenhein and Matt Tegenkamp to win his first national title in his first race as a sponsored pro. It was a good day for Jerry Schumacher's crew as they had 3 of the top 4 in the men's race plus Shalane Flanagan winning the women's.


LRC Shalane Flanagan Wins 2013 Women's US Cross-Country Championships Flanagan was the class of the field (World XC bronze in 2011), but Olympian Kim Conley put up a brave fight. Afterwards, Flanagan said she will not run World XC as she prepares for the Boston marathon.

Jr. Races: *LRC 2013 Jr. Girls Results - William & Mary's Emily Stites Dominates
*LRC 2013 Jr. Boys Results - Ok. State's Craig Nowak Wins
*USATF Athlete Quotes
A MUST Read - One Of The Greatest Races Ever Run - The US Women's Version Of The Billy Mills 10,000 Win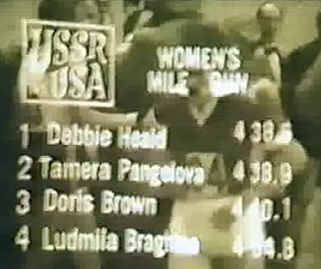 RWorld Re-Introduces The World To Debbie Heald, Who 40 Years Ago Incredibly Ran The US HS Indoor Mile Record Of 4:38.5 Steve Friedman's piece on Heald is moving to say the least. Heald, whose father had committed suicide, who had been molested and who was always battling injury (13 different running-related surgeries), somehow at the US vs. USSR meet at age 16 in 1972 beat the greatest runners in the world, including the indoor 1,500 record holder and that year's eventual Olympic 1,500 champion, by running an a 8.5-second PR of 4:38.5. She came from way back to win thanks to a ferocious kick and she was known for having no kick. Her life since then has been full of struggles with schizophrenia but her HS indoor record still stands.
MB: Debbie Heald article in RW
Jenn Suhr World Record
Jenn Suhr Breaks World Record Suhr was perfect all day until she broke the world record at 5.02 meters. She then attempted 3 times at 5.07 (The highest vault indoors or out).
*Video Of World Record Vault
Big Weekend Of Track And Field
*Saturday-Sunday: Euro Champs *Excellent Live Stream Here
*Saturday-Sunday: USATF Indoors Live TV: NBC Sports Network Coverage 4-6pm ET Sunday
*Austin Mudd Beats Out Mac Fleet In Alex Wilson Mile Mudd ran 3:58.59 to Fleet's 3:58.90.
*Notre Dame DMR Mania Yet Again: PSU Runs #2 DMR In NCAA History - 9:26.60 - Without Cas Loxsom And the scary thing is the team is led by two freshmen and a sophomore. Princeton also impressed with an Ivy record at 9:27 thanks to a 3:56 from Peter Callahan.
*Texas DMR Goes From #1 In The Nation To Not Going To Nationals After Notre Dame Is Run
*The Race Of His Life! Arkansas' Leoman Momon, Who Was Just 8th At SECs, Runs 1:46.07 A Beamonesque improvement as his SB was 1:50.21 and his PR was 1:48.73.
*IC4A/ECAC: IC4A Meet Schedule *ECAC *Live Results For Both


Day 2:
*IAAF Day 2 Euro Recap: Sweden's Abeba Aregawi Takes 1500 Gold With The Largest Margin Of Victory In The 42-Year History Of The Event She won in 4:04.47 as Spain's Isabel Macias was second place 9.72 seconds back in 4:14.19.
*European PV Comes Down To A Jump Off Between Eventual Winner UK's Holly Bleasdale And Runner-up/Defending Champ Anna Rogowska She was offered the choice between sharing the gold medal or a sudden-death jump-off and chose to gamble. Good for her; ties in championships are never popular with fans.
*AW Full Day 2 Recap
*Russia's Darya Kilishina Wins LJ With 7.01m World Lead
*After A Photo Finish In 60m, France's Jimmy Vicaut Gets The Win He shared an identical finish time of 6.48 James Dasaolu; they now share the world lead.
*Disappointment For Ireland After One Of Their Top Medal Chances Derval O'Rourke Misses Medal Stand In 60H By One Hundredth Of A Second "It's not arrogant but my problem is that I don't believe any of those three girls are better than me. If I thought that I wouldn't be the woman that I am."
*Fionnuala Britton Eases Into 3,000m Final After Controlled Heat
*Italy's Daniele Greco Takes TJ In World-Leading 17.70m
*PVer Renaud Lavillenie And 60m Runner Verena Sailer Make Finals Easily


*IAAF Recaps Other Weekend Action World champ Mariya Abakumova wins javelin at Russian Winter Throwing Champs as Olympic champ Valerie Adams won the shot in the "Shot in the City" in Auckland.

Wow: British Columnist: TV Interviewer's Mo Farah Gaffe Is Typical Of The Self-Absorbed United States Of Amnesia "Large parts of the United States of Amnesia still exist in a cultural vacuum. If it doesn't happen between sea and shining sea, it doesn't make the cut."

*Video Highlights Of Day 1 Here.
*BBC Day 1 Recap: 2013 World #3 Michael Rimmer (1:46.55) Fails To Make Semis In 800 As Dwain Chambers Bombs In 1st Round As Well
*Athletics Weekly Day 1 Recap: Shubenkov Among First Winners In Gothenburg
*BBC Liev Blog: Day One As It Happened
*Dwain Chambers Is Upset After A 1st round Exit (6.78) In Men's 60
*World-Leading 7.49 60mh By Russia's Sergey Shubenkov And Nevin Yanit's European-Leading 7.89 60mh Bring First Day To Sizzling Conclusion
*Perri Shakes-Drayton Qualified For The 400m Semis In Gothenburg As The Fastest Athlete
*France's Nana Djimou Defends Pentathlon Gold At Euro Indoor
*2006 World Indoor Champ Derval O'Rourke Holds Back Tears As She Just Misses Medal After Finishing 4th With SB
*Pre-Race: After Getting Drug Tested, 31-Year-Old O'Rourke Out To Prove Age Is No Barrier

Related: *Many Top Athletes From 2005 World Champs - Lots Of Them Russian - To Be Banned After 2005 World Champs Re-Tests
*British Athletics Coach Peter Eriksson Concerned By Fact There Are 33 Russian Dopers Currently Serving Bans
*2nd-Largest Track Stadium In UK To Be Demolished To Make Way For Medical Facilities
Two New Lawsuits Filed Against Lance - Another Insurer Wants $3 Million For A TDF-Related Payout
News From Down Under
Road Action This Weekend
World XC Is This Month
Other Action This Weekend
IAAF Lake Biwa Preview International field at Lake Biwa includes 2:05:13 man Vincent Kipruto, 30k WR holder Peter Kirui and 2012 Houston Marathon winner Tariku Jufar.
Foreign News: Nick Willis Misses The "A" Standard; Will Try Again Next Week
Interesting International News
Sprint News
Top Weekend HS Action
Full Brooks PR Recap: Erin Finn Wins 2-Mile In 10:08 As Bernie Montoya Took A Competitive Boys Race In 8:54 One of the highlights was the boys 800, which was won by defending champion Tyler Smith, who led wire-to-wire in a new MR 1:50.88. Smith said, "Nobody likes to lead it. Everyone wants the win, and I thought it was going to be tactical, but it's my last year and I wanted the record but I didn't really know what I was going to do until I got on the track. Once I stepped on the track I decided, 'Screw this, I'm just going to run it by myself. I can do 1:50.'"
Impressive: Felecia Majors Scores The Most Points Ever In The History Of The Virginia High School State Champs As She Scores 49 Points Over 6 Individual Events She single-handedly won her team the state team title as she helped add another three points by anchoring their 6th-place 4 x 4 with a 56-second split. She also won the pole vault and long jump, was 2nd in the triple jump, 500, and 300, and 4th in the high jump.
Salazar's Prodigies
Other Weekend Action: Bolt And Blake Race Again
International Stuff
Dathan Ritzenhein Blogs About Why He Decided On The Chicago Marathon So Early And How He Will Structure His Year With That In Mind He gives some good coaching advice, saying, "I think for the majority of the season you should never be too far away from racing any one distance."
Two Big Doping Developments
LRC Analysis: The World Marathon Majors Introduce Tougher Anti-Doping Penalties - What Does It Mean? In our minds, the move is a nice symbolic step, but now it's key that the Shoe Companies Need To Follow Suit ASAP.
*Paula Radcliffe Praises New London Marathon Doping Penalties
*AP Article On Increased Anti-Doping Penalties *Athletics Weekly: World Marathon Majors Gets Tougher On Doping Cheats

NY Times: Government Joins Floyd Landis' Federal Whistleblower Suit Against Armstrong link fixed "In today's economic climate, the U.S. Postal Service is simply not in a position to allow Lance Armstrong or any of the other defendants to walk away with the tens of millions of dollars they illegitimately procured." - Ronald C. Machen Jr., US attorney for the District of Columbia.
*Unreal: Lance's Lawyers Respond - We Don't Care That We Defrauded The Public - It Actually Helped The USPS The sponsorship contract expressly prohibited the use of performance-enhancing drugs and was worth about $31 million, but the lawyers are trying to claim that yes, he doped but it generated $100 million worth of publicity.
*WADA Supports The Decision
Three Kenyans, Including 2:05 Marathoner Erupe Loyana, Get Drug Suspensions Well, at least the people who say Kenyans wouldn't use drugs can now be quiet. Every country, including America, has people who would dope. We're still waiting for a big name to fall (not sure what Wejo was thinking - 58:46 half marathoner M. Kisorio was busted last year).
*Discuss: Three Kenyans Busted For Doping
Oscar P Updates From Thursday: Nike Cuts Ties
Bolt/Blake/Powell Opened Up On Saturday *Results
LRC Photo Gallery


Men's 3k: LRC Galen Rupp Is Defeated As Hagos Gebrhiwet Sets New World Junior 3,000 Record Of 7:32.87


Women's 2-Mile: LRC Mary Cain Runs 9:38.68 For 2 Miles - The Greatest Distance Performance In US HS Girls History Tirunesh Dibaba was way ahead of the field as she won in 9:13.17.

LRC The Rest Of The 2013 New Balance Indoor Grand Prix - Centro, Lakhouad And Wright Win As Suhr Takes Crack At AR
Run, Recover, Run More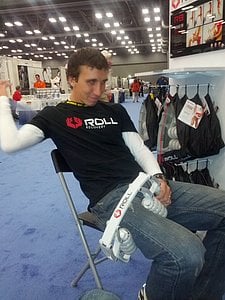 LRC Runners Recover Better And Hopefully Stay Injury Free With These Two Products From The 2012 Running Event Wejo talks about some of the injury prevention products he saw at the The Running Event, which include better methods for massage, icing, and compression.
The Running Event Is In The Books *Photos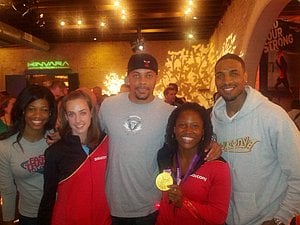 LRC The 2012 Running Event Is In The Books: Five Takeaways On The Industry Shark Tank's Daymond John Speaks The trade show for specialty running shops was last week in Austin, Texas and LRC's Wejo was there plus Ryan Hall, Meb Keflezighi, and most of Saucony's top athletes. The running industry should be renamed the "how to not get injured" industry. Some take-aways from the convention.
*Press Release: The Running Event 2012 Attracts 2,100 To Austin
Rest In Peace Will Steele - aka "The Cancer Guy"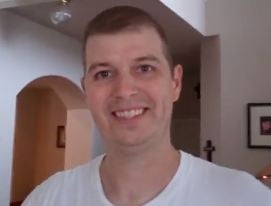 LRC Celebrating The Life Of "The Cancer Guy" Will Steele Will Steele was running 18-minute miles last year. And never has there been a more inspirational runner on LetsRun.com. We pay our respects to this great man who contributed so much to the LetsRun.com community and lost his battle with cancer one month ago on Christmas eve.
Crazy Finish Of Women's 3k (More Here)
Lopez & Derrick After Lopez's AR
Teg Does 25 Laps Indoors
Tygart/Landis Discuss Doping At Yale Law School
Bloomberg News Recap: Tygart Calls For Amnesty In Cycling "Until we've done an amnesty-type program and cleaned out the system as much as we can, it's not yet time for zero tolerance."
Well Deserved: Travis Tygart Gets Standing Ovation At Yale Law School For His Work In Bringing Down Lance Vaughters said he cooperated after being disgusted when Landis was attacked after coming clean.
*Guardian: Live Blog Of Yale Law School Event
LRC TWTW Part II: College: A Look Back At The 2013 NCAA Indoor Track And Field Conference Championships In part II of our weekly recap, Arkansas' Chris Bucknam gets praise, the nation's longest winning streak is snapped, we talk about the arbitrariness of victory and Mississippi State's one-woman track team, and introduce you to Nick Rivera, a freshman at Texas Tech who hasn't broken 1:52.03 this year but is a Big 12 champ. Plus props for the Virginia Tech and Washington State men, Betsy Saina, Abbey D'Agostino and Johns Hopkins in the D3 ranks.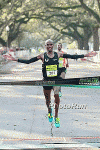 LRC TWTW Part I: Pros: Galen Rupp Runs 7:30, Japan Over US At The Marathon, New Orleans, Chris O'Hare, Dennis Kimetto And More We span the globe from New Orleans to Tokyo to Stockholm to give you some perspective on our sport. From analyzing Galen Rupp's incredible 7:30.16 to the awkward interview of the week, we've got it covered.
Jerry Schumacher's Group
Latest Oscar P News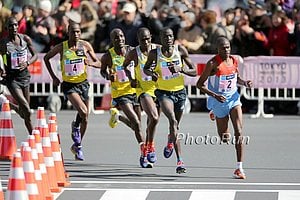 Oscar P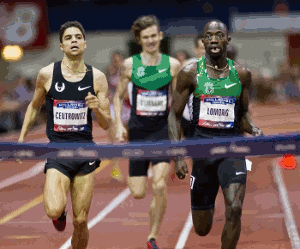 Usain Bolt Does The Harlem Shake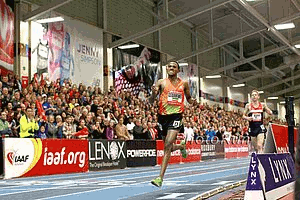 Ryan Hall Speaks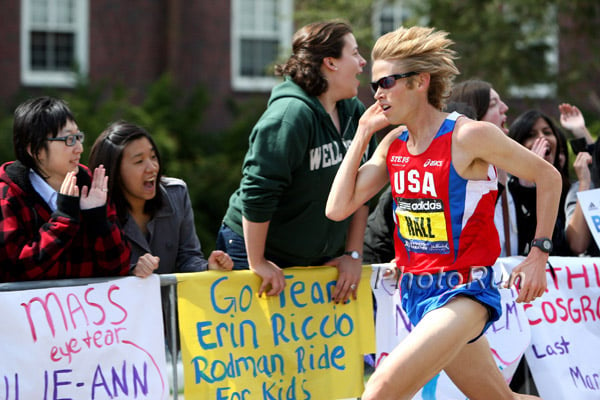 LRC Ryan Hall Talks About Cam Levins' 190-Mile Weeks And Is Impressed Hall: "It's working for him. My hat's off to him. He inspires me. That's why I started following him on Twitter. I feel like I'm training hard and I'm not doing nearly that kind of training."
LRC Ryan Hall Talks About His Running Shoes Hall says he has different shoes for every speed he runs and that he has an "unhealthy attachment" to the Asics Gel Hyper Speed.
Beautiful People: NCAA Banquet Photos (Click On Photo)
NCAA Cross Country Photos