The Week That Was In Running: January 14 – 20, 2013
By LetsRun.com
January 21, 2013
To read last week's Weekly Recap, click here.
****
"Is winning all that counts? Are you absolutely sure about that?
Article continues below player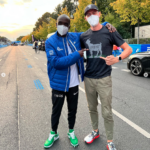 Kipchoge loves the 1:59:40 Shirt Get Yours Today
What a legend!
Two weeks ago, on December 2, Spanish athlete Iván Fernández Anaya was competing in a cross-country race in Burlada, Navarre. He was running second, some distance behind race leader Abel Mutai – bronze medalist in the 3,000-meter steeplechase at the London Olympics. As they entered the finishing straight, he saw the Kenyan runner – the certain winner of the race – mistakenly pull up about 10 meters before the finish, thinking he had already crossed the line.
Fernández Anaya quickly caught up with him, but instead of exploiting Mutai's mistake to speed past and claim an unlikely victory, he stayed behind and, using gestures, guided the Kenyan to the line and let him cross first."
– Opening lines of an ElPais.com article on a cross-country race that a LRC visitor living in Austin, TX sent us. He thought it was good to share some good from the sports world since so much of last week was dominated by the unpleasant Manti Te'o and Lance Armstrong stories. We agreed. Now on to The Week That Was.
****
Video Of The Week/Possibly Year
The video of the week for this week is pretty incredible. It comes from LetsRun friend Paula Radcliffe – well, at least her twitter account – we don't want to act like she emailed it to us.
The video is highlights of possibly Mo Farah's, Galen Rupp's and Dathan Ritzenhein's last hard workout before the London Olympic 10,000. It shows them under the watchful eye of Alberto Salazar hammering some 400s after a tempo run (only portions of the 400s are shown as it's likely they didn't want it all out there) to finish up a workout that they did just 12 days before Mo and Galen shot to glory in London.
The video basically answers one question we always think journalists should ask but never seem to get around to asking when talking to guys from the same training group – "Hey, is it pretty clear in the workouts, who is going to beat whom?"
The video clearly shows that Ritz knew he was toast as compared to Mo and Galen. It also shows Mo to be a bit ahead of Galen as he's leading the fast reps and holding Rupp off – but it's probably closer than you might think, although we guess Rupp did end up just .48 behind Farah at the Olympics.
And if that's not enough, it features cameos from Paula Radcliffe's daughter Isla,who is seen frolicking in the infield and running up to Alberto Salazar after the workout is over.
Watch the video, which was produced and shot by Aleksandra Szmigiel, for yourself:
One random thing we think we see. We know Alberto Salazar likes to get runners biomechanically perfect as a slight imperfection in stride will likely lead to an injury when one considers running is the same act repeated over and over. Is it just us or in the opening shot, is it clear that Ritz is much more side-side and less smooth even when jogging than either Galen or Mo? No wonder he gets injured all the time.
Go back and watch it yourself from the 11-second to the 17-second mark or look at the animated gif below. What do you think?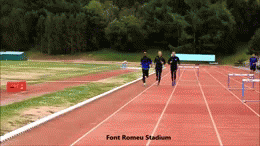 ****
Photo Of The Week I
College coaches without a lot of talent, we suggest you just skip this section as it will likely depress you. Take a look at this photo taken recently on the Nike campus. Think coach Jerry Schumacher is having some fun?
Since the picture is a little grainy and most runners aren't exactly recognizable in the US based on their faces without their jerseys on, we thought we should help you ID the guys by re-presenting the photo with everyone's PRs on it:
What a life. Instead of having to beg HSers to come to Wisconsin, he instead has the best guys in the US begging to join his group as given the sponsorship situation out there, there aren't many elite track groups out there anymore.
For the record from left to right it's Brent Vaughn, German Fernandez, Evan Jager, Chris Derrick, Lopez Lomong, Elliott Heath, Chris Solinsky, Alan Webb, Andrew Bumbalough.
We feel bad for NCAA champ for being the scrub.
PS – We have no idea where that photo came from. We always try to give credit where it is due, but it appeared on this message board thread: Schumacher Group Photo.
****
Hansons-Brooks Gets Stronger
Speaking of Elite training groups, the Hansons-Brooks team got a shot in the arm last week when it was announced 2008 NCAA 5,000 champ and former Villanova runner Bobby Curtis was joining the group. Curtis, who ran 13:18 in 2010 and 27:24 in 2011, was the latest runner to be dropped by Reebok, as Kim Smith was also recently dropped.
Reebok merging with adidas in 2005 hasn't been a good thing for pro runners which is what you could have expected. First, it meant one less company to compete for runners. And then the brand Reebok has been gradually pulling out of pro running.
But not everyone is complaining about it, certainly not Keith and Kevin Hanson. One's loss is another gain, right?
The Hansons seem to be benefiting from the fact that the shoe companies seemingly are being more judicious on the money they give out to the elites.
Curtis at 13:18/27:24 is by far the best runner to ever join Hansons but he is the third relatively high profile "get" for the group in the last few months. Instead of getting just 14 minute 5kers and 29 minutes 10kers as they have for most of their existence, they have picked some significantly better talent as shown by the list below.
2013 Hansons-Brooks Men's Team With PRs
Jeremy Criscione    13:43/29:28
Bobby Curtis   3:57/13:18/27:24
Luke Humphrey    29:04/63:58/2:14:39
Colby Lowe    13:42/28:45 + 3 NCAA Top 10s In XC
Brendan Martin    8:15/14:09/29:43
Mike Morgan    14:15/29:33/64:04/2:14:22
Drew Polley    29:26/2:16:36
Jake Riley   13:32/28:08
Robert Scribner    14:13/29:07
Ethan Shaw    14:10/29:17
Clint Verran    13:51/2:14:12
The guys in bold really stand out.
In addition to getting Curtis, the Hanson brothers also got a nice present last week as Brooks re-upped it's support of the team last week. Brooks also announced they'll be starting a mid-d group in their home new hometown to be of Seattle (currently they are in a suburb).
Oh yeah, one more thing before move on. We did want to say one thing to those of you who have criticized the group in the past for not producing enough studs/Olympians in the past. Take a list the list above and compare it to the Schumacher photo above. Before Curtis, the worse guy in Schumacher's group was better than the best guy in the Hansons group and of the 9 guys pictured in Schumacher's group – only two made the Olympics.
Our point is simple.
1) It's damn hard for everyone to make the Olympics.
2) Different groups should be held to different standards just like in other sports.
Experts don't expect George Mason to make the Final 4 every year in basketball but they certainly expect Alabama to be incredible in football, at least if Nick Saban is the coach.
That being said, there are message board supporters of the group that are equally off. This ain't happening either:
You heard it here first!!! The Hansons-Brooks Project will be more successful then Jerry or Salazar by 2016!!!
More: MB: Bobby Curtis joins Hansons-Brooks!
*Brooks Running Company Pledges Continued Commitment To Developing Athletes and the Sport of Running
*Dropped Reebok Runners Highlight Changes In Elite Sponsorship
****
Photo Of The Week II
More: Australian Library Sticking It To Lance 
****
Ireland Raises The White Flag Before The Battle Even Begins
"What's to be gained (personally) from going to World Cross' and finishing 90th or 100th? We had a really good team for the Europeans, but I don't think it's at World level yet."
– Irish runner Leevale Lizzie Lee, explaining to the Irish Times why she and an Irish team won't be going to the world cross country championships, even though much was made about them winning December's European cross country championships.
To us the decision by the Irish to not send a team is embarrassing. Lots of people in athletics these days (and all of society really) have this attitude of "If I can't win or medal, why bother?" Well if all countries only send teams/individuals to events where they realistically might medal, then track and cross country would only have five or six competitors in every event.
If the US was operating like that, they probably wouldn't have bothered to send Leo Manzano to London or Billy Mills to Tokyo.
Thankfully, the Irish star Fionnula Britton agrees with us. She ripped Ireland for their decision and said she'll be going.
"Shalane Flanagan won a medal in the last one so everyone has to believe that they can do it. Obviously it is difficult but it is world championship so it is not supposed to be easy.
But we guess those who aren't going will say, 'Of course she's going, she might medal.'"
In terms of World Cross, we (letsrun.com) are thinking about going as well. Even if the US stars don't go as they don't make any money getting crushed, the event needs to be given its due publicity.
To us, World Cross is distance running in its truest form. We just wish the shoe companies would structure their deals with runners so it was emphasized and then the event could be brought back to its former glory. The US could have a really good team.
Since we can't control what the shoe companies do, we are proposing this radical idea:
Get rid of the 10k and put in cross-country at the Olympics – whether it's at the summer or Olympic games, we don't care. Just do it. That will bring the event back to its former glory.
More: Britton Uses Shalane Flanagan As An Example Of Non-Africans Running Well At World XC
*Euro XC Champ Fionnuala Britton Blasts Athletics Ireland's Decision Not To Send An Irish Team To World XC
****
What About The Sport? Part I
The Difference Between Not Wanting Doping And Not Wanting The Negative Publicity That Comes With Doping
Originally, we were going to have the following quote be our first Quote of the Week (That wasn't quote of the day) but then we felt it needed to have it's own section. Check it out:
"My opinion is that networks should be seen to comprise not just those who directly aid and abet dopers, but also those support staff, agents and sponsors who choose to turn a blind eye rather than undertake due diligence. Those passive actors become part of the problem because athletes quickly assess the boundaries and subsequently know what they can expect to get away with."
– Dr. Michael Ashenden, an adviser to the World Anti-Doping Agency and the director of the research organization, Science and Industry Against Blood Doping, talking to the New York Times.
We couldn't have said it better ourselves. The sport is likely going to have a serious anti-doping problem unless the people with the money in the sport make it a bigger priority.
Let's ignore for a moment the possibility that people at Nike or Oakley or any of Lance's other sponsors knew Lance Armstrong was doping (or Marion Jones, Roger Clemens, etc).* The real issue is that they didn't REALLY care. Just like Nike didn't care just that drug cheat Mark Block was in the Nike VIP tent at the Olympic Trials this summer.
That attitude was confirmed later in the week when Nike founder Phil Knight had the gall to say, "Never say never," when asked if Nike might some day sponsor Lance Armstrong again.
Similarly, tons of agents likely have at a minimum suspicions about their athletes – but don't really care as long as the money keeps flowing.
Races undoubtedly don't want dopers at their events – or maybe we should say they don't want the bad publicity that comes from having dopers at races.
Did anyone besides us find it odd that so little was said last week about the passing of Moroccan Abderrahim Goumri at age 36? Goumri, who was four times a world marathon majors runner-up (twice in New York, once in London and once in Chicago) died tragically at age 36 in a car accident on Saturday and nothing was basically said or written about him in the English press except on LetsRun. Nothing went out officially from any of the marathon majors or the Race Results Weekly's wire service run by David Monti, who is largely responsible for the New York elite athlete coordination. As of 11:20 am on Monday, there isn't an official press release sent out by London, Chicago or New York on his passing. RRW wrote 8 different stories from January 12 – 18, but a two-time New York runner-up dies at age 36 and nothing is written?
Now to be fair, some nice tweets were sent out by NYRR head Mary Wittenberg and Monti, both of whom LetsRun really likes, but it's clear the official silence shows the races themselves don't obviously want to be associated with a doper.
That by itself is good, because we've always said we believe if you get busted for a major 2-year doping offense, all of your records should be wiped off the books.
But let's imagine a better reality for a moment. Imagine if instead of just not wanting to be associated with a doper after the fact, imagine if all of these powerful groups, starting with the companies, did something to help stop it in the first place.
We're brainstorming here, but what if someone went to WADA and said, "Okay, how much does it cost for an out of competition test on average (we imagine it's really expensive to do it in some countries)?"
Then we get the shoe companies to say, "We're going to do donate xxx – enough for everyone making more than $150,000 a year in endorsements – the big fish (Mo, Galen, Lance, Marion, etc) – and for anyone that won a medal to be tested out of competition 5 times the next year. And if you are ever nailed for a 2-year offense, we want the money back."  Then the major marathons say, "We're going to do donate xxx – enough for our top two finishers to be tested out of competition 5 times the next year."
And then what if the major marathons and shoe companies come out and say, "One more thing, if you want to make money from us, you have to agree to have your biological passport be public as people like Brad Wiggins have called for." Your Therapeutic Use Exemptions (TUEs – the list of supplements and medications athletes are taking. We've heard stories of some of the fittest,  strongest athletes in the world being on 20-30 different supplements/medications) have to be public as well with the exception of sensitive medications (STDs, etc).
Now anything that costs money might not get implemented (and we don't know how many tests is reasonable as we don't know the costs involved), but making biological passports and TUE's public doesn't really cost anything.
If we learned anything from the whole Lance/Oprah affair last week, it is that out-of-competition testing is crucial. Lance admitted that when testing was done only at races he had zero fear he'd ever be busted.
Cheating is done in large part so people can enrich themselves. Those with money have the power to greatly reduce it if they make it a priority.
Have you thought about this? Do you have a good idea? Email it to us.
*As to whether any of Lance's sponsors knew he was doping, we say that once the Landis and Hamilton info came out with all the other info on Lance, one would have to had their head in the sand to not realize Lance had doped. The bigger question is whether anyone knew anything concretely before that. Nike raves about its in-house labs and had the now infamous Lance commercial with all the scientists studying Lance.  Did any of them suspect anything? Or are they just not that good?  At the very least, Nike should be asking itself, how could its lab NOT detect Lance's doping? Was it even looking to see if Lance was doping? 
For Oakley, the evidence is worse if you believe Betsy Andreu. Andreu for a long time has said Stephanie McIlvain, a former Oakley rep, and wife of the VP of marketing at Oakley, was in the hospital room in 1996 when Andreu claims Lance Armstrong admitted to doping to his doctors. Now, McIlvain did testify in a 2005 deposition that that didn't happen. What she didn't know was that former cycling great Greg Lemond had secretly recorded a conversation with her that contradicted her testimony. That caused Armstrong's lawyers to submit a written stipulation saying she had been untruthful under oath, but they still insisted doping was not discussed with the doctors. Now what was Oakley's reaction to this? Surely, they'd want to find out the truth, right? Not according to Betsy Andreu who said McIlvain was told, "if you make the company look bad you're gonna lose your job".
Speaking of out-of-competition testing, we loved the tweets from Ryan Hall from Monday morning (1/21/13):
Whenever I am tempted to complain about a surprise drug test from @usantidoping at 6 am I make sure I first ask my tester what time he…
… had to get up. My guy got up at 2 am to be apart of the process of ensuring a clean sport for me to compete in. #grateful #BestFriend
More: Looking Upstream In Doping Cases
****
What About The Sport? Part II
Props to 2004 Olympic hurdles champ Joanna Hayes for proposing runners have customizable singlets.
Obviously, there would need to be a place for the shoe sponsor, but you can see it's a cool idea.
Look at your average race bib. So much it is unnecessary.
Make the name part of the singlet and the only thing that changes is a tiny bib for the race's main sponsor.
Great Idea: 2004 Olympic Hurdles Champ Joanna Hayes Wants Runners To Have Customized Jerseys
****
Warning: If you are tired of Lance Armstrong talk, then stop reading as all the Quotes of the Week below are about Lance.
Quote Of The Week I (that wasn't quote of the day)
Blood profiles from 2009 (for Lance Armstrong) have been flagged by anti-doping experts as suspicious, not least the fact that his start/end haematocrit at the Giro d'Italia showed an expected five percentage point drop, while his Tour de France profile showed a slight rise, contrary to expectations.
– Shane Stokes writing for Velo Nation, showing you why we and many think Lance was lying when he said he didn't dope during his comeback. Maybe you're a visual learner; then take a look at this picture from veloclinic:
****
Quote Of The Week II (that wasn't quote of the day)
"What pisses me off is the time it took to defend my frikking honor. A TV crew came over here yesterday, unannounced, the phone calls are never-ending. What does it say to my kids? I told the truth before but it didn't matter. But now this person has decided to tell the truth after lying for over a decade, and he should be congratulated and praised? Are you kidding me? Shouldn't we always be telling the truth?….Sometimes it feels like there's no profit in the truth, right? Would you rather have Lance's money right now, or my reputation?"
– Betsy Andreu talking to Sports Illustrated before the Lance/Oprah interview aired.
More: Betsy Andreu Always Knew That Lance Armstrong Doped
****
Quote Of The Week III (that wasn't quote of the day)
"Virtually everything in Armstrong's life was built on a fraud. … Armstrong is not like Barry Bonds or Roger Clemens — who, by all accounts, were rich, famous and headed for the Hall of Fame before they started using performance-enhancing drugs. Without doping, Armstrong would be just another guy. That was never enough for him – which, of course, is why he doped."
– Sports Illustrated's Michael Rosenberg.
We 100% agree. Don't feel sorry for Lance's big fall or that he lost $75 million in a day. He'd be a nobody had he not cheated. And for everyone who thinks "Oh he just was competing on a level playing field – he would have won if the sport was clean," please realize cycling insiders don't believe that's true. Lance has a naturally very low hematocrit level and thus doping benefits him way more than most. (Someone feel free to prove us wrong as we know Lance's VO2 Max is off the charts)
More: Here's the truth: Without doping Lance Armstrong would be nobody
****
Quote Of The Week IV (that wasn't quote of the day)
"Confess it all, get it out of the way and move on. People don't like liars – once you tell the truth, you can move on."
– Advice from the man who crossed the line first in the 100m at the 1988 Olympics, Ben Johnson, to Lance Armstrong before the Lance/Oprah interview.
Johnson also had some other comments on doping: "It's only cheating if you're the only one doing it. I've been trying to say it for 24 years. Almost every professional athlete does something."
More: Lance Armstrong: Disgraced sprinter Ben Johnson advises former cyclist to "confess it all"
****
Quote Of The Week V (That Wasn't Quote Of The Day)
"Once Lance Armstrong was willing to say anything, hurt anybody, call people bitter or call them whores, who got in his way. Now he is willing to say anything to still make himself the hero of his own drama, the mythology he created and others helped create for him. That doesn't make you a saint or an icon or a hero. It makes you a cornered rat."
– The New York Daily News' Mike Lupica writing before the Lance/Oprah interview.
****
Quote Of The Week VI (that wasn't quote of the day)
"What's the point? I kind of enjoy getting everyone else's view. I know what he's like. I know he's completely lacking empathy. I know this. I've seen it. I don't think that suddenly he's turned 180 degrees and become a normal human being who thinks and feels like the majority of us do."
– Lance Armstrong's former bike mechanic, Mike Anderson, who was vilified by Lance, talking to David Epstein on why he wasn't going to watch the Lance/Oprah interview.
****
Quote Of The Week VII (that wasn't quote of the day)
"Everybody's been affected by that disease. My favorite aunt died of leukemia years ago. Everyone's had experience with it. I lost friends over [this issue] because they can't separate Lance the cancer fighter from the Lance the actual person, and that was done purposely. They threw up that cancer shield to defend him.
Doping. That's not the issue. … it's the way he dealt with it. It could have been any other crime he was trying to conceal. The crime is not doping, it's the crime against human decency, against the truth, against contractual obligations."
****
Quotes Of The Day From The Week & Last Week's Homepages:
Note: To see a particular day's homepage, click on the hyperlink of the date on the left. The quote's hyperlink will take you to that particular article – not that day's homepage.
Monday 1/21: "He was the rightful winner. He created a gap that I couldn't have closed if he hadn't made a mistake. As soon as I saw he was stopping, I knew I wasn't going to pass him."

– Spanish runner Ivan Fernandez Anaya talking about how he let Olympic steeple bronze medallist Abel Mutai win an XC race back in December, even though he had a chance to beat him after Mutai accidentally stopped just short of the finish line.
---
Sunday 1/20: "Lance has control now because he can decide what, when, and how to reveal information regarding his racing days and the doping that took place. Ultimately he can decide who he takes down with him. In my eyes that makes him just as dangerous as before."

– Frankie Andreu writing for Biclying.com about his reaction to the Lance/Oprah interview. Andreu's wife, Betsy, says separately, "Would you forgive Bernie Madoff? I know as a Christian I'm supposed to forgive, but I'm not sure if I could do that." The best post-Oprah reaction may be from Selena Roberts who has written a MUST READ piece for her new roopstigo site that reveals Lance's own mom was worried he was only worried about himself back in 1994.
---
Saturday 1/19:  "I deserve to be punished. I'm not sure I deserve the death penalty."
– Lance Armstrong showing that he truly doesn't get it. He basically stole $100 million +, lied to cancer survivors around the globe, lied under oath and yet equates his lifetime ban from competing in the Chicago marathon at age 50 to the death penalty?
---
Friday 1/18: Please Watch This
– Betsy Andreu reacting to Part I of Lance/Oprah. Lance refused to admit that he told doctors in front of Betsy Andreu that he doped. Why? We're not sure, Rojo speculates it's to try to save the career of his agent Bill Stapleton. For more on the amazing Betsy Andreu, read SI's Austin Murphy's pre-Oprah piece on her.
---
Thursday 1/17: "Others have come along over the years to best their marks. And the revolution of the Fosbury Flop's back-first style of jumping in 1968 transformed the event. In doing so, however, it brought to a close the glory days of the high jump as well. For though the floppers may pass over higher heights than the straddlers, they do so in long, parabolic arcs, landing into a foam pit which stands three feet off the ground to cushion their unprotected, backward fall."
"There is in the Flop technique, and its high-cushioned pit, a lack of the majesty and awe that attended the spiked leaps of those straddle-into-sawdust days. Maybe the difference also lies between a man's perspective versus that of a child's, or the lack of political weight tied to athletics these days, or the absence of import once afforded by the spotlight of mainstream television coverage. For whatever reason, rarely is the high jump a marquee event anymore."
"The great jutting jumps of the straddlers John Thomas and Valery Brumel, the epiphany of their pivot, the sigh of an equally great fall into a soft pile of sawdust are all gone, consigned to the sands of time, but never from the glory of memory. Rest in peace, John."
– Toni Reavis talking about US high jump Olympic medalist and former World Record holder John Thomas, who passed away on Tuesday at the age of 71. Thomas was the first person ever to clear 7 feet indoors when he did so at the 1959 Millrose Games when he was only 17 years old.
---
Wednesday 1/16: "I think a lesson I've learned is that when you do get frustrated and have setbacks, it makes you ask the question, "Do I really want to do this? Is this something I like to do?" And I've realized that I just love the sport – I love doing it,"
"During those hard times, I kept or I keep telling myself, 'If you are going to do go down, you gotta go down fighting. Don't just give up.' That's what it's all about in the end."
– Alan Webb talking to Ryan Fenton in an interview about his move to a 4th coach in the last 3.5 years.
---
Tuesday 1/15: ."You don't hold the keys to my redemption. There's one person who holds the keys to my redemption," Lance went on, pointing at himself, "and that's me."
– A pathetic Lance Armstrong as he stormed out of a secret meeting last month with USADA head Travis Tygart after Tygart refused to buy Lance's sob excuses to get his triathlon ban over-turned. So Lance stormed out and sought Oprah to try to get redemption via the public's sympathy. The man, who still flies on private jets and vacations in Hawaii, apparently wants to do triathlons as he views it as his only way to make dough.