The Week That Was In Running: January 21 – 27, 2013
By LetsRun.com January 31, 2012 To read last week's Weekly Recap, click here. In our minds, the two months after Thanksgiving are the unofficial running off-season. That came to an end and the 2013 season began in earnest with some great action across the globe last week – five 2:04s in Dubai, an American record in […]
Join Our Supporters Club To Keep Reading
Sign up today to get 25% off and a free t-shirt.
By LetsRun.com
January 31, 2012
To read last week's Weekly Recap, click here.
In our minds, the two months after Thanksgiving are the unofficial running off-season. That came to an end and the 2013 season began in earnest with some great action across the globe last week – five 2:04s in Dubai, an American record in the 600 from Scotland, near American records in the mile in Boston and 600 in Pennsylvania, and a high school record in the mile in New York.
Where to begin? How about with our Email of the Week.
****
Email Of The Week/Those That Get LetsRun.com And Those That Don't
We've always thought there are two types of runners – those that either "get" letsrun.com or don't. This comes from one who does – Patrick White.
In fact, we find him to be almost more interesting than his email. After getting the email, we wrote back and asked him to tell us a little bit about himself and what he said was very interesting. Of course, take a look at the self-made T-shirt that he works out in first.
Of course the guy is interesting, right?
Here is what he said about himself:
I actually got about 20 of those shirts printed and give that out for free to anyone who wants one.
I'm 28 and originally from Dublin, Ireland but living in Melbourne in Australia.
Bit of running background: I was a competitive athlete as a kid (3.56/8.35 for 1500/3000 at 18) but stopped competing at around 20. I got pretty heavy after that and my weight peaked at 260lbs last February when I started to jog again. I dropped 70lbs in 8 months and ran a 2.48 marathon in October. Currently training with a view to running 2..30-2.32 this year and I will see after that. I always maintained a near obsessive interest in track since I was about 16.
Funny PED fact, I finished 2nd behind Martin Fagan (I know Martin a bit and like him on a personal level) in our high school state 1500 in 2001. I think I should be bumped to the gold from that race!
One of the things I think people need to get across to all elite athletes is that it is NOT OK to ignore PEDs in the sport. They should be questioned about it, actively telling us when they are tested out of competition, wearing anti-PED shirts at meets and trying to help out the fight. I just do not understand how any clean athlete would want to avoid a frank discussion on the subject. Bringing it out into the open leads to a cleaner sport and a more level playing field. That is what I would want if I was a clean elite.
As for his email, Mr. White is the man responsible for starting a thread last week that we think represents the best of LetsRun.com. We are certain others will vehemently disagree. He started the thread entitled:
"Solomon suddenly world class and Rupp soloing 3.50 indoor miles – Come on Letsrun, ask the questions"
In his email to us, he explained why he did so:
Guys,
It was me that started this thread. Just wanted to throw you some props for keeping it up and even commenting on it. I was not making accusations and I was not having a pop at Letsrun. You guys are one of the few places who will discuss PEDs in sport from an informed and realistic viewpoint. You ask the questions when others don't seem to want to. The amount of journalists, reporters and column writers that have jumped on LA in the last 6 months after ignoring the obvious for 10 years disgusts me. In the same vein, if **** is ever uncovered as the fraud I pretty much know she is then you guys can point to the questioning you put her through. The truth is, I pretty much NEED to believe someone like Galen Rupp is clean because if the likes of Rupp and Mo are not clean then the sport is dead. At the same time, the type of journalism and attitude that it took to take down Armstrong is the only way to go .
Accept nothing suspicious without explanation. Clean athletes need to embrace the questioning as part of the process to letting them compete on a level playing field.
Anyway, just thought I would say well done on the great work you guys do.
Here is a picture of my pacing some slow races last week in my anti-Lance tshirt (it says "Ban Lance for Life" on the back). I got them printed up about 5 months ago as a tiny little statement I can make.
Patrick.
As Mr. White explains, the thread was devoted to talking about the big improvement Duane Solomon showed last year and Galen Rupp over the last few years and led to a mostly thoughtful analysis of whether people should be wondering whether they are using PEDs. We know some of you ("A Duck" for sure, perhaps the Flotrack people) hate threads like this and say it's "slandering" or tearing down people. We disagree. Asking rational questions and slandering/tearing people down are two totally different things and we think a thread like that (until it inevitably it loses quality after a few pages) represents the best of LetsRun.com.
As Mr. White points out – where else in the world are you going to get a debate on such a topic? Nowhere that we know of.
Mr. White isn't saying Duane or Galen is or isn't on drugs – he just wants to make sure legitimate questions are asked – questions that Lance, Marion, Bonds, Clemens, etc. have taught us need to be asked.
If professional sports and drug testing have taught us anything over the last 15 years, it's that "innocent until proven guilty" does not apply in the sports world.
In actuality, the sports world operates under the assumption of "not guilty, until proven otherwise."
And even that may not be far enough. It almost now that we're at the point of "assume the worst, hope for the best." Yes, it's cynical, but remember drug testers show up unannounced at athletes' houses and make them pee in a cup. The assumption of innocence is not the starting point, and hasn't been since legitimate drug testing was started. Athletes are basically asked to prove their innocence.
One more thing about drugs. It amazes us how if a foreigner makes a rapid improvement to win a medal, people have no problems with assuming they are dirty when in reality they may not be. But if it's an American, the question is viewed as not allowed to even be asked.
"A Duck" and others can think whatever they want, but Galen Rupp's improvement in the mile over the last 4-years is remarkable. Most people don't just suddenly decide that they will work on their speed after already being a 27:36 guy and then improve by 11 seconds in the mile as Rupp has done in recent years. For most of college, Rupp was a lot like how Ryan Hall was in college – a very good cross-country runner who was unable to break 4:00 in the mile even though he ran 4:01 in high school.
As Rojo explained last week on the message board, in 2008, in what would have been Rupp's senior year of college had he gone straight through from high school and in a year that Rupp ran 27:36 in the heat of Beijing, five times Galen Rupp ran the 1,500 and mile and not once did he really come close to breaking 4:00 in the mile or its 1,500 equivalent. Now he is a 3:50 indoor miler.
That progression isn't a standard one.
We know some of you are thinking, "How dare you slander Rupp?" We're not slandering anyone. We'll be the first to admit LetsRun.com Weldon Johnson's transformation from a 30:13 collegiate runner to 28:06 post-collegiate runner wasn't your usual progression either. He was a guy that ran reasonably high mileage in college and still went from 29:49 to 28:27 in a single race (after re-locating to altitude and becoming a full-time runner, it must be said).
Does that mean that they both were on drugs? Of course not. Perhaps both were just late developers – both of them looked very young for their age, after all.
Similarly, on the women's side of things, one could take a look at Jenny Simpson.
Back in 2007 when Jenny Simpson was a 4:21 woman, people would have thought you were certifiably nuts if you said that within 2 years she'd run 3:59 and that two years after that she'd be a world 1,500 champion. No one would have believed you. Yet that's what happened.
Admittedly, Rupp gets more attention than Simpson but that is understandable as well for more reasons than simply that men's running is more popular than women's.
Rupp's feats garner more chatter in large part because for his entire career he has been associated with three of the biggest things in running – Oregon, Nike and Alberto Salazar.
Just as a basketball player from Duke gets more scrutiny than say one from Virginia Tech, the same is true for runners from Oregon and Nike. Oregon/Nike in track is the equivalent of, say, the Dallas Cowboys in the NFL – they are loved and also hated. One thing is certain – people pay attention. And people pay more attention as well given the fact that Rupp's coach is a big name – former marathon great Alberto Salazar. The same thing is true in other sports. When the Lakers are coached by Phil Jackson, they get more notice than one when they are coached by Mike Brown.
Thus it's natural that most of the posts on the thread that Mr. White started were devoted to Rupp and not Solomon. Rupp is a much bigger name in US running circles and for those very same reasons Galen Rupp likely makes at least three times as much money as Duane Solomon in terms of endorsements.
More: LRC Galen Rupp Runs 3:50.92 Mile To Become Fifth-Fastest Indoor Miler Who said Galen Rupp has no speed? The endurance king has become the speed king the last two years and Rupp showed it on Saturday by running 3:50.92 in Boston to become the 2nd-fastest American indoor miler ever behind Bernard Lagat. *Videos
On The Boards: *Solomon suddenly world class and Rupp soloing 3.50 indoor miles – Come on Letsun, ask the questions!
*Rupp runs 3:50!!
*any updates on the BU elite mile?
*Rupp is the 5th fastest indoor miler in history

****
Putting Duane Solomon's American Record In Perspective
For 25 years, the American record in the rarely-run 600-meter event belonged to Chip Jenkins at 1:15.80. Well, 25 years is too long for a record to last and last week two people – Olympic 800 finalist Duane Solomon (the #2 fastest American in history at 1:42.82) and Penn State senior and 2010 world junior silver medallist Cas Loxsom – both broke Jenkins' mark as Loxsom ran 1:15.79 and Solomon ran 1:15.70.
How good is 1:15.70, you ask? Well, obviously it's an American record. But to be truthful, we expected Solomon to break it.
We went back and watched Solomon's 1:42.82 run at the Olympics several times. Guess what his unofficial 600m split was.
We estimate it to have been 1:15.80. David Rudisha's official split was 1:14.30 and every time we time it, we have Solomon 1.5 seconds behind him.
Check it out for yourself:
As for what 1:15.70 equates to, LetsRun.com's stat/coaching guru John Kellogg says it's the equivalent of 1:46.72 for 800.
More: LRC Duane Solomon Is The Real Deal – He Breaks US 600 Meter Record With 1:15.70 Win In Scotland
*MB: Hrs Later Penn State Sr. Cas Loxsom Just Misses Solomon's New Record When He Runs 1:15.79
****
Putting Mary Cain's HS Girls Mile Record Of 4:32.78 In Perspective
In our recap of Mary Cain smashing Debbie Heald's 41-year-old HS girls indoor mile record by 5+ seconds, we tried to put the mark in perspective for you. In case you didn't see it, here it is again and then we're going to add some more perspective to it:
Cain's mark is also better than the fastest outdoor mile in US girls HS history – Polly Plumer's 4:35.24 from 1982. In terms of 1,500 conversions, today's run would be the second greatest 1,500/mile performance indoors or out in US high school history, trailing only Cain's own 4:11.01 that she ran outdoors last year at world juniors. Cain's run today is the equivalent of about 4:12.5 for 1,500. Jordan Hasay previously held the US 1,500 junior record at 4:14.50.
Now for some new info.
Cain's mile time also seems to be the fastest actual mile race ever run by a 16-year-old in history.
Australia's Suzy Walsham held the previous best according to age-records.125mb.com and she ran 4:33.13 at age 16 back in 1990.
But when you factor in 1,500 conversions, Cain's mark is nowhere close to the best in history. Romania's Ana Pădurean ran 4:06.02 at age 16 back in 1986, which equates to about 4:25-high in the mile. Pădurean's career best ended up being 1:59.53 for 800 and 4:04.97.
More recently, at age 15, Australia's Georgie Clarke ran 4:06.77 back in 2000. Guess what the 28-year-old Clarke's PR is now? 4:06.50.
More: Mary Cain Smashes High School Mile Record By Running 4:32.78
****
Putting The 2013 Dubai Marathon In Perspective
In recent years, with most of the money being in the marathon, guys have been moving to the marathon earlier and earlier and the talent and depth has clearly shifted to the marathon from the track.
2013 Dubai Marathon Top 10
MEN
1. Lelisa Desisa, ETH 2:04:45 DB $200,000
[1:02:39 / 1:02:06]
2. Berhanu Shiferaw (1993), ETH 2:04:48 PB 80,000
3. Tadese Tola, ETH 2:04:49 PB 40,000
4. Endeshaw Negesse Shumi, ETH 2:04:52 PB 20,000
5. Bernard Koech, KEN 2:04:53 DB 12,000
6. Nicholas Kipkemboi, KEN 2:06:33 PB 11,000
7. Dadi Yami Gemeda, ETH 2:07:55 10,400
8. Mike Kigen, KEN 2:08:24 PB 9,600
9. Habtamu Assefa Wakeyo, ETH 2:08:28 PB 8,800
10. Gemechu Worku Biru, ETH 2:08:53 8,000WOMEN –
1. Tirfi Tsegaye Beyene, ETH 2:23:23 $200,000
2. Ehitu Kiros Reda, ETH 2:23:39 PB 80,000
3. Amane Gobena, ETH 2:23:50 PB 40,000
4. Aheza Kiros, ETH 2:24:30 PB 20,000
5. Belaynesh Oljira, ETH 2:25:01 DB 12,000
6. Shitaye Bedasa Ordofa, ETH 2:25:47 PB 11,200
7. Issabellah Andersson, SWE 2:26:05 10,400
8. Abebech Afework Bekele, ETH 2:27:08 PB 9,600
9. Beata Naigambo, NAM 2:27:54 PB 8,800
10. Misaki Katsumata, JPN 2:30:42 8,000
It's gotten so crazy that some of the marathoners are seemingly approaching the marathon as a track race. Check out what 23-year-old Ethiopian Lelisa Desisa said to the AP after outkicking three others in the final 200 meters to win Dubai in 2:04:45 in a marathon where for the first time five guys broke 2:05 in a single race:
"With one kilometre to go, I tried to push but all the guys were remaining there. So I decided to wait for the last lap because all the guys are marathon runners and I'm a track runner. I know I'm better than them at kicking so I went with 200 metres remaining."
It used to be that guys without great speed had a chance to be champions by moving up to the marathon. But the marathon is now so competitive, it's starting to get to the point that if you don't have the wheels, you can't even win there.
As for Lelisa, he has the background of someone who seemingly might be around for a while. He made a name for himself on the roads in 2010 and 2011 in the US as he smashed the 16-year-old course record at Washington, DC's Cherry Blossom Run by running 45:36 – the day after winning $10,000 at the Cooper Bridge Run – and he also won Bolder Boulder and Boilermaker. With a little money in his pocket, he attempted to make the Ethiopian Olympic 10,000 team as he twice broke 27:20 last summer and finished just .28 behind eventual Olympic bronze medallist Tariku Bekele in Hengelo. In 2011, he also twice ran in the 59:30s for 13.1. Not a whole lot to not like about him.
More: LRC What A Finish: Ethiopia's Lelisa Desisa Wins 2013 Dubai Marathon In 2:04:45 As A Record 5 Men Break 2:05
*Highlights Video *AP Recap

****
Quote Of The Week I (that wasn't Quote of the Day)
"The sport needs characters and not 2.04's. The truth is 2.04 is not special anymore unless you have a medal or a majors title to your name. Think (of it as) equivalent to a sub 10 sec American sprinter."
– Emailed response from an anonymous running executive we wrote after the 2013 Dubai Marathon had concluded. In our email, we asked if it was true that someone who ran 2:04 in Dubai might really only make $12,000 (as that's what the official Dubai prize money is for 5th place). His response started, "When a sub 13 runner loses $1,000 by running a race in Europe, I can understand $12,000 for 2.04. Is it just? No, but … (and then the quote above)."
****
Quote Of The Week II (that wasn't Quote of the Day)
"It's hard [not running Boston] because it is a big part of your yearly income, but I feel like at some point you just have to make a sacrifice for the greater goal, which is to run fast."
– Olympic Trials 5th placer Brett Gotcher explainng to Jon Gugala why he's running Rotterdam in April and not Boston.
****
Photo Of The Week
Click on thumbnail to get a larger version.
– A $620,000 watch that sprinter Yohan Blake wears. It's not clear to us whether he paid for the watch of got it as an endorsement deal – only 50 of them were made worldwide. Blake is so attached the the watch and may even accept fines and wear it in competition.
More: Yohan Blake Wears a $620,000 Watch – May Even Accept IAAF Fines & Race In It
****
Other News Of Note
World Youth And World Junior Champ Ajee Wilson Goes Pro With adidas She previously had said she was only deferring college for a year but now she'll never compete collegiately although she plans to go to Temple.
LRC 2013 Virgin London Marathon Field Released – Is This The Greatest Men's Marathon Field In History? All we can say is – Wow! The course record holders of all five majors, the Olympic champ, the WR holder – you name it, they got it. And one the women's side? How about the debut of Tirunesh Dibaba plus 4 of the 5 non-pregnant sub-2:20 runners from last year? So sick.
*Reuters: Dibaba To Race In London Marathon *Discuss
LRC Mary Keitany Is Pregnant With Second Child, Will Miss 2013 London Marathon And Season
Elite Field Released For 2013 Tokyo Marathon, The Newest Addition To The Marathon Majors The field is led by 4 sub-2:05 runners in Dennis Kipruto Kimetto (2:04:16), James Kipsang Kwambai (2:04:27), Dino Sefir (2:04:50), and Jonathan Kiplimo Maiyo (2:04:56). The top Japanese male is Olympian Arata Fujiwara. The women are led by Irina Mikitenko (2:19:19 PB), Bezunesh Bekele (2:20:30) and Aberu Kebede (2:20:30).
Nick Willis Wins Cooks Classic Mile In NZ In 3:57.09; Will Run A 3k On Friday Stony Brook All-American and 1500m Olympian Lucy Van Dalen won the women's race in 4:36.07.
GB 39-Year-Old Marathoner Mara Yamauchi Retires She is Britain's second-fastest ever marathon runner.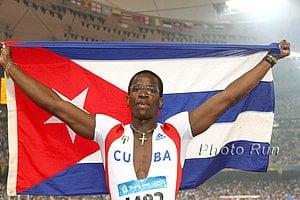 2008 Olympic 110H Champ Dayron Robles Says He Will No Longer Compete For Cuba
2013 Glasgow *Free Mid-D/Distance Race Videos & Results *Full Glasgow Results
****
Recommended Reads
LRC Celebrating The Life Of "The Cancer Guy" Will Steele Will Steele was running 18-minute miles last year. And never has there been a more inspirational runner on LetsRun.com. We pay our respects to this great man who contributed so much to the LetsRun.com community and lost his battle with cancer one month ago on Christmas eve.
UK's Tour Champ Bradley Wiggins Talks About Watching Lance Armstrong Confess On Oprah
****
Quotes Of The Day & Last Week's Homepages:
Note: To see a particular day's homepage, click on the hyperlink of the date on the left. The quote's hyperlink will take you to that particular article – not that day's homepage.
Monday 1/28: "I stay with one of the other athletes, Anyika Onuora. She's got a house up there and I rent one of the rooms. I do two-week stints up there, get some feedback, then come home and stay with the family."
"It is a big commitment – and my wife goes crazy. Every time I get home I see the scorn in her eyes. But she understands what I'm trying to do. It's an opportunity we didn't think we were going to get again, so she says, 'Go and do it and make sure you do it properly.'"
– UK 100m sprinter Dwain Chambers talking about having to leave home for two weeks at a time to go train at UK Athletics new training base in Loughborough.
---
Sunday 1/27: "It was pretty close to as loud as the Olympics … The people here were unbelievable … I couldn't hear the splits so I wasn't sure where I was at any point. … With a couple of laps to go, I heard the crowd getting really loud so I knew must be really close so I just tried to drive as hard as I could to the finish."
– Galen Rupp talking about his race yesterday at the BU Terrier Classic, where he took a shot at Bernard Lagat's AR of 3:49.89 and ran 3:50.92 to become the 5th-fastest indoor miler in history.
---
– PR of the 10th-fastest man in the 2013 Virgin London men's marathon field, which was released Friday. The PR belongs to 5-time world marathon major winner Martin Lel. He's pretty good, isn't he? The race has seemingly topped itself this year and possibly created the greatest men's marathon field in history. On the women's side – how about the marathon debut of Tirunesh Dibaba plus 4 of the 5 non-pregnant women who went sub-2:20 last year?
---
Friday 1/25: "It does not take a scientific degree to understand that running helped Will in his battle with cancer. The goal setting, the routine, pushing your body to do what seems out of reach. Will had done this all his life, for he was a runner. Running was not something he did, it was part of who he was. Just from reading his posts, one sees that continuing to be a runner, even when he could barely walk, helped Will in his cancer fight …"
– LetsRun.com co-founder Weldon Johnson writing in a tribute to Will Steele, aka "the cancer guy." Will lost his battle with cancer one month ago on Christmas Eve, but not before inspiring thousands on Letsrun.com. Will is Wejo's Runner of the Year for 2012.
---
Thursday 1/24: "I'm given today, I'm going to do what I can with it and see what happens. I've accepted that I've got something and it's probably going to get me in the end, but it doesn't have me today. I'm going to keep going and see how far I can get."
– Will Steele, aka "the cancer guy," writing about his incurable cancer in October of last year. Will lost his battle with cancer one month ago on Christmas Eve, but not before inspiring thousands on Letsrun.com. Will is Wejo's Runner of the Year for 2012.
---
Wednesday 1/23: "I won't let victory defeat me. Victory can defeat athletes. You achieve great things, especially at an early age, and your head begins to grow. You go into competitions expecting everyone else to move out of the way. I don't expect the Red Seas to part for me, and I don't expect anyone to bow down."
– Kansas State high jumper Erik Kynard talking about how he hasn't let winning a silver medal at the 2012 London Olympics affect his competitiveness. To prove that, he jumped 2.29m this past weekend to set a collegiate dual meet record in a field that only had one other jumper (a jumper that was out before Kynard even came in).
---
Tuesday 1/22: "I have achieved my childhood dream of becoming an Olympian and enjoyed many years training and competing as an elite athlete. To be able to do what you love as your job is a rare and special privilege, and I am very grateful to all the people who have enabled me to do that."
– British Olympic marathoner Mara Yamauchi announcing her retirement from professional running. During her career, Yamauchi competed in six London Marathons, finishing runner-up in 2009 (2:23:12). She also finished sixth in the Beijing Olympic marathon and won the 2008 Osaka Marathon.