LA Marathon
Kenyans Excel Across The Globe
Olympic Bureaucrats In The News
Steve Solomon Win Australian Jr. 400 Title in 45.99
Sprint News
Non-NYC Action This Weekend
World XC Is Not This Weekend Or This Year:
Running Times: "The World's Toughest Race Is Missing In 2012" "The meet's reputation as 'the toughest race to win' came from the simplicity of the program: 12K race for senior men, 8K for senior women. ... runners were marathoners and milers, steeplechasers and road warriors, all in one event."
Masters Results:
*Multiple WRs Fall On First Day Of US Masters Indoor Champs
*77-Year-Old Holocaust Survivor Runs Jerusalem Marathon Kenya's David Toniok won in 2:19:52.
LRC 2012 Track & Field By The TV Numbers With the indoor track season now over, we thought we'd take a chance to look back and tell you how the indoor meets did on television (as well as on YouTube for Millrose). The stats reveal that new era hasn't taken over at all, as at least 5 times more people still watch track on television as on the Internet.
Will The Half Marathon WR Go Down In 15 Days?
Leonard Patrick Komon Going For Half Marathon WR At Prague Half On March 31st He is the current road WR holder at 10k and 15k and will be looking to break the 58:23 time set by Zersenay Tadese. Current world leader (59:11) Kenneth Kipkemoi is also in the field.
Haile G Back At It In Vienna Half April 15th
Haile Gebrselassie To Race Against Paula Radcliffe In Vienna City Half Marathon "Chase Race" After the Tokyo marathon, Geb tweeted "My Olympic marathon dream is over" but he's not retired yet, as he will lace them up and try to catch Paula Radcliffe as she gets a head start. *MB: Geb announces next race, he may not be done just yet ...

*Also April 15th: Kenenisa Bekele Up Against Top Spanish Runners At SPAR Great Ireland 10k Run April 15th Up against defending champ Jesus Espana and Euro XC silver medallist Ayad Lamdassem.
It's Official
(link fixed)
Update: Alan Webb's Excellent Advice To Robby Andrews On Turning Pro "If you really love it, then it's worth it. But if you don't love the sport, then you're going to hate it as your job. It is a job. It's not your college team anymore. You're going to be getting a paycheck for this, so you got to love doing it."

Robby Andrews Turns Pro Last week, LRC broke the news that Andrews was leaving the University of Virginia. Now the 800m star has done what most expected - turn pro. He'll be coached by Jason Vigilante and train with American mile record holder Alan Webb. He has not signed an endorsement deal yet but will be represented by Ray Flynn.
On The Boards: Robby Andrews Turns Pro
LRC Men's 3,000m Final Lives Up To The Hype World 5,000m champion Mo Farah squared off with two-time world indoor champion Bernard Lagat and 2012 World leaders Augustine Choge and Edwin Soi of Kenya. Once again, Bernard Lagat was too good. They were all in contention on the final lap. There was some contact, two guys running on the infield, a DQ and a resintatement, but none of that stopped Bernard Lagat from showing he's the best 3,000m runner in the world.


LRC 800s: Pamela Jelimo Is Back As USA's Erica Moore Gets Bronze, 18-Year-Old* Mohamed Aman Gets Gold The last time Pamela Jelimo was any good, Erica Moore wasn't an 800m runner. They both left World Indoors pleased, as Moore made her first sub-2:00 clocking count with a bronze medal. In the men's race, 18-year-old* favorite Mohamed Aman got gold. On the Boards: Erica Moore 800m at Worlds

LRC Hellen Obiri Stuns Four-Time World Champ Defar link fixed Obiri Closes In 4:06.6 For Gold Get used to the name Hellen Obiri. Last year, she ran internationally for the first time and won the Kenyan 1,500m championships. This year, in the fourth 3,000m of her life, she came from behind to stop Meseret Defar from getting her 5th world title.

IAAF Final Day Recap: Brittney Reese Is Incredible, Aries Meritt Upsets Liu Xiang, Will Claye Wins Brittney Reese had her back to the wall in the long jump, so what did she do? Unleash a jump that made her #3 all-time to win.

More Sunday:
Saturday
LRC Saturday: Iguider Wins Thrilling Men's 1,500m, Dibaba Lives Up To The Hype, Ashton Eaton, Sanya Richards Ross, Chaunte Lowe And Justin Gatlin (Uh) Get Gold World Record And $90,000 For Eaton A tremendous day of action and a good one for the USA. We break it down, including the men's 1,500m, where Abdalaati Iguider ruined the coming out party of Ilham Tanui Özbilen in an exciting race that saw Matt Centrowitz challenge for the lead. Genzebe Dibaba dominated the women's 1,500, showing she's the real deal. Plus Sanya Richards Ross, Chaunte Lowe and Justin Gatlin are all back from various ailments, some self inflicted, some not. Not to mention a super-tight long jump and a gold by a 39-year-old married to a former heroin dealer.

More Saturday
Friday Worlds
LRC PM Session: Lagat Survives A Scare As Stellar 3k Final Is Set, Genzebe Dibaba Finds Her Event, Plus First 5,000-Point Pentathlon, And Ryan Whiting Joins 22.00m Club

LRC Morning Session - Rupp Bows Out, Meet Ilham Tanui, Centrowitz, Erica Moore, Jackie Areson, Sara Hall Make Finals
The Fast Guys Of The LRC Puma Faas Challenge (Our Apologies For Disrespecting The Always Disrespected David McNeill)

LRC The Fastest Puma Faas Winners - Mark Wieczorek, David McNeill And Ricky Flynn LetsRun.com is made up of the most passionate and fastest runners on the planet. The three guys above entered the Puma Faas Challenge just like you even though they are total studs. Mark is a 1:46.00 800m runner, David a two-time NCAA 5,000m champion and an Australian national champion, and Ricky was a breakthough performer at the Olympic Trials Marathon. Read all about them. Thanks to Ricky's run at the Trials, he may be getting a sponsor soon, so he's giving his shoes to his roommate.

Previous: Get Inspired With The Final 20+ Winners In The Puma Faas Challenge A guy with incurable cancer who wants to run 16-minute miles, a guy who want to break 4 despite getting hit by a car going 35mph, a woman who has a 5-year running streak going that includes two pregnancies, much more.
Dreams Don't Become Reality?

LRC Haile Gebrselassie Tweets "My Olympic Marathon Dream Is Over" And Ethiopia Announces A Preliminary Olympic Marathon Team Missing A Few Stars Geb's tweet is big news as we'd like to see him make one final attempt to compete in the Olympics. Just as big news may be that neither Gebre Gebremariam, Tsegaye Kebede nor Fiyesa Lilesa were on the preliminary team. Their men's team is the top 4 Ethiopians from Dubai.
More Geb: Associated Press Column: Should Gebrselassie Say Goodbye? His agent seems to think so.
Discuss:

LRC Geb Goes For It ... Fades To 2:08:17 4th Well-paced, good weather, perfectly positioned, Haile G had the lead and a gap on the field at 36k but surprisingly faded and was passed one-by-one until he was off the podium in the final kilometer. It was a strange marathon, as both Geb and last year's defending champ Hailu Mekonnen, who were the two leaders, both faded after surging ahead. Michael Kipyego (2:07:37) brother of women's star Sally Kipyego, took the win while Arata Fujiwara stamped his ticket to London with a 2:07:48 PR. 38 y/o Geb complained of back pain afterwards. Geb is now known for his post-race excuses, but for once we tend to believe him (he also dropped a water bottle at 35k and stopped to get it before not picking it up - wonder if that affected his back).
*Tokyo Photo Gallery
LRC Galen Rupp's American 2-Mile Record Is Highlight Among 5 World Leaders Pre-race, we pondered if this was the best men's indoor mile in the US since LetsRun.com was founded and it lived up to the hype, as Silas Kiplagat edged Caleb Ndiku in a world-leading time, but it was Galen Rupp, running to honor the late Geoff Hollister, who stole the show with an impressive American record at 2 miles. In other action, Brenda Martinez took on some of the world's best in the mile, Jamaica's 8th best sprinter beat all the Americans, and Tianna Madison (a long jump world champion most of you have forgotten) shocked VCB and Allyson Felix in the 60m.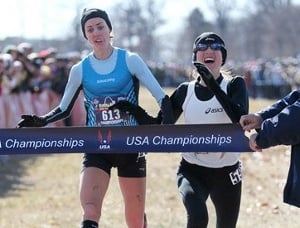 Molly Huddle Celebrates Too Soon, Sara Hall Wins XC On Lean, Bobby Mack Beats Aaron Braun Great races in the chill of St. Louis, as Molly Huddle and Sara Hall battled to the line. Huddle put up her hands thinking she won, but Hall leaned and got the win. Photos here. On the men's side, Mack pulled away from Braun the final 600m. More coverage here. Photo finish photo here.
LRC Men's Marathon Trials Analysis And Reaction The 2012 Trials race was a classic. We throw some love to the top 3, ponder Ritz's future in the marathon, tell you who had the best debut, and tell you who that guy you never heard of was. Plus we talk about Meb's 74-year-old badass dad and look at the fortune of some old timers who didn't make the team, Josh Cox and Dan Browne, in addition to the ones who did (Meb and Abdi).

Race Recap: Meb Keflezighi Captures 2012 Olympic Trials Marathon Title

NY Times Recap: Meb Over Hall, Abdi Grabs 3rd Spot The race lived up to the billing as the top four all broke 2:10, whereas previously there had only been one sub-2:10 in OTM history. After a blistering first half (63:25), Meb Keflezighi got his 2nd PR in 69 days, as he ran 2:09:08 to win over Hall (2:09:30). A resurgent Abdirahman (2:09:47) hung on for the final Olympic spot in 2:09:47 over Ritzenhein, who broke 2:10:00 for the first time (2:09:55). In the process, Meb became the first American to make an Olympic marathon team 8 years after making it previously. Abdi had no idea until we talked to him that Martin Fagan, whom he trained with some this winter, had reportedly tested positive for EPO.
LRC Trials Live Thread Here
Trials On The Boards:
LRC 2:05:06!!! Geoffrey Mutai Caps Year In Style An unbelievable year in men's marathoning had an appropriate finish, as the Kenyan man who had the most unbelievable of all years, Geoffrey Mutai, smashed the previous NYC Marathon record by a stunning 2:38 - that's two minutes and 38 seconds. If it wasn't the greatest 2nd-greatest men's marathon performance ever, you'll have to tell us what was. American Meb Keflezighi hung with the leaders for 20 miles after a blistering 63:16 1st half and ended up with a much-deserved PR. Mutai picked up $200,000 by winning, but the big financial winner was runner-up Emmanuel Mutai, who won $635,000 ($500,000 for the WMM title).


LRC Mary Keitany Beats Herself The women's race was full of gut-wrenching drama, as Mary Keitany went out in a crazy 67:56. The problem was she came back in 74:42, as unheralded Firehiwot Dado (Rome Marathon champ) got the win.

LRC Post-Race Interviews: Meb And His Coach Bob Larsen Talks About His PR Despite Throwing Up Plus the winners - Geoffrey Mutai, Firehiwot Dado, men's and women's top 3, Ed Moran, Molly Pritz, Lauren Fleshman and Bobby Curtis.
Bored? NCAA Indoor Meet is On ESPN U at 11 am and 6 pm ET
LRC Recap: Peter Kirui & Firehiwot Dado Prevail After Head-To-Head Battles From the start, both the men's and women's races turned into one-on-one battles but with different results. In the men's race, Peter Kirui did all the work as Deriba Merga tried to hang on, but in the end, Kirui was rewarded with a victory in the 2nd fastest time ever (59:35) as no American men finished in the top 10. Kim Smith led most of the women's race, but Firehiwot Dado pulled ahead late and won in a new CR (68:35) as Kara Goucher was 3rd.
*MB: NYC Half 2012 race coverage thread and updates.
*MB:Today was Ritz's worst finish Since....
*MB:Did Kim Smith get pawned? (sic)
*MB: Todd Williams is really good at broadcasting
*Nice WSJ Recap
*Davila Loved The Weather: "If you can't run fast on a day like today, you might as well go bowling." *IAAF Recap
*Goucher: "I had a lot more fun this year,"
20 Yr Olds Japanese Impress in Half - One In Japan (1:00:53) - One in NYC (61:48) 20-year-old Olympic 10000 m Favorite Chihiro Miyawaki (Team Toyota) set a course record of 1:00:53 in his half-marathon at the National Corporate Half in Japan as another 20-yr old Japanese guy beat Ritz in NYC by running 1:01:48. Plus another Japanese guy ran 61:15 in Japan.
*Japanese Coach Talks Pre NYC Half
NACAC XC/Oregon Preview
Oregon Preview *Men's Results *Women's Results
Meet Record for Snowfall Falls as It Snows 4 Times The snow didn't stop Sally Kipyego (8:53) and some other OTC elite from running - Geena Gall (2:07.11), Stephen Pifer (8:13.72).
*Elijah Greer Opens Unattached (3:50.50) - Will Run For UO Next Week

NACAC XC
Cam Levins & Liz Costello Win NACAC XC Titles The Canadian Levins, who got silver last year, beat American Christopher Landry by 6 seconds for gold as Elliot Krause got the bronze. Americans Ben Lowry and Shannon Osika won the jr titles. *NACAC XC Full Results
70,000 Runners and Walkers Complete 40th Annual Round the Bays 8.4 km Run in New Zealand
Pre NYC Half Marathon News:

LRC Preview Of NYC Half: Who Triumphs In The Big Apple? Most of America's best are set to take on some of the world's best in America's best half marathon on Sunday. On the men's side, Ritz and Meb lead the US charge versus Kenyan 10,000m champ Peter Kirui and young Ethiopian star Fiyesa Lilesa. On the women's side Kara and Desi will have their hands full with Caroline Rotich, Kim Smith, and NYC champ Firehiwot Dado.

Latest: Wall Street Journal Profile On Gags Quotes from Vin Lananna in the article. Gags is coaching Julie Culley. It will be her first half marathon and - believe it or not - Gags' first one too as a coach.
Running Times Article On HSer Erin Finn, Who Shattered The 5,000m NR At NBIN She ran 16:19, but went out at about 15:30 pace. "That's how I've always raced. Just go out until you die. There's no sense in not doing your all. I want a race to be a race."
Kenyan 10,000m Trials In Oregon!
International News
More NYC Half
Recommended Read The New York Times Introduces Kirani James To The World James has risen from poverty and a tiny party island to world champion in a very short period of time despite having an awkward left foot plant that "experts" have insisted he change (remind anyone of Michael Johnson?). James, just 19, is still a full-time student at the University of Alabama, as anything less than that and he'll be deported. Crazy. He already is #3 all-time at 400m indoors.
Olympic 100m Champ Shelly-Ann Fraser-Pryce Tells Fans - Don't Be So Critical "It's not that day for you to be telling us, 'Oh, you're worthless, you're not supposed to be doing that' ... instead of saying, 'Good luck next time. All the best when it comes again.'"

LRC 3,000s: Chris Derrick Pushes Lawi Lalang To The Line, Emily Infeld Wins Her First Title (link fixed) Friday night, Chris Derrick won accolades for coming within 1.7 seconds of beating Lawi Lalang. Derrick did even better on Saturday night, coming within .17 seconds. In the end, Derrick's efforts weren't enough, as Lalang completed the double. In the women's 3,000m, Emily Infeld won a four-person sprint around the final bend over (among others) Jordan Hasay. Hasay's Ducks were so good they would have won the team title if she had stayed in Oregon.


LRC Mile, 800 And Team Recaps: Chris O'Hare Goes Wire-To-Wire, Jordan Hasay Tries To, Mason McHenry Surprises In 800, Nachelle Mackie Gets Another BYU 800 Win, Oregon, Florida Three-Peat After beind edged out last year, Chris O'Hare went gun-to-tape to win the mile, while Jordan Hasay tried to do the same but just came up short. In the 800s ASU's Mason McHenry showed what running your best when it matters can do for you, and Nachelle Mackie made it two years in a row for BYU wire-to-wire victories. In the team competition, Florida three-peated thanks to Jeff Demps (60m three-peat), Tony McQuay (45.77 400) and Omar Craddock (triple jump win). Oregon three-peated on the women's side and was led by Jordan Hasay's 11 points, plus English Gardner winning the 60 and Brianne Theisen the pentathlon.

Curtis Beach Sets Six PRs And Runs 2:23 1,000m To Get NCAA Heptathlon Title Beach ran 1:50 for 800 in high school and could be a mid-d runner if he wanted to. 2:23 is incredible for a multi guy. Discuss here.

More From Saturday:
Friday NCAAs
LRC 5,000s: Chris Derrick Puts Up A Brave Fight In 5,000m As Lawi Lalang Wins The Title, Betsy Saina Holds Off Deborah Maier Chris Derrick may not have won the men's 5,000m on Friday night but he earned a lot of people's respect with the way he challenged the fastest-ever 5,000m runner in the NCAAs, Lawi Lalang. In the end, Lalang had too much the final 200. On the women's side, Betsy Saina got her first NCAA title despite a tough challenge from Deborah Maier.
OTB: Chris Derrick... WHAT A RUN!!!!!! *CMON DERICK, DO IT FOR AMERICA!!! *Debbie Maier is Rockin it!

LRC DMRs: Notre Dame Surprises And Katie Flood Lives Up To The Hype To Get Washington The Title Notre Dame's Jeremy Rae holds off IU's Andy Bayer and BYU's Miles Batty to get the win. Katie Flood runs fastest women's mile of the day to get Washington the win over Oregon, Dartmouth, and Georgetown.

LRC Mile And 800m Prelim Recaps All the big favorites through, but a couple of surprises.
OTB: Fall In Heat 2 Of Men's Mile *Cas Loxsom is a CHOKE ARTIST

More:
IAAF Releases Members Of Inaugural Hall Of Fame *Website
News From Jamaica
Day 2: Mottram Is Back, Wins 5k; Rudisha Cruises In 800 (Symmonds Struggles), Pearson Impresses Craig Mottram ran away from Collis Birmingham to win the 5,000m in 13:18, David Rudisha crushed the 800m field to win in 1:44 (Nick Symmonds ran 1:48), and world hurdles champ Sally Pearson got a PR in the 200m and her fourth-best time in the 100m hurdles. Ben True (13:26) and Will Leer ran in the 5km. More From IAAF
*Australian High Performance Manager Is Full Of Praise For Mottram "What he did in the race against Collis was tantamount to Mottram re-establishing himself in our psyche that he is the No.1 man over 5,000m. And once he has that confidence behind him, we then know with the right training and the right progress he's one of the rare distance athletes that can shake it up with the Africans."
*2-Time world champion at 400h, Jana Pittman, will start running on Monday but is quickly running out of time to qualify for London 2012
*17-Year-Old Aussie Liz Parnov Likely To Be On Olympic Team
*Sally Pearson After Winning 100m Hurdles In 12.49 Seconds: "Holy crap! I know I can't swear, what can I say? It's really fantastic." *AP Article
*Runner's Tribe Recap
On The Boards: *Symmonds ran 1:48 in Melbourne, Sure, it's March Nick, not August!
*Mottram wins 5000m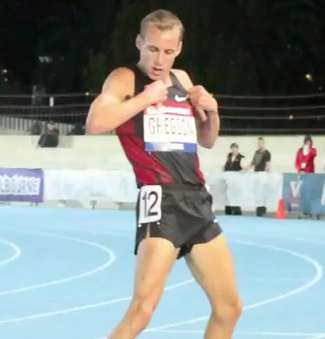 Day 1: Ryan Gregson Wins And Does A Dance As Kiprop Falters For 3rd Year In A Row - Torrence 2nd, Willis Third On a windy day, Asbel Kiprop had the lead in the middle but faded to 5th (3:42.52) as Aussie record holder Ryan Gregson got the win (3:38.51) to prove he's at least temporarily over last year's injury problems. He was followed by Torrence (3:39.32), Willis (3:39.77), Riseley and Kiprop. Kiprop: "I don't know exactly what happened. It was not my day today ... I did 10 seconds slower than what I was expecting. It doesn't disappoint me at all."
*AP: Pearson Wins, Frayne Gets TJ Qualifier
IAAF Recap Afterwards, Gregson did a dance at the finish (video embedded to your right or here). Was it because of this tweet?

OTB: Gregson is back!!! (def. Kiprop, etc)
*Gregson's Finishline Dance
*LEER 13:36!!!!!!!!!!!!!!
A Current & Future Marathoner In The News
Meet The Triathlon Coach Who Taught Ryan Hall He Needed To Recover More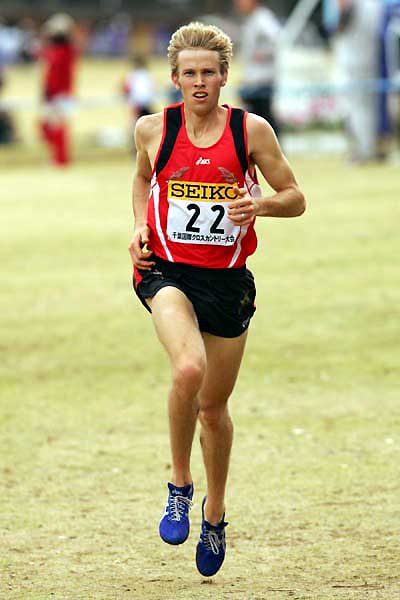 No, the name of "Mr. Recovery" isn't God - it's Matt Dixon. Dixon seems to be a smart guy who had one triathlete cut his "volume by 30 percent, added easier workouts and had him eat more." We'd say that would help 90% of all distance runners if only instead of cutting their volume by 30%, they increased it by 30%. "Our goal is not to train as hard as we can, but to perform well."

Salazar Says "Mea Culpa" And Takes Blame For Aggressive Race Plan That Blew Up And Cost Galen Rupp 3k Spot In Albuquerque They knew sitting and kicking would result in a Lagat slaughter, so they tried to take it out hard but they underestimated Lopez Lomong. "(Lomong's) always been a great runner," Salazar said. "We totally respect him. But he hadn't run a distance race in a while. We underestimated what he could do. It was a mistake."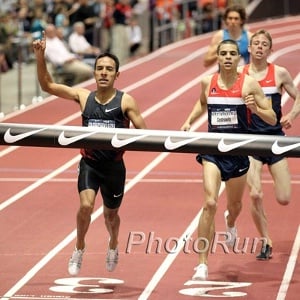 Sunday: LRC Manzano Outkicks Centrowitz And Rupp To Win 1,500, Simpson Holds Off Martinez (Updated) Two weeks ago, Manzano ran 3:57 in his opener but was last place in a super-stacked mile in Arkansas. In the women's 1,500m, Jenny Simpson edged Brenda Martinez, showing Martinez is the real deal (Martinez had by FAR the best finish as she got boxed and was 6-7 meters back with 100m to go and barely lost), and Sanya Richards-Ross ran a 50.71 meet record. Chaunte Lowe set an American record in the women's high jump, showing she is more than back from maternity leave. Distance recaps, results, and videos with winners.
*Ashton Eaton Wins LJ With A New PR
On The Boards: Manzano outkicks Centrowitz and Rupp!
Really, what happened Rupp in the last two laps tonight?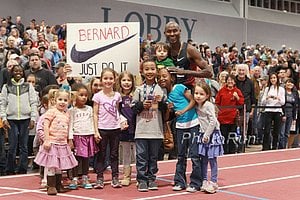 LRC USATF Indoor Men's 3k: Lagat, Lomong Crush Rupp (Updated w/ video interviews) Galen Rupp pushed the pace early, hoping his 12th attempt at beating powerhouse Lagat would be the charm, but was badly dropped before the bell, unable to challenge Lagat, who then crushed Lopez Lomong with a 25-second last lap. On to Worlds for Lagat, where he may be the favorite to defend his title. Like Lagat, Jenny Simpson ran away with the women's 3,000m title. Find out why she won't be running in Istanbul.
*IAAF Recap Day 1 Will Claye jumped 17.63m in the TJ for the furthest mark by an American in 23 years.
*Jennifer Suhr Overcomes Aching Achilles To Win PV At US Champs She only had to clear two heights and then made 3 attempts to break her own AR, but missed.
*Results *LRC Official USA Indoor TNF Champs ABQ Thread
*Lagat: "I just wanted to show these guys that Daddy can still kick." RRW Recap
*USATF Recap
A Definite Recommended Read & Discuss

Sports Illustrated & Tim Layden Profile Mo Farah & Galen Rupp: A Bond Born At Speed The two training partners clearly will have vastly different amounts of pressure on them at the London Games and it's clear that Rupp is happy to not be in the spotlight: "I don't envy Mo. He's going to have a bunch of people cheering for him, but all that stress. It's nice sometimes to just train and not have all that external stuff."
MB: Rupp 10.9 and Farah 11.3 for the 100m *Do you believe the rest of the SI article about Rupp & Farah? 8 x 1200 at 4,551 Ft Altitude in 3:09/2min rest? *Alberto Salazar's coaching pre-Galen Rupp *Does Rupp have any realistic chance of beating Lagat this weekend?
Sydney Track Classic *Results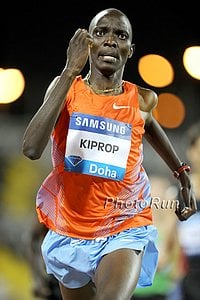 Kiprop 1:45.9, Rudisha 45.61, David Torrence 3:35.6 Wins The Australian season got underway in full force with the two best mid-distance runners, Olympic and World 1,500m champ Asbel Kiprop and World 800m champ David Rudisha, both dropping down in distance. Rudisha ran 45.61 at 400, while Kiprop got the 800m win in 1:45.9. Kiprop dropping down let American David Torrence win the 1,500 in 3:35.6. World hurdles champ Sally Pearson did the hurdles/200m double. Nick Symmonds did not have his kick and was a well-beaten 6th in 1:47.44, which is a pretty good opener.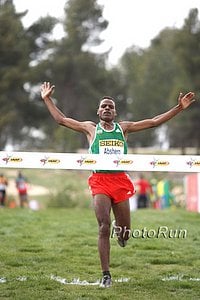 LRC Hello World, Meet Ayele Abshero (2:04:23 Debut!) The 21-year-old former Jr. World XC champ's marathon debut was super-special, as his surge with just over 3km remaining decimated the deepest marathon field in history, as four men broke 2:05 in the race, eight broke 2:06, 10 broke 2:07, and 17 broke 2:10 - all records as fastest-ever times for places were recorded in spots three through 17. 2011 belonged to the Kenyan men, will 2012 belong to Ethiopia? The women's race was super-fast and super-deep as well, as 3 women broke 2:20 in the same race for the 1st time, as Aselefech Mergia ran 2:19:31 to win and a record 9 women broken 2:25. Martin Lel was a DNF, Ramaala 2:12. *AP
*Butcher: Ethiopians Strike Back
*MB: 4 guys I've never heard of go sub 2:05 in Dubai
Flanagan Over Davila, Goucher Gets Third As Top 4 All Break Old OTrials Record Flanagan (2:25:38) pulled away from Davila (2:25:55) and Goucher was third in 2:26:06. Amy Hastings broke the old Trials record at 2:27:17 but didn't make the team. Deena Kastor was 6th in 2:30:40.
ABC 7's New York City Half Coverage (Larger here)
Weekly Recap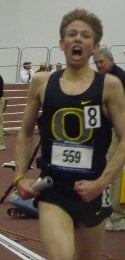 LRC The Week That Was In Running: March 5 - March 11, 2012 This week, we wonder if the NCAA milers could have beaten Bernard Lagat at Worlds if they'd jumped into the 3k with a mile to go, compare Chris Derrick to Galen Rupp, tell you how Meseret Defar was beaten at Worlds, tell you how many NCAA runners would have medalled at Worlds, pay homage to the great Mizuki Noguchi, and also explain why indoor track in many ways is better than outdoor track.
He talks about how he had to have surgery in September after he tripped over his dog, giving up his 2011 Worlds spot, his 9-minute mile first run back, and his plans for outdoors. Video below. Larger here.
Highlights And Last 800m Of Men's 3,000m At Worlds (Larger Video Here - We Previously Had It Set Up So You Could Watch Without Knowing The Results)
Non-Worlds/NCAA Action - US 15k Champs: Gate River Run *Results
Mo Trafeh Three-Peats, Janet Cherbon-Bawcom Wins Title And Equalizer Bonus Molly Huddle was 2nd on the women's side and Christo Landry was second on the men's. More coverage here. *RW Post-Race Brief Chat With Trafeh Here

Crazy: Two Weeks After Tokyo Marathon, Yuki Kawauchi Runs 1:04:26 Half Marathon On Hilly Course

Nagoya: Russian Albina Mayorova Wins Nagoya Marathon, The Final Qualifying Race For Olympics

Kenya: Asbel Kiprop Runs 1:18.0 600m
DII/DIII NCAAs
High School New Balance Nationals *Results
Men's 1,500m Final From World Indoors (Women's Here)
Prince Harry Over Usain Bolt
Day 2 USATF Indoor Photos (Tokyo Marathon Photos Here)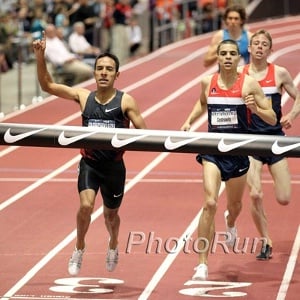 Day 1 USATF Indoor Photos
Spend 10 Minutes To Get To Know The World's Best(?) Marathoner Patrick Makau (Also Has Footage Of Him Training In Kenya)
LetsRun.com Track Talk Live From Kenya: Friday's Live Show Is Now Available On Demand In The Player Below (Or Download It Here)
Rupp's 2-Mile American Record From Arkansas (Last 2:20 Or The Full Race)
Final 400 (Or Full Race) Of Lagat's American Record (Wanamaker Mile Video Here)
Photo Gallery: Rupp Makes History (Interview Below Or Here)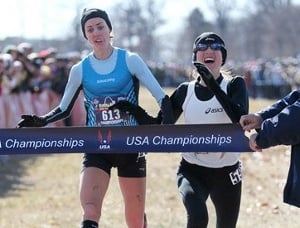 Trailer For "ITEN - The Town Of RED Dust"
NCAA Women's Photo Gallery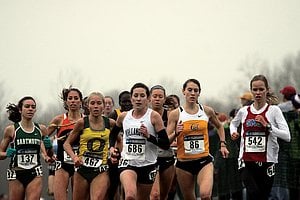 NCAA Men's Photo Gallery (500+ Photos)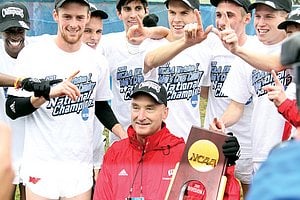 Training Corner (More In The Training Forum)
Universal Sports Back To Top