LRC Men's Preview: 2012 Boston Marathon Men's Preview: Can Anyone Possibly Stop Geoffrey Mutai? The fastest Boston Marathon field ever assembled is ready to take on the current World's Greatest Distance Runner Geoffrey Mutai. Former NYC champ Gebre Gebremariam, 2:05 men Levy Matebo, Tadese Tola and Wilson Chebet want to give him a run for his money along with David Barmasai, Peter Kamais and our Budweiser long shot, a 2:10 guy we think could challenge.

LRC A Look Back At Boston 2011 And A Look Ahead To Monday's 116th Running Boston 2011 "changed the history of the marathon" as we nearly witnessed the first 2:02 marathon. What does that mean for 2012? Employee #1 is back from Kenya for the 2nd report in our series "8 Days for Glory" on the 6 Kenyan marathoners going for 3 Olympics spots over 8 days.

Sunday's BAA 5K: Quest for $100,000 Begins at BAA 5k Sam Chalenga has a good shot at winning and is up against Ethiopia's Ali Abdosh and defending champ Ben True.

Friday's Press Conference Highlights:
Men: LRC Mutai Set To Defend, Wesley Korir Ready To Challenge, Americans Arciniaga And Hartmann Ready

Women: LRC Defending Champ Caroline Kilel And NYC Champ Dado Try To Recreate Drama Of Last 4 Years 2, 3, 1, and 2 seconds are how close the race has been the last 4 years.
*Top Athletes Shrug Off Heat Worries At Boston Marathon
*Americans Nick Arciniaga, Jason Hartmann Hope For Boston Marathon Success



LRC 8 Days For Glory - A Kenyan Flavored Preview Of The Upcoming Men's Marathon World Record Assault Over 8 days starting this Sunday, six Kenyan men - the four fastest marathoners of all time (Geoffrey Mutai, Moses Mosop, Patrick Makau and Wilson Kipsang), plus double World Champion Abel Kirui and Virgin London Champion Emmanuel Mutai - will fight for three Kenyan Olympic spots on the streets of Rotterdam, Boston, and London.
Miscellaneous News
Previous News: Paris, NYC, Kenenisa Bekele 10km In Ireland, Paula And Haile G In Vienna
UK News
Previous Boston Marathon News
*Brutal Weather Forecast For Boston
*Geoffrey Mutai Ready To Defend Boston Title Next Monday Mutai is the world's top marathoner coming off his course records at Boston and New York. American eyes will rightfully be on Boston, but don't forget about Rotterdam on Sunday, where Chicago champ Moses Mosop will go after Patrick Makau's world record of 2:03:38.
*Joan Benoit Will Race Boston - Meb Will Be There As Well (As Race's Grand Marshall)
*Boston Champs Bill Rodgers, Geoffrey Mutai, Greg Meyer And Runner-Up Desiree Davila Will Give Clinic To Boston HSers On Wed.
*After Finishing 25th In Trials In 2:15, Sergio Reyes Is Feeling Energized And Excited About Boston
*Many Boston Charity Runners Are Struggling To Raise The $4,000 Required To Run
US Distance News
Hakone Ekiden's Fifth Stage Star Ryuji Kashiwabara, 22, Holds Debut Press Conference For Fujitsu, Says His Goal is 2:06 In Marathon He won't make his debut, though, until 2014.
News From The UK
Strange Sport News
Recommended Read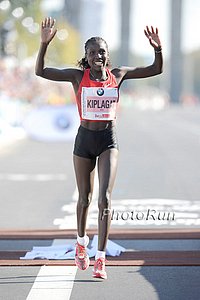 Recommended Read: Meet 2:19:44 Marathoner Florence Kiplagat, Who Is Focused On Winning London The former World Cross and World Half star was a soccer player in school who picked up running after being told do so by her uncle - 2:06:50 marathoner William Kiplagat. Her goal was to come to school in the US, but that didn't work out and the rest is history. A year ago, we wondered prior to Boston if she'd be the world's new marathon star. The answer seems to be yes. Her 66:38 half from February proves she is fit.
Jeremy Wariner Runs 1st 400 Of Year - 45.64 - Leaves "a little disappointed." Last week, he split 44.58, so we understand why he's upset. He did say, "My strength is where I want to be at."

Stanford Invite: Nice IAAF Recap Of Stanford: Areson Makes Up 35m Gap And Catches Lisa Uhl & Gets World Lead; Ritz Wins And More Dathan Ritzenhein won the 10,000m in 28:21 in his first track race in 2.5 years, Jackie Areson got an Olympic "A" qualifier in the 5,000 (15:18.31) as Lisa Uhl just missed (15:21). Chris Derrick won his slower section of the 1,500 in 3:41.17 to beat Evan Jager and Lawi Lalang, and Kevin Castille ran 28:57 10k at age 40!
On The Boards: *Derrick Finally Beats Lalang *Ritz in the 10,000!

Florida Relays Marvin Bracy False Starts, 7th Grader Daesha Rogers Runs 2:09.44 Orlando Sentinel
*Results Alan Webb's 2012 struggles continued as he ran 1:54.17 for 800m and then 40 minutes later 3:54.08 for 1,500m.
On The Boards: 3:54 Webb? Really?, 7th Grade Girl Wins Florida Relays 800

Oregon: Pepsi Team Invitational Thanks To Elijah Greer's 1,500, 4 X 400 Heroics, Oregon Men Narrowily Win Pepsi Team Invitational The 800 star won the 1,500 in 3:45 and then held off Texas A&M in the 4 x 400. The Duck women won in a laugher.
*Alex Kosinski Was Surprised By Her 15:36, A 21-Second PR
*Might Sprinter English Gardner Be Oregon's Olympic Trials Hero Like Andrew Wheating Was In 2008?

LSU: LSU Sweeps Team Titles At "Battle Of Bayou" *LSU Results
MB: Loxsom Returns But Loses To Sowisnky (1:47.98 to 1:47.02) - 3 Penn State Guys Break 1:50

Duke: Curtis Beach Runs 1:47.99 With Middle 400 At 49.8
A Racewalker That Would Make Jimmy Wyner Proud
Kiwi Olympic Racewalker Was DQed For Doing Forward Somersault At Finish Line Of 1st National Champs "Some people might get upset about [the disqualification], but I did what I set out to do and I wasn't too concerned whether they gave me a medal or not."
News From Europe
Kenyans In The News
Other Olympic News
High School Big News
17-Year-Old High Schooler Cayla Hatton Runs 33:17 10,000m Olympic Trials "B" Qualifier The prodigy only started running full-time this year. Now she's putting up a time that would make her 5th in the NCAAs last year. Truly ridiculous. The time is so fast some were wondering if it was a lap short, but this video proves it's legit and shows she ran every lap (16:30-16:46).
*A Q&A With HS Prodigy Cayla Hatton Two years ago, she was in awe of Kara Goucher and asking for her autograph. Now she'll be racing against people like her at USAs in the 10k.
Super-Fast Road Races In The US *Elite Results
Carslbad 5,000: Dejen Gebremeskel Repeats At Carlsbad 5,000 In 13:11 Gebremeskel let the Olympic 5,000 medallist Eliud Kipchoge do all of the work in the wind before kicking home to a 2nd straight win in 13:11. Alistair Cragg (pictured left) set a new European road record of 13:26 as Ryan Gregson ran 13:39. Anthony Famiglietti struggled with a 14:21. Kevin Castille, who ran 14:01 this winter, won the Masters race easily in 14:57.

Tirunesh Dibaba Remains Undefeated On Year With An Easy 15:01 Win Dibaba: "I'm happy about the race but I didn't run a fast time because of the wind. ... I'm going to be ready for the Olympics."

DC: Allan Kiprono Sets Course Record (45:15) As Julliah Tinega Repeats At 40th Credit Union Cherry Blossom Run
More Sprint News
LRC Men's 3,000m Final Lives Up To The Hype World 5,000m champion Mo Farah squared off with two-time world indoor champion Bernard Lagat and 2012 World leaders Augustine Choge and Edwin Soi of Kenya. Once again, Bernard Lagat was too good. They were all in contention on the final lap. There was some contact, two guys running on the infield, a DQ and a resintatement, but none of that stopped Bernard Lagat from showing he's the best 3,000m runner in the world.


LRC 800s: Pamela Jelimo Is Back As USA's Erica Moore Gets Bronze, 18-Year-Old* Mohamed Aman Gets Gold The last time Pamela Jelimo was any good, Erica Moore wasn't an 800m runner. They both left World Indoors pleased, as Moore made her first sub-2:00 clocking count with a bronze medal. In the men's race, 18-year-old* favorite Mohamed Aman got gold. On The Boards: Erica Moore 800m at Worlds

LRC Hellen Obiri Stuns Four-Time World Champ Defar link fixed Obiri Closes In 4:06.6 For Gold Get used to the name Hellen Obiri. Last year, she ran internationally for the first time and won the Kenyan 1,500m championships. This year, in the fourth 3,000m of her life, she came from behind to stop Meseret Defar from getting her 5th world title.

IAAF Final Day Recap: Brittney Reese Is Incredible, Aries Meritt Upsets Liu Xiang, Will Claye Wins Brittney Reese had her back to the wall in the long jump, so what did she do? Unleash a jump that made her #3 all-time to win.
LRC Men's Marathon Trials Analysis And Reaction The 2012 Trials race was a classic. We throw some love to the top 3, ponder Ritz's future in the marathon, tell you who had the best debut, and tell you who that guy you never heard of was. Plus we talk about Meb's 74-year-old badass dad and look at the fortune of some old timers who didn't make the team, Josh Cox and Dan Browne, in addition to the ones who did (Meb and Abdi).

Race Recap: Meb Keflezighi Captures 2012 Olympic Trials Marathon Title
Non Rotterdam/Boston Weekend Action
Rotterdam Kicks Off 8 Days Of Marathon Madness Sunday *Full Rotterdam Elite Field
LRC Moses Mosop Goes For Glory: "Moses Has Speed That Has Never Been Seen" Moses Mosop ran 2:03:06 in his first marathon. In his second marathon, he set the Chicago course record while only being 80-85%. Now he's at full strength and trying to make the Kenyan Olympic Team. His coach Renato Canova knows the only way Mosop will make the team is with a World Record in Rotterdam on Sunday. Employee #1 spent 20 days in Kenya and looks at Mosop and Rotterdam, which also features half marathon stars Sammy Kitwara, Stephen Kibet or Peter Kirui.
*IAAF Preview: "'The Big Engine' Is Well Prepared"
*Travel Visa Issues Almost Kept Moses Mosop From Arriving In Rotterdam Thankfully, his visa was renewed on special appeal and he arrived confident ahead of Sunday. He says he visited 5 weeks ago to preview the course and adjusted his training to prepare for it.

Beautiful Videos Of Top Stars In Rotterdam Training In Kenya And Talking About Training:
*Moses Mosop *Sammy Kitwara *Peter Kirui

RR: Sports Illustrated: The Mercurial Life And Mysterious Death Of Sammy Wanjiru David Epstein: "Expect Kenyans at the London Games to try to break the rest of the world from the gun. That will be Wanjiru's legacy."
South Africa National Champs
US News From A Retired Runner, Alan Webb, And The 2nd-Fastest HSer In The Country
Interesting Olympics News
US Track News
David Rudisha
Athletics Kenya Botches It Again
Athletics Kenya Whittles Down 10k Olymipc Hopefuls To 30 "A" Qualifiers & Says All Must Race On Tuesday To Pick 15 That Will Compete In Eugene Athletics Kenya says there are no exceptions for not competing in next Tuesday's pre-trials race, from which 15 will be sent to Eugene. So that pretty much rules out last year's 10k national champ Peter Kirui, who is running Rotterdam this weekend Geoffrey Mutai, who is running Boston and is arguably the world's greatest runner, isn't even on the list. "B" qualifiers aren't even allowed to compete, nor are three "A" qualifiers. Plus we don't think US-based guys like Sabmu or Korir will make it either.
*Kenyan Article With 30 Competitors' Names Listed
*AK: B Qualifiers Don't Matter As They Are Mostly Road Runners
*The Science Of The Sport Weighs In On Kenya Marathon/10k Selection Dilemma Also talks about the biological passport and the resignation of one of its leading developers.
More Kenyan News:
Something The IAAF Overlooked: Asbel Kiprop Was Beaten By Evans Kosgei In Kenya Last Weekend The IAAF report didn't mention Kiprop being in the race, but this report says he was tripped 450m in and that the race was won by Evans Kosgei in 1:48. Two-time steeple world champ Ezekiel Kemboi failed to get out of the heats of the 1,500 as well.
Usain Bolt & Yohan Blake Both Going To Race This Weekend
Sprint Fans, Get On A Plane:
Yohan Blake Says This Saturday In Jamaica, He'll Run Open 100m Then Team Up With Usain Bolt On 4 X 100m
Censorship In Iran & The US
Iranians Are Currently Being Banned From London 2012 Website If you think that's unbelievably crazy, don't. LetsRun.com is banned at US military bases.
Action We Missed
Non-Usain/Yohan Sprint News
Great Read If You Didn't Read It Yesterday: Alberto Salazar Unplugged - Part II This interview with Amby Burfoot is great. From Ritz's struggle in the marathon, to Ritz's form change, to Alberto's competitive relationship with Jerry Schumacher, to Galen Rupp's marathon future and, to Alberto's biggest regrets, Amby Burfoot leaves no question unasked and Alberto doesn't shy away from any of them and talks about Rupp running 12:45 and in the 26:20s.
*Part I: Alberto's Book & The "Duel In The Sun"
MB: An Incredible Amby Burfoot Interview With Alberto Salazar

*The Wall Street Journal Positively Reviews Alberto Salazar's New Autobiography Pre-order the book today here (it's released tomorrow) and get Amazon price guarantee.
More Action From The Weekend
Sprint News
Japanese Amateur Marathon Ace Yuki Kawauchi Shows Up Unannounced At Half Marathon, Beats Many Top Japanese Collegians The guy is a star in Japan as he got an ovation from the mass runners at the start line. His time was 63:48 but it was very windy.
HS News
Ryan Hall Movie
LRC Ryan Hall Feature Film In The Works A full length film on Ryan Hall's quest for glory in London 2012 is in the works. Learn more about the film "41 Days," watch a trailer, and learn how you can help support the film and get some Ryan Hall memorabilia. Image below.
On The Boards: Ryan Hall's Big News
Half Marathon Madness

Ethiopia's Next Star? In Cold And Windy Conditions, Virtually Unknown Ethiopian Atsedu Tsegay Runs 4th-Fastest (58:47) Half Marathon Ever The 20-year-old's claim to fame before today was a 6th place at the World Junior 5,000 and a course record at last October's Marseille and Cassis road race. Joyce Chepkirui, the African XC champ, broke the women's course record in Prague. *RRW Recap

Prague Berlin: Geoffrey Mutai's Training Partner Dennis Koech Stuns Half Marathon World Champion Wilson Kiprop 5 Kenyans broke 60 flat as Koech (59:14) edged Kiprop (59:15) on a day which 5 Kenyans broke 60 and 3 Kenyan women led by last year's Rotterdam champ, Philes Ongori (68:25), broke 69. Koech's coach thinks he can get the WR.
Big Sprint News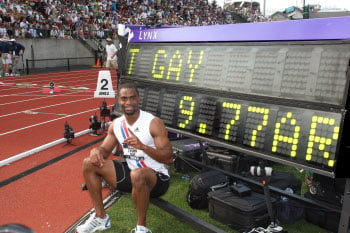 Reuters: Tyson Gay Holds Open Workout For Media & Says He'll Only Do 100m This Year *ESPN.com *AFP

*AP Article That Is More Upbeat & Says He's Nearing Full Recovery Given his surgery, Gay doesn't feel he hasn't done enough work to handle the 200m. His coach says that the Trials might actually be his first race of the year: "You'd prefer to have a couple of races before the trials. But at the end of the day, if his first race is at the Olympic trials, then he'll be ready to run.''

More Sprint News: Slate Asks: Might Justin Gatlin (And Other Drug Cheats) Be Benefitting From Doping They Did Years Ago? Answer: Yes
We All Have Our Own Story Of How We Became A Runner, But Few Can Say It Was Because They Were Arrested
Recommended Read: Former CEO Of BETonSPORTS.com Went To Jail To Become A Runner At 50 years old, David Carruthers used his time in prison/house arrest to go from being 192 lbs. and overweight to running a 3:07 marathon and sub 5-min. mile.
LA Times Take A Look At Altitude Training At Mammoth Lakes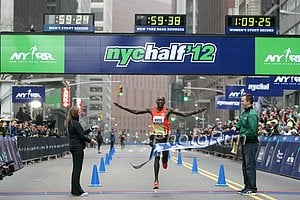 LRC Recap: Peter Kirui & Firehiwot Dado Prevail After Head-To-Head Battles From the start, both the men's and women's races turned into one-on-one battles but with different results. In the men's race, Peter Kirui did all the work as Deriba Merga tried to hang on, but in the end, Kirui was rewarded with a victory in the 2nd fastest time ever (59:35) as no American men finished in the top 10. Kim Smith led most of the women's race, but Firehiwot Dado pulled ahead late and won in a new CR (68:35) as Kara Goucher was 3rd.
*MB: NYC Half 2012 race coverage thread and updates.
*MB:Today was Ritz's worst finish Since....
*MB:Did Kim Smith get pawned? (sic)
*MB: Todd Williams is really good at broadcasting
*Nice WSJ Recap
*Davila Loved The Weather: "If you can't run fast on a day like today, you might as well go bowling."
*IAAF Recap
*Goucher: "I had a lot more fun this year."

LRC 3,000s: Chris Derrick Pushes Lawi Lalang To The Line, Emily Infeld Wins Her First Title (link fixed) Friday night, Chris Derrick won accolades for coming within 1.7 seconds of beating Lawi Lalang. Derrick did even better on Saturday night, coming within .17 seconds. In the end, Derrick's efforts weren't enough, as Lalang completed the double. In the women's 3,000m, Emily Infeld won a four-person sprint around the final bend over (among others) Jordan Hasay. Hasay's Ducks were so good they would have won the team title if she had stayed in Oregon.
Khannouchi's Retirement
LRC Carey Pinkowski Reflects On Khalid Khannouchi's Career: "He Was The Absolute Best I've Ever Seen" The Chicago marathon director talks about the man who made his name in the Windy City. Plus quotes from London Marathon director Dave Bedford and a tweet from Ryan Hall.

LRC Marathon Legend Khalid Khannouchi Officially Retires Khalid Khannouchi, one of the greatest marathoners of all time, has told LRC that he is officially retiring from competitive running. Khalid helped revolutionize the sport of marathon running, setting two world record in the span of three years, including his final one at the "Greatest Marathon Ever Run" - the 2002 London Marathon matchup that featured Khannouchi, Paul Tergat and Haile Gebrselassie.
Shalane Flanagan Wins Lisbon Half, Tadese Three-Peats Updated with IAAF story The American got the big upset win (just as we predicted) and Zersenay Tadese got the win but not the world record (just as we predicted - a broken clock is accurate twice a day). Flanagan ran 68:51 for the win.
OTB: Flanagan wins Lisbon. Lock for Olympic gold?
*Will there be an official Lisbon half-marathon thread?
*Letsrun...seriously your picking Shalane Flanagan to win the 2012 Lisbon Half Marathon?
*Full Photo Gallery
*LRC Lisbon Half Marathon Preview
Flanagan Over Davila, Goucher Gets Third As Top 4 All Break Old OTrials Record Flanagan (2:25:38) pulled away from Davila (2:25:55) and Goucher was third in 2:26:06. Amy Hastings broke the old Trials record at 2:27:17 but didn't make the team. Deena Kastor was 6th in 2:30:40.
Lopez Lomong's Life Saga In 3 Minutes And 51 Seconds
Excellent Video Of Mosop Running In Kenya And Talking About Rotterdam (More Stunning Videos Of Peter Kirui Here And Sammy Kitwara Here Running In Kenya) - Our Favorite Is The Kirui One Because Of The Music
Diamond League Meets Start Next Month
*Monaco Diamond League 200 On July 20th To Be Usain Bolt's Last Race Before London Olympics Bolt will also compete in the DL meets in Rome on May 31 and Oslo, Norway, on June 7.
*Universal Sports 2012 Diamond League Video Preview
Week In Review (Updated With More Info On Jeremy Wariner Here)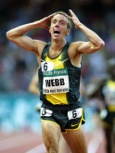 LRC WTW: Is Jeremy Wariner Done? What About Alan Webb? Our Favorite Race Walker, Brie Felnagle, Chris Derrick, Running Movies and More We scan the world and wonder is Jeremy Wariner done? What about Alan Webb? Brie Felnagle definitely isn't and neither is David Adams. Chris Derrick has more speed than you thought. Plus we tell you about our favorite racewalker, talk about two running movies in the works, Bekoji Ethiopia, and we even give you some injury advice.
Other Random News
*Japanese Dog Owner Arrested After Dog Bites University Runner Brett Larner also shares of his experiences with said dog and owner as he was attacked and police ignored his complaints because he was a foreigner.
*How Steve Hooker Got Rid Of The Yips (Video Included)
*Liu Xiang Says He Was Moved By Watching 70-80-Year-Olds Training For The World Masters Championships
Interesting Read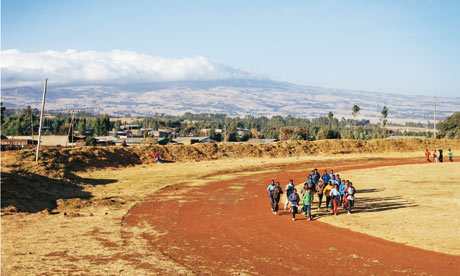 Bekoji, Ethiopia: Town Of Runners By now many of you have heard of Iten, Kenya - the tiny town where many Kenyan stars train. The Ethiopian town of Bekoji may be even more impressive, as it is where Kenenisa Bekele (3 Olympic golds), Tirunesh Dibaba (2 Olympic golds), Derartu Tulu (2 Olympic golds), and Fatuma Roba (1 Olympic gold) were all born. Lengthy Guardian profile on the town and its unheralded coach Sentayehu Eshetu. A movie on the town - "Town of Runners" - comes out later this month.
*Bekoji Photo Gallery
Alberto Salazar's Book Released Today And Endurance Now On DVD
Week In Review
LRC WTW: America's Newest Female Running Prodigy, Galen Rupp's Medal Chances, A Kenyan Gets 7 Years Older In 2.5 Months, Bekele's World Records And The World's Winningest Marathoner Who Is Not A Big Fan Of The World We span the globe so you don't have to. Can Atsedu Tsegay knock Galen Rupp off the medal stand at 10,000m? How does someone get 7 years older in 2 months? Plus info on America's latest distance prodigy and the World's winningest marathoner seems to not be a big fan of the World. Much more, including a great profile on Edwin Moses.
Did You Miss 4/1/12 On LetsRun.com? Relive It Here
Video: Khalid Khannouchi To Run 2012 Virgin London Marathon A television report out of London confirms Khannouchi is in for 2012. Sunday's April Fool's Homepage.
Spice Up Your Day With This Steeple Fail (Turn Up Volume) *MB Thread
Lisbon Photos
Three Nice Deals On Running Shoes
1) Nike Free 2+ $59.98 For men - 1 color only at this price. Other colors and women $79.99-$99.99.
2) Adidas Leap $49.98
3) Brooks Adrenaline 11 $59.98
Little LRC gets a commission with your purchase.
Spend 10 Minutes To Get To Know The World's Best(?) Marathoner Patrick Makau (Also Has Footage Of Him Training In Kenya)
Photo Gallery: Rupp Makes History (Interview Below Or Here)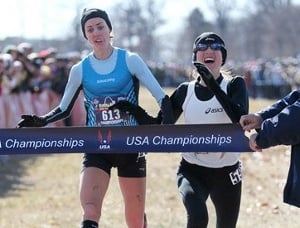 Training Corner (More In The Training Forum)