The Week That Was In Running: April 2-8, 2012
To read last week's LRC Week That Was, click here.
By LetsRun.com
April 11, 2012
We scan the world and wonder is Jeremy Wariner done? What about Alan Webb? Brie Felnagle definitely isn't and neither is David Adams. Chris Derrick has more speed than you thought. Plus we tell you about our favorite racewalker, talk about two running movies in the works, Bekoji Ethiopia, and we even give you some injury advice.
****
Alberto Salazar Says Galen Rupp Will Double - aka The US Men's Olympic 5,000 Team Just Got A Lot Harder To Make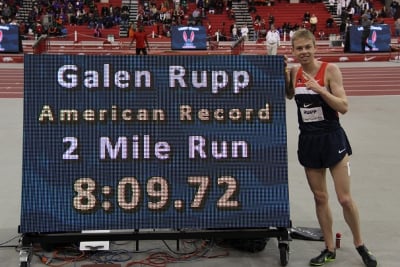 In the articles surrounding the release of Alberto Salazar's biography this week (you can buy the book here), it came out that Salazar's protégé Galen Rupp will try to do the 10,000/5,000 double at the Olympic Trials and Games. In Salazar's mind, there is no harm in doing it, as the 5,000 comes after Rupp's main event - the 10,000. No harm for Rupp but there certainly is harm for other US Olympic 5,000 hopefuls.
Assume for all practical purposes that Bernard Lagat is a lock for the team. There are only two spots left. Rupp is very hard to overlook. Don't forget he doubled last year at Worlds, finishing third in the 5,000m at USATFs to make the team. Since then, Rupp has gotten better and recently ran 8:09 for 2 miles indoors.
The other guys with the 13:20 "A" standard are Chris Solinsky (2nd last year at USAs), who is coming back from injury, Matt Tegenkamp and Chris Derrick. Guys somewhat close to it last year include Andrew Bumbalough (13:21.55), Ben True (13:24.11), Brandon Bethke (13:25.82) and Elliott Heath (13:26.14). Their odds of becoming Olympians definitely took a hit last week.
And we're assuming Rupp's training partner Dathan Ritzenhein might try to do the same as Rupp. Now Ritz's wheels currently aren't as good as Rupp's late in a race, but that doesn't mean Ritz isn't a possibility to make it, assuming of course he first gets the "A" standard himself. Remember Ritz is the former American 5,000m record holder and has run substatially faster than Rupp ever has for the distance.
****
Recommended Reads
*Alberto Salazar Unplugged - Part II
*Meet 2:19:44 Marathoner Florence Kiplagat, Who Is Focused On Winning London
*MB: It's Official - 9:00 Is What 9:15 Was 20 Years Ago - 16 Boys Break 9:00 At Arcadia
*Janeth Jepkosgei Has 14 IAAF Championship Medals, But No Olympic Gold And Wants To Change That In 2012
*Bernard Lagat Announces His Racing Schedule Through the Olympics, Abdi Won't Do the Track Trials
*The Guardian Looks Back At Daley Thompson's 1984 Olympic Decathlon Win
*Meet 2:19:44 Marathoner Florence Kiplagat, Who Is Focused On Winning London
*Emil Zatopek's Widow (An Olympic Gold Medalist In The Javelin) Recalls The 1948 Olympics And Her Life With Her Husband
*Ed Moran Has Dealt With A Lot Of Ups, Downs, And Close Misses, But Keeps Coming Back Moran: "I think most distance runners are addicts. You can have one performance in a year's time frame and it will keep you coming back."
****
Other News Of Note From The Last Week
****
Quotes Of The Day From Last Week's Homepages:
Note: To see a particular day's homepage, click on the hyperlink of the date on the left. The quote's hyperlink will take you to that particular article - not that day's homepage.
Monday 4/9: "I've had conversations with both Carey Pinkowski and Mary Wittenberg about Galen running their races this fall. At first I was thinking that he could run a fall marathon and then get back to where he was in maybe five months to be ready for the next track season.
Now I'm looking at it another way. I'm looking at Galen's improvement curve, which is basically continuous through his entire career to this point. And I'm thinking: Why do anything that interrupts the improvement curve? Our goal isn't to experiment with something new that might work out, but might not. Our goal is to keep improving.
Galen just keeps getting faster and faster. What's to say that he can't improve another 10 seconds this year, and then 10 more seconds the next year? That would take him down to the 26:20s for 10,000 meters. That's a place where you don't have to worry much about people outkicking you, because there's almost no one still there to kick with you. Why should we put a marathon in the way of an improvement curve like this? It begins to seem like a total risk."
- Alberto Salazar talking to Amby Burfoot in Part II of Burfoot's interview with Salazar, which is an ABSOLUTE MUST READ!
---
Sunday 4/8: "I can tell you it's not because I need personal recognition, or more money, or a better job. In fact, I'm very lucky in my work for Nike, and I could probably choose another job with less pressure and much less travel time away from my family. I can also say that I'm not coaching because I think I'm making some great contribution to humanity. It's just running, right?
But I believe God wants us to do the best job we can with the experiences and gifts we've been given. I've had a lot of experiences that I can use to help elite runners. My number one objective as a coach is to help Galen Rupp, Dathan Ritzenhein, and the others I coach to achieve their goals, and to have a better and longer career than I did. My number two objective is to help raise the level of American distance running."
- Alberto Salazar talking to Runners World about why he's devoted much of the last decade of his life to being a coach.
---
Saturday 4/7: "When my marathon runners train, I have no way of seeing how they are doing. What I'd love is a motorbike so I can follow them, but there is no way I could afford one."
- Ethiopian coach Sentayehu Eshetu, who has coached Bekele, Dibaba and Tulu in the tiny town of Bekoji in Ethiopia. Eshetu gets paid £70 ($110) a month. Lengthy, lengthy profile on Eshetu and Bekoji which will be featured in the movie Town of Runners out April 20.
---
Friday 4/6: "I'm a dreamer. When I can do the maximum thing possible, I try to do that."
- Filmmaker Tim Jeffreys talking about why he's making a feature length movie on Ryan Hall's quest for London Olympic glory titled "41 days." Jeffrey's a 71-minute half marathoner and - believe it or not - a one time author on LetsRun.com; he quit his insurance job with a cubicle to pursue a career in the running industry. To learn more about the film or how you can support it and get some cool Ryan Hall gear, click here.
---
Thursday 4/5:
"People are going to think I was a cheat, but I've proven myself. I came back and ran how I should run. I was cleared by the top people to the point that it resulted in a rule change. People are going to say or think what they want, and I can't change that. I feel like I'm tough mentally. This is what I love to do and what I train hard to do. When I came back, people thought I was going to run 45 something and I ran 44.7, and people were shocked. To me, nothing had changed. It's what I do."
- LaShawn Merritt, talking about the hardest part of his 2009 drug suspension. A good interview with Merritt where he also talks about his relationship with Jeremy Wariner and his plans for the 100m after the Olympics.
---
Wednesday 4/4: "I went through all the phases of mourning. I remember being so upset, so angry at (the doctor). I was in denial. But I also think the whole experience made me realize how much I love running. Before, it was soccer, and running was just a hobby. When (running) was taken away I realized how much I missed it."
- High schooler and 33:17 10k runner Cayla Hatton, talking about her reaction after a doctor basically told her she wouldn't be able to run again. This is a inspiring article for anyone dealing with chronic injury, as Hatton made a comeback after out 2 years away doing intense physical therapy to correct muscle imbalances and weakness. She says when she returned to running she "went by feel" with the goal of just "staying healthy."
---
Tuesday 4/3: "I hope I do this (running) until the day I die. I want to be all used up, just a wisp of dust left."
- American masters star Kathy Martin, who got a huge front page profile in the New York Times sports section. Kathy didn't start running until she was in her thirties and on her first run she ended up lying in the street exhausted. She told her husband she couldn't run 3 miles and he said, "If you can run two, you can run three."