Lisbon Half Marathon Preview, Can Shalane Flanagan Win, Can Tadese Break the World Record, Does Mo Trafeh Have a Shot at the American Record?
By LetsRun.com
March 23, 2012
The big pro race this weekend is the EDP Lisbon Half-Marathon. It's one of the largest (37,000 entrants) and one of the most competitive half-marathons in the world. This year should be no different as the highlight is a world record attempt by current world record holder Eritrean Zersenay Tadese who set the current world record (58:23) two years ago in Lisbon. On the women's side, American Olympic Marathon Trials champion Shalane Flanagan will have her hands full in trying to join Kara Goucher as an American winner of this race.

Photo via flickr
The Men's Race: Tadese vs The Clock vs a Strong Field for a 50,000 Euro Bonus
This race has a fabled history. Haile Gebrselassie and Paul Tergat are both two time winners of this race. Tadese is the only winner on the men's side to ever defend his championship, and he is going for a threepeat on Sunday hoping to join Martin Lel as the only three time winner of this race.
Lisbon is always about running fast. Paul Tergat, in his first victory in 2000, ran 59:06, coming very close to being the first man to crack the 59 minute barrier. Tergat's time however was not an official world record because the race started on one side of the famed Ponte 25 de Abril bridge and ended on the other side, giving the course a net elevation drop.
The race officials finally got tired of their super fast course not counting for world record purposes. Starting in 2008 they had the pros run a separate course that does not start on the bridge. The masses still run the old course that starts by going over the famed bridge. The pros start on the other side and run a world record eligible course. The only reason to do that is to have someone go after the World Record.
Zersenay Tadese is that man. He is going after his own 58:23 world record and the 50,000 Euro ($66,000) bonus that will come from breaking it. Last year, Tadese tried his best to break the record, but got no help from the rabbits, as from 5k (14:01) on he was all by himself and he came up just short in 58:30.
58:23 for the half marathon is 27:40 pace for 10km. To break the record Tadese not only will need great weather, but he'll need better rabitting. Tadese will likely get some pacing help from one of his compatriots. Eritrean Teklemariam Medhin is in the field and was silver medallist at the 2010 World XC Championships. Realize however Medhin's 10,000m pr is only 27:37 set at Pre last year. It just shows how incredibly fast 58:23 for the half marathon is.
Looking at the field, according to the IAAF, there are seven other athletes besides Tadese who have run under one hour but we only count five (it's been an ever reducing number as in February, this translated article said there were 12 sub-60 guys). We don't expect any of them to challenge Tadese if this is a true world record run. With the death of Sammy Wanjiru, Tadese is clearly the best half-marathoner in the world, and none of these guys can challenge him when he's 100%.
The weather is always one of the key factors in a world record attempt. Sunday is calling for light winds and rain. If it rains forget about the world record.
The top entrants in the field according to the IAAF:
Dino Sefir Kemal (59:42) The Ethiopian came out of nowhere to run 2:04:50 for second in Dubai in January to likely make the Ethiopian Olympic marathon team. This is his first race since then and we want to see how he does.
John Nzau Mwangangi (59:45) Has gone sub 1 hour the last two years and was second here last year.
Titus Kwemoi Masai (59:51) Has a long way to go if he wants to challenge Tadese. Dropped out of Houston half.
Dickson Marwa Mkami (59:52) His best days are behind him
Peter Kamais (59:53) He's the NYC Half course record holder but hasn't broken an hour in 2 years.
Can Mo Trafeh Challenge the American Record?
An interesting subplot is how will American Mo Trafeh do. Trafeh is the third fastest American ever at the half-marathon (60:39 in NYC two years ago), only behind Dathan Ritzenhein (1:00:00) and Ryan Hall (59:43). Trafeh dropped out of the Olympic Marathon Trials in January and bounced back nicely to win the US 15k Championships at the Gate River Run for the third straight year in 43:23 on March 10th. Trafeh dominated at Gate River. Realize however 43:23 for 15k is 1:01:01 pace for the marathon. This race is two weeks later and Trafeh has better competition, but getting close to the one hour mark and the American record will take a huge jump.
Note: Photographer Victor Sailer emailed us saying Trafeh isn't in Lisbon, but then because of that email the Competitor Group emailed us start lists and Trafeh is on them but listed as being from Kenya.
Predictions: Tadese wins but no world record. Tadese indicates he wants to get the world record here but he also is running next month's Virgin London Marathon. If he really wants to do well in London, there is no reason he should be in world record shape for the half-marathon now. Trafeh sets a PR.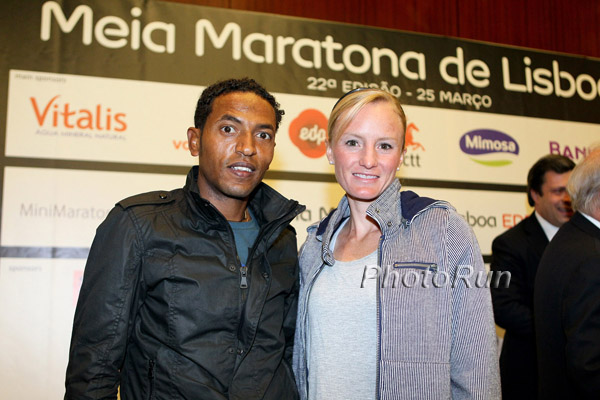 Shalane and Zersenay
Women's Race: Can Shalane Flanagan Challenge?
Mergia Aselefech of Ethiopia headlines the women's field. Aselefech has made a name for herself by winning the richest prize money marathon in the world, the Standard Chartered Dubai Marathon with its $250,000 winner's check, this year and last. This year Aselefech entered elite territory as she joined the sub 2:20 club running 2:19:31. Aselefech is a very accomplished half marathoner as well, having run sub 1:08 three times. However, Dubai was in January less than two months ago.
The two most in form runners are Kenyans Peninah Arusei and Pauline Njeri. Arusei, with a 67:48 best, has run under 69 minutes nine times in her life and won here in 2010. Njeri's best is 67:55 and she beat Arusei in Paris three weeks ago so both are in good form. Expect them to battle up front. Will Aselefech have recovered enough from Dubai to join them?
A big question mark is Lineth Chepkurui. Chepkurui dominated the US road scene in 2010 winning Crescent City ($5,000), Cherry Blossom ($7,500), Bloomsday ($7,000), Bay to Breakers ($40,000), Peachtree ($25,000), and Beach to Beacon ($10,000) before running 1:07:47 and just losing to Meseret Defar in the Philly Rock N Roll Half. Chepkurui appeared to be a star in the making. Last year she had an injured hip and ran more on the track and was not nearly as successful. A month ago she started off 2012 with a win in the Barcelona half in a modest 1:11:49. How will she do here?
The hometown Portuguese have three sub 1:10 entrants. Until last year, Jessica Augusto (69:08 half best) was the most credentialed but Ana Dulce Felix had the better year and finished it off by beating Augusto for fourth at the ING New York City Marathon. Marisa Barros (69:41 best) joins them. We don't expect any of them to contend for the win but they could be in the top 5.
Can Flanagan Contend?
That brings us to American Shalane Flanagan, the recent US Olympic Trials Marathon Champion and 2008 10,000m Olympic bronze medallist, who a year ago this weekend was getting a bronze medal at the World Cross Country Championships. As credentialed as Flanagan is, she has a very thin resume at the longer distances. This will only be her fourth fifth half marathon (68:37 debut in Philly in 2010, 69:41 to win in Houston last year, 70:49 run in San Antonio in November, added 69:58 in Miami Beach last December) and she has only run two marathons (2nd in New York, 1st at Olympic Trials).
To win here, she'll have to raise her game. A big question normally would be how she has recovered from the Olympic Marathon Trials. However, Flanagan has already raced once after the Trials running 32:20 for 6th place in Puerto Rico at the World's Best 10k a month ago. Considering that was only a month after the Trials it was a decent run and the fact she's flying half-way around the globe to race here, must mean she thinks she's in good form.
Here's a look at the field with our predictions below.
Rita Jeptoo (Kenya) (67:05) 2006 Boston Champ Rita Jeptoo ran 1:07:05 to win here in 2007 but she's not at that level anymore.
Mergia Aselefech (Ethiopia) (67:21) Joined the Sub 2:20 club in Dubai and is officially a star of the sport.
Lineth Chepkurui (Kenya) (67:47) Dominated US Road scene in 2010. Can she regain that form?
Peninah Arusei (Kenya) (67:48) Has run under 69 minutes 9 times in her life, won here in 2010.
Pauline Njeri (Kenya) (67:55) Coming off her biggest victory with a win over Arusei in Paris three weeks ago.
Nadia Ejjafini The Italian ran 68:27 last year but that was a huge jump in performance.
Shalane Flanagan (68:37) American is challenging some of the best here.
Jelena Prokopcuka (68.43) Two time NYC Marathon Champ (2005 and 2006) is returning to competition after missing 2011.
Ana Dulce Felix (Portugal) (68:32) Portuguese made Worlds 10,000m final last year (8th) and then was surprise 4th at NYC Marathon.
Jessica Augusto (Portugal) (69:08) Got upstaged by Dulce Felix at NYC last year. Can she turn the tables?
Marisa Barros (Portugal) (69:41) A notch below the best here.
Priscah Jeptoo (Kenya) is a great marathoner (silver at Worlds last year) but not a half-marathon specialist.
Editor's Note: We left off Lornah Kiplagat who has the women's best in an All-Women's race 66:25. She's in the field but no longer at that level.
*Start lists here
Predictions: It boils down to the in form Njeri and Arusei versus the potential of Flanagan and Aselefech. Flanagan is way more credentialed at the shorter distances, and Aselefech at the longer distances but they both are recovering from January marathons. Flanagan has had two more weeks to recover than Aselefech and her race in Puerto Rico shows she is progressing. We'll go with our hearts instead of our minds and pick Flanagan for the win solely because she has two more weeks of recovery than Aselefech.

***
This race is a total bargain for Portuguese residents. 13 Euros if you enter in advance, 18 if you do late registration. Even for Americans the late registration fee is only 40 Euros. That may change as the race now has some affiliation with the Rock N Roll/Competitor Group as does the separate Lisbon Half-Marathon in the fall (there are two Lisbon half marathons) which is now called the Lisbon Rock N Roll. The fall race costs more for Portuguese residents than this one.
More: *IAAF Preview