2008 US Olympic Trials*Start lists *Results *TV Schedule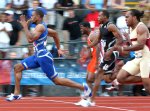 Sunday:LRC Sprint Recap: Tyson Gay 9.68, Bershawn Jackson Storms Back, World Leader LaShinda Demus Comes up Short Gay ran the fastest 100m ever under any conditions (although the wind was 4.1 m/ps) as Walter Dix showe he's' the real deal and Darvis Patton continued his fine 2008. World leader Lashinda Demus faield to make the team in the 400m hurdles. Queen Harrison and Tiffany Ross-Williams both made the team over Demus with their fatheres in prison.
*Race Videos from Sunday
LRC Sunday Field Event Recap Olympic Champ Dwight Phillips Comes Up Short, Jeff Hartwig Makes Team at 40, Momma Power in the Discus Defending Olympic champ Dwight Phillips didn't make the team in the long jump. 40 year old Jeff Hartwig made the team in the pole vault and the US is only sending two to Beijing in the triple jump.
*Race Videos from Sunday


Day 2: LRC Tyson Gay 9.77, Muna Lee 10.85 Maybe the greatest US day of 100m sprinting ever as six men went sub 10.00 in the QUARTERFINALS of the men's 100, not to mention Gay's 9.77 in his new beautiful adidas uniform and Jeff Demps 10.01 high school record. Muna Lee won the fast women's 100, Reese Hoffa got the shot, and the Olympic spots in the women's heptathlon came down to the wire.
*Muna Lee Overcomes Car Accident & Wins 100m Up until May 31st, she'd never broken 11.00 for 1000m.
*Great Article in Gritsh Paper on Tyson Gay Aiming High
*IAAF Recap of Day 2 Gay amost cried after barely advancing in round 1o f 100m. Hemore than made up for it in round 2.
*Hyleas Fountain Produces Wrold Leading 6667 To Win Heptathlon
*ESPN: Will We Ever Be Able To Enjoy Track?
*Ex-Drug Cheat Tori Edwards Moves Closer To Olympics By Finishing 2nd


OlympianDay 1 Women's 10k: Flanagan, over Goucher but Amy Yoder-Begley Steals the Show Shalane Flanagan outkicked Kara Goucher for the 10k win, but the story of the night was Amy Yoder-Begley running one of the gutsiest races ever in storied Hayward Field to make the US Olympic Team. Yoder-Begley squeaked under the Olympic "A" standard by 1.6 seconds after running 10 seconds off her 5k pr the second half of the 10k in the hot Eugene conditions.
Recommended Read:16-Yr Old Laura Roesler Gets Much Deserved Praise In NY Times The 3-time winner of 100, 200 and 400 at the ND state meet advanced to the 800 semis with a 2:03.
*Katie McGregor Agonizingly Finishes 4th For 2nd Straight Trials
*Dick Patrick's 10k Recap For USA Today
*Blood Testing Occuring at Track Trials


LetsRun.com 10k Preview: Kara Goucher, Shalane Flanagan Showdown Highlights Day 1 of 2008 Olympic Track and Field Trials We break down the first final of the Trials and give you our picks.
*Kara Goucher Profile on NBC Olympics.com
*Hometown Paper Profiles Shalene Flanagan
*Flanagan More Prepared for Olympics This Time Around
*Hometown Profile of Lisa Koll: Koll: "The sky is the limit".
*AP: Lisa Koll Hoping to Make Olympic Team She admits she's an underdog.
Recommended Read: Nick Symmonds Profile Looks Back At His HS Glory Days Symmonds: "I am strong as an ox and my speed is better than it's ever been.
*NYRR Interview of Nick Symmonds
Men's 10k
*Ed Moran Feeling Great Heading Into The Trials: Probably the most unheralded 27:43 10ker in US History
*Meb Keflezighi Trying To Make Olympics on 7 Weeks of Training - His first run was May 9th.
*Jorge Torres Trying to Make His First Olympic Team

Awesome Read: Tyson Gay Profile In LA Times Philip Hersh wrote an excellent profile on America's sprint sensation Tyson Gay. Read about the man who is pleased to be the underdog in the 100m and who used take two bags to Europe - one bag of clothes and one of junk food.
Previous:
Recommended Read: HS Stars Beware: A Profile Of One Of The Stars of the 1984 & 1988 Trials - Roy Martin The guy was a stud HS sprinter (20.13) who absolutely killed Michael Johnson on a weekly basis. Pro stardom eluded him. 20 years after his Olympic performance, the Dallas paper catches up with him. This guy was a legend in our hometown. Great read.
*1968 US Olympic Team Greatest Ever?
*Sacramento Paper Looks at Trials Returning to Eugene
*Eugene Is Spending $6.5 Million - St. Kitts & Nevis Is Spending $45,000 On Their Trials
*World Champ Lauryn Williams Profile
*USATF OT Distance Preview from Norwich, CT This preview is full of inaccuracies but it's good to see the Trials getting publicity in small papers.
*Plenty of Activities in Eugene During OT's
Again, Who Are The Idiots That Schedule USA Jrs and NON For The Same Weekend???
USA Jrs. *Schedule/Results
*8:34.40!!!! German Fernandez Breaks Jeff Nelson's 2 Mile Record *Results 64.2, 2:10, 3:14.9, 4:19.4, 63.9, 64.7, 63.3, 62.9
*Message board thread
*Nice Recap from Dyestat Fernandez went and played basketball Friday afternoon before breaking the record.
*Videos of Race
On the boards: How long till Fernandez record goes down?
*Photos
*Neely Spence Won Girl's 2 Mile at NON
Elijah Greer 1:47.68 The high school junior dropped his pr nearly 3 seconds (1:50.3 prior to the meet). Sick
*NCAA Champ Jeshua Anderson Wins 400m Hurdles
*Day 2 Recap
*Video of Greer's 1:47.68
*USATF Recap of Day 1. Florida's Terrence Wilks ran 10.19 in the 100m as Centro Jr. won the 5k in 14:44 (his first 5k ever). Today, NCAA 400h champ Jeshua Anderson faces 2007 World Youth Champion William Wynne. *IAAF Recap Of Day 1
*Jamaica's Sprint-Heavy Squad Picked For World Jrs.
NON: Friday Recap*Live Results
*Girls HS Record in DMR Broken
There aren't many in depth recaps of any of the races but you can try dyestat and milesplit. There is an excellent recap of Fernandez's run here.
*Saturday photos from NON
LRC Rankings Updated:
*Men's 800 & 1,500 A decent amount of change in both events. Duane Solomon moves way up as several new faces enter the rankings.
*Women's 800 & 1,500
*Men's & Women's Steeple As a result of us rewarding the NCAA champs and moving them up on the rankings, we have a new #1 on the women's side.
*Men's & Women's 5k Not a whole lot of change, but both the men and women have new #2s.
LRC Each Day at NCAAs:
*Day 4: LRC Hernandez Edges Wheating, Manzano Wins, Hannah England Runs NCAA Record
*Day 3: LRC Barringer, Kipyego Romp, Bobby Curtis Surprises, Kyle Alcorn Wins Again, LSU, Trinidad Sprint
*Day 2: LRC Lisa Koll Dominates, Shadrack Songok Repeats
*LRC Day 1 Recap and Video Highlights
Injury News: Craig Pickering Has Injury Problem
*World XC Runner Up Moses Mosop Dealing With Injury
Dayron Robles: "Every world record is perfect." The 21-year-old reflects on his world record and is excited about competing in his first Olympics.
*Liu Xiang Says Robles' Record Will Serve As Motivation

On Demand for Subscribers on WCSN.com
Ostrava Meet *Results *Free Video Highlights
12.87 WR for Dayron Robles, Usain Bolt 19.83 Dire Tune 1 Hour Record Liu Xiang may have the pressure of 1 billion people on his shoulders at the Olympics, but he no longer will be the favorite as Robles has the World Record. Kaki over Rudisha at 800, Kipchoge wins 5k, Dibaba wins 10k.
*Free Video Highlights
*Interviews (Robles WR Celebration)
*Ostrava: Christine Ohuruogu back on track with victory
*Pre-Ostrava: Bolt's Dream Has Always Been 200m World Record
Pre:*Results *Photos
Sweet 16 for Mutola, Bekele 26:25, Lagat Wins 2 Mile, American Record for Brad Walker in PV, Alan Webb Soundly Beaten, High Schoolers Shine link fixed
The distance races were stacked at Pre. Maria Mutola got her 16th and final Pre win (assuming she does retire), Bernard Lagat looked great like he has every time in 2008, Abdi Abdirahman just missed Meb Keflezighi's American record at 10k, and Alan Webb made his 2008 track debut and ran like we've never seen him run before. High schooler Chanelle Price ran 2:01 in the 800 and high schooler Jeff Demps was third in the 100.
Full Recap: AFP Pre Recap
Pole Vault: Brad Walker Breaks American Record in Pole Vault USA Today
Distance:*Maria Mutola Makes It Sweet 16
*Bernard Lagat Shows Fine Form at Pre USA Today
*Bekele Comes Up Short Oregonian
*On the boards: Treniere Clement Only 4:11
*On the boards: Solinsky Beats Mottram
Hurdles:*Liu Xiang DQd for False Start at Pre
*On the boards: Liu Xiang Was Faking
Shot: Adam Nelson 72' 7" 'Those were some of the easiest 22-meter throws I've had in my life' Oregonian
100m: On the boards: High Schooler Jeff Demps 3rd in the 100
*On the boards: Allyson Felix Gets Smoked
More:*Athlete Quotes
*Post Race Interview from Pre
*More Photos
*NYC Reebok Grand Prix:USAIN BOLT 9.72 World Record!! *Meet Results *Video of Usain Bolt's 9.72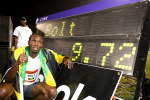 Bolt Runs 9.72.The Jamaican put on a show in the Big Apple to conclude a meet that showed exactly what track can be in this country - a large sold-out crowd, live tv and unreal performances. Tyson Gay ran a great race with 9.85 but was soundly beaten. In other action (like anything else matters), Veronica Campbell-Brown ran the fastest 100 of the year (10.91). In the distances, Paul Koech ran a U.S. all-comers record in the steeple, Lauren Fleshman went sub-15 for the first time, Lopez Lomong got his first big professional win, and Yusuf Kamel edged Khadevis Robinson in a very close men's 800. *Message Board Thread Here
*LRC Distance Recaps
*Photo Gallery
*Race Results Weekly Distance Recap With Athlete Quotes
*NY Daily News Recap (Only NY newspaper that delayed Sunday publication to include the Bolt article)
*Ato Boldon Wonders Whether Bolt Can Get 100, 200, and 400 World Records USA Today
*Usain Bolt Not Overly Excited about World Record USA Today
*Athlete Quotes from Reebok Grand Prix
Drug Talk: Hopefully Bolt can join some sort of baseline testing program like Tyson Gay to restore people's confidence.
*Drug Scandal Hangs Over Bolt's 9.72 Times of London
*Progression of 100m World Record
*NY Times: Is Bolt Clean? New York Times
Om the boards Please, Jesus, Let Bolt Be Clean We think he should voluntarily join a baseline testing program like Tyson Gay. And while we're at it, we think that everyone's baselines should be published.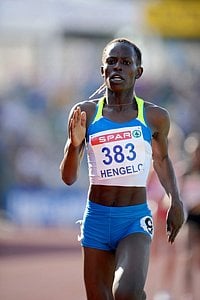 Last Weekends Action: *Results *Video Highlights
Hengelo: Pamela Jelimo 1:55.76, Geb Sub-27, Bekele Sub-13 It was expected to be an Ethiopian night in Hengelo, but 19-year-old Pamela Jelimo emerged on the world scene in a big, big way with a stunning 1:55.76 800. Sileshi Sihine outkicked Haile G for the win in the 10k, and Kenenisa Bekele went sub-13 in the windy conditions. American Matt Tegenkamp ran 13:28.
*Free Video Highlights from the Meet
*Watch The Full Meet on Demand on WCSN.com ($4.95 a month)
*Irving Saladino Jumps Farther Than Anyone Else Has In the Last 14 Years Shows how week the long jump has been that 6 men have still jumped farther.
*Video of Saladino's Jump
Great Interview: Jos Hermens Talks About Saladino, Haile Gebrselassie He says Geb did NO speed work shorter than 2,000m prior to the race.
On the boards: Jelimo's 1:55.76 possibly the fastest clean mark ever?

Olympic Trials:

LetsRun.com: Deena Triumphs in Boisterous Boston It was an incredible day on the streets in Boston. The fans turned out in droves to cheer on America's finest and Magdalena Lewy-Boulet made it interesting by opening up nearly a 2-minute lead before Deena Kastor came from behind for the win. We give you all the analysis, talk about Deena's strategy (no miles over 5:25), and more (Joan Benoit's final competitive marathon)
*LetsRun.com! Boston Women's Olympic Trials Photos
*4 Minute Highlight Video of Post Race Comments (Deena, Magdalena, Blake Russell and Joan Benoit all give their take)
*Victor Sailor Photos link fixed. Photos rearragned. A few captions added.
More coverage:
*USAToday article by Dick Patrick
*Joan Benoit Article in NY Times
*Olympic Trials Coverage *Splits for Every Mile Here
*LestRun.com Message Board Thread Here
*Watch on Demand Here

LetsRun.com London Men: Lel Leads 3 Under 2:05:30!!!, Ryan Hall 2:06:17
Ryan Hall Goes Through Halfway on World Record Pace
The 2008 Flora London Marathon will be remembered for a long time. The lead pack of 9 went through 5k at 14:21 (2:01 pace). They continued together (yes, all 9) through halfway on world record pace (1:02:13). Ryan Hall then went to the front soon after and asked the pacemakers to go FASTER. Soon Hall was off the back, but he would catch the leaders briefly again and go on to run 2:06:17. (Until Sunday, only 7 guys had ever run under 2:06:15, now 11 have.). Up front, it came down to a 3-man battle over the final mile before Martin Lel got his 3rd straight World Marathon Major win over the final quarter mile as he led 6 guys under 2:07 and to $50,000 bonuses each. Recap, photos, video above
This Guy Has Totally Won Back Our Respect
Maasai Warriors Finish Marathon link fixed One of them went back to the course and finished the race a day after being forced to go the hospital after a ceremonial wrap cut off his circulation. He said, "It was very important for me to do this. This is what I came to England for."
LetsRun.com Ryan Hall Reflects On his Incredible Run We tell you (and let you watch) what Ryan, his dad, his grand-dad, his coach and even Martin Lel had to say about Ryan. Lel was full of praise for the American and shocked by Ryan's attempt to get the pacemakers to go even faster. If Hall didn't already have your respect, he does after reading this article as he pays homage to a throwback type of guy - Steve Jones. Text and Video.
LetsRun.com Video: Ryan Hall Talks About His 2:06:17 at the 2008 Flora London Marathon
*More LRC London Videos Here
*Photo Gallery
Monday Previews: Distance Runners Heaven, 800 Finals, Men's 5k Finals
*LRC Men's 5k Preview: Lagat Versus the Field It should be a hot one as 7 guys have the "A" standard and have shown they can run. Adam Goucher (11th at Worlds last year) doesn't have it, and may have to push the pace as a result.
*Salazar Resting After Heart Issue, Rupp Out of 5k

*LRC Men's 800 Final Preview: Everyone's Got a Chance It should be a great one. Khadevis Robinson and Nick Symmonds lead the US crop but Andrew Wheating and crew are right on their heels.
*LRC Women's 800 Final Preview: Chaos 12 women will be in the final which is totally unprecedented nuts. Alice Schmidt and Hazel Clark are the favorites.
Outside Coverage of Trials From Sunday:
*Bryan Clay Leading Decathlon but Struggling USA Today
*Tyson Gay Pushing Limits of What is Possible New York Times
*NY Times Article on Queen Quedith Earth Harrison Both her parents have been in prison and she has 22 siblings.
*Washington Post Article on Queen Harrison
*Article on Jeremy Wariner, His Dispute with Clyde Hart, and His New Spikes from Adidas New York Times
*Jeff Hartwig Makes Team at 40 New York Times
*LaShawn Merritt Now a Man According to His Coach USA Today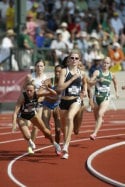 by John NepolitanSaturday: LRC 800 Semis: Chaos in Women's 800, Jacob Hernandez, David Krummenacker Out A fall in semi #1 turned the days proceedings into a waste of time as an apppeal put all 8 runners into the final. Monday's final will be more like a high school race with 12 runners as a result. On the men's side, the Olympic dreams of former World indoor champ David Krummenacker likely came to an end as he now joints the list of great American runners to never make an Olympic team. NCAA champ Jacob Hernandez was eliminated.
*Day 2 Photos
800: Nicole Teter: ""I don't know what a protest would be based on"
More Coverage: SI: Tim Layden of SI on Tyson Gay
*Eugene Register Guard:
Heptathlon: Hyleas Fountain Wins 5 of 7 Events to Set World Leader in Heptathlon
Shot: Hoffa Leads Big 3 in Shot Put to Beijing
Pole Vault: Tommy Skipper Chokes in Pole Vault Qualifying With 3 No Heights
Yahoo! Slideshow from US Trials.
Bolt Defeats Powell & Wins Jamaican Trials The crazy thing is Powell's 9.97 would only be 6th in the US quarters. Bolt ran 9.85.
Dwain Chambers Takes Beijing Bid To Court
Not so sure
Chambers Runs 2 Olympic A Marks Including a 10.06 Chambers: "I will always remain a clean athlete from here onwards."
*Daryon Robles Runs 12.96 Into Headwind and in Cold Temps
World Jr. Champ Zhou Yang Vaults Over 14'6 To Win Chinese Champs

AgonyLRC Day 1 800/5k Prelims: Men's 5k Semis: Alysia Johnson Out, Khadevis Robinson Struggles Round 1 of the 800 had two shockers as defending women's champ Alysia Johnson didn't advance and defending men's champ Khadevis Robinson only finished 6th in his heat but advanced to the semi on time. The other favorites looked good in both races. Lopez Lomong won his heat , but was disappointed with his time, and said he'll keep running the 800 here, until he runs 1:44 even if that means running the final. Galen Rupp, likely won't run the 5k final, but that didn't stop him from winning his 5k heat, and fist pumping to the crowd.
*Defending Champ Alysia Johnson Finishes 9th, Taken Off Track in Wheelchair www.sfgate.com
Defending Champ Alysia Johnson Finishes 9th, Taken Off Track in Wheelchair www.sfgate.com
Chinese Olympic Trials Start Quietly In Rain The trials won't really pick many Olympians as in most events there aren't three with A qualifiers.

Lots of Countries Try To Make Olympics In Relays At Asian Grand Prix
Dwain Chambers Still Pursuing Olympic A Standard Even if he gets it, he'll need his lawyers to overturn his Olympic ban.
Bolt-Powell Showdown Looms At Jamaican Trials As Both Cruise Into Semis A 9.90 for Powell. Bolt 10.19
Kenya's Elizabeth Muthuka Runs 51.53 To Break National Record

Chris Bucknam N. Iowa Coach Named To Replace Arkansas' John McDonnell
*Arkansas Athletes Will Give Bucknam A Chance Many of the athletes wanted Dick Booth to be the head coach.but they are pleased Booth will be the assistant.
*Message board thread
More US Trials News
Recommended Read: Sports Illustrated (America's Premiers Sports Magazine) Looks At Steeplechaser Dan Lincoln's Absence From Trials Lincoln: "You could say I feel cheated. But you can only say that in the sense that I'm really trying to understand that these things just happen...."But I was gearing myself up for bigger things. I guess there's a lesson in all of this. Don't count on tomorrow.''
*Lengthy Article on Sanya Richards/ Allyson Felix
*ESPN Gives Readers 8 Men To Watch Out For At Trials And 2 Of Them Are Distance Runners - Can you guess who?
*Day By Day: What To Look For At US Trials
*Jenny Barringer Thinks Trials Will Be Life-Changing Experience
*Steeplechaser Lisa Galaviz Has Dreamed Of Olympics Since Age 8 Back then she dreamed of gymnastics. I guess we get why she's good at the steeple
*SF Chronicle Profiles Shannon Rowbury: No one in her family knows where her running ability came from
*Back From Marijuana Suspension 29-Year Old John Capel Harshes Critic is His 7 Yr. Old Daughter
*Webb Gets Love From USA Today - Not sure why as the 1,500 is a long way off
*Kansas City Paper: USATF Desires Performance, Not Enhancers At Trials
Other News
Unbelievable
New York Time Give Press To Study Showing EPO Test isn't Effective at Catching Cheats Researchesrs gave 8 people EPO and then sent off blood samples to WADA accredited labs. They rarely caught any hint of EPO and some even gave off false positives.
2008 NCAAs D1 Results

NCAA Day 4: LRC Hernandez Edges Wheating, Manzano Wins, Hannah England Runs NCAA Record The Wheating, Hernandez duel more than lived up to its hype. Leo Manzano went out in style, Hannah England ran very fast, but she owes a big thank you to Sally Kipyego. Not to mention, Cornell won the men's triple jump for the 2nd straight year, Walter Dix takes the 200, Cory Martin won the shot and the hammer. We recap the action.
*Day 4 Photo Gallery
*AP Recap: Florida State, Walter Dix Three Peat, LSU Women Win
Interviews: Wheating, Hernandez, Manzano, England, Kipyego, Bowman, Dix, Martin and more.
*4 Guys Go Sub-45 in NCAA 400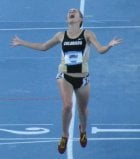 Day 3: LRC Barringer, Kipyego Romp, Bobby Curtis Surprises, Kyle Alcorn Wins Again, LSU, Trinidad Sprint
NCAA Day 3 Recap, Photos, Interviews Friday had great action at the NCAA track and field champs. It was a banner day for LSU and Trinidad in the Sprints, Jenny Barringer just missed the American record in the steeple, Sally Kipyego set an NCAA meet record in the 5k, Bobby Curtis went 3 flat the last 1200 to win the 5k, and Kyle Alcorn got his 2nd NCAA win. Not to mention Walter Dix is the ultimate team player and some major pros to Angela Bizzarri for a thirty second pr.
*NCAA Day 3 Photo Gallery
*AP Recap of Friday's NCAA Meet Trinidad and LSU shine.
More: Interviews: Kipyego, Barringer, Alcorn, Curtis, Vaughn, Nelson, Thompson, Dix, Hanany.
*Sally Kipyego Faces Tough Decision on Whether to Turn Pro
*Death of Friend as a Youngster Has Inspired Sally Kipyego
*Thread on Jenny Barringer Almost Breaking American Record At NCAAs
Sprints: Walter Dix Talks About His Injuries
*Thompson Wins 100m
Field: Mikael Hanany PRs 7' 7.25" to Win High Jump
Day 2: LRC Lisa Koll Dominates, Shadrack Songok Repeats Text and video highlights
Koll put on an exhibition in the women's 10,000m that got her a standing ovation before the home state crowd. Shadrack Songok won an exciting men's 10k over Shawn Forrest as 9 guys were in contention with 3 laps to go. Ngonidzashe Makusha long jumped 27' 2.5", Brittney Reese long jumped a world leader, and Ashton Eaton went over 8,000 points in the decathlon. Plus Manzano, Wheating vs. Hernandez round one, Felnagle, and falls and controversy in the men's 1,500 semi. Alysia Johnson pulled out of the women's 800 with a sore foot as a precautionary measure for the Olympic Trials.
*Update: AJ Acosta in the Men's 1,500m Final Thanks to LetsRun.com
*RRW Thursday Distance Recap
*Des Moines Register Special Section on NCAAs
*AP Recap: Brittney Reese from Mississippi Equals World Leader To Win NCAAs (6.93m)
*Alysia Johnson Has Sore Foot, She Could Have Run
*Pre-Race Q&A With Leonel Manzano
Interviews: *Lisa Koll Video Interview
*Shawn Forrest Video Interview
*Shadrack Songok Video Interview
*IAAF Recap of Day 2 of NCAAs Focuses on LJ's Brittney Reese seemed disappointed with her world-leading win as she was hoping to go 23 feet but says injuries have hurt her. Meanwhile, FSU freshman Ngonidzashe Makusa was obviously thrilled with his 27'2.75" performance that made him the #4 guy in the world and gave him the win by almost a foot.
Day 1 Recap and Video Highlight
Day 1 was 100% prelims and by and large most things went according to plan (Porscha Lucas the #1 seed in the 200 didn't make the 100 final for Texas A&M). Travis Padgett looked like the man to beat in the 100m semis. Jacob Hernandez and Andrew Wheating both advanced to the 800 semis easily, and the great NCAA career of Yale's Lindsay Donaldson came to an end. Mark Wetmore's CU team got 2 steeple prelim wins, and 3 guys into the 5k final.
*Pre-Race Q&A With Leonel Manzano
*Flooding Causes Some Teams to Move Hotels
*BYU Dealing With Death of Heptathlete Chelsi Petersen
Previous:
*Track and Field News: NCAA Women's Predictions (Three Way Battle)
*Lisa Koll Hoping To End State of Iowa's 10 Yr Drought From NCAA Title
*Arkansas' Dacia Barr Psyched Sally Kipyego Is Running 1,500
*Track and Field News: NCAA Men's Predictions 10 deep men's and women's individual predictions.
*Billy Nelson Ready To Make Some Noise At NCAAs He took up the steeplechase as a 5'5 college freshman and has only grown one inch since.
*Colorado Ready For NCAAs
*Des Moines Register Talks About How Steve Prefontaine Shined In Des Moines and Looks For Next Pre
ExxonMobile Bislett Games *Bislett Game Results


14:11.15!!!!!! 1:42.69 for Kaki
*Photos
Tirunesh Dibaba's performance was simply amazing. Running in 78-80 degree weather she smashed the world 5,000m record. She averaged 4:15 each 1,500m and ran her last 1,500 in 4:06-4:07. (Jen Rhines ran a 14:54 pb) In other action, in the much-anticipated 800m matchup between teen sensations Abubaker Kaki and David Rudisha, Kaki was simply amazing. He led coming into the homestretch, then blew away the field the final 100m running 1:42.69, the first sub-1:43 clocking in 5 years and a junior world record as Rudisha ran a pr but lost for the first time in 12 races. Pamela Jelimo showed 1:55s are easy for her as she clocked a 1:55.41, Samitova-Galkina ran a 9:14 steeple, and Andrew Baddeley went sub-3:50 to get the big upset in the mile that we're sure everyone in Britain will be writing about tomorrow. Jeremy Wariner ran 43.98, his first sub-44 clocking before the Trials. Despite our harping on his decision to switch coaches, he's running very well (nonetheless, his loss may have cost him $200,000).
*Tirunesh Dibaba: "I could have run faster" iaaf.org
*Athlete Quotes from Bislett
*Baddeley Breaks Through
On the boards: *Dibaba 14:11.15 WR!! -
*Andrew Baddeley 3:49.38!!
*Wariner 43.98 at Bislett
LRC: NY Mini Hilda Kibet Wins, Deena Third Deena Kastor and Madaí Pérez put up a brave fight but Hilda Kibet was too good on the streets of NY. Text, photos, video
*NY Mini Results
*Photos

Justin Gatlin's Suspension Upheld
He can't compete until 2010
*Gatlin says his running career isn't over.
LetsRun.com Boston 08 LetsRun.com Party Photos The party hosted by Puma was a smashing success. A packed house, as those passionate about running (from ages 5 to 65+) came to celebrate a great weekend in Boston. LetsRun.com fans celebrated with Rojo, Wejo, Matt Taylor, and a few legends in the sport, including former marathon world record holder Steve Jones and Olympic Silver Medallist Sonia O'Sullivan. The Harpoon beer was flowing, DJ Inkognito kept things going and contrary to popular opinion, there was a healthy mix of males and females. The reviews were excellent. "It's refreshing not to see the same 50 people (industry insiders) at a party." "Most favorable female to male ration I've seen in a long time."
You'll Be Hearing About This For a Long, Long Time
*Maurice Greene, HSI Linked to Steroids A few HSI athletes have been caught doping in the past (Larry Wade the most notable), but this NY Times article brings to print some of the rumors some of you may have heard. And it is a sad, sad day for American sprinting if true.*Times Of London Story on Maurice Greene Being Accused Of Doping
Maurice Greene Defends Himself He says he never used drugs but did pay for teammates bills without asking what it was for. Greene: "This is a bad situation for me. My name's come up in something and it's not true."
LetsRun.com London Women: Mikitenko Wins Crazy Women's Race The women's race went totally not according to form. German Irina Mikitenko was the surprise winner. The race went out slow, then picked up, then slowed back again. Then Gete Wami wiped out at a water stop, nearly knocking her own teeth out, fell back off the back, then battled back only to get dropped again as Mikitenko threw it down the final 5k. And a perfectly sunny day turned into a cold rainstorm at times. Text, Photos, and Video
Other London Coverage: *Yelling Makes GB Team: A great moment when she looked rival Hayley Haining in the eye at 19 miles,. Amazingly, both ended up happy as both PRd.
*British Men Could Run 25 Miles, Everyone Else 26.2 Miles And They'd Still Lose in London
*World Marathon Majors Point Standing - Lel has a huge lead. Wami's is narrowed by Mikitenko s
*Dick Patrick of USAToday Writes About Ryan Hall
*American Ryan Hall mixes it with Kenyans
*AP Story on Ryan Hall: Hall Confident About Beijing Chances
*Quotes From The Top 3 In London
*Gas Leak Causes London Marathon to be Diverted
*Paula Radcliffe Talks About Her Beijing Preparations
*Jon Brown Blasts UK Performance Director Dave Collins The 4th placer in the marathon at the last two Olympics absolutely rips Collins - a man who somehow managed not to show up at world cross country last month when it was in Scotland.
101 Years Old, Still Smoking, Running, and Drinking: Buster Martin: "I'm not worried about the fags because I'll carry them with me. Everyone says smoking kills but it's taking a long time in my case" The 101-year-old legend plans on smoking while running Sunday's London Marathon.
LetsRun.com 2007 World's Coverage:
*Sunday Homepage Ndereba marathon
*Saturday Homepage
*Friday Homepage Tyson Gay
*Thursday Homepage Lagat
*Wednesday's Homepage Lagat
*Tuesday's Homepage Bekele 10k
*Monday's Homepage Tyson Gay
*Sunday's Homepage Dibaba/Goucher 10k
*Saturday's Homepage Kibet Marathon