The Week That Was In Running: February 1 - February 7, 2010
By LetsRun.com
February 8, 2010
To read last week's LetsRun.com The Week That Was In Running, Click Here.
Archives - LetsRun.com The Week That Was In Running: *2010 *2009
****
This week we praise Bernard Lagat, Galen Rupp and Nick Willis but give out a thumbs down to Jenny Barringer. Along the way, we introduce you to Adam Kszczot, give you a math lesson, share some depressing news for Curtis Beach fans and reveal that LetsRun.com has been banned by the US military.
****
Reebok Boston Indoor Games Excite
Arguably the best pro distance meet in the US was held last week - the Reebok Boston Indoor Games - and yet again, the meet was a huge success. If you didn't go to the meet or watch its replay on ESPN2, then we highly encourage you to read our recap of the action. Instead of replaying the meet here yet again, we'll hand out our Thumbs Down and Thumbs Up awards.
Thumbs Up to Olympic silver medallist Nick Willis for taking down the men's mile in 3:55.26. Willis missed the entire 2009 outdoor campaign due to injury, but he looked good in his first serious return to action. Even more impressive than his win, was Willis' aggressive words after the race, "I planned to get out in front and time trial it, but the way the race played out, I didn't need to and it was actually more fun that way."
(Editor's addition: Nick deserves a second thumbs up for being a class act. The LetsRun.com intern reports that he went out of his way to congratulate her on the story she wrote about him last year.)
2nd-placer Will Leer also deserves props as he ran a PR of 3:55.66. Leer, a top-5 finisher at USAs the last two years, will have to step up his game if he is going to compete with the Lagats, Lomongs and Manzanos of the world, but this early season showing has to give him confidence.

Thumbs Down to whomever decided to hype the women's 1k as an American record attempt. In David Monti's preview of the race, Anna Pierce said, "I think for me it's important to focus on just racing. That's what I love to do. I love to compete. If I think of it as a time trial and try to go for a record, I think I get lost a little bit."
Well, Pierce stayed true to her word and no one in the field went with the rabbit and Pierce's 2nd place time of 2:38.76 was well off Jen Toomey's American record (AR) of 2:34.19.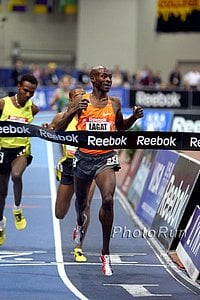 What's My Time?
Thumbs Up to Bernard Lagat and Galen Rupp for putting on a race to be remembered in the men's 5k. Lagat obviously deserves the biggest praise for a) getting the win and the American record (13:11) and b) for doing the vast majority of the pace work after the rabbits left the scene.
But the Boy Wonder deserves major props for finishing 4th in 13:14.21. As one message board poster said it, Rupp "pushed the pace, made the race" by taking the lead at 4k. It certainly was exciting and in return for thrilling the fans, Rupp was rewarded with a time much better than his 13:18 AR from the year before.
It certainly showed that his disastrous 800 a few weeks ago was just the result of illness. Of course, if we'd been paying attention (and trust us, we weren't, as the oversized time trials at UW are boring the hell out of us - and if the IAAF doesn't recognize it, why should we?), we would have realized Rupp was in great shape as he ran a 3:56/7:51 double the weekend before Reebok Boston.
Our thoughts after watching Rupp and Lagat are simple. 1) Ritz (Dathan Ritzenhein), enjoy your 5k AR while it lasts, as Lagat is about to put that baby out of reach this summer. 2) Meb (Meb Keflezighi), enjoy your 10k AR as Rupp or Ritz will put that puppy out of reach as well this summer.
We also want to give Thumbs Up to the second and third placers in the men's 5k, Dejen Gebremeskel and Bekana Daba of Ethiopia. "For what?," you say. For running their butts off through the line. In the past, we've ripped runners for not racing for anything but first in the pro meets, but it was clear something was on the line (was it prize money or pride? either one is fine with us) as the two lunged for the tape.
And lastly a Thumbs Up to the crowd (particularly the kid without his shirt on) for providing a great atmosphere with raucous cheers throughout the night including chants of "USA, USA, USA" in the final laps of the men's 5k.
More: *Official Reebok Mens 5,000M Thread *Rupp Ran 13:14 While Sick *Solinsky 3:55/Rupp 3:56 *Official Will Leer Bandwagon *Reebok Games - Men's Masters Mile - Does Anyone Care?
****
Non-Reebok Pro Action
25 * 200 = 5,000
In case you haven't been in a math class recently, let this serve as a friendly reminder that there are 25 laps in an indoor 5k, not 24. At the PSD Bank Meeting in Düsseldorf, Germany last Wednesday, Daniel Kipchirchir Komen was involved in a sprint with Paul Kipsiele Koech but stopped a lap short in the men's 5k. That's the bad news. The good news is that he was able to quickly start up again and still run a 13:06.27, 2nd to Koech's world-leading 13:02.95 win. So before we feel too good about Lagat's 13:11 AR, we need to realize that a Kenyan running the wrong number of laps can still run 13:06, although we aren't sure if we believe the IAAF recap that says that even after stopping a lap short, Koech was able to run the final 200 in 28.
Editor's Addition: On Feb. 10th, an LRC reader emailed us the following about the 5,000 finish:
Hi Letsrun!

Here is a link to a video summary of the PSD Bank Meeting 5000m event I found on the website of the German T&F association:

http://www.leichtathletik.tvindex/view/id/700

As you guessed the IAAF report wasn´t, uhm, very accurate.
What you can see in the video is that the last lap was covered in 30.29 seconds (so 12:32.66 with one lap to go instead of "approximately 12:38").
Also contrary to the report Komen was leading Koech when he stopped at that point (how would he possibly have thought the race was over if he had seen someone ahead of him carry on?).
So Komen`s last lap was a 33.61 (Koech`s possibly a deep 29).

Josef
In the same meet, Kenyan Augstine Choge set a world leader in the 1,500, as he won in 3:36.75. Russia's Yuriy Borzakovskiy had a nice world-leading 1:45.77 clocking in the men's 800 and, more importantly, he dispatched Olympic silver medallist Ahmad Ismail of Sudan, who ran 1:45.99. One name you might want to remember is 3rd-placer Adam Kszczot of Poland, who ran 1:46.00. In June, at the age of 19, Kszczot ran 1:45.72.
It was quite a week for Borzakovskiy, as over the weekend at the Russian Winter meeting, he picked up another win - this time at 600 meters, defeating both the Beijing gold and silver medallists in the process. And oh yeah, he also got the Russian national record in the process as he ran 1:16.02 to Ismail's 1:16.12 and Wilfred Bungei's 1:17.36. Thumbs Up to Bungei for showing that he's back from his injury problems.
The crazy thing is that Borzakovskiy wasn't satisfied, as he told the IAAF, "If we had a rabbit, a new world record would have been set. We should have started the first lap in 24 seconds."
Also coming back from injury was Cuban hurdler Dayron Robles, who showed no ill effects from his World Championships injury, as he won the hurdles in 7.50.
Later in the week in Stuttgart, Robles would pick up another win - this time in a world-leading 7.48 seconds. At that meet, the man who was supposed to challenge Bernard Lagat at Millrose but was a late scratch due to his inability to secure a visa, Deresse Mekonnen, looked fantastic as he crushed the field by 2.76 seconds to win in a world-leading 3:34.17.
We know that there are a few people conspiracy theorists who feel that Millrose was set up for Lagat to get the record-breaking 8th win in the Wanamaker mile. That domination by Mekonnen, who was the world champion in the 1,500 in 2008 indoors, will certainly only increase their conspiracy beliefs.
Also in Stuttgart, Meseret Defar came up just short in her attempt to break her own 3k world record, as she ran 8:24.46 (the record is 8:23.72). Other world leaders came from 4-time world or Olympic medallist at 5k, Eliud Kipchoge, in the 3k (7:32.99), 2008 world indoor champ Geleta Burka in the women's 1,500 (4:03.44), Priscilla Lopes-Schliep in the women's hurdles (7.82), and Brazil's Fabiana Murer in the women's pole vault (4.81m).
Also it's worth noting that the reigning world indoor champion at 800, Sudan's Abubaker Kaki, opened his season successfully in Stuttgart with a 1:46.47 win.
However, the story of the night according to the IAAF was the ridiculous 6.97 time that was put up in the women's 60 by Laverne Jones-Ferrette. It was the fastest time in the 60m in over a decade and makes Jones-Ferrett the 6th-fastest woman in history. You probably are thinking, "Who the hell is Laverne Jones-Ferrette?" That's exactly what we were thinking.
She competes for the US Virgin Islands and coming into 2009, the now-28-year-old Jones-Ferrette had PRs of 11.24 in the 100 and 7.16 in the 60m. All we can say is, we bet she is target #1 for the drug testers - well at least we hope she is.
In this day and age, big improvements late in life have to be met with huge scrutiny from the anti-doping people.

More: Full Results From PSD Bank Meeting in Düsseldorf *IAAF Recap Of Düsseldorf *LRC Boards: Paul Koech 13:02 despite runner stopping in front of him with 1 lap to go *36-Year-Old GBR Helen Clitheroe Wins 1,500 In 4:10
*Russia: IAAF Recap
*IAAF Recap of Stuttgart *Stuttgart Full Results
****

Moving on to non-pro-related news, our Biggest Thumbs Up of the Week goes to Yoshihisa Osaka. If you are feeling too old to run or train seriously anymore, let Mr. Osaka inspire you. The 61-year-old ran a 2:38 marathon. Yes, 6-minute pace for a marathon at age 61. Studly!!! Of course, he did run 2:34 at 59 and 2:36 at 60, so it's not like it came from nowhere.
The crazy thing is 2:38:18 only broke the existing world record by 20 seconds (Wil van der Lee of the Netherlands).
And one more thing that should inspire you. Mr. Osaka also ran a marathon in December, but in that race he went out crazy fast (1:15) and died a bit at the end (2:40). So that's two marathons in 3 months over the age of 60 and both were 2:40 or better.
Another master that deserve props is 40-year-old Vyacheslav Shabunin of Russia, who ran 3:44.39 in the 1,500 to set a new masters indoor world record. Earlier this year, Shabunin, who also is the real Russian national record holder at 1,500 both indoors and out (3:36.68 and 3:32.28 respectively), got the world indoor master record for 3k thanks to a 8:04.34 clocking. The old records belonged to Irishmen Eamonn Coghlan (3:45.3 - 1993) and Marcus O'Sullivan (8:09.13 - 2002).
*More: 61-Year-Old Yoshihisa Osaka Runs 2:38 Marathon *COGHLAN SURRENDERS ANOTHER RECORD

****
FSU Loses 2007 Track Title
Last week, the NCAA stripped Florida State of its 2007 NCAA outdoor track and field title. We here at LetsRun.com are known for hating cheats of all kind and thus you'd expect us to rip the Seminoles. Not so much. The Seminoles lost the 2007 title because one of their student athletes, who had over a 3.0 GPA, was one of more than 60 student athletes and 3 administrators implicated in a cheating scandal that related primarily to an on-line music class.
In our minds, academic dishonesty isn't treated seriously enough and we applaud the NCAA for coming down hard on everyone implicated. But we think that other programs or coaches that are celebrating FSU's punishment had better watch out, as we guarantee that nearly every single track and field program in the country has at least one student-athlete on it that is involved in academic fraud in some shape or form - whether it is something blatant like cheating on test or something that many sadly deem as acceptable, like copying homework.
But we want to give a Thumbs Up to Braman for not hiding from the scandal and for the following quote which Braman gave to the Tallahassee Democrat which we'll call our Quote of the Week #1:
"There's a real strong lesson here. Integrity is integrity. You either have it or you don't. I think they'll learn that when you get in this position, you've got to make the right decisions."
Clearly, lots of people didn't make the right decisions at Florida State but the fact of the matter is that the athlete who cheated didn't need the course to be eligible for the Seminoles. According to Braman, the Seminole track and field program has had more academic All-Americans than anyone over the last five years.
And oh yeah, despite what we wrote on the home page at the time, we're pretty sure that 2nd-place LSU doesn't move up and claim the title. Rather, we just think the title is vacated and goes to no one.
More: *Florida State Coch Bob Braman's Statement On Loss Of The Title *Braman Opens Up About FSU's NCAA Punishment *FSU's "Tomahawk Nation" Reports Track Stripped Of 2007 NCAA Track Title *YouTube Recap Of 2007 Championship

****
Jenny Barringer Leaves Mark Wetmore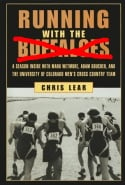 Last week something happened that was on face value very shocking - Jenny Barringer left her coach Mark Wetmore. Considering that all of the past great Colorado Buffalo runners of the past (Alan Culpepper, Adam and Kara Goucher, Dathan Ritzenhein, Jorge Torres) have similarly left Wetmore's nest after turning professional, we guess it shouldn't have been that big of a surprise even though Barringer had stated she'd stay with Wetmore.
Clearly, Wetmore isn't an easy guy to get along with and clearly he's apparently not interested in giving pro athletes extra special attention.

But that doesn't stop us from giving Barringer a big Thumbs Down. Why? Because the reasoning she gave for leaving Wetmore makes zero sense at all. Barringer told David Monti the following:
So Barringer supposedly left Wetmore because she wanted to find a coach who is devoted to professionals and not collegians, and yet her new coach is Juli Benson (formerly Juli Henner) - the collegiate coach at Air Force. And if those duties aren't taking up her time, then Benson's on-the-side television commentating duties certainly are.
Our Message Board Post of the Week therefore goes to "colorado surfing," who nailed it on the head when he or she wrote the following about Barringer:
"It is kind of ironic that she's leaving a college coach because it's too much work for a college coach to handle coaching Pro's.. for another college coach."
Again, we have no problems with Barringer picking whomever she wants to coach her, we just thought her quote was ridiculous.
We certainly think one of the hardest things about running after college is finding motivation and structure so wanting a coach that will show up and be there every day for you (even as your season goes into July and August and a college coach is probably dying for some time off in those months) is certainly within Barringer's rights. Additionally, staying with one coach for a whole career would be very, very difficult. And since Benson's Air Force team is nowhere near as strong as Wetmore's CU Team, Benson likely will have way more time and motivation to coach Barringer. But to us, Wetmore's track record of developing runners is one of the best in the business.
And the easiest way to stay motivated is to continually improve. Let's just hope Barringer isn't retired at age 25 like Benson-coached Chris Lukezic. Benson helped guide Lukezic to a 3:33 in 2006, but by the end of 2009, he had called it a career.
More: *Jenny Barringer Leaves Mark Wetmore *On The Boards: Barringer Switching Coaches
****
Weekly Free Training Advice
How do you know your ideal racing weight? Well that's simple. We 100% agree with two-time New York City marathon champ Tom Fleming, who told the New York Times that "the perfect weight is the weight you are the day you P.B. in your event."
So next time when you PR, take your weight and remember it as that's your ideal racing weight.
More: NY Times' Gina Kolata On Matt Fitzgerald's Book Racing Weight
****
Collegiate Recap - Curtis Beach Re-Surfaces
Not a whole lot happened in terms of college action last week (Editor's addition: Message board poster "tshakur" correctly pointed out that we totally blew it and failed to mention that 17-year-old Alabama freshman Kirani James ran a world-leading 45.79 for 400m), but it was good to see US HS decathlon record-holder Curtis Beach run a 1:48-low split on a 4 x 800 for Duke. The split immediately led to a big message board thread on Beach entitled inappropriately (or maybe it's appropriate for the LRC message board), Curtis Beach 1:47.9 Split. In the thread, some people were projecting a future world record for Beach in the decathlon.
Our Message Board Post Of The Week #2 goes to "wannabe a hasbeen," who correctly posted just how far off Beach is from the Roman Sebrle's WR. His throws are way, way, off. Here's the post:

His speed comes at the expense of his strength. He scores BIG TIME points in the running events, but his throws aren't so hot. Not that he can't win, but he has a looooooooong way to go before sniffing Sebrle's WR. And in a year or two? Come on ...

Roman / Curtis
100m - 10.64 / 11.05
LJ - 8.11m / 7.19m
Shot - 15.33m / 11.00m
HJ - 2.12m / 2.04m
400m - 47.79 / 47.96
110H -13.92 / 14.77
Disc - 47.92m / 32.96m
PV - 4.80m / 4.70m
Jav - 70.16m / 42.13m
1,500m - 4:21.98 / 4:25.40

Now, comparing the WR to Curtis Beach is patently ridiculous, because Beach was in HS at the time and Sebrle was in his prime as a professional. Also, Beach set these marks with international implements as well as HS implements, so he ran the 110H twice, and threw disc and shot twice, so this is by no means intended to be a fair comparison.

That being said, look at the gaps in the throwing events! 4+ meters in shot (~260 points), 15 meters in disc (~300 points), almost 30 meters in Jav (~420 points). So in the throws alone, Beach in behind by almost 1,000 points. Thats' a huge gap to cover. Even if he improves by leaps and bounds in all his other events (pun very intended), throws are a weakness relative to the rest of his performances. He has a LOT of improving to do if he wants to challenge Dan O'Brien's record, let alone Sebrle's.

And don't get us wrong, the kid has a blindingly bright future in the sport. He is clearly extremely talented and motivated, and I hope he proves us wrong. But he is a long way off from challenging Sebrle's record in only a couple of years. It would be awesome to see him drop a sub-3:55 at the end of a big Deca and score >1,000 points in the last event. Not likely, but possible.

Read more: *Curtis Beach 1:47.9 Split *LRC Blew it by not mentioning Kirani James *Kirani James Reacts To World Leader
****
Is Running The Fountain Of Youth?
In the last week or two, there have been some great pieces on how running and exercise and general may just keep you young. We've always wondered how the great Haile Gebrselassie can run so fast after such a long time, but everyone has it backwards - maybe all of that running has literally and figuratively kept him young.
Two studies support this. One comes from Paul Williams, a scientist at Lawrence Berkeley National Laboratory. His research is pretty easy to summarize, so we'll let Erin Allday of the San Francisco Chronicle do it for us:
"Williams has put together the world's largest study on runners, and the evidence found over 20 years of research points to an important conclusion: When it comes to exercise, more is almost always better.

"When I started my study, everybody sort of knew exercise was beneficial. The government was saying you get benefits by walking three or four times a week. My data has shown the more you do, the greater the benefits," Williams said. "I've had people doing 100 miles a week of running, and you could see benefits up to that level."
Why is that? Well, another study from Germany suggests that exercise actually keeps your cells functionally younger. The New York Times account of the study is quite good, but Dr. Christian Werner, an internal medicine resident at Saarland University Clinic in Homburg, sums it up perfectly by saying exercise "at the molecular level has an anti-aging effect."
More: *SF Chronicle: More Exercise Better In Long Run, Study Finds *NY Times: Phys Ed: How Exercising Keeps Your Cells Young
****
Emails Of The Week
The best emails that we got last week are pretty self-explanatory. The first one was in response to or plea last week in "The Week That Was" for people to write in if they had any inside info on the Simon Vroemen doping case. This reader didn't have any great insight but we thought we'd share what he'd heard about Lance Armstrong. Whether true or not, it's certainly interesting.
Subject: Vroemen - WASA
To: [email protected]


Not on the subject of running, but we have heard that Lance Armstrong has to take videos of his lodgings as he leaves so that the reporters (or WADA) can't come in and plant "stuff." We totally agree that we need drug-free sports, but Dick Pound has crossed the line too many times because it was thought that someone was too good or too fast or didn't look like they were capable.
The 2nd email of the week we recently received from a retired military veteran whose email said it all. LetsRun.com has grown so big and powerful that we've been banned by the US military!!! His email was titled "Another sign of LetsRun.com's dominance" and stated:
Wejo, We talked a few times a while back before I got out of the military about my 10K time finally going below 30 with a lot of your advice. Well I'm on a long road back from ***** but I come bearing good news … Sort of. I guess It just shows the beast of a site letsrun has turned into …

Its now blocked at about 15 Air Force bases stateside …

Regards, *****
All we can say to that is, "Osama bin Laden, watch out." The US Armed Forces are clearly the best in the world. It's now an LRC guarantee that you'll be found in six months, as our troops will be even more productive.
****
Cross-Country Suggestion Of The Week

We have been involved in a few cross-country discussions already this year as LetsRun readers have 1) helped the Oregon High School Athletic Association understand that scrapping team cross-country at the state level is blasphemous and 2) helped save indoor track in counties around the country.
But our XC suggestion of the week comes after we saw these photos from the Tough Guy Challenge in England. First, we were in awe of how fun this event looks. Second, we were amazed by the quality of the photos. Third, we naturally think there should be something like this in the US and it should of course involve distance runners as we are crazy enough to do things like this. You can't tell us every high school cross-country kid in the US wouldn't love to try this event (or at least be coerced to do it by their teammates). We think the fire and the real barbed wire might be taking it a bit too far - not to mention taking the insurance costs through the roof - but this event looks amazing.
The photographer is Mike King, and the winner of the race took over 1 hour to finish. Over 600 people were DNFs out of 5,000 starters. As the Boston Globe reported:
Despite being billed as "the safest most dangerous taste of physical and mental endurance pain in the world," this year's race still attracted over 5,000 men and women - all of them signing a disclaimer saying "It's my own bloody fault for being here."
****
Recommended Reads/Listens/Watches From Last Week
*Nick Willis On Accepting Coaching And Passing On Altitude Training
*Antonio Vega Profiled By Sponsor Mizuno Vega's story is a worthwhile read for those who take up running late (like in their senior year of high school). Patient buildup is a theme we see over and over again with the successful runners. We recommend coaches and athletes really look at their plan and try to be patient.
*NY Times' Gina Kolata On Matt Fitzgerald's Book Racing Weight She uses Dathan Ritzenhein as an example as he talks about his 12 years of trial and error with his weight.
Remembering The Last Week With The Quotes of the Day - Day-By-Day:

Monday: "Our men's track and field program is learning a very painful lesson ... We understand and accept the NCAA's penalty, but want to point out that without any gained eligibility we gained no unfair advantage over our opponents. We would have won that Title with or without that on-line course. I'm very proud of our academic history of our Track & Field teams. In the past five years we've had the most Academic All-Americans in Track & Field of any school in the country."
- Florida State University head coach Bob Braman on the NCAA's decision to force the Seminoles to vacate wins, including the 2007 NCAA Outdoor Track and Field championship.

Sunday: "I was determined to push it hard."
- Bernard Lagat on his 27-second last lap that gave him the win and American indoor record (13:11.50) at the Reebok Boston Games 5,000m on Saturday night.
Saturday: "Coaching a post-collegiate is a different job and takes a lot of time and a lot of energy. We've decided it's best for me to find a professional's coach."- Jenny Barringer is leaving Colorado coach Mark Wetmore for Air Force coach Juli Benson (formerly Juli Henner).

Friday: "I want to make some noise in the Trials," says Vega. "It's still two years off, but with the progress I've been making, I can be a factor. I mean, who knows what will happen? Nobody gave me a shot this year in Houston and look what happened."
- Minnesotan Antonio Vega talking about his future plans in the marathon. Vega, who didn't start running until his senior year in high school and has been training every day on a treadmill, was the surprise winner of the Houston Half Marathon and a $12,000 check.

Thursday: "In the last few years, the jump I've made from being a good international runner to being the best has come down to sharing some more of that burden with my coaching staff and my wife, and having them keep me calm."
- Nick Willis in a Recommended Read where he briefly talks about learning to accept coaching and being fine with not training at altitude. Willis will return from a long layoff when he faces a tough men's mile field, including Leo Manzano, in Boston this weekend (TV ESPN2 Sunday 2-4pm). We think finding a coach that you trust and believing in him/her 100% is one of the most important steps to becoming the best you can be.

Wednesday: "Distance runners can't run well with a cold," Salazar said. "At this level, it's the difference between 13:05 and 13:15."
- Alberto Salazar talking about Galen Rupp posssibly not running in Boston this weekend. The American indoor record (Rupp has it) is 13:18.

Tuesday: "When I started my study, everybody sort of knew exercise was beneficial. The government was saying you get benefits by walking three or four times a week. My data has shown the more you do, the greater the benefits.
I've had people doing 100 miles a week of running, and you could see benefits up to that level."
- Scientist Paul Williams in a front page story in the San Francisco Chronicle about his research that is being hailed as "the world's largest study on runners." It appears we have long telomeres, and that's a good thing.
Comments, questions, suggestions, story you'd like to submit? Email us