LRC The Week That Was In running and in life, the highs and lows are never too far apart and this week's action proves that. We cover it all - from Tsegay Kebede's Japanese all-comers record at Fukuoka to the passing of Kerryn McCann less than three years from one of the greatest marathon finishes in history. We also find a reason to mention our favorite sprinter Usain Bolt and tell him to dream bigger than 18.99 as Paula Radcliffe has run the equivalent of 18.63.
Doug Logan: 30 Clean Track Medals In 2012 Or Bust We're not quite sure what the CEO has to do with winning medals. We do like his other goals of growing USATF from a $16 million to a $30 million business in 4 years and increasing membership.
"Wimp" Kelly Sotherton To Be Joined By Charles Van Commenee As Boss At May Meet
Lots Of Sad News
Kenyan Marathoner Barnabas Kipkoech Dies In Race In Brazil On Nov 30th And His Family Is Still Appealing For Return Of His Body
Kerryn McCann Loses Her Fight With Cancer
*Kerryn McCann Obituary From The Guardian
*IAAF Pays Tribute To Kerryn McCann If you want to see a great video tribute, we highly recommend you click the video in the upper left.
*Kerryn McCann Loses Battle With Cancer
*Australia Grieves The Loss Of One Of Their Most Beloved Athletes
*Nic Bideau Writes About Kerryn McCann's Death
*LRC Message Board Thread: RIP Kerryn McCann
*Sprint Champ Raelene Boyle Talks About McCann's Death
Ethiopian Kebede Crushes Fukuoka Record With 2:06:10
Fukuoka Video Highlights (click on the lower blue bar on the right with the Windows Media Player icon) *Fukuoka On The Boards Tsegaye Kebede, the Olympic bronze medalist in the marathon, crushed the field between 30k and 35k by running a course-record 14:17 5k split. From 25-40k Kebede went 14:51, 14:17, 14:47. *Japan Running News Fukuoka Recap *Kebede Wins Fukuoka In Japan All-Comers Record 2:06:10!!
Singapore Marathon: Kibet and Masai Win
Kibet And Masai Win Standard Chartered Singapore Marathon Luke Kibet capped a crazy year with a big win in hot weather in Singapore. Edith Masai, 41, used her road races in America as speed work and it worked to her advantage as she took the women's race win.
*A Tumultuous Year For Luke Kibet To Finish With Singapore Marathon
*2007 World Champ Luke Kibet Headlines Sunday's Singapore Marathon
Recap Of Baringo Road Race In Kenya Half marathon won by relative unknown in 62 minutes.
We Wonder If He'll Have To Give Back The Victory
Sugar Shane Mosley Got EPO & Steroids From Victor Conte To Prepare For Oscar De La Hoya
Tariku Bekele And Linet Masai Headline Sunday's Spanish XC Race
German Fernandez Only Out 2-4 Weeks *MBoard Thread on Fernandez's Injury
We Doubt It
Australian Athletes Tell Govt. They Can Lead The Way On Responsible Drinking
Fantastic XC Battle Taking Place In London Edinburgh In January Multi-time 5k medallist Kipchoge vs. 2007 XC WChamp Tadese.
UK Athletics Signs Multi-Million TV Deal With BBC
A Brief Chat With Andrew Ledwith The surprise of the NCAA meet.
Maria Mutola Elected To Africa Sports Hall Of Fame
Zimbabwe Withdraws From 2008/2009 Standard Chartered Greatest Race On Earth Series
Las Vegas Marathon Looking Forward To Life Under New Management
LRC: The NCAAs That Were Now that the emotions have died down, we've decided to take a look back at NCAAs and analyze what it all meant. Who had the best and worst meet? Best and worst season? How good were the Oregon men? Is women's running really much less competitive than men's? We answer these questions and much more including, "How smart are the Letsrun.com visitors?"

If you can't dominate the big sports, quit and try to dominate the lesser sports
Crew & Swimming Now More Important Than Athletics In Britain The UK is trying to go for the medals regardless of sport or signficance and as a result, the once mighty Britain is giving more money to swimming and crew than athletics as athletics received a tiny decrease in funds while swimming and crew got more. *Athletics, Flagship Event Of 2012 Games, Given Slight Funding Cut *Despite Funding Cut, UK Athletics Chief Niels de Vos Is Bullish About 2012 *Athletics To Grin & Bear £1.4m Funding Cut *It Could Be Worse: Volleyball, Fencing, Handball, Table Tennis, Water Polo, Weightlifting And Wrestling Get Nothing.
*Olympic Disappointment Has Yuriy Borzakovskiy Fired Up For Indoors He shockingly failed to make the Olympic final and will be going for a sub-2:18 1k in February.
Navy's $52 Million Field House To Host 5 Meets This Year
*Calling their bluff? Paul Tergat And Kenyan Officials Fire More Warnings About Elites Skipping Local XC Meets
*Yesterday: Despite Warning, Most Kenyan Stars Have Been Skipping Athletics Kenya XC Meets The athletes are smart enough to know that Kenya will send its best team and March is a long way off.
Wanjiru Signs Savas Sports Supplement Endorsement Worth $3mil Can anyone doubt that Wanjiru is a major star in Japan?
Weekend Action We Missed:
*Kendra Schaaf Wins Canadian Junior Cross Title
*Video Of Schaaf's Race Here
Most people not named Mike Tyson have no reason to bite people
Eunice Barber Convicted Of Biting Police Officer In Scuffle Frenchwoman and former World champion heptathlete Barber (born in Sierra Leone) claims she was slapped in the face first by the police officer and then dragged out of her car.
Holiday Hangover: Churandy Martina's Olympic Appeal Hearing Postponed Until Jan. 15 All parties in the appeal requested more time to prepare.
Stanford Biologist Publishes Paper Saying World Records Have Limits And They Are ... 9.48 for the 100m and 18.63 for 200m and 2:00.47 (sic) for the men's marathon. Paula Radcliffe's marathon world record may never be broken as her 2:15:25 is just off the maximal prediction of 2:14.97 (which we assume means 2:14:58). *Summary Of Article Here
Comrades Marathon Making Changes Due To 2010 World Cup
Yesterday's Lead Steeple World Record Holder Shaheen Parts With Famed Coach Renato Canova
The coach confirms Shaheen's departure and explains what went wrong last year with a post on the LRC Message Board here.
Jordan Hasay Wins 4th California State XC Title
Usain Bolt's Coach Glen Mills Says Bolt May Run 400 In 2010
Professional XC From Europe
Spanish XC : Tariku Bekele Defeats World XC Silver Winner Komon As Linet Masai Shines In the women's race, Masai absolutely dominated, winning by a minute and proving that her 3rd at World Cross and 4th in the Olympic 10k is likely just the start of much greater things to come for the 18-year-old.
Portugese XC: Former World And Olympic 10k Champ Fernanda Ribeiro Struggles At Age 39 As 21-Year-Old Wins Men's This was the last of 3 meets to determine their European team.
Belgium XC: Veerle Dejaeghere Wins In Domestic Farewell The 35-year-old has announced she'll call it a career at Euros and she got an emotional win at home.
French XC: Ethiopians Dominate Like in Portugal, this was used to pick the French Euro team.
Better Start Training Now - Only 1,000 Days Until 2011 Worlds
Turkey Day Runs:
California: Scott Bauhs Wins His Pro Debut At Synapetics 5k Bauhs is a stud with a bright future.
On the boards: Scott Bauhs Wins Elite 5k
* Galen Rupp vs. Scott Bauhs

CT: Martin Fagan Wins Manchester Road Race
*Results
Canadian XC Nationals Today
*Results
On the boards:
*Alan Webb: Should he follow Mottram's idea to go solo?
*Colt McCoy is dating a Baylor Runner ... sic em' horns The knockout young woman they showed about 10 times on ESPN during the Texas / Texas A&M game is her.
*Shaheen parts company with Renato conova (sic)
Jelimo Talks About Meeting Kenya's President After Beijing It was quite a year for her, as in addition to Olympic gold, she took home the $1 million Golden League jackpot. EA Standard
Best Recap Of NCAA Women's Race From Mike Scott
2008 NCAA D1 XC
*LRC Prediction Scores Are In - Check Them Now
Arkansas XC Had Its Worst NCAA XC Meet Ever This year represented a lot of negative firsts for the Razorbacks. The first year without John McDonnell in a long, long time and the first conference XC loss in 34 years, and the first Regional loss after 18 years. It was the Razorbacks' worst NCAA performance ever, but they have made the meet every year since 1974 (the year McDonnell's conference streak started).
*For a great look at the history of the NCAA Champs click here for men, here for women.
Post NCAA News:
*German Fernandez Possibly Facing Long Recovery From Injury
*Metcalf: "We should be better next year" (scroll down in article)
*Oregon Gets Hero's Welcome At Hayward
Men Results: *Team *Individual LRC: *Men's Photos Almost 600 of them.
LRC: RUPP And Oregon Are Golden Galen Rupp put away the demons of the near misses and captured his first NCAA title by shadowing Liberty's Sam Chelenga for 9,600m and then outkicking him on the straight to lead Oregon to the team win. Oregon dominated the team title as Oklahoma State had a forgettable day. Super frosh German Fernandez dropped out with an achilles injury (photo of Fernandez in great pain here), while Oregon frosh Luke Puskedra was a very impressive fifth.
*USA Today Recap of Race
*On the boards: Eyewitness Account Of German Fernandez's Injury
*Chelanga's Lack Of Experience Shined Through!
*German Fernandez Has Achilles Injury
*Recap On NCAAs From Oregonian
*NCAA Post-Race Interviews: Flotrack
*NCAA Post-Race Interviews: Trackshark
Women Results: *Team *Individual LRC: *Women's Photos
Kipyego Threepeats Susan Kuijken tried to make it interesting, but in the end, Sally Kipyego was too good and she became the first woman to win 3 NCAA XC titles. The Washington women got the women's team title as expected.
Only On LetsRun : *Kipyego Is Lucky
*UW Coach Greg Metcalf Says Race Didn't Go According To Plan But Huskies Came Out On Top
*Metcalf: "We should be better next year" (scroll down in article)
*NCAA Post-Race Interviews: Flotrack
*NCAA Post-Race Interviews: Trackshark

*LRC: 2008 NCAA Men's XC Championship Preview Rupp vs. Chelanga And Oregon vs. Oklahoma State Headline A Championship For The Ages
*LRC: 2008 NCAA Women's XC Championship Preview Kipyego And Washington Chase History - Others Shoot For The Podium
Recommended Read: Rupp & Kiptoo-Biwott Friendship Fuels Oregon Success The article for the most part is a profile on Kiptoo-Biwott, who is a father figure to the team and a new father himself.
*Liberty's Preview of Race
*W. Virginia Women Hope To Respond To Bell Ringing With 1,500 Meters Left
*Terre Haute Tribune Star Preview
*Profile Of Indiana State's Scott Keeney
*Matt Centrowitz Jr. Reportedly Will Race NCAAs For Oregon *Message Board Thread on Oregon 7
*Oklahoma State Ready For NCAAs - Shooting For Win
*Recommended Read: Dick Patrick's USA Today Sam Chelanga Interview
*Great For The Sport: NCAAs To Be Shown Live In Hayward Field
*Oregon Runner Alex Kosinski Profiled By Eugene Paper
*LRC: World Famous NCAA XC Prediction Contest
More NCAA XC News:

NCAA D2 & D3 XC Nationals
D2 Scott Bauhs Gets Coveted Individual Win As Adams St. Wins Team Titles
*Men's Results *Women's Results
D3 Cortland St. Gets 1st Men's Title As Middlebury Wins Women's
*32 Page Message Board Thread
*On The Boards: Runner Turns Down Rhodes Scholarship Interview To Run Nationals Kudos to Grinnell College's Henry Reich for putting his teammates first.
Worth A Read: Long Ryan Hall Journal Entry
This Puts 1983 Boston To Shame
408 Runners Break 70 In Japan's Ageo City Half Marathon! People talk about how amazing it was that 83 guys broke 2:19 in Boston in 1983, but 408 under 70 flat? Insane!!! *Message Board Discussion: Is This The Deepest Half Marathon In History?

Lance Armstrong Gives A Lengthy Interview On His Comeback And Talks About Almost Everything
From politics to doping to fearing for his safety at this year's Tour, Armstrong tells all and the best part is The Guardian has published it all.
*AP Recap of Interview: Armstrong Fears For His Safety
Column: Lance Armstrong should stay away from France
*Lance Armstrong Claims British Cycling Success Helps Prove His Innocence
2008 ING New York City Marathon *Results *Searchable Results *Video: Men's Highlight Video *Photo Gallery
Post-NYC News
*Paula Targeting London Gold In 2012 She can do it if she's healthy.
*Daniel Rono Remarks On His 3rd At ING NYC A big difference between NYC and many other top-level marathons is the lack of rabbits, and Rono mentions this was a big experience for him to actually have to race the whole time. His 3rd was the top Kenyan finish in both the men's and women's races.
*Radcliffe Wants Another Baby Before 2012
*Is A World Record Attempt In London Up Next?
*Two Die At Marathon
Lots Of Info On Kara Goucher's Great Debut
*Kara Goucher: Paula Radcliffe Is The Greatest Ever
*Queens Native Goucher Says 1st Marathon Was "Awesome"
*3rd Is A Win For Kara Goucher Both Goucher and her coach Alberto Salazar were pleased by the result and it looks like she's a marathoner now.
*Alberto Salazar's Pre-Race Advice For Goucher: "Have Faith."
News From New Zealand
*Athletics New Zealand May Review Whether Rod Dixon's 1983 Time Should Be Ratified As New Zealand Record Dixon claims the course wasn't short.
*Illness / Sore Throat Ends Kim Smith's Run Between 30km And 35km The article also talks about how 1983 champion Rod Dixon ran just over 3:30.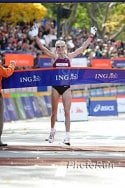 Women's Race: Paula Dominates Goucher Third
Paula Radcliffe showed why she's the best marathoner in the world as she dominated the women's field in the second half of the ING NYC Marathon. Radcliffe took a different strategy this year in NY. She led every single step of the way, but she said with the high winds her plan this year was to save something for the end and run negative splits and it showed. She poured it on the final six miles, winning by nearly two minutes. Radcliffe never looked back and said when she turned for the final quarter mile at Columbus Circle, she wasn't even positive she had the race won. American Kara Goucher ran up front for most of the race and had a successful debut in third in 2:25.53 (American debut record). Olympic silver medallist Catherine Ndereba, Dire Tune, Rita Jeptoo and Gete Wami were left in Radcliffe's wake, causing Wami to tie with Irina Mikitenko for the World Marathon title. The World Marathon Major race directors were then left to vote to break the tie. They voted for Mikitenko and just like that she got $500,000 and Wami got nothing.
*Radcliffe Doesn't Look Back En Route To 3rd Win
*Paula Destroys Top-Class Women's Field
*Mikitenko Awarded WMM Prize In Tie-Breaking Vote
*Women's Recap And Race Replays From UniversalSports.com
*Paula Post-Race Press Comments
On the boards: Wami gets nothing of World Marathon Prize while tying for spot #1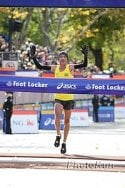 Men's Race: Marilson Gomes Dos Santos Storms From Behind To Win Coming into the 2008 ING NYC Marathon, Abderrahim Goumri had the distinction of being the top marathoner in the world who had never won a marathon (2nd in London in 2007, 3rd in London in 2:05:30 this year, and 2nd in NY last year). On Sunday in NY, he was clear of the field and on his way to what seemed to be his first marathon victory. However, savvy 2006 NY champ Marilson Gomes Dos Santos saved his best for last and stormed from behind in the final mile to overtake Goumri and get the win (afterwards Goumri said a missed fluid bottle might have caused him to run out of steam). Dos Santos ran 1:02 for the second half for a big negative split. Veteran Paul Tergat said he twisted an ankle on the course but returned to action with a fourth place finish. American Abdi Abdirahman led the American charge in 6th place as four Americans were in spots 6, 7, 8 & 10.
*Men's Recap and Race Replays From UniversalSports.com
*Gomes dos Santos Is Going To Disney To Celebrate
*NYT: New York Brazilians Say "Gomes who?"
On the boards: Nate Jenkins at NYC marathon?
Great Read: Old School Japanese Coach Dismayed At Gap Between Kebede And Top Japanese At Fukuoka Three Sub-2:10s would probably be rejoiced in America.
Is it too much to ask Geb to race someone instead of going for a WR every race?
Geb Aims To Recapture World Half Marathon Record In March In The Netherlands At The Fortis City-Pier-City
Former Colorado All American Erik Heinonen Who Helped Colorado Win 2006 NCAA Title In Peace Corps In Moldova Hoping To Build A Local Track
Berlin's 2009 World Championship Marathon Will Be First To Start And Finish Outside Stadium
Toby Tanser & Shoe4Africa Get Some Nice Press
Results From Wincanton Montferland 15k In Netherlands (Men Close In 13:47)
Still Rolling After NCAA XC
Va Tech's Tasmin Fanning Runs 9:08 3k Indoors At Altitude
Big High School Saturday: Foot Locker West And NXNs
Jordan Hasay won her 4th consecutive Foot Locker West crown, becoming the first high schooler to win their regional 4 times. At NXNs, the big story was the Manlius girls winning their third team title in a row while the Elmhurst boys (better known as York) fell short of Spokane (WA) 134-151 on the boy's side.
*Jordan Hasay Wins 4th Consecutive Foot Locker West Regional
*NXNs: Spokane (Men's) And Manlius (Women's)
*FM Girls Win Third NXN Title In A Row
*Boys NXN Photos *NXN Girls Photos
Sunday's International XC And Road Action
*Ethiopians Dominate Men's Side Of Spanish XC Race
*Kenyan Marathon Run In 98 Degree Weather, Top-3 Finishers Run 2:22
*Lisbon Marathon Results
*Las Vegas Local (Ethiopian) Wins Vegas Marathon In 2:27
*California International Marathon Results (6 Under 2:20 on downhill course)
New WADA Testing Rules For 2009 The big change is the 60-minute rule. This rule stipulates that athletes on WADA's testing list must provide the agency with a 60-minute window every day where they can be found and tested. We're all for the most effective testing methods but this seems like a total pain.
News From America And The UK
*UK Athletics Signs Extended Deal With BBC To Televise Track Meets
*USOC To Increase Spending On Athletes By 12%
In Britain they're cutting funding for athletes, but at least the meets are on TV. Here we can't get the meets live, but at least the athletes are getting funding.
USATF News
Stephanie Hightower Elected USATF President Some are upset, some are pleased, but this post on the message board probably tells most people's views: "Who cares? I'm not a USATF member, and my nine mile run this morning felt great."
*USATF Enacts Restructuring Details of the restructuring can be found in this press release here from USATF, which says the board had been cut from a ridiculous 31 to 15.
*Bill Roe Opens USATF Annual Meeting
LRC: USATF "Run Amuck" And The USATF Presidential Election The Finalsprint.com has done a 7-part series on the dysfunction in USATF. LetsRun.com's Wejo finally took a read of it and gives his snyopsis, thoughts, and criticism of the piece and a few thoughts on USATF.
Truly Interesting: British Marathoner Mara Yamauchi Considering Switching To XC Skiing She just got sixth at the Olympics at age 35. *Yamauchi Received Coveted Achilles Medal From Roger Bannister
Surprise Women's Olympic HJ Champion Announces Surprise Retirement Talk about post-Olympic euphoria - she is 3 months pregnant and her coach/partner is the daddy.
Interesting Read: Lottery Money Doesn't Make Or Spoil Champions People who think lottery funding has made British athletes lazy need to realize that Martyn Rooney, who is 5th in the world, only makes £19,000.
International Olympic Finances:
British Column: Sports Are Uplfiting & Worth Paying For A great read. Read this and you'll never feel guilt for being a sports fan and not, say, an art guy/girl.
Australia: We Can't Compete As Half-Priced Heroes British Olympians get more than 571 mil compared to 213 in Australia.
Running your own race pays big dividends
World Mountain Champ Andreas Mayr Reflects On Winning $50,000 & Defeating World's Best Flat Runners She was 8th early on.
IOC Looking To Improve Ticketing To Avoid Empty Seats At Future Games
News On Kenya's Prodigies:
*19-Year-Old Asbel Kiprop Readying Himself For 2009 The Olympic silver medallist is certainly one of our favorites as he has a natural charisma that can't be taught. Apparently he's also a class act as he says he was beaten by a "better runner" in Ramzi.
*A Day Later: Two-Time World Champion Billy Konchellah Talks About His Son's Quest To Return To Running For Kenya A Bahrain official isn't convinced that Youssef Kamel will actually end up switching nationalities as he's "has made statements like this many times before." *Kamel's Switch By No Means A Done Deal
Doping May Not Be Worth It
*2003 World Champion Walker And Doper Dies Of Heart Attack At Age 45
*New WADA Rules Require Athletes To Give Testers A Daily 60-Minute Window When They Can Be Tested
Last Year Fl. Runner Ran And Won Marathon Two Weeks After Her Brother's Death - This Year She'll Run 5k While 6 Months Pregnant
Former Double World Champ Eunice Barber Fined For Resisting Arrest
London Does It Again - Deep London Women's Field Announced ... Paula hopes to challenge her world record. She will be pushed by Dita, Mikitenko, Wami, Adere, Ndereba, Zhou Chunxiu. London has again attracted the best women in the world for the 2009 race, including 3-time London Champ Paula Radcliffe. Even with all the talented runners, it's hard to see Radcliffe being beaten if she is truly in near world-record form. The race features 5 of the top 6 from the Olympics plus 2008 London champion Irina Mikitenko as well as the Olympic champ Dita.
*Paula, 3 For 3 In London, Including 2:15 WR, Will Have Hands Full This Time
*London Being Billed As Paula Vs. Dita We doubt it though.
*Incredible Women's Field Announced For London 2009 (IAAF)
*Radcliffe Will Go For 4th London Victory In 2009
Isinbayeva Weighs In On Blanka Vlasic's Failures At Olympics And Golden League Final Yelena Isinbayeva piqued our interest (we heard ESPN's Colin Cowherd discussing her as well, though he butchered her name) when she remarked that female athletes shouldn't be content with just athletic success, but should be hot, too. Now, she is claiming that Blanka Vlasic became too concerned with putting on a show at the Golden League meets, rather than winning, costing her half a million bucks and an Olympic gold. Vlasic says the Russian pole vaulter is totally wrong. Isinbayeva certainly isn't trying to make many friends this week.
Definitely the best Turkey Day performance by an American
Scott Bauhs' 13:37 Earns Him USATF's Athlete Of The Week
Brendan Foster Creates Street Version Of Track & Field That Will Take Place Night Before Bupa Great North Run Foster does more to promote the sport than anyone and his new idea is pretty radical. 40 British versus Australian athletes competing in the streets. They are calling it the "Ashes Series."
Tiny 30 Pound Girl Throws Tantrum & Runs Away Rather Than Run With Alan Webb link fixed
It's Official - Lance Armstrong Is Doing 2009 Tour De France *MBoard Post On Lance Doing 2009 Tour Here
Kenyan Paper Debates Whether Athletic Stars' Incomes Should Be Reported In Press Lots of athletes there say no as it leads to robberies.
Great Drama At Mountain Race In Nigeria As World XC Silver Medallist Mestawat Tufa Collapses Feet From Finish And Misses Out On $50,000 The $50,000 first prize brought out some big name flat runners as it's the richest race in Africa. Tufa built up a huge 600 meter lead and appeared to have the victory but she ended up getting passed by 2008 World Mountain Champion Andrea Mayr in the final 400 meters. Tufa didn't go quietly as she tried to respond but she ended up collapsing less than 50 meters from the finish and had to be rushed to the hospital *Huge Controversy In Nigeria As Nigerian Athletics Tries To Ban Anyone Competing In Richest Race In Africa *Nigerian Recap Of Race
Embarrassing Britian's Only Olympic Track Champion Christine Ohuruogu Trains In Morning And Then Skips UK Athletics Award Banquet That Evening She won the British Olympic Association athlete of the year award.
Sunday Down Under: Gebrselassie And Ndereba Supreme Over 15km In Melbourne After an opening 10k of 28:46, Geb hammered home a 13:55 to get the win.*Message Board: Geb Wins In Windy Conditions As Mottram Is 4th
*Haile Gebrselassie Focused On Time In Showdown Versus Mottram Over 15k On Sunday Geb also talks about skipping the 2008 Olympic Marathon and running the Games in 2012. Geb, like Paula, seems to have the mental ability to focus on 2012: "2012 is very soon! It's not the age, actually. It's mental. If you are strong mentally, then there is no problem."
More: Geb: "I see this tall white guy who beats all the Ethiopians and the Kenyans sometimes and I'm surprised, I want to know his background." www.smh.com.au
Chris Rawlinson To Make Comeback And Run Hurdles For Australia He's the wife and coach of two-time world champ Jana Rawlinson.
Angola's Yr End São Silvestre Race To Offer $10,000 To Winners
Burundi Peace Marathon is Sunday and Venuste Niyongabo Will Run For Charity The country's only Olympic champ won 5k gold in 1996. The IAAF will be building a track in Burundi.
Excellent Read On Benita Johnson The former World Cross champ has had a very tough 2008 (her father died and her marriage fell apart). But now she's smiling again and ready to take on the world's best Sunday in Australia (Dita and Ndereba are on hand).
Also This Weekend: With $50,000 1st Prize, Nigeria's Obudu Ranch International Mountain Running Race Has Attracted Some Traditional Stars Like Mestawat Tufa IAAF
Stephanie Twell To Race Seniors To Prepare For Her European XC Defence
Flora London Men's Field Announced ...
It's Going To Be Sick Once Again
Today the Flora London Marathon announced a positively sensational field of men's runners for their 2009 race. The field will include 3-time winner Martin Lel, "The Future" Sam Wanjiru, half marathon phenom Zersenay Tadese making his marathon debut, US greats Khalid Khannouchi and Dathan Ritzenhein, Felix Limo, 2-time World champion Jaoud Gharib, "Mr. Runner-Up" Abderrahim Goumri and 5 other guys who have run under 2:08 in their careers. Ryan Hall's Boston debut certainly won't be an easy win, but with these guys all running London he'll have a great shot.
*Unbelievably Exciting Men's Field Announced For London!
*Video Highlights Of Martin Lel's 2008 London Record 2:05:15 Win
Turkey Day Racing: (Manchester Road Race still to come)
*Not Messing Around: Scott Bauhs To Run Turkey Trot 5k, Go For USA Road Record 13:24
*Why Berwick's Thanksgiving Race Is Special
Olympic And IOC News
*Nervous Holidays For Some: Olympic Drug Retests For CERA To Take 4 More Months
*IOC Head Rogge Glumly Speaks On Cheating By Athletes
*We Agree: "London Should Be London" In 2012 - Not Try To Outdo/Outspend Beijing
More Chiba Recaps:
*Great Recap With Video Of Ethiopian Course Record Performance At Chiba Ekiden
*US Individual Splits From Chiba; Ed Moran Runs Best With 13:47 5k, Good For 5th
*Chiba Ekiden Recap: Ethiopia Wins (Combined Men's And Women's Team)
Ian Stewart (Guy Who Beat Pre For Bronze) To Lead British Distance Buildup For 2012 Games
Isinbayeva Is Better And Hotter Than Her Rival
World's Fa$$$$test Man
*Bolt Fights For Right To Party And Rule The Sprinters' Roost He's going to stop partying now and start training, but he doesn't get why some are upset that he's been enjoying himself for the last few months.
*Bolt Will Be Cashing In In 2009 To The Tune Of $200,000 An Event
*Bolt And Isinbayeva Are 2008 IAAF Athletes Of The Year 800m star Pamela Jelimo was undefeated for the year but didn't win.
Paula Radcliffe Has Discovered Childbirth Has Made Her A Better Athlete
Drug News *Disgraced Cyclist Bernard Kohl To Reveal Sources Of CERA As He Agrees To Cooperate With Officials
*Researchers Studying Potential Performance-Enhancing Benefits Of Viagra
*Survey: 20% Of Young Greeks Would Take PEDs To Improve Physique
Quotes From The Greats At World Athletics Gala
World Silver Winner Leonard Komon Wins IAAF Spanish XC
Myron Rolle Wins Rhodes Scholarship

Liz McColgan And Paula Radcliffe Call For Cycling-Style Centers For Running Where People "Can Eat, Sleep, Drink & Train"
*Radcliffe Still Dreaming Of Marathon Gold
Ryan Hall's first international marathon on US soil will come on Patriot's Day of '09.
John Hancock Financial Signs Ryan Hall To Run Boston Marathon!
*Message Board Thread Here *Hall quote: "To win [Boston] would mean as much to me as winning any marathon in the world, including the Olympic Games. To win in Boston would show the world that American distance running is indeed back to the days of Salazar, Beardsley, and Rodgers ... What is done in Boston lives on for all time."
A LetsRun.com Thumbs Up
Children's Running Book Review LRC reviews Kids Running and our guest reviewer says, "I can say with full confidence that it is perhaps the best children's running book of 2008."

Usain Bolt Answers Carl Lewis' Doping Questions In Interview

LetsRun.com Boston 08 LetsRun.com Party Photos The party hosted by Puma was a smashing success. A packed house, as those passionate about running (from ages 5 to 65+) came to celebrate a great weekend in Boston. LetsRun.com fans celebrated with Rojo, Wejo, Matt Taylor, and a few legends in the sport, including former marathon world record holder Steve Jones and Olympic Silver Medallist Sonia O'Sullivan. The Harpoon beer was flowing, DJ Inkognito kept things going and contrary to popular opinion, there was a healthy mix of males and females. The reviews were excellent. "It's refreshing not to see the same 50 people (industry insiders) at a party." "Most favorable female-to-male ratio I've seen in a long time."
101 Years Old, Still Smoking, Running and Drinking: Buster Martin: "I'm not worried about the fags because I'll carry them with me. Everyone says smoking kills but it's taking a long time in my case." The 101-year-old legend plans on smoking while running Sunday's London Marathon.
LetsRun.com 2007 Worlds Coverage:
*Sunday's Homepage Ndereba marathon
*Saturday's Homepage
*Friday's Homepage Tyson Gay
*Thursday's Homepage Lagat
*Wednesday's Homepage Lagat
*Tuesday's Homepage Bekele 10k
*Monday's Homepage Tyson Gay
*Sunday's Homepage Dibaba/Goucher 10k
*Saturday's Homepage Kibet Marathon
LetsRun.com London Men: Lel Leads 3 Under 2:05:30!!!, Ryan Hall 2:06:17
Ryan Hall Goes Through Halfway on World Record Pace
The 2008 Flora London Marathon will be remembered for a long time. The lead pack of 9 went through 5k at 14:21 (2:01 pace). They continued together (yes, all 9) through halfway on world record pace (1:02:13). Ryan Hall then went to the front soon after and asked the pacemakers to go FASTER. Soon Hall was off the back, but he would catch the leaders briefly again and go on to run 2:06:17. Until Sunday, only 7 guys had ever run under 2:06:15, now 11 have. Up front, it came down to a 3-man battle over the final mile before Martin Lel got his 3rd straight World Marathon Major win over the final quarter mile as he led 6 guys under 2:07 and to $50,000 bonuses each. Recap, photos, video above
This Guy Has Totally Won Back Our Respect
Maasai Warriors Finish Marathon link fixed One of them went back to the course and finished the race a day after being forced to go the hospital after a ceremonial wrap cut off his circulation. He said, "It was very important for me to do this. This is what I came to England for."
LetsRun.com Ryan Hall Reflects On His Incredible Run We tell you (and let you watch) what Ryan, his dad, his granddad, his coach and even Martin Lel had to say about Ryan. Lel was full of praise for the American and shocked by Ryan's attempt to get the pacemakers to go even faster. If Hall didn't already have your respect, he does after reading this article, as he pays homage to a throwback type of guy - Steve Jones. Text and Video.
LetsRun.com Video: Ryan Hall Talks About His 2:06:17 at the 2008 Flora London Marathon
*More LRC London Videos Here
*Photo Gallery
LetsRun.com Rojo's Tour of China, Part 1 - Hanging Out With Usain Bolt
Rojo went to the Puma Party put on for Usain Bolt. Open bar, Chinese dancers putting on their best sorority girl imitations, and then Rojo going 1-on-1 with Bolt. Rojo actually asked Usain about moving up to the 800m. Bolt hinted the Jamaicans want him to run the 4 x 400m. More importantly, Bolt apologized for visiting Facebook instead of LetsRun.com.
2008 real,- BERLIN MARATHON - Watch Video Highlight or Race Replay *Results *Photos
Haile G. 2:03:59!!! Mititenko 4th Fastest Woman Ever Haile Gebrselassie made more history Sunday on the streets of Berlin. After going through the halfway point in 1:02:04, Haile continued to flirt with world record pace but was stalked by Boston runner-up James Kwambai. Haile threw down the gauntlet the last 7km to dispatch Kwambai and just dip under the 2:04 barrier. On the women's side, German star Irina Mikitenko ran a brilliant race, running a negative split to smash the 2:20 barrier and become the fourth fastest woman ever.
*Geb: "I can go faster."
*The Science Of Sport Analyzed Geb's Splits As The Race Unfolded link fixed
*Geb's Record in Berlin Is His 24th World Record (or 26th depending on who is counting)
*Mikitenko Moves Into Tie in World Marathon Majors Standings Gete Wami must finish 2nd or higher in New York to move ahead. If she doesn't, they will be tied (and tied in the tie-breakers) so they might share the title. *Washington Post Article on WMM
*Falk Cierpinski, son of Waldemer Cierpinski, 2:13 in Berlin
On the boards:
*Wanjiru's Olympics > Geb's WR
*Haile's Splits from Berlin. ... how far could you run with him??
*Live Message Board Thread