The Week That Was November 3 - 9, 2008
November 11, 2008
By LetsRun.com
*Last Week's The Week That Was with the 2008 ING NYC Marathon is here

Last week there wasn't a lot of action on the track, cross-country, trails or roads, but it was certainly full of fascinating developments. We give them to you now in case you weren't able to visit last week. 1) Mayhem Thanks To Course Mishap At DII Regionals
The first full week of November in the year 2008 will certainly be remembered for a long, long time. Think we're talking about the election? Nope. The NCAA Division 2 West Regional for cross-country will be remembered for ages due to the mayhem that took place out on the course.

Basically what happened is the officials blocked a turn on the course. Before the two mile mark at point L on the map, the runners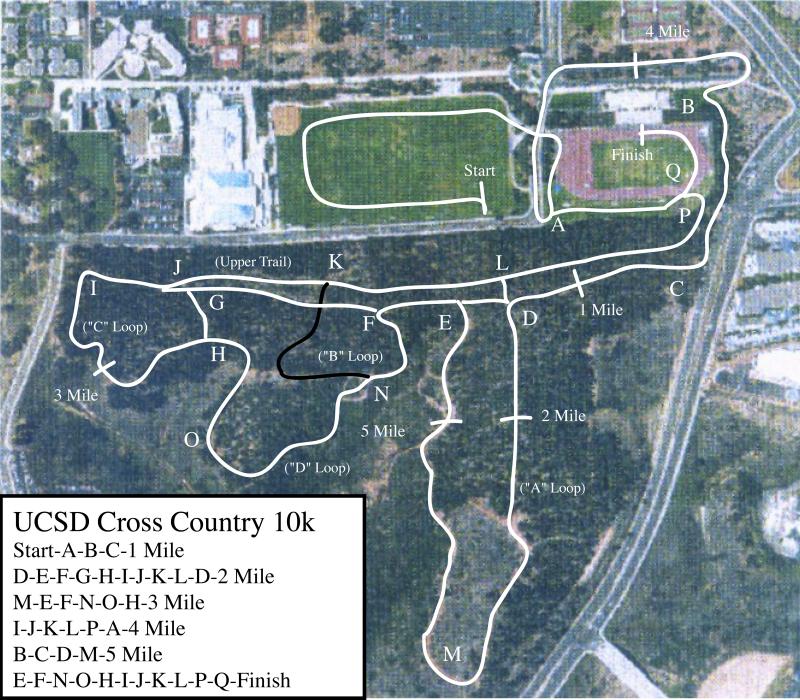 were supposed to turn right but instead they went straight. Now don't blame the runners for not knowing the course for two reasons. 1) They were being led by a guy on a bike and he went straight (but don't blame him either) and 2) The turn was totally blocked by flags and spectators (so the guy on the bike went straight). The guy on the bike apparently tried to turn right but was told by an official to go straight.
Once the guy on the bike realized they had missed a turn, total panic resulted as the lead runners scrambled, turned around and desperately tried to get back up front. Many of them cut the course, ran through eucalyptus trees and did whatever was humanly possible to get back up front. It certainly wasn't easy to get back up front from last place as the trail was very narrow - wide enough for two or three runners only.
Amazingly, the main pack acted like the peloton in the Tour de France and slowed down a bit to help make it easier for the big studs, led by Scott Bauhs, to get back up front. By 3 miles, the original leaders were back up front, but by 6k the race was stopped. Ultimately, it was re-run two hours later in its entirety. Another 10k in 80-degree heat. Not so pretty. Without a doubt some people's chances were hindered, but we'd point out that everyone had to re-run the race and in the end, the big-name individuals and teams all advanced as expected.
At first, we thought all of the people who were ripping on UCSD were being unfair. Mistakes happen. Such is life. However, apparently this is far from the first major travesty at a cross-country race at UCSD. As the link shows, at least three other races since 2004 have been total disasters at UCSD. Clearly, there needs to be better meet management at UCSD in the future. As a result, we're giving a major thumbs down to UCSD. But in reality, maybe we should give them a major thumbs up as the thought of being in this race has caused thousands of runners to chuckle and talk about a race they normally wouldn't have cared about at all.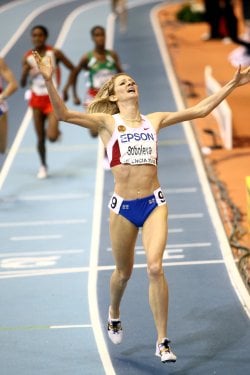 Drug Cheat and We Take This BackPhoto by Jiro Mochizuki Photorun.net
2) More Russian Drug Cheats
This week, the IAAF announced the suspension of 9 more Russian athletes involved with elite track and field. The newest busts come only a few months after the IAAF unraveled a systematic plan by 7 Russian women (at least) where they were using someone else's urine (someone who was not taking cocktails of illegal drugs) at drug tests (hard to say you're clean when you're caught with little bags of your friend's urine in your vagina). The whole situation with Russian athletes is simply maddening. Is the bust a thumbs up? In some ways, yes. Thumbs up to the IAAF and WADA for marshaling the cheats. It is good when cheats are caught. It is good when cheating national federations (like Russia's athletics federation) are exposed for the fraudulent (and medal- and ruble-hungry) people they are. It is good that people get the message that cheats are caught, exposed, dishonored.
But, in many ways, it is not good to see 16 people from a rival nation busted for drugs. Why? Well, because it is extremely disconcerting to think of how much cheating must actually be going on in Russia if 16 of their athletes are busted in one year, considering how few people are busted relative to how many are likely cheating out there. It's frightful to imagine that 21st-century Russia - wherefrom the world's best women's track and field team hails - is systematically having their women provide fake urine samples at the most prestigious meets in the world. They are making a total mockery of the sport.
And, let's be serious here, if Russians are cheating across the board, which these positives make us believe is indeed the case, why would one not believe that others are not as well? What about Eastern European throwers, US sprinters and Chinese distance runners? Why would China not be cheating now, and why would anyone believe those Chinese women in the 90's weren't systematically drugged and taught to dodge testing? And Morocco, and the Africans ... what conclusion do these results point to except a very disturbing one: many of the world's elite track and field athletes still are not clean - many of them are cheats.
If you are trying to stay upbeat, we guess we'd say the busts don't actually show that. You could try to believe that they show that many people weren't clean in the past and that the cheats are now finally getting caught.
That would be a positive development but we're not sure lots of people aren't still getting away with it. Remember - Marion Jones never actually tested positive. So we knew people were cheating in the 2000 era but not getting caught. Now at least some of them are getting nabbed.
These positives, despite the fact that it is great when cheats are exposed and banished, cause thoughts to come into the public's head when they look for heroes at the Olympics, in the marathons, in the Golden League meets. Their thoughts go something like this: I wonder if that gal is a cheat. Rather than: what an amazing performance; she is my new hero! Sports are about heroes and villains, about lessons and values that extend farther than the boundaries of competition. Drug cheats make it extremely hard to discern heroes from villains. Drug cheats make a mockery of those people whose values are prioritized with honor above wins. Drug cheats rob us fans from the ecstasy that accompanies witnessing heroic acts because we just don't know what makes a champion in this day and age. The lens we have to watch athletics through isn't HD or LCD, it's
PED.
We think that we should give an ironic thumbs up to the cheating Russians and the Russian Athletics Federation. Thank you for cheating so blatantly and so stupidly and so arrogantly and greedily and shamelessly that you actually got caught!
It's Official: 16 Russians Have Been Suspended For Drugs *MB Thread Here
3) Congrats to the 2008 USATF Hall Of Fame Inductees: Don Bowden, Johnny Gray, Bill Carr, Bernie Wefers and Jimmy Carnes
It's never a bad idea to learn about the forefathers of the sport. This week the USATF announced its 2008 class of Hall Of Fame inductees. One coach, two middle distance runners, and two sprinters made the cut in 2008, and all made big impacts on the sport. We recommend that all Letsrun regulars read this article about Don Bowden, first American to break 4:00 for the mile in 1957. At the time, he was the youngest man to break the magical barrier at only 20. The other mid-d guy is Johnny Gray, Olympic medalist in 1992 in the 800m. We learned from this USATF bio that Gray broke 1:45.0 in the 800m every year for 14 consecutive years, 1984-1997! Currently, he is giving back to his favorite sport, coaching cross-country and track at the high school level in California. Two old-time sprinters, Bill Carr and Bernie Wefers, are men you may not know much about, yet are track legends. Carr was a member of the powerful Mercersburg Academy and Penn Quaker teams in the 20s and 30s, before he won two golds in world record times in the 1932 LA Olympic Games in the 400m and 4x400m (Carr's Wikipedia entry here). Wefers ran so fast in 1896 for the 100 yard dash (9.4 seconds) that meet officials called the performance "impossible" and gave him a 9.8 instead (read a 1944 Time Magazine article on Wefers here). Along with breaking time barriers, Wefers coached for many years at the New York Athletic Club. Jimmy Carnes has been perhaps the most persistent and influential force in Florida amateur athletics for the past 30+ years, coaching and organizing at the high school, college (Florida Gators) and elite levels (he started the Florida Track Club).
On the boards: *Johnny Gray Training

USATF Announces 2008 Hall Of Fame Inductees Honors bestowed upon 1992 Olympic medallist Johnny Gray, Olympic gold medallist and Mercersburg Academy alum Bill Carr, the first sub-4:00 American Don Bowden, sprint pioneer Bernie Wefers and long-time coach Jimmy Carnes.

4) Liu Xiang To Have Surgery
We're happy that
Liu Xiang
and his coach wised up and came to the US to get some sound advice on his million-dollar tendon. Prior to coming to the United States, Liu and his coach were happy to use traditional Chinese medicinal practices, rest and massage to heal his badly injured Achilles. Quotes from the coach indicated that he was confident his hurdling stallion would recover 90% of his speed. Yeah, in an event that comes down to 1/100ths of a second, we're sure he won't miss that other 10%! Massage, rest and ancient remedies seem fine for a worn-out muscle, but we're talking about probably the most serious of all running injuries. How seriously injured is he? Remember, he could not run in an event where 1,300 million people were hoping to see him win a gold medal, an event that will never be in his home country again, an event that spans a tiny 13 seconds. He walked off the track rather than compete. He is hurt badly.
It's a good sign for Liu that he is pursuing surgery and we hope it goes well, for he is one of the stars of the sport. It's fun to have guys from non-traditional countries in the running for the gold. But we're not impressed that Liu decided to see Yao Ming's doctor. It seems like Liu is getting bad advice here. He should see a doctor who is experienced in doing Achilles surgeries on runners, not just go to the guy who happens to be in the city where Yao Ming plays basketball. Write us if you need advice. We know who you should see.
5) Obama, Kenya and Chicago On The Upswing - But Will Kenyan Distance Runners Be Helped or Hurt?
News Alert! America voted in a new president and the whole world is thrilled except for maybe half of the 46% of Americans that didn't vote for him. Barack Obama's name and face are now world-famous, and many are predicting his mighty golden touch will be just that, mighty. If you think expectations are high for Obama in the US, they seemingly are way higher overseas. In Kenya, the government declared a national holiday in honor of Obama and a relative of his tried to remind the Kenyan people that Obama is a US citizen and not technically Kenyan.
Many Kenyans are hoping more Americans will come visit the land where their 44th president's father hails from, boosting Kenyan tourism. Talk of better times in Kenya prompted us to ask this question: if the economy of Kenya grows and prosperity flourishes in the Rift Valley, will Kenya produce more or fewer world-class distance runners?
And in another interesting bit of news, the entire mainstream global media is reporting that Obama's election has somehow given Chicago an insurmountable lead in the race to win the right to host the 2016 Summer Olympiad. Tokyo is upset; they say it is unfair. Madrid is quiet, probably because they can't even host a soccer game there without racist incidents popping up. We're not sure what Obama's election has to do with the Olympics but we think it's great as we'd love to see the Olympics in the Windy City. And to us, this whole episode is the exact reason Obama was elected, because the world loves him for what he represents, a more caring, worldly and hospitable (get it?) world power. But we agree with the Drive-Bys - forget the fact that Obama might not even be the president in 8 years; Obama got elected, so Chicago should definitely host in 2016!
As sports fans, all this Obama talk has us thinking about the team that everyone hypes up in the preseason. If Obama was a college football team, he would definitely be ranked #1 in the pre-season polls, which can be a tough burden in the regular and post-season. Everyone is ready to go after you during the season. We hope he does great and takes the country (and Kenya) in a positive direction!
*Obama's Stepbrother Kills Bull To Celebrate As His Sister Says Not To Expect Too Much As the press was visiting, the electric company showed up and connected them to the main power grid. They were relying on solar power before. That's not very green.
*Kenya Declares National Holiday In Honor Of Obama's Election Can the USA have one as well? (Not To Worry! Kansans Petitioning For "Obamaday")
*Kenya Hopes Obama Victory Will Boost Tourism
*Tokyo Fears Obama's Victory Means Chicago Is In Driver's Seat For 2016
*Look How Many Links You Get For Googling "Obama Chicago Olympics 2016"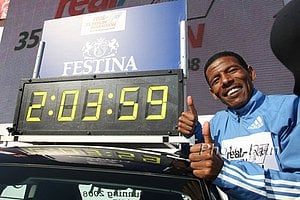 6) Haile G is a Great Writer?
One of the most intriguing questions for fans of distance running is "why are the Kenyans and Ethiopians so fast?" There are many possible reasons, and the reasons are likely different for every athlete. Haile G, perhaps the greatest ever, wrote a beautiful piece this week about his first cross-country race and first marathon. Both races were held in Ethiopia and were tumultuous for different reasons. We recommend you read the piece. Haile was clearly born with a "little engine that could" but he also witnessed sacrifice and suffering at an early age that inspired him to persevere through any pain, difficulty or human obstacle in order to be the greatest. We didn't know he was such an amazing writer, especially in a language other than his native tongue!




Not only is he arguably the greatest runner ever, he is also a sick writer

Haile G Writes A Long Piece On How He Had Ended Up A Runner In Ethiopia

7) The University of Washington Women Are So Good They Are Getting Attention In Mainsteam Press (And We Like Trash Talking In Women's Cross-Country)
There was a nice profile of Washington's #1 and Frosh Phenom Kendra Schaaf in the Seattle Times. She's so good (and their football team so bad) that she got a one-on-one with a columnist.
*Humble Frosh Phenom Kendra Shaaf Is Leading #1 UWashington
And then there was another article in the News Tribune on the Huskies' phenomenal team which included a great quote from the Huskies' #6 girl at Pac-10s, Amanda Miller. We're sure it's probably being used as bulletin board material at Oregon - well maybe not, after another team just shut you out, you probably aren't looking to start something. It's not trash talk if it's true: Washington's 6th Runner At PAC 10s, Amanda Miller, Said It "Felt Like Practice After A While" Miller: "I knew we were going No. 1-through-No. 6, which was kind of unreal at the time, but it felt like practice after a while."


8) The Biggest LRC Thumbs Up of The Week Goes To IAAF Head Lamine Diack
This week, the head of IAAF stuck his neck out and ripped IOC head Jacques Rogge on two specific issues: criticism of Usain Bolt's Olympic exuberance, and calling for the dismantling of the 2012 Olympic track stadium (or, as Rogge referred to it: a White Elephant). And on both criticisms, Lamine Diack, IAAF head, was dead right on the money and he gets our biggest thumbs up of the week.

It's not often that bigwigs will say anything of real substance in the media, but Diack clearly feels it is important to our sport to promote our stars that fans are fascinated by. Diack's courage is especially noteworthy when one considers he is a member of Rogge's IOC.

Diack pulled no punches in defending the sport he represents, track and field. Diack, who cheekily reminded Rogge that track and field has provided its share of Olympic moments over the years, earned major points in our book by calling on Rogge to support Usain Bolt's showmanship and stardom rather than criticize it. The Olympics and track and field need stars and the fact that kids all over the globe are now doing "the Bolt" to celebrate big sports plays is a great thing for track and field and the Olympics. If Bolt had zero personality, there is no chance he'd be on Letterman, NFL Countdown etc. Diack was right in stating that Rogge was wrong for criticizing Bolt's celebrations, plain and simple. The common fan is in awe of Bolt and he brought huge attention and interest to track and field.

Diack also called on Rogge to look at the big picture and support the London track stadium rather than convert it into yet another soccer pitch. Diack made some excellent points about the Olympic stadiums in Los Angeles and Atlanta that no longer house track and field facilities. He mentions that there is not a single facility in America that could host the IAAF World Championships. For that reason, the IAAF can't even consider bringing Worlds to America. He also laments the fact that the stadium where MJ broke the 400m and 200m world records in running to gold in '96 is now another ordinary bargain baseball stadium, rather than a place where big meets can be run, kids and fans can visit, and history can be kept alive. Again, we agree with Mr. Diack, Paula Radcliffe and others: keep the track stadium in London, and in all Olympic cities, for that matter! They are, in a way, the museums of our sport*.




*Our friend is a huge tennis fan and had the chance to go anywhere in the world on his employer's dime this past summer. He chose to visit Roland Garros (site of the French Open) and Wimbledon just to see the hallowed grounds and take a tour of the clay and grass courts. A track fan who wanted to visit the site where Coe and Cram went 1-2 in the Olympic 1,500m would have no luck; LA's stadium has no track in it. Converting the London facility to a soccer field would be like China converting the Bird's Nest into a table tennis stadium. Enough already!




*Message Board Thread On The "Mighty Burner's" Death
*Buy DVDs Honoring Larry James And Larry James Fund



10)
Thumbs Up To
The Inspiring Sally Kipyego
In a few weeks, Sally Kipyego will almost certainly be going for her 3rd consecutive NCAA XC title in Terre Haute. One of the most decorated NCAA track/cross-country athletes of all-time, Kipyego was raised in Kenya and attends Texas Tech, pursuing a nursing degree. If you don't know much about Sally Kipyego, you should read this article, we can almost guarantee you will be rooting her on.
---
Runner's World &
Running Times



Combined Only $22
a Year
Save $87

---

Running & Track and Field Posters
---

Great Running Shoe Deals Nike Lunar Glide $79.99 A very popular innovative Nike shoe on sale now.
---