World Records, American Records, & More: 8 Thoughts on a Wild Day 2 of the 2023 Prefontaine Classic
By
Robert Johnson
and
Jonathan Gault
EUGENE, Ore. – The final day of the 2023 professional track season was also one of the most exciting. In the span of three hours on on a gorgeous Sunday afternoon the fans at Hayward Field got to see world records in the women's 5,000 meters (Gudaf Tsegay, 14:00.21) and men's pole vault (Mondo Duplantis, 6.23m) as well as American records in the women's 800 (Athing Mu, 1:54.97) and men's 3,000 meters (Grant Fisher, 7:25.47). The latter two races also featured dramatic finishes with Mu edging British rival Keely Hodgkinson by .22 and Jakob Ingebrigtsen – running one day after his 3:43.73 mile – nipping Yomif Kejelcha, 7:23.63 to 7:23.64.
Here are eight thoughts on everything that unfolded on a wild day of track & field in Eugene. Full day 2 results can be found here.
For the second time in 24 hours, Jakob Ingebrigtsen wins the Diamond League title and runs the third-fastest time in history
Any race with Jakob Ingebrigtsen in it is must-watch TV, and we saw exactly why this weekend in Eugene. He wants to run fast every time out (and usually does). And because everyone else knows this, Ingebrigtsen's races usually produce a slew of fast times – and this weekend, some close finishes as well. Less than 24 hours after outlasting Yared Nuguse in the Bowerman Mile, Ingebrigtsen was back in action in the 3,000 meters. And while he did not target the world record, he still wanted a fast time, taking over the pace just before hitting 1600 meters in 3:57.9 and holding off all comers the rest of the way to win in 7:23.64. 
Article continues below player.
By itself, Ingebrigtsen's time would be remarkable – it is the third-fastest in history, with only Daniel Komen (7:20.67) and Hicham El Guerrouj (7:23.09) ever going faster. But the fact that Ingebrigtsen could do it a day after running the third-fastest mile of all time is hard to fathom. Surely Ingebrigtsen was aided by the new spike technology – which produce faster times and aid recovery – but the determination and ability Ingebrigtsen displayed throughout his double is the stuff of legend.
Times were super fast behind Ingebrigtsen, with the top seven men under 7:30 and the top four finishers breaking into the all-time outdoor top 10. Ethiopia's Yomif Kejelcha, who dominated the 5,000 in Zurich, gave Ingebrigtsen a heck of a battle over the final lap but came up just short. And after the race, Kejelcha was frustrated that the Diamond League, for the first time ever, decided to run a 3,000 in the final instead of a 5,000.
Kejelcha had been planning to run a super fast time in the 5,000 at Pre but said he was told less than a week before the meet that it would be a 3,000 instead. 
"I'm very confused," Kejelcha said. "I'm not happy for that."
Kejelcha did say he was pleased with how he ran today but felt he would have had a better chance against Ingebrigtsen in a 5,000.
"He's a 1500 guy," Kejelcha said. "He's a faster guy. He's very strong, so he's beaten me. I'm not sad about that."
Oh and in case you're curious: even though Ingebrigtsen did not qualify for the DL 3k final, he still earns the title of Diamond League champion because he was a "global wild card" – though he does not earn the full $30,000 first-place prize money.
Grant Fisher ends season with another American record
When Fisher withdrew from the 5,000 at USAs in July, it looked as if 2023 would go down as a lost year for the 26-year-old. He was injured with a stress reaction, and for the first time since 2019, he would be watching a global championship from his couch.
But Fisher rehabbed doggedly, returned with a 12:54 5k in Zurich on August 31, and looked sensational in cruising to a 7:33 3k win in Rovereto last week. Today he was even better: Fisher finished 3rd in the Diamond League final for the second year in a row, and he did it by smashing his own American record* by more than three seconds to finish 3rd in 7:25.47.
*Fisher had the outdoor record at 7:28.48 but Yared Nuguse ran faster indoors, 7:28.23.
Fisher knows his body very well and is very good at knowing how to push without exceeding his limit. He felt he did so again today, moving up from 6th at the bell to 3rd at the finish – the best finish he felt he was capable of today.
"I don't think competing for 1st or 2nd was probably in the cards today," Fisher said. "I think I got a lot out of myself but I think those guys are kind of on a different level."
Fisher's run today gives him great momentum heading into 2024 and showed that he has made fitness gains late in the year despite missing some time running. But Fisher said he still thinks every day about not being able to run in Budapest.
"I mean, that's the biggest meet of the year, and I missed it," Fisher said. "So it doesn't feel good…If you're sick or you're hurt or you have a bad day, it's tough. You have to wait a whole year."
The problem for Fisher is that, as good as he was today, he was still a distant third behind Ingebrigtsen and Kejelcha, and today's field did not include two other studs: Worlds 5k silver medalist Mo Katir and Jacob Krop, who has medalled at the last two Worlds in the 5k. A healthy Fisher will have a shot at a medal in Paris, but the competition is fierce.
Athing Mu's vacation after Worlds never began – and she wound up breaking the American record because of it
After finishing 3rd at Worlds in Budapest last month – her first 800m defeat as a professional – Athing Mu said she was going on vacation. Turns out, that vacation never started. Mu left Worlds with a sour taste in her mouth and after a few days to reflect and visit family, she and her team decided they wanted to try to to end the season on a high note at Pre (she acknowledged that Nike, a Pre sponsor, was happy she decided to run but that they did not force her).
It worked out pretty well: Mu ran 1:54.97, breaking her own American record of 1:55.04 (set at this meet two years ago) and holding off Keely Hodgkinson in a near-identical finish to last year's World final on the same track (Hodgkinson ran 1:55.19 to take more than half a second off her British record).
Mu was noticeably less stressed in Eugene than Budapest, and while she said the pressure on her did not totally disappear, she felt much more at ease this weekend.
"I work best when it comes to competing when I'm genuinely happy," Mu said. "And I just wasn't genuinely happy or joyful at Worlds."
Mu's time was the fastest by any woman since Caster Semenya's 1:54.77 in Ostrava in September 2018, bringing her closer to Jarmila Kratochvilova's 1:53.28 world record. Mu knows she is still some way off that mark, but today's run was progress that she is getting closer.
It was also an impressive way to bounce back from defeat in Budapest. Many wondered how Mu would respond when she lost her first professional 800. She responded like a champion.
Toward the end of her post-race interview, Mu's coach Bobby Kersee stopped by and whispered a few words to Mu. 
""Did I not, again?" she said. "It's a force of habit, I guess."
Mu later revealed Kersee's advice was the same thing many armchair track fans have asked Mu to do.
"I just need to run on the rail, that's it," Mu said of Kersee's advice. "I don't know. I've been doing it since my AAU days if you guys haven't seen any of those videos. I'm always dang-near in lane 2 when I'm finishing races."
After the first turn stagger Mu ran the entire race on the outside of lane 1 again today, but unlike Budapest, she had a good reason to be there: Hodgkinson, running ahead of Mu until the final 100, was on the inside.
One final note: Mu was a "national wild card" for today's meet (she did not run any DLs in 2023 before today), she does not get the Diamond League trophy (even though she was awarded it on the track after the race). Instead, the trophy – and the title – will go to Hodgkinson.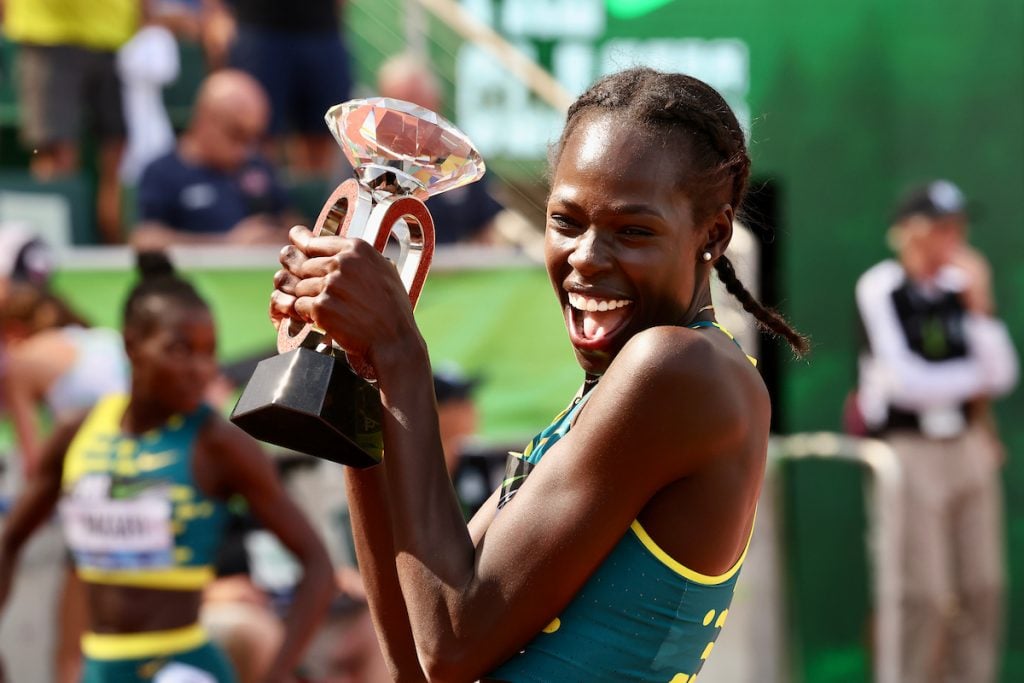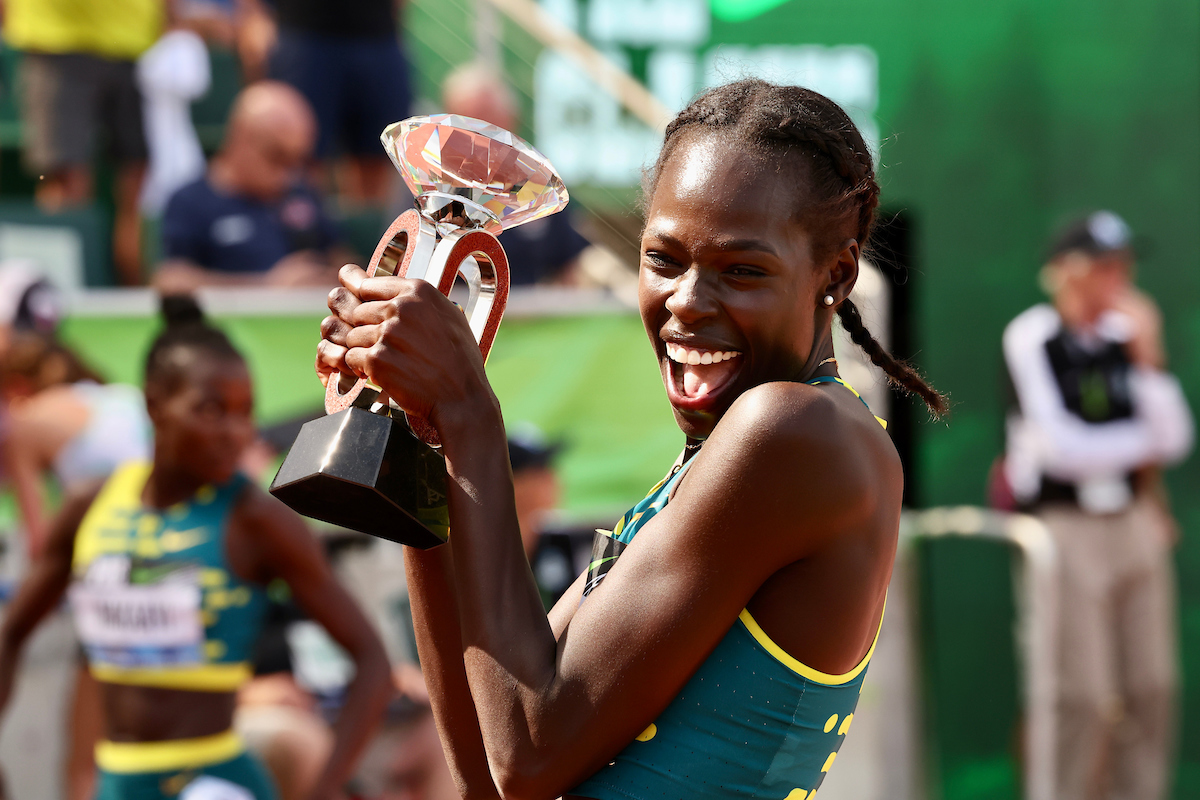 Gudaf Tsegay crushed the women's 5000 WR
Gudaf Tsegay of Ethiopia crushed Faith Kipyegon's 14:05.20 world record on Sunday by running 14:00.21 as World Cross Country champion Beatrice Chebet ran 14:05.92, the third fastest time in history, for second.
Tsegay, who won three global outdoor medals in the 1500 (bronze in 2019 and 2021, silver in 2022), has really thrived since moving up in distance as she won the World Championship 5000 on the same track last year and 10,000 gold this year.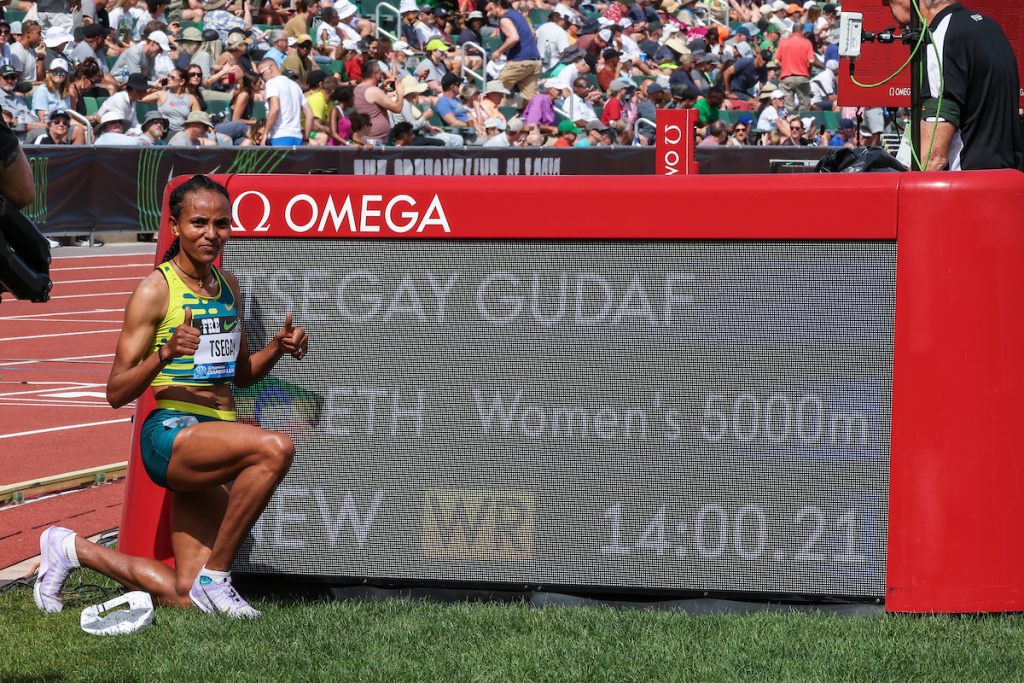 In the 5000 at Worlds, Tsegay was only 13th but she told us she picked up an injury in the 10,000 and wasn't 100%. It's interesting to wonder if Tsegay will be able to challenge Kipyegon in the 5000 in Paris next year if she is 100%. We'd still give the edge to Kipyegon, but to run 14:00 in the middle of the day in the sun (70 degrees, sunny, 5 mph wind) is super impressive.
What's also super impressive is the quality of the women's 5000 right now. The women's 5000 WR was stuck at 14:11.15 for more than 12 years until Letesenbet Gidey broke it in 2020. In 2023, the world record has been broken twice and there have been five sub-14:10s by four different athletes (Tsegay, Kipyegon, Chebet, and Gidey twice). It seems like sub-14 is a mere formality. The question is, who will be the first woman under that barrier (and 29:00 in the 10,000)? Tsegay, Gidey, Kipyegon, Chebet, Sifan Hassan, or someone else?
Emmanuel Wanyoni and Marco Arop both break 1:43
Up until today, no one in the world had broken 1:43.00 in the men's 800. No one broke 1:43.00 in the 800 last year either. Would this be the first time since 2006-2007 that there were two straight years without at least a 1:42? No.
World champ Marco Arop of Canada went out super fast and had the lead until the very end, and when it was all over, the top two men had broken 1:43 as 2023 World Championship silver medallist Emmanuel Wanyoni of Kenya ran 1:42.80 to Arop's Canadian record of 1:42.85 as Algeria's Djamel Sedjati was right there as well in 1:43.06.
Hardly anything has separated Arop and Wanyoni in recent weeks. In Xiamen, they were just .04 apart (Wanyoni also won that one) and today it was .05. At Worlds, it was a little bit larger — 0.29 – but in that race Arop was the winner.
Mondo Duplantis gets another world record
As good as Mondo Duplantis is, to be honest, if a calendar year ends and he hasn't set a world record, it's kind of a disappointment, right? That sounds crazy but that would mean he didn't PR and when you are 23, most athletes are expecting to still be setting PBs.
Well Mondo ended his 2023 campaign with a bang as on a day when no one else could go higher than 5.82, he cleared 6.23 on his first attempt (and he didn't attempt to go any higher), one centimeter higher than the 6.22 WR he set indoors in France in February. Believe it or not, 2023 actually ends a streak of Mondo only PRing only every other year. 
Mondo Duplantis' Best Vaults Each Year Since 2018
2018 – 6.05 (outdoors)
2019 – 6.00 (outdoors)
2020 – 6.18 WR (indoors)
2021 – 6.10 (indoors and outdoors)
2022 – 6.21 WR (outdoors)
2023 – 6.23 WR (outdoors)
Joe Kovacs hands Ryan Crouser his first defeat of 2023
World record holder and two-time Olympic and world champ Ryan Crouser suffered his first loss of the year in the men's shot put as 2019 world champ Joe Kovacs threw a seasonal best of 22.93 in round four to edge Crouser (22.91 in round 2).
It was the second-best throw of Kovacs' career. He often thrives in September/October as he won the 2019 Doha gold in October and his 23.23 pb came in the DL final in September last year. Crouser has had 10 competitions in his life where he's thrown farther than 22.93.
Believe it or not, Crouser actually lost four times in 2022, including three after Worlds. 
Shericka Jackson's WR attempt in the 200 came up short
The last event on the schedule was the women's 200, clearly scheduled that way out of the hope that Jamaica's Shericka Jackson could break Flo-Jo's 21.34 world record which has stood since 1988. To expect anyone to break a world record is a tall task, particularly when it's a 35-year-old one that stems from the 1980s when a ton of women's world records were set with the aid of steroids.
In the end, Jackson didn't come close but her 21.57 (+0.2) is still the #8 time in history. It ends a great 200m year for Jackson as she ran three of the eight fastest clockings ever. She also ran 21.41 (+0.1) at Worlds and 21.48 (+0.2) in Brussels.
Talk about the meet on our world-famous fan forum/messageboard.
Day 1 Pre Coverage:
Jonathan Gault wrote this from Eugene. Robert Johnson was covering the event remotely.