Grant Fisher (26:33.84) SMASHES Galen Rupp's 10,000 American Record, Elise Cranny (30:14.66) Just Misses Molly Huddle's AR
By LetsRun.com
March 6, 2022
For the second time in 23 days, Grant Fisher crushed one of Galen Rupp's American records. After running 12:53.73 to break Rupp's indoor 5,000-meter American record in Boston on February 12, tonight Fisher ran 26:33.84 at The TEN in San Juan Capistrano, Calif., to destroy Rupp's 26:44.36 American record in the 10,000 meters and become the seventh-fastest man in world history. And Fisher had to run that fast just to win the race – he was actually trailing Bowerman Track Club teammate Moh Ahmed by four meters rounding the final turn, but ran Ahmed down in the final strides to get the win as Ahmed had to settle for second in a 26:34.14 – a 25-second improvement on his Canadian record and good for #9 on the world all-time list.
There was almost a second American record in the women's race as BTC's Elise Cranny ran 30:14.66 to miss Molly Huddle's 30:13.17 AR by just over a second.
Originally scheduled for Saturday night, the meet was pushed back 24 hours due to high winds and it proved to be a wise decision as the races were held in near-perfect conditions for distance running, with temperatures hovering around 50 degrees and virtually no wind. Add in an all-star cast of pacers – Australian Olympic 1500 finalist Ollie Hoare, US indoor 1500 runner-up Josh Thompson, British 10,000 Olympian Sam Atkin, and reigning US 10,000 champ Woody Kincaid – and the Wavelight pacing system (shipped south from Hayward Field for the occasion) and almost every variable was optimized for tonight's record attempt.
Ahmed and Fisher hit 5k in 13:23, slightly behind record pace, but their fastest running actually came without any pacemakers on the track. Kincaid was the last pacer to step off at 7400m, and as Ahmed led Fisher through 7600m in 20:18.21, the two were on 26:42 pace with six laps to run by themselves. They stayed on pace for the next two, hitting 8400m in 22:26.67 and needing a 4:17 final 1600 to break Rupp's North American record.
That would prove to be no problem. Just as he did in Boston three weeks ago, Fisher took the lead with just under a mile ago, and just as he did in Boston, Fisher immediately started running much faster than record pace. After 63.67 22nd lap, Fisher went 62.72 and 62.56 for laps 23 and 24 to hit the bell in 25:35.86. Rupp's American record was toast.
Article continues below player.
Unlike in Boston, however, Fisher still had company at the bell, with Ahmed looking just as good and running right behind him. On the back straight, Ahmed went wide and made the pass with 240m to go, and coming off the final turn, he led Fisher by four meters. But Fisher wasn't finished and began eating into the deficit as the modest crowd began to roar. Pushed into lane 4 by a combination of lapped runners and a drifting Ahmed, Fisher got by just before the line and wound up winning by .30 in one of the fastest races in history. Fisher's last lap was 58.00 and we timed the last 200 in an unofficial 27.42 leader-to-leader (though Fisher was not leading at that point). He covered his final 1600 in 4:06.93.
Ahmed became just the third man to break 26:35 and lose. In all, eight men ran under the World Championship standard of 27:28.00, with Australia's Jack Rayner also setting a national record in 3rd in 27:15.35 (previous Australian record was Pat Tiernan's 27:22.55 on this same track in 2020). Sean McGorty ran 27:18.15 in his debut to finish 4th while NCAA XC champ Conner Mantz took 16 seconds off his pb by clocking 27:25.23 for 8th.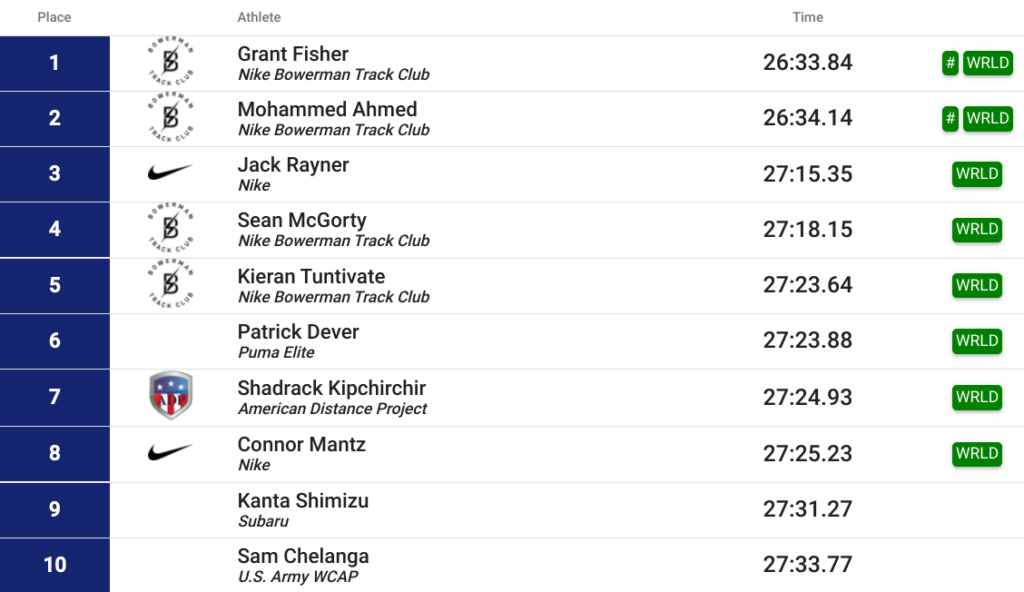 Quick Take: 12:53 and 26:33
An American has run 12:53 for 5k and 26:33 for 10k within the span of a month. No one was predicting that at the start of 2022, but Grant Fisher has made it a reality after two of the greatest performances in US distance running history. And as fast as 12:53 is, 26:33 is definitely the more impressive result. 48 men have run faster than Fisher's 12:53.73 outdoors for 5k (Fisher's time came indoors, but many consider Boston University's indoor track as fast or faster than an outdoor track). 26:33 is a time bettered by six humans in history, and four of them are all-time legends of the sport: Joshua Cheptegei (26:11), Kenenisa Bekele (26:17), Haile Gebrselassie (26:22), and Paul Tergat (26:27). Fisher now has a faster pb than Jacob Kiplimo (26:33), Sammy Wanjiru (26:41), Mo Farah (26:46), and Eliud Kipchoge (26:49). He is in truly elite company.
And yes, we know Fisher has access to the supershoes, but 26:33 is still super impressive. For context, Fisher is the 69th man to break 27:00 in the 10,000. Of those 69, only three were born outside of Africa – Fisher, Rupp, and Chris Solinsky. And Fisher has now run much faster than Rupp (26:44) or Solinsky (26:59) ever did, although some still think Rupp's mark was better:
MB Rupp still the king – 26:44 with no super spikes 
What is crazy about Fisher is how quickly he has reached this level. Exactly one year ago, Fisher stepped to the line for the Sound Running Invite with a 5,000 pb of 13:11 (he would run a pb of 13:02 in the race). He closed his final 5,000 tonight in 13:10. Last year, when he dropped his pbs to 13:02 and 27:11 and finished 5th in the Olympic 10k, was a breakout season for Fisher. Somehow, he's taken another big leap forward in fitness and will be a serious medal contender in both the 5k and 10k at this summer's World Championships in Eugene. And he's still only 24 years old.
Quick Take: You will not get better conditions for running fast than this
One of the biggest issues in planning a fast 10,000 is securing fast pacemakers; anyone who is good enough to run in the 13:20s from the front probably wants to be racing an event like this, not pacing it. But Woody Kincaid owed Moh Ahmed a favor (Ahmed led 4600m of the 2019 race in which Kincaid ran his 5,000 pb of 12:58) and so suddenly the US 10,000 champ was rabbitting this thing through 7400m.
When you consider the quality of the pacing, the Wavelight system in place (set for exactly 26:44.00 pace), and the perfect weather, it's hard to imagine how the racing environment could have been much better. That's why we wouldn't be surprised if Fisher's record endures for some time. It's possible he gets in better shape than this, but he may never get another day when all the variables line up as perfectly as they did tonight.
When Joshua Cheptegei ran his 5000 WR, the temps 79 with a dewpoint of 69. When he ran his 10,000 WR of 26:11, the temps were in the 70s. After those two WRs, we wrote that we believed if he got better conditions he might be able to break 12:30 and 26:00 and even asked Cheptegei if he thought it was possible. 
Given what Fisher ran in his 5000, given the pacing, given the weather forecast, and given the fact how much super shoes help, LetsRun.com co-founder Robert Johnson guaranteed Fisher would break the record tonight and he did.
Quick Take: Sean McGorty debuts with 27:18
Last year, McGorty debuted in the steeple and wound up running that event at the Olympic Trials but only finished 7th and wound up getting Achilles surgery after the season. Now he has added a new event, the 10,000, and was pleased to run under the Worlds standard. He's still not sure which event he will pursue a World Championships berth in, but he now has the option to run the US 10,000 championships on May 27 should he choose to. 
Getting past BTC teammates Fisher and Kincaid in that event will be tough. But with 2021 Olympian Joe Klecker injured and not racing indoors and McGorty beating every American other than Fisher tonight, McGorty would have a decent shot at making the 10,000 team should he choose to go out for it.
Quick Take: Evan Jager dropped out of his 10k debut after being tripped
Jager was on 27:34 pace through 6400 meters and was not planning on dropping out of his 10k debut, but he got tripped and went down with just over two miles to go and chose to call it quits.
"I was already on edge in the race, like how I was feeling," Jager said. "I didn't feel great and I just didn't feel like I was going to be able to get back up and get the standard, so I took the DNF unfortunately."
Women's race
As in the men's race, only two racers went with the pacemakers early, Elise Cranny of the Bowerman Track Club and Dominique Scott of South Africa/adidas/Team Boss. Once the final pacer, BTC's Lucia Stafford, stepped off at 3k, however, Scott quickly fell off and Cranny was on her own.
Taking down Molly Huddle's 30:13.17 American record while running alone for the final 7000m was a tall order, but Cranny looked up to it for most of the race. She hit 5k in 15:04 and was locked into the 71-72 second-per-lap pace the record would require through 6800m. Soon Cranny, who had looked so strong for the first two-thirds of the race, was losing about half a second per lap. She hit 8400m in 25:22.37 needing a 4:50 final 1600 for the record but her next three laps were her slowest of the race, 74.82, 74.48, and 75.40.
By the bell, Cranny was behind the pacing lights and needed a miraculous 66.11 for the record. Incredibly, she started to pick it up. On the back straight, Cranny was gaining on the pacing lights and by the home straight she had overtaken them. She crossed the finish line well in front of them, but what was this? Her time was 30:14.66, just over a second shy of the record. Unbeknownst to much of the crowd (even Bowerman assistant coach Shalane Flanagan), but clearly noted on the Wavelight website, the pacing lights had been set to 30:16.00 pace. A brief moment of confusion ensued, but when it passed, Cranny was #2 on the all-time US list behind only Huddle and over seven seconds ahead of Flanagan (30:22.22) in third.
Behind Cranny, the top nine all got under the 31:25.00 Worlds standard, led by Scott, who also ran the final 7k solo and ran a big pb of 31:00.10 (previous best: 31:19.89). Cranny's BTC teammate Andrea Seccafien ran 31:15.78 in third, narrowly missing her own Canadian record of 31:13.94, while Olympic steeple silver medalist Courtney Frerichs ran 31:23.13 for 8th in her 10k debut.
Quick Take: This was a HEROIC run by Cranny
The last two American records – Huddle's 30:13 and Flanagan's 30:22 – were both run in Olympic finals. And while that presents its own set of challenges – namely, hot conditions – you do get the benefit of athletes to chase. Cranny had no such luxury tonight as she ran the final 7k alone. Even the pacing lights weren't much help as Cranny was ahead of them for much of the night. To push on alone at a pace no American woman has ever run – and to then bounce back with a 67 last lap after she was fading badly – required an incredible amount of toughness. Cranny may have missed the AR, but anyone who watched this won't soon forget this effort. This was a terrific performance – and a reminder of just how good Huddle's AR (run in the pre-supershoe era) actually is.
Quick Take: Elise Cranny said she didn't know what was going on with the pacing lights in the second half of the race, and that may have cost her
After the race, a number of viewers were confused that Cranny had not broken the American record. After all, this was an American record attempt, and Cranny had finished ahead of the Wavelight pacing lights. Did the system malfunction?
No. The pacing lights actually worked exactly as intended. The problem was, the lights were set at 30:16.00 pace instead of 30:13.17 pace.
They were set that way because that is what Cranny's coach, Jerry Schumacher, requested. And we get why he did it. If you hit the bell at 30:16 pace, you are almost always going to be able to run 30:13 off that as you can make up a lot of time on the last lap of a 10,000. But Schumacher did not clearly convey that to Cranny before the race.
"I didn't really know what the pace lights were gonna do the second half," Cranny said. "I know Jerry said it was gonna be set at 15:08 through the 5k and then kick off that."
If Schumacher wanted Cranny to kick at the end, he could have had the pacing lights set at 30:16 pace through 9600m and then ramp it up to 69-second pace for the final lap (and yes, this can be done – the lights were programmed to speed up for Letesenbet Gidey when she set the world record last year). It may not have mattered, as Cranny was all-out on the last lap anyway and came up short. But if you're going to use Wavelight for a record attempt, it needs to be on record pace on the final lap, otherwise you're going to get confusion like we saw tonight.
Quick Take: With better rabbiting, Elise Cranny likely would have gotten the AR.  We really wish Courtney Frerichs had served that role. 
Finding an elite woman that can rabbit out a 15:08 first 5000 from the front isn't easy. There aren't that many women in the world that can do that and most of them that can have their own goals they are focused on.
However, there was an obvious candidate that could have served that role quite well: Courtney Frerichs.
We don't get why the BTC didn't have Frerichs rabbit the women's race. Frerichs is one of the best steeplechasers in the world. There's no need for her to pick up a 10,000 qualifier, yet that's exactly what Frerichs did today as she ran the whole race and ran 31:23.13. 
At BU a few weeks ago, Frerichs ran 14:48 for 5000. So she was basically in the same boat as Woody Kincaid in the men's 10,000 — in good shape, but certainly not in shape to chase an AR. In the men's race, Kincaid rabbitted even though he's the reigning US champion in the event. In the women's race, Frerichs wasn't assigned rabbitting duties and as a result Cranny was on her own after 3k (the rabbits were hoping to make it to between 3200 and 5000 but didn't get that far) and just missed the AR. 
Men's 1500: Beamish takes down Hoare in the final meters
Before the top sections of the 10,000 meters, there was an elite men's 1500, and for most of the race it looked as if Wanamaker Mile champ Ollie Hoare would notch another front-running victory as he led by six meters at the bell over On Athletics Club teammate Geordie Beamish. Beamish looked to be done after he was passed by Oregon TC's Vincent Ciattei on the final lap, but, just as he did to win the 3000 at Millrose, Beamish launched into a huge kick with 150 to go, storming past Ciattei and nipping Hoare right at the line, 3:36.53 to 3:36.54. Beamish missed out on the Worlds standard of 3:35.00, but his time was still a pb by over a second.*Results with splits
Talk about The Ten our world-famous fan forum / messageboard.
All the post-race videos from the TEN.