Letesenbet Gidey Breaks Sifan Hassan's 2-Day Old 10,000 World Record, Runs 29:01.03 in Hengelo
By LetsRun.com
June 8, 2021
For the second time in three days, the women's 10,000-meter record was broken in the Dutch city of Hengelo. Less than 55 hours after the Netherlands' Sifan Hassan ran 29:06.82 to take over 10 seconds off Almaz Ayana's 29:17.45 world record at the Fanny Blankers-Koen Games, Ethiopia's Letesenbet Gidey took to the very same track for the Ethiopian Olympic Trials and slashed a further five seconds off Hassan's mark by running 29:01.03. Gidey now holds world records at both 5,000 and 10,000 meters, having set the record of 14:06.62 for the former distance in Valencia in October.
Gidey did it by running an incredible second half as she ran a huge negative split. Her first half was an unofficial 14:42 and her second half 14:18. He final 1600 was an unofficial 4:26 with a 63 flat last lap.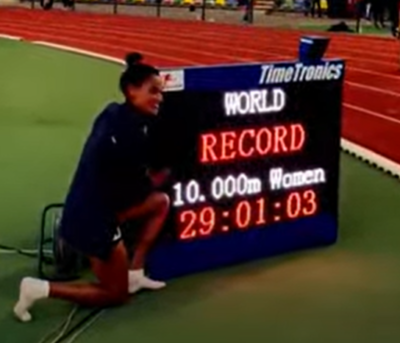 Runner-up Tsigie Gebreselama, the only woman not to get lapped, ran 30:06.01 as Tsehay Gemechu, whom Gidey lapped just before the finish line, was third in 30:19.29. Burundi's Francine Niyonsaba, the intersex Olympic 800m silver medalist who can no longer compete in the 800 without lowering her naturally high testosterone levels, ran 31:08.51 to finish 6th, well below the 31:25.00 Olympic standard, to clinch her place at the Games (she also ran 14:54 last week to hit the 5,000m Olympic standard).
Like Hassan, Gidey benefited from the Wavelight pacing system installed on the Hengelo track. Just as in her 5,000m world record in Valencia, the lights were intentionally set at slower than world record pace so that Gidey could run in her preferred style of closing hard. As the pace picked up during the second half, Gidey dropped and proceeded to lap most of the field, following the increasingly rapidly-moving lights and gaining steadily on Hassan's record pace. By the bell, Gidey was right on target, needing a 68-second final 400 to secure the record, which she managed with ease.
Results and a full analysis appear below.
Results
#
Name

Result

OBP
1
 Letesenbet Gidey

29:01,03

30:21,23

2
 Tsigie Gebreselama

30:06,01

30:57,54

3
 Tsehay Gemechu

30:19,29

30:53,11

4
 Yalemzerf Yehualaw

30:20,77

32:03,00

5
 Bosena Mulate

31:01,54

33:19,40

6
 Francine Niyonsaba

31:08,51

—

7
 Sutume Asefa Kebede

31:09,56

33:12,10

8
 Dolshi Tesfu

31:12,86

33:38,95

9
 Kidsan Alema

31:35,20

—

10
 Asnakesh Awoke

31:39,67

33:31,00

11
 Medhin Gebreslassie

31:56,57

33:22,20

12
 Gete Alemayehu

32:19,51

30:53,32

13
 Addiese Misiene

32:36,79

33:29,40

14
 Tsege Haileselassie

32:39,00

—

 Ababel Yeshaneh

DNF

30:35,91

 

Jackline Chepwogen Rotich

DNF

—
Quick Take: Gidey brings glory to the Tigray people
We will get into a discussion of the times and the pacing lights and the shoes and what it all means in a minute. Yes, those tools offer advantages that previous generations lacked, but it is still the athlete who breaks the record, and Gidey is one outstanding athlete. It was clear four years ago that Gidey was destined for greatness as she won the U20 race at World XC not once, but twice (2015 and 2017).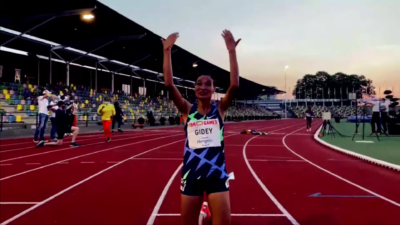 Then in 2019, Gidey ran a world record of 44:20 for 15k on the roads — one of the most impressive performances in the history of women's distance running, given the World Athletics scoring tables said it was worth 28:44 in the 10k and 2:11 in the marathon. Last year, GIdey broke her first track world record with her 14:06 in Valencia, and now she becomes the first woman since Norway's Ingrid Kristiansen to hold the 5,000 and 10,000m world records simultaneously (Kristiansen held both marks for one month in 1985 and again from 1986-93; she also held the marathon world record until 1998).
Article continues below player.
Making Gidey's record spree more impressive is the fact that her homeland, the Tigray region of Ethiopia, is embroiled in a nasty civil war with the Ethiopian government. After Gidey returned home following her world record last fall, the government shut off electricity and mobile phone connections in the region, and Gidey was forced to shelter at home in the face of violence and uncertainty. She was forced to withdraw from her half marathon debut in Valencia in December and ultimately relocated to the capital of Addis Ababa.
Gidey breaking the world record today — with Tigray flags waving in the stands — represents a moment for hope for a region that desperately needs it.
For more on Gidey and the situation in Tigray, check out this World Athletics story from March.
Quick Take: We can't wait for Hassan-Gidey II in Tokyo

Assuming Sifan Hassan sticks to her plan of running the 10,000 and 5,000 in Tokyo, the women's 10,000 is going to be amazing as two sub-29:10 women will square off. 
Heading into the Rio Olympics, the women's 10,000 world record had been stuck at a questionable 29:31.78 for 23 years. Then Almaz Ayana made history with her 29:17.45 and now that record has been broken twice in the span of 55 hours and a sub-29:00 seems like a mere formality in the near future.
Gidey has the world record but that doesn't necessarily mean she's the favorite as Hassan has the better 1500 speed. Remember, the two squared off at the Worlds in Doha in 2019 in the 10,000 and Hassan took down Gidey thanks to a 3:59 final 1500.
If they decide to run fast, not getting lapped will be an accomplishment for nearly everyone in the field. Remember, in 2017 at the London Worlds, Ayana lapped everyone but the top four.
Quick Take: We feel a tiny bit bad for Hassan
After Hassan's WR on Sunday, we felt she was easily capable of running under 29:00 as she just clicked off 2:55 kilometers following the pacing lights for the first 9k before ripping a 2:45 final kilometer. She ran to break the world record, not to run as fast as possible on the day.
That left her at a disadvantage today as Gidey was simply able to plug in Hassan's time, generate the desired splits and follow the pacing lights to the record. Of course, given the fact that Gidey ran 14:18 for the second half and ran it in slightly warmer conditions (high 60s versus 64), it's pretty obvious that Gidey can break 29:00 as well.
The best way to settle this would have been to have each athlete race each other. And given they're both managed by the same agency — Global Sports Communication, which staged both meets — it would have been easy to arrange. But there are likely a few reasons why they ran in separate races.
For one, Hassan got to break her record in the FBK Games, which is a major Dutch event. Hassan, of course, is Dutch as well — breaking the record in front of Dutch fans would have been far more meaningful for her (and give her far more exposure) than doing it in front of empty stands on a Tuesday evening as part of the Ethiopian Olympic trials.
Additionally, both athletes get world record bonuses paid out in their contracts. And anticipation builds for the Olympics. For the sport, it's actually better that they didn't race each other as we now have two months to anticipate and debate who will come out on top in Tokyo.
Quick Take: Do you have distance world record fatigue yet?
Here at LetsRun.com, we're not totally jaded about world records yet — Gidey closing in 14:18 for her second 5k today is incredible, supershoes or not — but we have to imagine there are a number of fans who may have world record fatigue at this point.
It began with Eliud Kipchoge's 2:01:39 in the men's marathon in 2018, followed by Brigid Kosgei's 2:14:04 in the women's marathon in 2019. But in the last year, the world records have truly been dropping like flies. In the last 12 months, the men's and women's world records in the 5k, 10k, and half marathon have all been broken — some in ridiculous fashion, such as when four men ran faster than the half marathon WR in Valencia last year or the women's 10k madness of the last three days. World records are special because, by their nature, they are meant to be relatively rare. When all of them start to fall at once, it's only natural for fatigue to set in. Expect to see records continue to fall over the next few years as the sport's all-time lists adjust to the "new normal" of supershoes/spikes and pacing lights.
Talk about the world record on our world-famous fan forum / messageboard:
For a recap of the other events read this: 2021 Ethiopian Olympic Trials: Gudaf Tsegay (14:13) & Getnet Wale (12:53) Among Six World-Leading Times as New Stars Emerge Wale (12:53.28) and Barega (26:49.51) both earned big wins, while on the women's side, Werkwuha Getachew (1:56.67) and Freweyni Hailu (3:57.33) were among six athletes to put up world-leading times.
Here is the last 150 meters of the race.
Letesenbet Gidey breaks Sifan Hassan's 2-day old 10,000 WR, runs 29:01.03. https://t.co/9ACITkRdQ3 pic.twitter.com/MwVwRqPcsb

— LetsRun.com (@letsrundotcom) June 8, 2021
You can watch a full replay of the race below.