Grant Fisher (12:53.73) DESTROYS US 5,000 Record in Boston, Moh Ahmed (12:56.87) and Marc Scott (12:57.08) Break Canadian and British Records
By Jonathan Gault
February 12, 2022
BOSTON – As the runners were getting ready for the elite section of the men's 5000 meters at the 2022 Boston University David Hemery Valentine Invitational on Saturday evening, we should have known we were in for a treat. After all, the slow heat had just been won in 13:05. It's crazy, when you think of it: Bowerman Track Club coach Jerry Schumacher had decided Woody Kincaid, the reigning US 10,000-meter champion, was not quite ready to mix it up with his BTC teammates in the fast section and Kincaid wound up running 13:05.56, at the time the second-fastest indoor 5,000m ever by an American. 
Just as crazy: Schumacher was kind of right. Because what we saw in the fast heat was the deepest 5,000-meter race ever contested on US soil, indoors or out.
Article continues below player
Grant Fisher, a former high school phenom who won two Foot Locker titles and broke 4:00 in the mile while balancing soccer with running, delivered on his immense promise and ran 12:53.73 to win the race, smash Galen Rupp's American indoor record of 13:01.26, and come within a whisker of Bernard Lagat's American outdoor record of 12:53.60. He is now the fifth-fastest human ever at 5,000 meters indoors, one spot ahead of a guy by the name of Eliud Kipchoge.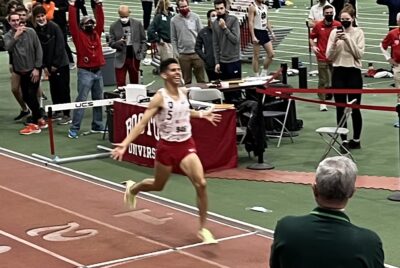 Fisher's Bowerman teammate Moh Ahmed, the Olympic silver medalist last year, was next across, running 12:56.87 to break his own Canadian indoor record of 13:04.60. Marc Scott completed the BTC national record sweep in third, and like Ahmed, Scott lowered his own European indoor record, taking it from 13:08.87 to 12:57.08. In the process, Scott became the first man born in the United Kingdom – and just the third born in Europe – to break 13:00, indoors or out. The race marked the first time that three men broke 13:00 in the same race indoors (only once before had even two done it in the same race).
The times were so fast up front that would-be historic performances were relegated to also-ran status. Emmanuel Bor ran the second-fastest time in US indoor history (under Rupp's previous AR) but was only 4th (13:00.48). Sam Atkin of Great Britain and Jonas Raess of Switzerland both ran faster than the previous European indoor record but had to settle for 5th (Atkin in 13:03.64) and 6th (Raess in 13:07.95).
Florida State's Adriaan Wildschutt of South Africa ran the second-fastest NCAA time ever indoors and third-fastest under any conditions – 13:09.20 – setting a national indoor record in the process and he was only 5th – in the B heat. Notre Dame's Dylan Jacobs ran 13:14.04, #4 on the NCAA all-time indoor list and an American indoor collegiate record.
It was sheer madness.
In the main race, the early pacing was good, with 2020 US indoor 1500 champ Josh Thompson and 27:20 man Zouhair Talbi of Morocco taking the field through 3k in 7:53.51, but the real racing didn't get going until just under a mile to go, when Atkin signaled for Fisher to pass him, knowing he could no longer hold the pace Fisher wanted to run.
From there, Fisher conducted a symphony of pain on the BU track, stretching the field out until Atkin, Scott, Ahmed, and finally Bor had dropped, leaving Fisher all alone for the final 400 as the crowd roared him into the history books. His last four 400m splits: 60.00, 58.95 (!), 59.91, 58.74, good for an otherworldly 3:57.56 final 1600.
Fisher's performance, just like almost every elite distance performance in the year 2022, must be placed into the context of its era. Earlier in the day on the same track, Notre Dame's Yared Nuguse, the Olympian and 2019 NCAA 1500 champ, broke Alistair Cragg's 7:38.59 indoor collegiate record which had stood since 2004. And last night, Gabriela DeBues-Stafford and Elise Cranny set dueling Canadian/American records, Cranny taking 14 seconds off Shalane Flanagan's 14:47.62 AR.
Fisher and Cranny's talents have long been known, and they are undoubtedly great runners. Yet between them, they own a grand total of one NCAA and one US title. That they could annihilate national records established by two of the greatest distance runners in American history is yet more evidence that we have entered a new age of distance running ushered in by super shoes, one in which the standards must be (and are being) adjusted.
Quick Take: The future (and present) of American distance running is in good hands
We said it with Elise Cranny last night, and we'll say it again with Grant Fisher: just because he was a high school phenom does not mean he was guaranteed success at the professional level. And while Fisher hasn't had many significant setbacks – even in his "down year" at Stanford, he finished 3rd in the NCAA 5k final – he has had to continue upping his game as he progressed through the levels of elite running. During his first training camp as a member of Bowerman TC, he struggled to keep up with workouts and wound up injured.
"It was just such an increase in volume and intensity that I was pretty beat down by the time June rolled around," Fisher said.
Schumacher runs a grueling program. It is not uncommon for BTC athletes to ride a fine line between supreme fitness and injury. The structure is not particularly flexible, and it is not for everyone – witness the recent exodus of BTC women. But for those who can handle it, the rewards are enormous.
"Jerry doesn't baby you," Fisher said. "It's kind of adapt or die out there. You tend to die a lot in the beginning, and thankfully I started to adapt more."
Now, with a fifth-place finish in the Olympic 10k last year and an American indoor record – and a faster time than any American, period, save Lagat – there is no doubt that Fisher has left his mark as a professional. And at the age of 24, he has plenty of time to expand that legacy.
Quick Take: The all-time record books for the indoor 5000 look a lot different now
Prior to tonight, only six men had ever broken 13:00 indoors and all of them were either born in Kenya or Ethiopia. That list is 50% greater as now nine men have done and none of the three newest additions are from Kenya or Ethiopia.
Quick Take: This was the deepest 5000 ever on US soil
Only one other race in the USA featured three men under 13:00 – the 2012 Prefontaine Classic, which saw Mo Farah (12:56.98), Isiah Koech (12:57.63), and Galen Rupp (12:58.90) all break the barrier (that race remains the first and only time Rupp ever broke 13:00). Tonight, Fisher and Ahmed both ran faster than Farah and Scott (12:57.08) was just a hair slower. Overall, tonight's race was responsible for three of the five fastest 5,000m times ever run in the US.
1. 12:47.20 Moh Ahmed, Bowerman TC Portland Intrasquad II, 2020
2. 12:53.73i Grant Fisher, David Hemery Valentine Invite, 2022
3. 12:56.87i Moh Ahmed, David Hemery Valentine Invite, 2022
4. 12:56.98 Mo Farah, Prefontaine Classic, 2012
5. 12:57.08i Marc Scott, David Hemery Valentine Invite, 2022
In terms of the all-time US indoor list, three of the four fastest times in history were run tonight:
All-time US indoor 5,000m list
1. 12:53.73 Grant Fisher 2022
2. 13:00.48 Emmanuel Bor 2022
3. 13:01.26 Galen Rupp 2014
4. 13:05.56 Woody Kincaid 2022
5. 13:05.85 Eric Jenkins 2017
Quick Take: The Michigan high school class of 2015 continues to make history
In May 2015, a week before Fisher joined the sub-4:00 mile club, the following thread was posted on the LetsRun messageboard: Donavan Brazier (45.92r, 1:48.07, 4:09) not Grant Fisher, is the most talented HSer in Michigan this year.
At the time, that claim certainly bucked conventional wisdom as Fisher was receiving tremendous amounts of hype after winning back-to-back Foot Locker titles. Then Brazier ran 1:43 as a true freshman at Texas A&M, won the US title in 2017, and won the world title and set the American record at 800 in 2019. Case closed, right?
Well, Fisher may have pried the case open just a bit over the past 12 months. Fisher made the Olympic team in two events last year while Brazier missed the team (though he did run the Olympic Trials final on a broken leg). And now Fisher has an American record indoors. Brazier still owns a decided edge (and Fisher agreed when we asked him about it off-camera) and is still closer to the best in the world in his event than Fisher is in his. But Fisher could at least start to make the argument interesting.
By the way, as great as the Michigan class of 2015 was, it's still not as strong as the Virginia class of 2016, which produced world champions Grant Holloway and Noah Lyles.
Quick Take: Emmanuel Bor says he is going to break 12:50 this year outdoors
Bor flew a bit under the radar tonight in running 13:00.48 for 4th, but he would be the American record holder now if not for Fisher and was very pleased with his performance. Bor, who ran 13:05 in an American record attempt last year broadcast by LetsRun.com, said he was focused on beating Fisher tonight in order to get the record, and trying to go with Fisher as he surged in the final mile may have cost Bor a sub-13:00 (Bor's final lap of 32.40 was his slowest of the race).
Bor said he mistimed his peak last year by running 13:05 in March and 27:22 in May, and as a result he missed the Olympic team, finishing 10th in the 10k and 5th in the 5k at the Trials. This time around, however, he thinks he will only get better in the summer.
"Outdoor, I'm going under 12:50 for sure," Bor said. "That's my goal. Watch me."
Bor also said he plans to run a steeple this year, following in the footsteps of younger brother Hillary, the US steeple champ who ran a pb of 13:10.98 tonight. 
Side note: how many times have two brothers run 13:10 or faster in the same race? Kenenisa and Tariku Bekele ran 12:51 and 12:53 in Rome in 2006, but it can't have happened often.
Quick Take: BTC's depth was crazy
These races were so fast that four guys broke 13:10 in the B heat – all from Bowerman Track Club. In all, BTC had athletes run the following times tonight: 12:53, 12:56, 12:57, 13:05, 13:07, 13:08, 13:09, and 13:13. With Fisher and Scott breaking 13:00 for the first time tonight, BTC now has a total of five sub-13:00 guys on its roster (joining Ahmed, Kincaid, and Lopez Lomong).
Talk about the race on our world-famous fan forum / messageboard.