8 Takeaways After Cheptegei and Gidey Smash World Records in Valencia
By LetsRun.com
October 7, 2020
Wednesday's NN Valencia WR Day lived up to the billing as Uganda's Joshua Cheptegei (26:11.00) and Ethiopia's Letesenbet Gidey (14:06.62) smashed the world records in the men's 10,000 and women's 5,000 meters, respectively. Below, we analyze the performances. If you missed the races, you can read the Race Results Weekly recap below:
Joshua Cheptegei (26:11.00) and Letesenbet Gidey (14:06.62) Break Men's 10,000 and Women's 5,000 World Records In Valencia It was a special day for distance fans as a 12-year-old women's world record and a 16-year-old men's world record fell in Valencia.
Or watch the races in the video below (women's race starts at 5:00 mark and the men's race at 28:00 mark) or watch the video here.
Article continues below player.
We also had a live post-race reaction show where we broke down the record runs which is available as a podcast to LetsRun.com Supporters Club members.
Quick Take: Joshua Cheptegei has officially reached legend status
Only 11 men have held both the 5,000- and 10,000-meter world records. Several of the names on that list — Paavo Nurmi, Emil Zatopek, Haile Gebrselassie, and Kenenisa Bekele — were considered the greatest distance runner of all time upon their retirement, and that's a title that is certainly attainable for Cheptegei should he continue on his current trajectory.
But even if he retired today, Cheptegei would go down as a bona fide legend of the sport. World cross country champion, world champion on the track, world records in the 5,000 and 10,000 on the track, world records in the 5k, 10k, and 15k on the roads. That's an incredible career for any athlete, and Cheptegei has accomplished all of it in the last 24 months. The temptation is always to think of what is next — and at 24 years old, Cheptegei is far from done — but sometimes it's worth pausing to realize how lucky we are to watch one of the all-time greats at the peak of his powers.
Quick Take: Cheptegei's pacing was once again a thing of beauty
In his 5,000 world record in Monaco, Cheptegei's final six laps never varied by more than a second. But that was nothing compared to tonight. Excluding his first and last laps, Cheptegei's other 23 laps were all run between 62.4 and 63.3 seconds, a staggering level of consistency.
It's even more stunning when you break it down by kilometer. Here's Cheptegei's 1k splits compared to Bekele's from the previous WR run (Cheptegei stats courtesy Alberto Mazzucchelli):
| | | |
| --- | --- | --- |
| Split | Bekele | Cheptegei |
| 1k | 02:39.9 | 02:37.9 |
| 2k | 02:35.8 | 02:37.1 |
| 3k | 02:37.6 | 02:37.7 |
| 4k | 02:37.0 | 02:37.1 |
| 5k | 02:39.2 | 02:37.9 |
| 6k | 02:35.5 | 02:37.3 |
| 7k | 02:39.3 | 02:37.0 |
| 8k | 02:40.7 | 02:37.4 |
| 9k | 02:40.5 | 02:37.3 |
| 10k | 02:32.4 | 02:34.3 |
Cheptegei said after his 5,000 WR that he barely looked at the Wavelight pacing lights during the race, and if you watch the final mile, he was indeed in front of the lights for most of it. But it certainly seemed to help him tonight; once the final pacer stepped off just after halfway, Cheptegei ran roughly between the blue lights (intended for the pacer) and green lights (WR pace) until he began to kick on the final couple laps. Either Cheptegei is a human metronome, or the lights helped him judge his pace. At the very least, it clearly helped him during the first half of the race by helping to ensure his pacers didn't go out too fast or too slow.
That said, what Cheptegei did tonight was still remarkable. To run 13:03, all alone (the rabbit, 12:51 man Nicholas Kimeli ,dropped behind Cheptegei at 5200 (Kimeil would finish in 27:12.98)), after having already run a 13:07 5k is ridiculous, pacing lights or not.
Quick Take: Putting 26:11.00 in context
A few stats to contextualize just how fast Cheptegei just ran:
-He ran 4:12.83 per mile for 6.2 miles, or 62.83 per lap
-He averaged 13:05.50 per 5,000, and ran 13:03 for his final 5,000 meters, almost entirely alone.
-13:05 would have been the world record at 5,000 as recently as 1982. And Cheptegei just did it twice.
-A few Americans who have never run faster than 13:05.50 for 5,000: Ryan Hill, Adam Goucher, Alan Webb, Meb Keflezighi, Tim Broe, Alberto Salazar.
Quick Take: Would Cheptegei's annus mirabilis have been possible without COVID-19?
While COVID-19 wiped a significant portion of the 2020 racing season off the calendar, if the season had proceeded as usual, it's unlikely that Cheptegei would be a double WR holder right now as he would have been completely focused on peaking for the Olympics. With no Olympics to target, Cheptegei was free to pour all his energy into world record attempts. The result? Three races in 2020 and three world records.
Considering the next year without a global championship is 2026, it's possible Cheptegei never takes a crack at another track world record. That being said, we think he'd be foolish to not try to lower them any more. With cooler weather, sub-12:30 and sub-26:00 are both conceivable. Cheptegei and team, if you are reading this, please do what you did this year in future years. There is nothing preventing you from going for two peaks in season. Today's 10,000 world record run came 7.5 weeks after his 5,000 world record.The 10,000 Olympic final is scheduled for July 31 and the 5,000 final is scheduled for August 7. Why not go for a world record either 7.5 weeks before (early June) or 7.5 after (end of September) the Olympics?
Quick Take: Thank you, Kenenisa Bekele
Kenenisa Bekele no longer holds any major outdoor world records (he still holds the indoor 5000 at 12:49.60 and indoor 2000 at 4:49.99) but his reign atop the outdoor 5,000 and 10,000 world record board was DEFINITELY the longest in history. He held both records for more than 16 years each. He was the simultaneous record holder of both the 5,000 and 10,000 for 5,911 days or 16 years, 2 months and 6 days.
For Cheptegei to match Bekele's reign atop the record boards, he'll have to hold the records until December 13, 2036.
Quick Take: According to John Kellogg, Cheptegei's world record today is slightly better than his 5000. What can Cheptegei do for the half?
Based on real world stats, John Kellogg published a conversion chart in 2007. According to that chart, Cheptgei's 5000 world record of 12:35.36 equates to 26:13.68 in the 10,000 so today's run is slightly better.
In 10 days, Cheptegei will make his half marathon debut at the World Half Marathon Championships in Gdynia, Poland. With projected temps in the 50s, the temperature could be ideal for running fast. If the wind holds up (Gdynia is on the coast and often windy this time of year), might Cheptegei go for a fast time in Gdynia?
It's unlikely as it will be a championship race without pacemakers, but if he does, pay close attention. According to Kellogg's conversion chart, Cheptegei's 10,000 world record equates to 57:56 for the half and his 5,000 WR equates to 58:02. The half marathon world record is 58:01. And please realize Kellogg's chart DOESN'T factor in the new shoe technology on the roads so Cheptegei could definitely give the WR a scare.
Quick Take: Some may have been surprised by Gidey's world record, but they shouldn't have been
Considering that Letesenbet Gidey had lost the last 13 5000 races she'd run and hadn't won a 5000 since 2016, some may be surprised that she's now the women's 5000 world record holder. On paper, coming into today's race, despite her lukewarm success at 5000, she jumped out as a MAJOR talent. As a junior, she won two junior world xc titles. That's incredibly hard to do. As a senior, she won world 10,000 silver last year (and it took a 3:59 final 1500 from Sifan Hassan to beat her) and then ran a ridiculous 44:20 15k world record on the road. Considering that the women's 10,000, 15k, half marathon, and marathon world records all equate to a sub-14:00 5000, one shouldn't be surprised that the women's world record is 14:06.65 or that someone with the accolades of Gidey is the record holder.
According to John Kellogg's chart, Gidey's 5000 WR today equates to 29:32.91 for 10,000. That would be the #4 10,000 mark in history (Almaz Ayana's WR is 29:17.45; Wang Junxia ran 29:31.78, Vivian Cheruiyot ran 29:32.53).
Still only 22, it will be interesting to see what Gidey accomplishes in the years to come.
Quick Take: Cheptegei and Gidey were brilliant, but their runs were certainly aided by technological advancements
It is possible to simultaneously appreciate Cheptegei and Gidey and acknowledge that they have access to technology that their predecessors did not. While we don't have the same data to back it up as with the Vaporfly, some have told us that Nike's new Dragonfly spikes offer a significant boost compared to previous spike technology. In addition, both benefited from the new Wavelight pacing technology, which — in the case of Cheptegei specifically — may have helped him to run ridiculously even splits.
Could Bekele have run 26:11 in Dragonflys while following the Wavelight? Probably. But technological progress is an inevitable part of sports, a point Cheptegei made after breaking the 5,000 WR in August:
"We are not in 1980s, we are not in 1990s, we are not in 1970s. So every time, we have to accept the new developments in the sport, the new technology…the spikes in 1980, the spikes that Gebrselassie was using, the spikes that Kenenisa Bekele was using at that time, they were special at that time."
The question, however, is how much the recent advancements have pushed the sport forward. In the marathon, Nike's Vaporflys were such an improvement on the pre-existing technology, pushing the sport forward so much in such a short period of time, that times from just a few years ago began to lose meaning. Are we in the middle of a similar period of rapid, significant change on the track? Only time will tell.
You can watch a full replay of the races for free in the video embedded above or by clicking here.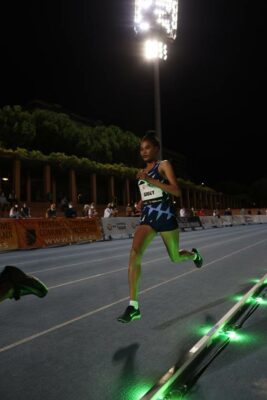 Talk about the races on our world famous fan forum / messageboard.