LRC Round 1 Of Kaki Vs. Rudisha Goes To Rudisha On day 1 of 2 at the final big meet before Worlds, the matchup between the two greatest 800m runners on the planet, David Rudisha and Abubaker Kaki, did not disappoint, as Rudisha took down Steve Cram's UK all-comers record. Kenia Sinclair lost her first 800 of the year to Jenny Meadows, as NCAA 400m champ Kirani James appeared for the first time since NCAAs and stamped himself as a favorite in Daegu, Dayron Robles beat David Oliver again as did surprisingly Jason Richardson, Yohan Blake showed he's one to watch in the 100 at Worlds, Jenn Suhr showed she is back, Kaliesha Spencer blasted the 400m hurdles, and Mo Farah ran a 25-second last 200m to toy with the men's 3,000m field.

LRC Saturday Preview: Women's 1,500 (Rowbury Gives It A Go), Men's Mile (Lagat, Manzano, Lomong), Final Chance For Bizzarri For Worlds 5,000m Via Hastings

More Friday:
News From Kenya
2010 USATF Annual Report Is Available Here We're sure there are things worth talking about, so if you find them, please email us.
Marathon News From Japan
Shoulda Gone To Stanford? Jordan Hasay Named USTFCCCA Indoor Scholar Athlets Of Year Thanks To Her 3.96 GPA
Carl Lewis Does Q & A With USA Today
Week That Was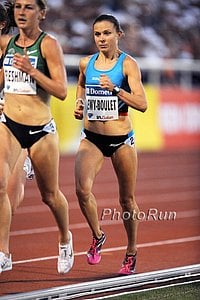 LRC Week That Was: American Women's Medal Chances, Semenya's Inconsistency, The Amazing Magdalena Lewy Boulet And More We've got it all covered this week. We have emails from a scientist and a 2:23 transgender marathoner to possibly explain Caster Semenya's up-and-down season, daydream about Jenny Barringer Simpson being a world leader in two events, and praise the amazing Magdalena Lewy Boulet, while looking at her husband Richie Boulet's similar situation in 1997. We spend the majority of our time breaking down the US women's chances of medaling at the World Championships. We hate to admit it, but as good as Morgan Uceny and Shalane Flanagan are, they both face an uphill battle in grabbing a medal.
A Must Read! Sports Illustrated Takes A Great In-Depth Look At Carl Lewis' Long Jumping Prowess And His Supposed 30-Foot Jump King Carl was the Usain Bolt of his era and this article is a true treasure. We loved this quote from Carl when he was asked to compare himself to the current generation.
News From Kenya
All We Can Say Is Wow
WADA Was On 72 Organizations Hacked Possibly By Chinese In Operation Shady Rat
*Exclusive Vanity Fair Exposé On "Operation Shady Rat"
Cornell Alumni Magazine Profiles Morgan Uceny Uceny on Worlds: "I want to be the last one standing at the end of it all." To all the skeptics who doubt her classic progression, we'd like to point out the piece includes a photo of her from her sophomore year when she was way less fit-looking and way less fast (2:06).
Final Day Recap Of UK Trials: Mo Farah, Jenny Meadows Win, Perri Shakes-Drayton Completes 400, 400m Hurdles Double Mo Farah ran over a minute slower than last time out, running 14:00 as Jenny Meadows got her first UK title and 21-year-old James Shane ran 3:36 to win the UK title by an incredible 3 seconds on the last lap (he was a 3:42 guy a year ago).
Different News Of Note
It's OK In Our Minds If He Dopes: 97-Year-Old Wins 8 Golds At USATF Masters Champs He only went 3 feet in the long jump but ran 30 seconds for the 100.

Elvan Abeylegesse Gives Birth To A Baby Girl Giving birth isn't different, but translating an article from Turkish is.

Kenya 4 X 400 Team Wants Medal At Worlds
JumpRunThrow.com Interviews Charles Jock Asked why he goes out in that crazy 49-second first lap, he says, "I'm driven to do this because I don't want to have regrets if I lose, I want to know that I ran to the best of my ability and they were just better than me that day. There's probably nothing worse than losing in a slow race."
David Monti Takes A Look At Morgan Uceny's Rise To The Top Of The 1,500 Ranks The daughter of a bricklayer and bus driver knows a thing or two about hard work. She gives a lot of credit to her training partner Anna Pierce for her rise, as well as her coach.
Ryan Hall Teleconference Highlights
Ryan Hall Sees BOA Chicago Marathon To Olympic Trials 14-Week Gap As Ideal Hall also sounds like he's tired of being the rabbit: "In Boston I functioned as the pacemaker."
*Brief Chat With Ryan Hall
Rojo Gets Props In A Brief Chat With Sage Canaday What other college coach would let his athlete run a marathon in college and run the Trials the week before he qualified for NCAAs in cross? Canaday has now gone on to 2:16:52 and to write a book Running With The Hansons.
News From Europe
World Champs Are 30 Days Away
Ryan To Run Chicago
Ryan Hall To Run Chicago Philip Hersh of the Chicago Tribune has broken the news that Hall will run this year's Bank of America Chicago Marathon and take on Boston runner-up Moses Mosop. Three months later, Ryan will run the Olympic Marathon Trials. The appearance fee of Ryan is so high that the Chicago/Trials double makes a lot of cents sense.
*Lornah Kiplagat To Run Amsterdam Marathon In October
Not Your Normal Boring Reads
Weekend Road Action
Saturday: Gebre Gebramariam, Micah Kogo, Deena Kastor, Catherine Ndereba Headline TD Bank Beach To Beacon On Saturday $10,000 on hand for the winners at Joan Benoit's race. The big news is Louis Luchini has finally recovered from the 2004 Rojo-led petition to deny Luchini his dream, and "the Bulldog" will be going for the first Maine runner title.
*Allan Kiprono Is Back At Beach To Beacon After Making His US Road Debut Last Year His success on the roads has changed his life.

Sunday: After Not Making Worlds, Kim Smith Running This Weekend's Rock N Roll Providence Half Marathon This one appears more an exhibition than a competitive race, but that hasn't stopped Kim from running fast in the past.
Worth A Read
Assault & Battery-Related News
Berlin Is 7.5 Weeks Away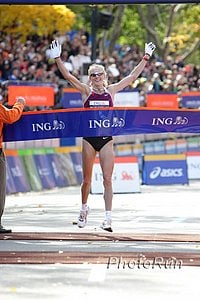 LRC Paula Radcliffe Healthy And Excited For 2011 BMW Berlin Marathon Friends of LetsRun, Losse Veter, were in Belgium for the new opening of a cool place called Runners Service Lab, and Paula was there too. They talked to Paula about her preparations for Berlin. Paula talks about Berlin, her goals, London 2012, getting it right at the Olympics and even getting older.
We 100% Disagree: Tiffany Ofili-Porter Says She's No "Plastic Brit"
We 100% Disagree: Usain Bolt: "I am serious, I believe I could be good at (soccer), I think I could compete well."
The Gouchers In The News
Janeth Jepkosgei In The News
World Champs News
Random Elite News
Bureaucratic-Related News
Colombia:
Geoffrey Mutai Crushes Deriba Merga, Breaks Course Record, And Wins Renault Car At 2011 Bogota Half Marathon We still think Mutai (the Boston champ) would win the Worlds 10k if there was enough money on the line. *IAAF Recap

Bix: Silas Kipruto, Caroline Rotich Win $12,500 At Quad Cities Bix 7, Abdi 6th This is one of America's premier road races.
*Achilles Injury Kept Meb Out Of Bix
*Joan Samuelson Ran Bix
International Results
DN Galan Stockholm Diamond League *Results *Photos *Video
LRC Vivian Cheruiyot Sizzles, Shalane Flanagan Misses, Kenia Sinclair Stays Undefeated*, LaShawn Merritt Returns, Usain Bolt's 20.03 Win Leaves Some Questions, Silas K Wins Again And Much More Stockholm was the second-to-last Diamond League meet before Worlds and last for many athletes competing. Vivian Cheruiyot and Silas Kiplagat stamped their status as favorites at Worlds. Usain Bolt won by nearly half a second and we weren't that impressed. David Oliver was upset, Yelena Isinbayeva came back to form, and an Aussie became the favorites for Worlds in the long jump. The American distance runners disappointed, except for 37-year-old Magdalena Lewy Boulet, who ran a huge 50-second PR of 15:14.25 in the 5,000m.

*IAAF Recap: Vivian Cheruiyot Gets 5k NR And WL With 14:20.87
*Bolt Complains Of Back Pains On Tight Turn In Stockholm Caster Semenya runs 2:01 and says she is disappointed and worried, as she should be.
*Scientists Say Usain Bolt's Key To Success Lies Not With Foot Speed, But Foot Pressure Lets him take 41 steps in a 100m while the normal elite takes about 44.
*Yelena Isinbayeva Backs Up Her Bold Statements With A Win In Stockholm She said before the meet she was "still the best vaulter in the world" and she proved that by beating high class DL field.
*BBC Video Interview With Usain Bolt After 200m Victory
*Mitchell Watt Breaks Australian LJ Record
Injuries, Injuries
Week In Review

LRC Week That Was: American Men's Medal Chances In Daegu With less than a month until Worlds, in our weekly look at the world of track and field we look at the American men's distance medal chances in Daegu. And while our beloved Menjo won't be in Daegu, he is in the news. Plus we've got some football talk from Florida coach Will Muschamp, a Brit celebrating July 4th, and Alberto on old school and new school training.
US News
Rudisha Vs. Kaki Lives Up To The Hype (More London Coverage Here, UK Visitors Click Here)
NCAA Star Kirani James Gets World Leader In 400 In London (More London Coverage Here)
Paula Speaks On Berlin (Story Here)
Poll: Vote Online For The Bowerman Award As of now, Washington State's Jeshua Anderson is winning for the men and Texas A&M's Jessica Beard for the women.
Monaco Photos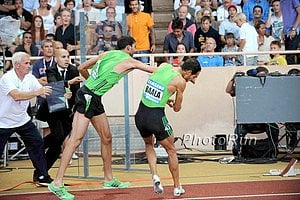 LRC Contest Recap - The Greatness Of You
LRC USA Nationals Contest Recap As usual we had a couple of ringers come out on top in our contest. Our winner is in the elite of the elite of LetsRun.com, as not only has he been to watch the World Championships and Olympic Trials, he has a @runner.org email address, and a real-life wife. Our runner-up was a state champion in high school and has started a post-collegiate group in Utah.
A Must-Watch (We're Not Sure How We Missed This) - Sammy Wanjiru's Mom Theatens Others With A Machete 2 Weeks Ago (More Here)
Women's World XC In Photos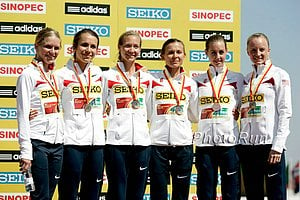 Men's World XC In Photos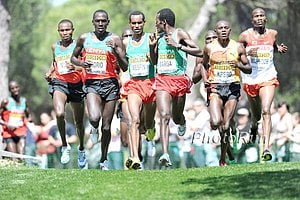 Great Deals

Universal Sports Back To Top