2011 Aviva London Grand Prix Day 2 Preview

By LetsRun.com
August 4, 2011
The 12th of 14 Diamond League meets takes place on Friday and Saturday in London.
Our preview of the Friday action and the great Kaki vs Rudisha 800m showdown and the strong men's 100m is here.
We preview the mid-d and distance races that occur on Saturday for you below. To be truthful, the mid-d and distance action doesn't feature the world's best in many events but it does provide many interesting match-ups for fans of native English speaking athletes.
All times listed are Eastern Standard Times so you can use this as an Internet viewing guide. We believe the television coverage begins at 2 pm on Friday and 9:30 am on Saturday so you won't be able to watch the women's 1,500 unfortunately.
In terms of non distance action on Saturday, there is some good stuff as Phillips Idowu will battle Christain Taylor in the triple jump and Watler Dix runs the 200 plus a lot more. The timetable and start lists for all events can be accessed here.
*LRC Day 1 preview is here *IAAF Preview Here *Press Conference Highlights
Women's 1500: Can Rowbury and/or Dobriskey (or Donohue and/or Pierce) Regain Their Form?
8:44 am Eastern
The women's 1,500 will give fans a last chance to see how the silver and bronze medallists from 2009 worlds in Lisa Dobriskey and Shannon Rowbury look as they attempt to reclaim the form that gave them glory two years ago.
The women's 1,500 also is a second-chance for a number of Americans who's seasons got off to a slow star. Erin Donohue who was eliminated in the heats of USAs but ran 4:07 last week will look to continue her late season resurgence as will Anna Pierce. Pierce, who is the training partner of Morgan Uceny, has seemingly struggled this year as Uceny has risen will race for the first time since finishing 10th at USAs as she gets ready for a post-world championship mini-season.
Up front, the race may come down to a rematch of last week's British trials which was won by former FSU star and 2008 NCAA mile and 1,500 champion Hannah England who has run 4:01.89 this year (#10 in the world). While England got the win, she herself is surprised by her good form given she's coming off of an injury, and as a result we think that Dobriskey might be the one to beat. Either Dobriskey or Rowbury.
(QT) #1: A big showing by Rowbury would get us pretty excited about her world championship prospects.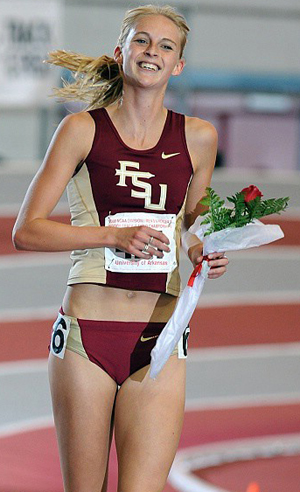 Hannah England
| Order | Athlete | Nation | PB | SB |
| --- | --- | --- | --- | --- |
| 1 | | GBR | 4:17.49 | 4:19.04 |
| 2 | | USA | 4:03.49 | 4:07.04 |
| 3 | | GBR | 4:01.89 | 4:01.89 |
| 4 | | USA | 4:00.33 | 4:06.20 |
| 5 | | GBR | 3:59.50 | 4:04.76 |
| 6 | | USA | 4:03.32 | 4:07.57 |
| 7 | | GBR | 4:06.81 | 4:06.81 |
| 8 | | USA | 3:59.38 | 4:10.38 |
| 9 | | GBR | 4:14.11 | 4:14.58 |
| 10 | | USA | 4:10.15 | 4:10.15 |
| 11 | | RUS | 4:06.78 | 4:06.78 |
Women's Steeple: Chemos and Kenya's Top Three Will Race America's Top Two
10:05 am Eastern
The top three from the Kenyan trials led by the undefeated Milcah Chemos will all race on Saturday in London as will the NCAA and US champ Emma Coburn and US runner-up Bridget Franek.
Chemos is world leader this year and a perfect 5 for 5 on the year. Look for her to extend that to six for six. The Kenyan runner-up Lydia Rotich has only been 5th, 4th and 7th in her last three Diamond League appearances. Kenya's third placer, Mercy Njoroge, has been running better in the Diamond League this year having gotten 3rd in Doha and 2nd in Lausanne.
Quick Thought (QT) #1: It will be good to see how Coburn, who had a long college season, looks in her first race since USAs on June 26th.
QT#2: Franek didn't run well in her first race after USAs on July 22nd when she ran 9:48 in Barcelona.
Order
Athlete
Nation
PB
SB

Diamond Points

Diamond Ranking

1

USA

9:40.51

9:40.51

2

GER

9:47.78

9:51.08

3

USA

9:32.35

9:38.92

4

CZE

9:41.73

9:41.73

5

PUR

9:45.78

9:45.78

6

GBR

9:47.03

9:47.03

7

USA

9:40.83

9:47.03

8

ETH

9:30.69

9:30.69

9

KEN

9:36.34

9:37.85

10

KEN

9:16.94

9:16.94

3

3

11

GBR

9:35.17

9:35.46

12

ETH

9:20.23

9:45.91

13

KEN

9:18.03

9:19.20

1

5

14

KEN

15

KEN

9:08.57

9:12.89

16

1

16

JAM

9:27.21

9:46.15
Emsley Carr Mile: Someone Has To Win, Can James Shane Shock the World?
10:22 am Eastern
We got to admit that this race looks to be a race set-up for people where English is the language spoken at home in their country as it features 6 Americans, 6 Brits/Aussies, and just two Kenyans.
On paper, 2008 Olympic and 2009 world championship finalist Augustine Choge is the class of the field but he's been struggling for much of the year. Just 7th in the Dream mile, 7th in the Kenyan champs and 14th in the Lausanne 5000, it hasn't been a great year for him.
So if he doesn't win, the question is who will as it's not like the guys in this race are used to winning meets that are on international television.
US world championship team member Leo Manzano has won in Britain before and normally runs well in London and Gateshead. However, after running a promising 3:33.66 in Paris on July 8th at USAs, he bombed in Stockholm by running 3:40.02 on July 29th. Will the bad or good Manzano show up?
After a slow start to the year, American Lopez Lomong has been running better of late as he ran 3:33.59 in Barcelona on July 22nd to make him America's 2nd best guy for 2011. As a former world championship finalist, his career credentials are pretty impressive. In Stockholm last week, he was only 7th but that was a little misleading as he was just 1.4 seconds behind the runner-up Nick Willis.
Aussie record holder Ryan Gregson has been struggling of late so we don't think he'll win. After running a ridiculous 3:31.06 at age 20 last year, he's been having a little bit of a slump this year just like America's Andrew Wheating. Gregson started the year impressively with good showings at Penn Relays and Pre (3:53 mile) but then after a mid-season injury (calf strain) has run just 3:51 for 1,500 in Monaco and 3:39 in Stockholm. Perhaps his lack of base as he had a stress fracture during the winter is starting to catch up with him, but some of his problems had to be related to his mid-season injury and then the pressure of trying hit the 3:35 "A" standard. Athletics Australia selected him to the Worlds team two days ago, so the pressure is now off.
Former 3:49 miler Andrew Baddeley of Britain won't win as he was smoked last week at the British Trials by the largely unknown James Shane. Shane defeated the runner-up Baddeley by 3+ seconds last week as he ran 3:36.22, a huge improvement on the 3:42.81 he ran last year or his 3:40.44 PR he had from earlier this year. Shane was the European U23 silver medallist earlier this year as well. Asking a guy who's pr was 3:40 two races ago to win against a bunch of guys running 3:33 at the present is ridiculous, but winning nationals by 3+ seconds is ridiculous, so Shane can't be completely ignored. Definitely worth watching him.
Europe's under 19 gold medallist at 1,500 Adam Cotton also is in the race. US fans should pay attention to him as soon he'll be headed to Harvard.
(QT) #1: We sure hope Manzano looks better but truth be told it would be exciting to see Shane's meteoric rise continue. Lagat will do well but a win here doesn't mean too much for him. He's already expected to contend for gold at 5000m in Daegu.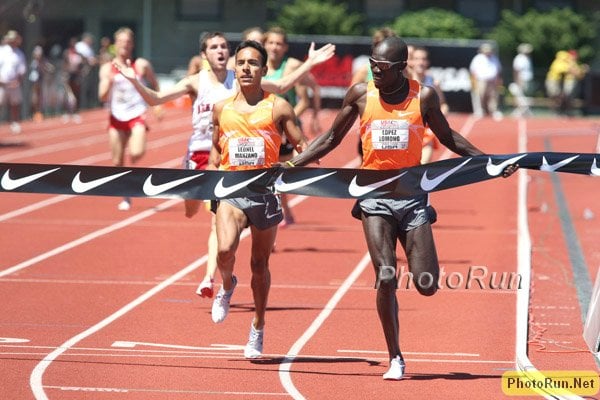 Lopez and Leo Battle Again
Order
Athlete
Nation
PB
SB

Diamond Points

Diamond Ranking

1

GBR

3:49.38

3:54.29

2

KEN

3:58.01

3

USA

3:51.45

3:51.45

4

USA

3:50.64

5

GBR

6

GBR

3:52.02

7

KEN

3:50.14

3:53.81

8

GBR

9

USA

3:53.18

3:53.85

10

AUS

3:52.24

3:53.86

11

USA

3:47.28

1

7

12

KAAN James

AUS

3:58.19

3:58.19

13

USA

3:58.41

3:58.75

14

USA

3:58.41

3:58.41
Women's 5000: Will Bizzarri Get To Go To World's?
10:45 am Eastern
The women's 5000 is technically a Diamond League event although you'd never know it as no one with a single Diamond League point is entered in the race. Heck, there isn't a single runner with a seasonal best under 15:00.
But guess what? That's great news. Why? Because this race is all about the pursuit of the Daegu world championship standard of 15:14.00 by American Amy Hastings. If she gets it, then her teammate Angela Bizzarri will get to go to world's. Hastings has three times almost dipped under the standard as she's run 15:14.31, a 15:15.30 and a 15:15.56 so this year.
As for who will win? We guess we'd go with Portugal's Jessica Augusto who has run 14:37 in the past. She comes into this race after a 2:24 marathon in London.
Quick Thought (QT) #1: In a day and age when so many barely ever race, it's exciting but confusing at the same time to see that this is Hastings' 4th 5000 since USAs but Bizzarri has only run once and that was a 16:10.
QT #2: Is it possible that if Hastings gets the time and qualifies Bizzarri that Bizzarri might not even go given the fact she ran 16:10 in her last race?
1

USA

15:14.31

15:14.31

2

USA

14:58.48

15:27.30

3

USA

14:54.29

15:14.88

4

KEN

14:50.77

15:34.62

5

ETH

15:03.52

15:10.45

6

GBR

15:29.37

15:29.37

7

ETH

15:11.50

15:11.50

8

USA

15:25.35

15:25.35

9

POR

14:37.07

10

GBR

15:49.02

15:49.02

11

AUS
*Friday Preview: Kaki vs Rudisha (and Symmonds), Asafa Powell in Strong Men's 100m, Richardson vs Oliver in Hurdles
---
Runner's World &
Running Times



Combined Only $22
a Year
Save $87

---

Running & Track and Field Posters
---

Running Shoe Savings: Nike Lunar Glide 20% Off Super popular shoe from Nike featuring Flywire and Lunar Foam
---