Paula Radcliffe Healthy and Excited for 2011 BMW Berlin Marathon
By LetsRun.com
July 27, 2011
37-year-old Paula Radcliffe has not run a marathon in nearly two years and has not won one in nearly three. In her last race in May, she ran 33:17 for 10km at the BUPA London 10,000m. However, she is the greatest female marathoner to ever grace the planet and is now healthy once again and talking confidently about her preparations for September's BMW Berlin Marathon.
In Belgium for the opening of a new Runners Service Lab (a pretty cool place we've never heard of but that makes custom inserts that Radcliffe clearly likes and cyclists Greg Lemond likes as well), Radcliffe talked to our friends at http://losseveter.nl/ (we don't speak Dutch but call it the Dutch LetsRun.com) about her Berlin preparations. They've sent us the interview which fortunately is in English and we've embedded below if you want to watch it.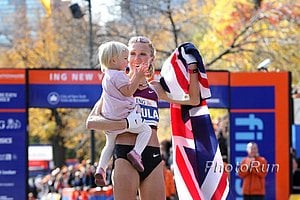 Paula and Isla
The first thing Radcliffe said is she is healthy which is great as it was back problems, not a lack of fitness, that caused her debacle in London in May (Click here to see an article where Radcliffe talked about her back injury in May). As Radcliffe said, she "had a problem with my back" in May and June, but now "training is going well."
Now she is healthy and able to do track workouts which she could not do in May and June as the sciatic pain limited her primarily to the roads. She does not have any races planned before Berlin, but is confident she can "prepare with time trials in training camp," although she did not rule out a race before Berlin.
Winning and 2:20s the Priority in Berlin
As for Berlin where Paula will face former World Marathon Majors champ, Irina Mikitenko, who will be 39 (but is coming off a 2:24:24 at London), Paula's first priority is the win.
Paula said, "First and foremost, the goal is to win and to feel good running, to enjoy running. I don't want really to push, push, push. I'd rather keep some for next year and to recover quickly for next year (London Olympics), but at the same time I'd would like to run around 2:20s and see how it goes."
The viewer is left to interpret what 2:20s means, but to us it meant a time around 2:20. You can see for yourself if you watch the video yourself (this portion is around the 2:15 mark).
Paula also talked about what it would mean to her to run the Olympics in London on home soil.
Paula has been snake bitten in the Olympics. Paula has run 11 marathons in her life, all at the World Championships, Olympics or World Marathon Majors. She has not won three of these, and two of those were at the Olympics.
She said, "Hopefully this time things can go right for me at the Olympics."
Her two children, Isla and Raphael, are now the most important things in her life, but running is still a huge priority. She said of medaling in London, "When I look back on my career, when I was running my best I deserved and should have been able to win an Olympic medal. I know it is getting harder as I'm getting older. (But) if I'm healthy and things come together, well (I think) I'm capable of it."
In the interview, Paula also talks about aging and how she may not ever run as fast as she had in the past, but that may not be necessary. Plus she talks about how it is now standard practice for her to do one to two workouts a week on an Alter G treadmill or an elliptical. Interview below.
The BMW Berlin Marathon is September 25th. In addition to Radcliffe, world record holder on the men's side Haile Gebrselassie will be running. Berlin will not only be an interesting test for Radcliffe because it is her first marathon in two years and likely her only marathon before London (assuming she finishes and qualifies), but also because it is her first flat marathon outside of the Olympics since the World Championships in 2005. Since then Paula has only run at the Beijing Olympics and the hilly New York course, largely because of injuries.
Editor's Note: LetsRun.com's Weldon Johnson paced Paula Radcliffe to her first world record in 2002. His recap of that experience is here.