Uceny Rising - American Now Amongst World's Best Milers
By David Monti
July 28, 2011
(c) 2011 Race Results Weekly, all rights reserved
Morgan Uceny may be having dream season on the track, but the gifted middle distance runner who runs with the colorful choker necklace laced with plastic beads is no dreamer.

The daughter of a bricklayer and a school transportation administrator from Plymouth, Ind., about 50 kilometers south of South Bend, Uceny has moved methodically from obscure but promising Ivy League athlete to two-time national champion and the current Samsung Diamond League points leader at 1500 meters. In 12 appearances this year she has recorded ten podium finishes and four victories (including heats). In her last seven races she hasn't finished lower than third, and has set career best times at 800m (1:58.37/#2 USA for this season) and 1500m (4:01.51/#1).

"It's been a long, slow, steady process, I think," Uceny said today via Skype from her European base in Lucca, Italy, just northeast of Livorno where she shares an apartment with Mammoth Track Club teammates Alistair Cragg and Angela Bizzarri.

Uceny, 26, who rarely ran the 1500-meters in college, said that her move to the 1500m was a function of the extra strength she has gained over the last four years, especially under her present coach, Terrence Mahon, who is best known as a marathon coach. Uceny joined Mahon's group in Mammoth Lakes, Calif., in October, 2009, where she does most of her training with teammate Anna Pierce, an Olympic steeplechaser turned champion middle distance runner.

"My progression in my distance has also kind of been the same as my progression in training groups and different coaches," Uceny explained. "I think as I changed groups and done different training I've been able to realize where my strengths are more. So, obviously, at Cornell I was doing strictly 800's and 400's because we had the four-by-four relay, so I really didn't have that many opportunities to run 1500, or I just didn't want to. But the move to Michigan, then to Terrence, and (I) started doing more strength work I realized that doing the longer intervals wasn't as hard, and I was actually pretty good at them."

Uceny credits this strength for her smooth-striding form in the final 300 meters of her races when many of her opponents are tying up. She has shown a knack for gaining the right position through the penultimate turn, then having the power to choose her own path to the finish and whisk by her competitors. She did just that in winning the USA title at 1500m last month, and both the Athletissima (Lausanne) and Aviva Grand Prix (Birmingham) 1500m titles over the preceding weeks.

"That's definitely attributed to Terrence and the work we've been doing," Uceny said. "Starting with last year we started working on changing some things with form. The first year is kind of learning it all, and I think this year things connected a little more and we were able to make some more progress. Last year, I was able to maintain form maybe through half of the race. So, I've just gotten a little stronger and able to maintain that longer and longer." She continued: "I definitely do more weights, more mileage, and more long runs. It's kind of a little bit of everything adding up."

Moreover, Uceny's vast experience at 800 meters has given her a tactical edge in 1500-meter racing, she believes. This is especially true since her Cornell team raced indoors often where gaining the best position on the track is critical to success.

"Obviously, the shorter the race is, the less time you have to make a mistake. Or, if you do make a mistake, the consequences are amplified because of the shorter distance. So, going into the fifteen, I have more room to make mistakes, but I don't think I make as many, or I don't make them in critical spots. Because if you get boxed in in the 800 you can just really ruin your whole race."

At the Herculis meeting in Monaco on July 22, Uceny finished third behind Bahrain's Maryam Yusuf Jamal --twice the world 1500m champion-- and Morocco's Btissam Lakhouad. Although she ran her career best time and a USA leader, she feels a tactical error may have cost her the victory.

"In the fifteen in Monaco I think I made one crucial mistake with 200 meters to go," she lamented. I lost contact for a second with Jamal, and I felt that cost me a little bit of ground. Who knows if I would have beat her, but I definitely put myself more at a disadvantage. Things like that are good to go back and see what I messed up on and learn from those experiences."

Uceny still loves the 800 meters, and in Lignano, Italy, on July 19, she led five American compatriots under the two-minute mark, including her World Championships teammates Alice Schmidt (1:58.61 PB), and Maggie Vessey (1:59.17). It was definitely a feel-good moment during the long, grinding season.

"I'm not going to lie," she said with a laugh. "Running that 800-meter in Italy was pretty fun. It was definitely a nice break after doing all these 1500's. It made me realize I'm not just a 1500-meter runner. I still have some speed."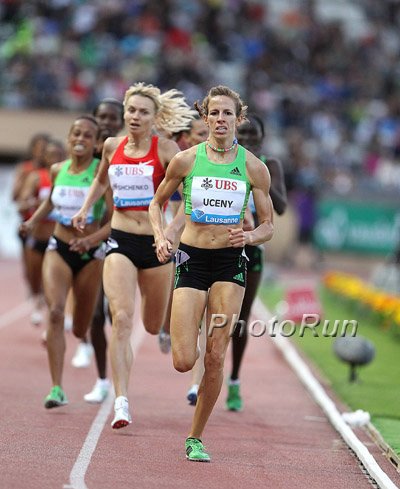 Training with Anna Pierce has also helped Uceny, she said, both on and off of the track. A bond formed between the two athletes almost from the first day she was in Mammoth Lakes. "I can't really put a measure on how much she's helped me, and it hasn't just been as a training partner," Uceny said. "She's just always a really positive person to be around, and she's really encouraging, and just helpful across the board. When I first moved to the group, she was teaching me the drills and the new weights, and things like that. Having her in practice at the same time is really helpful because she's more of a sprint person and I'm more of a strength person. So, when it comes to sprint day I know I have to bring my "A" game to try to stick with her. She really helps me push myself there."

Making the transition to Mammoth Lakes --a ski resort-- was easy for Uceny, who recalled that it began snowing only one week after she arrived. Being from the Midwest, she said that she always thought of California as a state of beaches and warm weather (the group trains in San Diego in the winter).

"I'm from the Midwest so I'm used to the snow, so it wasn't that shocking," she recalled. "Honestly, it's a beautiful town, the scenery is just amazing, and you kind of feel that you are living in a postcard everyday."

Mahon's intimate coaching style, has also worked for Uceny. "I think as a runner, what we do is deeply personal because it's just us and the track. Like, if you have a bad day, you can't blame it on anyone else really but yourself, or in your training. So, he really realizes that. So, through all of the training you're doing physically, he's also training you mentally so that you're strong enough and in a better state of mind so that you can handle all the training. Sometimes he's just asking you questions, then you realize that he's psychoanalyzing you, and your like, we're not just having a regular conversation. But, he's digging in, trying to see what makes you tick."

Uceny, now a favorite to make the USA Olympic team next year, finished sixth at the 2008 Olympic Trials in the 800m in an unusual race. A four-athlete pile-up in the semi-finals resulted in the head referee ruling that all eight athletes from the first semi should be allowed to advance. That meant that an unprecedented 12 women contested the final. Uceny vividly recalls the race.

"It was terrible," she said, able to laugh about it now. "I remember doing a waterfall start (and thinking), really? We're doing a waterfall start in the final? I pretty much remember everyone going out so hard to try to protect themselves and get out of the way, then being a death march for the last 200 meters. Definitely not my type of race."

With her European season suspended until the conclusion of the IAAF World Championships in Daegu, Korea, next month (she is not running the 800-meters in Stockholm as had been reported), Uceny will remain in Lucca, and go directly to Korea from there. She said she just plans to continue her patient approach, and doesn't mind waiting for success to come to her.

"I've had to be really patient over these last few years because, like you said, I've had this slow, steady progression. But, I think that's probably been the best way to do it because I just learned so much over those years, and I've done things so I can say, hey, that wasn't the best thing to do. I can also look back and see what did work for me that led to the successes. So, all those years together have made me a different person and athlete, but this year for sure, will be the biggest learning benefit for next year."

Uceny's parents helped her see the value of hard work. As a teenager she got her hands dirty in her father's masonry business, cutting bricks and mixing mortar.

"I worked for him for a few summers and I just gained a lot of respect for him, and everyone else who does that kind of hard labor," she said. "It's no joke."

ENDS