The Week That Was In Running - July 25-31, 2011
To read any 2010 LRC Week That Was, click Here.
To read last week's The Week That Was, click Here.
By LetsRun.com
August 3, 2011
In our look back at last week, we possibly explain Caster Semenya's up-and-down season, daydream about Jenny Barringer Simpson being a world leader in two events, praise the amazing Magdalena Lewy Boulet while taking a subtle shot at John Chaplin and USATF, and come to realization that recent changes by Athletics Kenya may doom America's medal chances in the distances. But we spend the majority of our time breaking down the US women's chances of medaling at the World Championships. We hate to admit it, but as good as Morgan Uceny and Shalane Flanagan are, they both face an uphill battle in grabbing a medal.
All summer long, we've been trying to offer a lot of our insight into the action the day it takes place in our Diamond League recaps, so if you were on vacation and missed it, you can relive the action via the following links:
LRC DN Galan Stockholm Diamond League Recap: Vivian Cheruiyot Sizzles, Shalane Flanagan Misses, Kenia Sinclair Stays Undefeated*, LaShawn Merritt Returns, Usain Bolt's 20.03 Win Leaves Some Questions, Silas K Wins Again And Much More *Results *Photos *Video Stockholm was the second-to-last Diamond League meet before Worlds and last for many athletes competing. Vivian Cheruiyot and Silas Kiplagat stamped their status as favorites at Worlds. Usain Bolt won by nearly half a second and we weren't that impressed. David Oliver was upset, Yelena Isinbayeva came back to form, and an Aussie became the favorites for Worlds in the long jump. The American distance runners disappointed, except for 37-year-old Magdalena Lewy Boulet, who ran a huge 50-second PR of 15:14.25 in the 5,000.
****
Performance Of The Week And Possibly Year/Email #1 Of The Week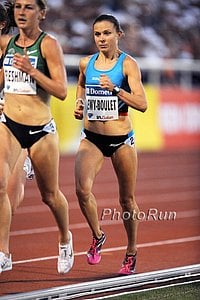 Magdalena Boulet In Stockholm
Photo Gallery Here
Last week there was a performance put up by an American runner that went largely unnoticed except by us. Just 3 days before her 38th birthday, US Olympic marathoner Magdalena Lewy Boulet chopped a ridiculous 50.61 seconds off her 5,000 personal best by running 15:14.25 to finish 10th in Stockholm and inspire every 35+ runner in the world. In the process, she defeated former World Championships runners Jenny Barringer Simpson and Lauren Fleshman and dispelled the notion that you can't run faster at shorter events as you age. She also dispelled the notion that running road races will ruin your track speed, as her race in Stockholm run came just five days after she dominated the Wharf to Wharf 6 mile road race.
The 50.61 second PR is a bit misleading because Lewy Boulet's 2011 season is going so well that earlier in the year she beat her recorded 5,000 PR of 16:04.86 from 1997 in both halves of her 10,000 at USAs. Yes that's right, at USAs, she split 16:00/15:48 as she set a 31.87-second PR (from 32:20.45 to 31:48.58). Like a fine wine, she's getting way, way better with age.
In running 15:14.25, she dipped under the Olympic A standard of 15:15.00 and just missed the 2011 WC standard of 15:14. That got us wondering. Had she gotten the A standard, would USATF had sent her to the World Championships (since unless Angela Bizzarri runs the A standard this weekend in London, the US will only send two to Worlds)? We asked that question out loud in our Stockholm recap and got a quick reply from someone who should know.
Magdalena's husband, Richie Boulet, who was a great runner himself with a 1,500 PR of 3:37.20, mile PR of 3:53.26, and 5,000 PR of 13:32.15 but has been retired for 10+ years even though he's the same age as his wife, wrote us a great email saying that USATF definitely wouldn't have sent his Magdalena to Worlds. And Richie knows this not just because he is Magdalena's husband. Back in 1997, he had the A standard for Worlds but the bureaucrats at USATF pulled a John Chaplin and didn't give him the chance of a lifetime.
His email says it all:
I know all too well that they wouldn't have sent her to worlds. In 1997, I was 5th in the 5k at USA's (top 3 all had standard) but didn't run the 1500, then went over to Europe for some races. I ran a 5 second PR in the 1500, running 3:37, when A standard was 3:38. At the time, only one or two from the 1500 at USA's had the A standard, so I got in touch with some of the powers that be at USATF to see if they could add me. They told me they couldn't, and they ended up only sending two to worlds, even though by IAAF rules, they would have been within their right to add me to the squad. I was young and super bitter at the time, but hey, rules are rules, life goes on. And their point was that they didn't want to set a precedent of selecting someone who didn't run that event at nationals, which is a valid concern.
We talked about it last week, what USATF might do if she got under 15:14 and no one else did, and how funny that would be if we both ended up in that situation (how often does it happen?). But that wasn't really the goal, anyway. She's in great track shape right now, and hasn't focused on it for quite some time, so it feels good. She just wanted to get a top level European track experience under her belt, as well as notch a 5k PR for the books that's actually faster than her 10k pace (she split 15:48/16:00 at USA's!). I think this was her first track 5k since 1998.
Pretty strange that both Richie and Magdalena almost found themselves in the exact same position.
Below we'll have a bit more on the Stockholm 5,000 as we talk about both Jenny Barringer Simpson and Shalane Flanagan's medal chances or lack thereof at Worlds.
****
Email #2 Of The Week & A Possible Explanation For Caster Semenya's Up & Down Season/Struggles
In Stockholm, one of the big stories was Caster Semenya's next-to-last place 2:01:28 showing after winning in her previous Diamond League outing in Paris. After seeing her alternate between struggling and dominating several times this year, we publicly wondered in our recap if the much-rumored hormone treatment that Semenya supposedly got as a condition of her returning to competition was somehow causing her inconsistency.

Caster Semenya
We asked people to email us their theories and we got a great email from LetsRun's great friend Ross Tucker of the famed Science of Sport Blog that we want to share, as it offers a great rationale for her inconsistency in 2011 and also addresses the belief all the conspiracy theorists that Semenya simply doesn't try in some races.
Could Semenya's up and down 2011 be explained simply by coaching errors?
Tucker basically said that from the moment Semenya came back, he wondered if her coach would be able to adjust things to the fact that he is dealing with an athlete with lower testosterone levels and can't do as much in training. A fantastic email from a very knowledgeable person. We've put the best parts of the email in bold.
Email #2 Of The Week
Just read your piece on the women's 800m race, specifically the Caster Semenya thoughts. Like you, I'm baffled by what's going on there. There's no reason that I can think of that hormone replacement would cause inconsistency, but I've mailed a few people who will (some endocrinologists) and I'll get back to you as soon as I can.

However, here's a curveball. Take a look at these performances:

2:00.61 (Dakar)
1:58.88 (Pre-fontaine)
1:58.61 (Oslo)
2:00.18 (Paris)
2:01.28 (Stockholm)

There's another slow performance in there, I just couldn't find it quickly enough, will look later. But that's actually a pretty stable sequence - 2.6 seconds variation, which is significant, sure, but it's not like Jamal was doing when she was 10 seconds slower or faster from one race to the next (last year in the 1,500). I reckon that many athletes are showing a similar pattern - Montano is maybe even larger? It's not uncommon for people to come in and run a 1:58 and then drop off that as the season progresses? I wonder if Semenya is just not finding that that 2% variation in performance is the difference between 1st and 6th or 7th, and she doesn't have the capacity to go any faster than that 1:59 anymore.

Having said this, if Caster Semenya did receive HRT (hormone replacement treatment) which seems likely given the times she's running and the length of time it took all the lawyers and the IAAF to agree to allow her to run, then one of the theories I had is that her coach would not immediately adjust the training in order to account for impaired recovery. I mean, testosterone is a recovery hormone, it allows harder sessions, more often, with less recovery time needed. Take that away, as hormones would, and suddenly you can't get away with successive brutal track days, you have to manage the athlete differently. And failure to do that will produce a variation in performance. So maybe that 2% variation is just figuring out her new "ceiling" for how to come into these races?

I honestly don't know. As for how she looks to be coasting in the races, I can understand why people think that. However, if you go back and look at her World Junior performance in 2008, she comes 7th in the semifinal, and she's dropped in the back straight, and she looks the same! It seems like maybe she doesn't have it in her to look like she's really racing!

Who knows, she's impossible to figure out. One thing for sure though, if those inconsistencies are the result of training "errors" and her coach doesn't quite know how to get her to the start line fully recovered, then the heat, semi-final and final in Daegu will expose her. I'd be surprised if she makes the final. That said, if she does, she probably has a better than average chance of medaling!

I think the thing to remember about all this is that a) she has always run that way, and b) the variability in her times is probably "normal" in the sense that most runners are going to have this 2 second range. It's just that inconsistencies in performance CAN ALSO be explained by physiological changes, where they have to learn her capacity for recovery - if you take away the testosterone, she's not the same athlete, and so the coaching approach must change. And that of course may take time.
Transgender Athlete And Former 2:23 Marathon Joanna Harper Agrees
We also received an email from a transgender athlete who visits LetsRun.com and has undergone hormone therapy herself. Joanna Harper is her name. Born a man, she ran a 2:23 marathon. She underwent hormone therapy in 2004 and now competes as a woman. She chronicles the transition here and says her times dropped quickly about a minute a mile. So it's fair to say Joanna is an expert on the effects of hormone treatment and how it affects running. Her assessment of Semenya is fairly similar to Ross Tucker's. She wrote us and said:
Of course we don't know whether Caster is had surgery or is receiving chemical treatments to lower her testosterone. Assuming that is the latter, then it is possible that she is getting monthly injections which would lead to some fluctuation of her hormone levels. However, everyone I know of, including myself, has taken oral drugs to block T and I assume that she would too. They work well and one doesn't have to worry about needles etc. Another benefit is that hormone levels are more stable.

She is probably facing the affects of unopposed (i.e. not counteracted by high T levels) estrogen for the first time in her life. This can cause mood swings, but hers wouldn't be any worse than any other woman's. So while it is possible that her inconsistency is hormone based, I would doubt it.

Actually, I would counter that she hasn't been any more inconsistent than say Alysia Montano, assuming that you throw out her 1500 meter race. She just doesn't run that event nearly as well as the 800. Her times range from 1:58 high to 2:01 low and that is well within normal fluctuation. It is certainly true that her kick at the end of races is sometimes there and sometimes not, but so is Maggie Vessey's for instance.

I think you are looking at a runner who is now on the same "more or less level playing field" as the rest of the women and has good days and bad days just the same as most of her competitors.

I just don't think it's any more complicated than that.

To those who suggest that Semenya is sandbagging, I would counter with this:

Would anyone suggest that Lashawn Merritt was sandbagging in Stockholm because he didn't win? After all might not he try to hide the fact that he was still as fast as he was two years ago. That accusation sounds ridiculous doesn't it?
****
Quote Of The Week That Wasn't Quote Of The Day
Michael Stow, the head of science and medicine at UK Anti-Doping, talking about why he thinks that substances such as cocaine and ecstasy should be treated differently than performance-enhancing drugs.
"These stimulants should absolutely still be prohibited but we'd like more flexibility in the sanction we give. If we think someone's been taking a substance to cheat we would still give two years, but more often it's a case of them being used in a social setting. We want the prohibited list to be an evidence-based document, not a question of moral and ethics."
LetsRun.com is known as a leader in the anti-doping movement, but we 100% agree with Stow. Drug testing of athletes should focus on performance-enhancing drugs.
Now we know that everyone doesn't agree because the quote above comes from a Guardian piece where British sprinter Jeanette Kwakye disagrees by saying, "I'm quite clear on this: drugs is drugs." Many others, including some in the article, say that athletes are role models and therefore testing them for recreational drugs is justified.
****
Can A US Woman Possibly Medal In Daegu?
Last week, the majority of our weekly recap was spent analyzing the US men's chances of medaling in an mid-d or distance track event at the 2011 World Championships. This week we turn our attention to the women.
Below we break down the US distance women's chances of medaling at the 2011 World Track and Field Championships in Daegu, South Korea. We list the events in order of most likely for a US man to medal in to least likely. Please note that medals are extremely hard to come by. A US-born man hasn't medalled on the track in the 800 or longer at Worlds since 1997, when Rich Kenah got the bronze in the 800 meters. As for the women, Shannon Rowbury won bronze in 2009, Shalane Flanagan won bronze in 2008 and Kara Goucher won bronze in 2007, but before that you were going all the way back to 1992 and Lynn Jennings (bronze 10,000) to find an American medallist in a mid-d or distance event on the track unless you count drug cheat Regina Jacobs.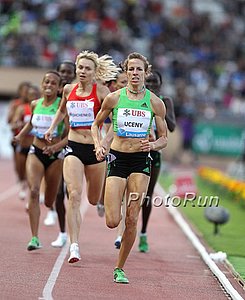 Morgan Uceny
Women's 1,500: We Hat To Admit It But It's Probably Less Than 50%
In five straight Diamond League races plus the US championships, Morgan Uceny hasn't finished lower than third in any of those races and has won three of them. Clearly she's a big-time medal threat.
With some help from a DQ, the US got a medal in 2009. Seems like a done deal, right? Not so fast.
In 2009, the US had three medal hopefuls, whereas realistically based on 2011 results so far, the US really only has one this year.
Moreover, despite her recent form, Uceny is by no means a lock for a medal. For starters, this is Uceny's first World Championships or Olympic Games. Secondly, her personal best is 4:01.51 and there are nine women who have run 4:01 this year. Also, some of the top women from 2009 are starting to round into form, as the "winner" of the 2009 Worlds (before she was DQed), Natalia Rodriguez, ran 4:01.50 on July 22nd to get 2nd in Barcelona.
Normally, we think the US women have it way easier than the US men in terms of odds of getting a medal, as the number of African women competing pales in comparison to the number of African men. But in the 1,500, it might be even harder for US women as there are so many good Russian women. Thankfully, the US chances are helped a great deal by the fact that the Kenyan women are really struggling in this event of late. At the Kenyan trials, the top two women set PRs at 4:08 to go 1-2 and both were left off the team from what we can tell. They certainly didn't have the A standard, but it seems like Kenya would send one of them. But from what we've read, neither Hellen Obiri or Joyce Chepkirui are going to Worlds.
Bottom line: We hate to admit it but Uceny's odds for a medal in our minds are less than 50%, but that's what the facts tell us. With 9 women (world #3 Yekaterina Gorbunova isn't running Worlds) so close to each other on paper, even if Uceny is the third best on paper, she probably still is at best 50-50 to medal. Anything really could happen, including her not making the final. We'd rate that possibility as slightly higher than her winning gold - about 10%.
Quick Thought #2: It's good to see 2008 NCAA champ Hannah England at #10 on the world list.
QT #3: Is Yekaterina a really popular name in Russia? The top three Russian women all have the same name.
2011 World Leaders
1 4:00.33 Maryam Jamal BRN
2 4:00.97 Kalkedan Gezahegn ETH
3 4:01.02 Yekaterina Gorbunova RUS
4 4:01.09 Btissam Lakhouad MAR
5 4:01.33 Siham Hilali MAR
6 4:01.50 Natalia Rodríguez ESP
7 4:01.51 Morgan Uceny USA
8 4:01.68 Yekaterina Martynova RUS
9 4:01.77 Yekaterina KostetskayaRUS
10 4:01.89 Hannah England GBR
11 4:02.12 Meskerem Assefa ETH
12 4:02.31 Mercy Cherono KEN
13 4:02.59 Irene Jelagat KEN
14 4:02.73 Olesya Syreva RUS
15 4:03.00 Anna Mishchenko UKR
US Runners Going To Worlds:
19 4:03.54 Jenny Simpson USA
38 4:06.20 Shannon Rowbury USA

2009 World Championships Results
Women's 10,000: If The Kenyans Falter, Then Flanagan Has A Chance
2008 Olympic and 2011 World Cross-Country bronze medallist Shalane Flanagan has been running pretty well so far in 2011. She's come within a second of breaking her 1,500 PR (4:05.86) and 5,000 PR (14:44.80). That being said, we think she's got only a small of medaling at Worlds.
Why? The competition in 2011 is just too tough. To get a medal at 5,000 or 10,000, the Americans generally need one or two of the big stars to be absent or off their games. That doesn't appear to be the case this year.
2009 world 5,000 champ Vivian Cheruiyot ran 14:20 last week. 2009 world 10,000 champ Linet Masai has run in the 14:30s twice this year. Yes, we know Flanagan beat Masai in 2008, but people need to realize that in 2008 Masai was just 18 years old.
Those two runners were the class of the Cross-Country Championships and just seem to be a bit better than Flanagan. The third best Kenyan, Sally Kipyego, has beaten Flanagan twice this year on the track, including once at 10,000.
The good news for Flanagan is that the Ethiopian team is down a bit this year. Meseret Defar, a woman who is undefeated on the track in 2011, talked in early July about doing the double in Daegu but wasn't listed for the 10,000 when the provisional entries for Ethiopia came out. 2009 WC silver medallist Meselech Melkamu, who was 4th in cross-country behind Flangan this winter, hasn't been seen from since June 9th, which is odd. Without those two, Ethiopia seemingly has zero medal hopefuls.
Bottom line: Based on how well the Kenyans are running in 2011, it would seem to be really tough to picture Flanagan (or Goucher) medaling. That being said, if Defar doesn't double, it seems as if the Ethiopians might be bringing next to nothing to the event. Unless there is a random person form another country, then it seems its only a 4-person race. e could see Flanagan sneaking ahead of Kipyego for the bronze.
That being said, in 2009, Flanagan - like this year - ran 4:06 for 1,500 and under 14:50 for 5,000 (admittedly this one was indoors) but was only 13th at Worlds.
2011 World Leaders
1 30:38.35 Sally Kipyego KEN
2 30:39.57 Shalane Flanagan USA
3 30:54.29 Kayoko Fukushi JPN
4 31:05.05 Meseret Defar ETH
5 31:07.02 Vivian Cheruiyot KEN
6 31:08.92 Worknesh Kidane ETH
7 31:10.02 Megumi Kinukawa JPN
8 31:14.83 Meselech Melkamu ETH
9 31:16.65 Priscah Cherono KEN
10 31:16.65 Kara Goucher USA
11 31:17.80 Belaynesh Oljira ETH
12 31:20.38 Tigist Kiros ETH
13 31:24.09 Ayalew Wude ETH
14 31:24.20 Lineth Chepkurui KEN
15 31:27.98 Sally Chepyego KEN
16 31:28.66 Molly Huddle USA
17 31:30.37 Jen Rhines USA
18 31:33.42 Dulce Félix POR

2009 World Championships Results

Alysia Montano
Women's 800: Going, Going ... Not Quite Gone
What has happened to the US 800 meter champion Alysia Montano? Since finishing 1st and 2nd at the 2011 USA meet, Montano has gone totally in the wrong direction. The 2010 world leader has failed to break 2:00 in her two European outings, as she was 4th in Paris and 6th in Stockholm. Is this the 2nd straight year where after running hot in the middle of the year, she ends the year with a total thud? Last year, after winning USAs, she picked up wins in Gateshead, Lignano and Monaco, and also had the 2010 world-leading time, before ending her year with 8th, 4th and 8th place showings.
The US 2nd placer Maggie Vessey has done what she seemingly always does - been consistently inconsistent this summer, as at one point she went from 1:58 to 2:06 to 1:59 in the span of three races. It reminds us of last year when she was 12th in the UK in 2:02 one week and 2nd in Italy in 1:59.00 the next.
The best 800 American in Europe this summer has been USA third placer Alice Schmidt, who in her last four races has run well - getting 2nd in Madrid (2:00.60), 2nd in Lignano (1:58.61 personal best), 1st in Lucerne (1:59.74) and 4th in Stockholm (2:00.25).
Bottom line: With Semenya's struggling, it seemed a month ago as if the Montano had a great shot at medaling but now that appears to be slipping away. Schmidt has been running well but it's hard to see her medaling. As a result, America's medal hopes seem to lie with the totally unpredictable Vessey - Less than 20% overall. Probably less than 10%. The odds are probably pretty equal that Montano for whatever reason just had two bad races in Europe and could rebound.
2011 World Leaders
1 1:56.95 Mariya Savinova RUS
2 1:56.99 Yuliya Rusanova RUS
3 1:57.19 Yekaterina Kostetskaya RUS
4 1:58.03 Svetlana Klyuka RUS
5 1:58.12 Sviatlana Usovich BLR
6 1:58.21 Kenia Sinclair JAM
7 1:58.25 Yelena Kofanova RUS
8 1:58.27 Halima Hachlaf MAR
9 1:58.30 Liliya Lobanova UKR
10 1:58.33 Alysia Montano USA
11 1:58.37 Morgan Uceny USA
12 1:58.49 Yevgeniya Zinurova RUS
13 1:58.61 Caster Semenya RSA
14 1:58.61 Alice Schmidt USA
15 1:58.71 Irina Maracheva RUS
16 1:58.86 Maggie Vessey USA

2009 World Championships Results

1
4
772
Caster Semenya
RSA
1:55.45
(WL)
2
7
589
Janeth Jepkosgei Busienei
KEN
1:57.90
(SB)
3
5
403
Jennifer Meadows
GBR
1:57.93
(PB)
4
3
935
Yuliya Krevsun
UKR
1:58.00
(SB)
5
6
824
Mariya Savinova
RUS
1:58.68

6
8
503
Elisa Cusma Piccione
ITA
1:58.81
(SB)
7
2
309
Mayte Martínez
ESP
1:58.81
(SB)
8
1
392
Marilyn Okoro
GBR
2:00.32

Jenny Simpson
Women's Steeple: No Chance - If Only Jenny Barringer Simpson Were Running This Event & In Form
Bottom Line: It's impossible to not look at the steeple results so far in 2011 and realize that Jenny Barringer Simpson's PR of 9:12.50 would be the 2011 world leader. Her decision to focus on the 1,500 has backfired and violates one of the key LetsRun.com Training Mantras - Training For Longer Distances Makes You Faster At Shorter Distances (remember Alan Webb's 1,500 and mile PRs came the year after he ran 27:32 for 10,000). Hard to believe but if she'd run a PR in the 1,500 and steeple, she'd be the world leader in both events. Instead, she's running slower than 38-year-old Magdalena Lewy Boulet last week in Stockholm, and not running within 10 seconds of her 5,000 PR.
We know some see Barringer Simpson's performances and come to the conclusion that her decision to leave college coach Mark Wetmore has backfired. Don't forget, however, that Simpson missed much of 2010 with injury, which no doubt will have an affect on her 2011 season.
It's hard to know really what the true answer really is. When Jeremy Wariner left Clyde Hart, we didn't like it and his performance suffered, but a return to Hart didn't change anything, so maybe the decline would have happened anyway? That being said, Billy Nelson returned to college Mark Wetmore and has been resurgent.
We do know one thing - she needs to train to run sub-9:15/15:00 in the steeple/5,000 and the 1,500 will take care of itself. When Simpson ran her 3:59, it was a shock to everyone because she was viewed as a long-distance runner not a middle-distance runner. She needs to train to her strengths.
2011 World Leaders
1 9:12.89 Milcah Chemos KEN
2 9:15.04 NR Sofia Assefa ETH
3 9:16.94 Mercy Njoroge KEN
4 9:19.20 Lydia Rotich KEN
5 9:20.33 Habiba Boudraa TUN
6 9:20.37 WJR Birtukan Adamu ETH
7 9:23.82 Yuliya Zarudneva RUS
8 9:26.03 Lyudmila Kuzmina RUS
9 9:28.27 Birtukan Fente Alemu ETH
10 9:29.39 Lyubov Kharlamova RUS
11 9:29.75 Gulnara Galkina RUS
12 9:30.23 Almaz Ayana ETH
13 9:30.69 Hiwot Ayalew ETH
14 9:30.73 Lidya Chepkurui KEN
15 9:34.12 Christine Muyanga
US Runners Going To World's:
22 9:38.92 Bridget Franek USA
28 9:40.51 Emma Coburn USA
29 9:40.63 Delilah Dicrescenzo USA

2009 World Championships Results

1
304
Marta Domínguez
ESP
9:07.32
(WL)
2
836
Yuliya Zarudneva
RUS
9:08.39
(PB)
3
584
Milcah Chemos Cheywa
KEN
9:08.57
(PB)
4
789
Gulnara Galkina
RUS
9:11.09
(SB)
5
968
Jennifer Barringer
USA
9:12.50
(AR)
6
918
Habiba Ghribi
TUN
9:12.52
(NR)
7
602
Ruth Bisibori Nyangau
KEN
9:13.16
(PB)
8
593
Gladys Jerotich Kipkemoi
KEN
9:14.62
(PB)
9
445
Antje Möldner
GER
9:18.54
(NR)
10
320
Zemzem Ahmed
ETH
9:22.64
(SB)
11
732
Jessica Augusto
POR
9:25.25
(SB)
12
714
Katarzyna Kowalska
POL
9:30.37

13
322
Sofia Assefa
ETH
9:31.29

14
300
Eva Arias
ESP
9:33.34

15
352
Sophie Duarte
FRA
9:33.85
Women's 5,000: No Chance, But What A Race It Could Be Up Front
Considering the American record in the 5,000 is 14:44.76 and 12 women have run faster than that his year, the 5,000 would be a total long shot for a medal even if the best American women were running this event and in top form. As it stands, former American record holder Shalane Flanagan is running just the 10,000, leaving current record holder Molly Huddle, whom we think is better-suited for longer events herself given her 1,500 PR is just 4:09.22, to lead the US charge. Well, last week it came out that Huddle hasn't run in a month as she struggles with plantar fasciitis.
What does that mean?
Bottom line: The US would almost need a Billy Mills type performance to medal in this event even if Huddle was in top form. As it stands now, we'll just try to enjoy the Kenyan/Ethiopian battle up front between the Vivian Cheruiyot and Meseret Defar who are both undefeated on the year on the track.
****
Weekly Free Coaching Advice
This week the free weekly training advice comes appropriately from none other than the now 38-year-old Magdalena Lewy Boulet (b-day Aug 1). On the Bay Area Track Club site, she wrote a good piece that has 5 reasons as to why she's faster than ever at age 38.
It's a fantastic piece and we recommend you read it, Older, Wiser, Stronger, & Faster, but let us give you a few highlights. To us, Lewy Boulet is a testament to keeping at it. LetsRun.com co-founder Robert Johnson is proud of saying, "If you keep improving you'll eventually set the world record," but far too many people are focused for a very short period of time and give up way before they reach their potential.
Lewy Boulet seemingly agrees and gives insight as to how she's managed to find joy in running for so long. Here are two of Magdalena's 5 keys to success:
1. TENACITY: Stay in the sport long enough and you will out run (pun intended) most of your competition. Many athletes don't have the patience to rough it out when injuries & challenging obstacles get in the way. Many young athletes leave the sport much earlier then what their potential indicates.
4. MIX it UP: Season after season, year after year I find the urge to find new places to train. I love my home and my trails in the Bay Area and I believe that that is where I am the happiest, but traveling to training camps a couple of times a year is critical. It provides a refreshing feeling, new & exciting places to explore, the opportunity to meet new people and most of all a renewed appreciation for home in the Bay Area.
****
Athletics Kenya Grows A Brain And America's Medal Chances Decline?
Last week, there were a couple of statements coming out of Kenya that probably will bode well for Kenya's chances at the 2011 Worlds and future Worlds/Olympics and also in a weird way hurt America's chances for a distance medal (many may not like to admit it, but Americans often medal or come close to medaling only because superior Kenyan athletes have totally botched their peak by the time Worlds come around).
Normally, it seems every year that Athletics Kenya wants to have an overly restrictive training camp prior to Worlds. Generally, Athletics Kenya has forbidden racing once a Kenyan makes the team (which has killed people's desire to participate in World Cross-Country in particular) and makes them come to the camp, and we've always wondered why you'd take ultra-successful athletes away from their normal coaches and routines just weeks before the biggest meets of the year.
Well, it looks like that is now changing according to two developments last week.
1) Athletics Kenya is now letting them race after making the team. Our argument has always been it's in an athlete's interest to do well at Worlds - let them figure out when and where they should race. Athletics Kenya finally seems to agree with us as shown by this quote from AK head Isaiah Kiplagat in Capital Sports FM: "We have noticed that our athletes have become more professional in how they are competing and are using these races to maintain their form. This is very good for our country and that is why we allowed them to enter these events."
2) Athletics Kenya now is realizing that maybe trying to get the athletes in great shape in camp is likely to backfire and there role is just to maintain their form (one agent told us that the key to doing well at World XC was to be in so-so shape when you made the team, as you'd hammer at the camp and if you came in in great shape, you'd end up burned out). We give a lot of credit to Athletics Kenya head coach Peter Mathu, who said the following to Capital Sports FM: "The shape they are in is very encouraging and it has made our work easier since what we shall be left to do is to maintain their form and sharpen their tactic."
More: *Athletics Kenya Now Is Letting World Championships Team Members Race In Europe *More Kenyan Athletes Move Into World Championships Camp, As Coach Admits They Don't Do Much Of Anything
****
Overlooked Performances From Last Week
1) A week after crushing the London (Emmanuel Mutai) and New York (Gebre Gebremariam) champs by over a minute to win in Castlebuono (think about that you are winning by more than a minute in a 29 minute race), Geoffrey Mutai kept up his ridiculous form for 2011 by beating 2009 Boston marathon champ Deriba Merga by more than 2 minutes at the Bogota Half Marathon. Mutai ran 1:02:20 at 8,500 feet of altitude. Incredible.
More: Colombia: Geoffrey Mutai Crushes Deriba Merga, Breaks Course Record, And Wins Renault Car At 2011 Bogota Half Marathon We still think Mutai (the Boston champ) would win the Worlds 10k if there was enough money on the line. *Bogota Photos *IAAF Recap *Geoffrey Mutai Wins In Castelbuono He ran 29:05 to finish over a minute ahead of NYC Marathon champ Gebre Gebremariam in 2nd (30:13) and Mathew Kisorio 3rd (30:14). London Marathon champ Emmanuel Mutai finished sixth in 30:48 and Ryan Hall was supposed to race this, but his blog says he's currently in Switzerland. *Highlights Video *Top 10 Results
2) The Quad Cities Bix 7 Miler is one of America's richest road races. Silas Kipruto, who is a 13:02/59:39 guy that was 7th at the Kenyan trials in the 5,000, picked up $12,500 by winning a week after he won $3,000 at the Wharf to Wharf. The women's winner was Caroline Rotich, who will be running the World Championships marathon later this month. It's worth noting that Abdi Abdirahaman was 6th.
Bix: Silas Kipruto, Caroline Rotich Win $12,500 At Quad Cities Bix 7, Abdi 6th This is one of America's premier road races.*Achilles Injury Kept Meb Out Of Bix *Joan Samuelson Ran Bix
3) It was good to see decathlon world record holder Roman Sebrle qualify for Worlds with a 8,109-point performance at the French championships. Yes, the Czech competed at the French championships.
****
Others News Of Note
Ryan Hall To Run Chicago Philip Hersh of the Chicago Tribune has broken the news that Hall will run this year's Bank of America Chicago Marathon and take on Boston runner-up Moses Mosop. Three months later, Ryan will run the Olympic Marathon Trials. The appearance fee of Ryan is so high that the Chicago/Trials double makes a lot of cents sense.
Ryan Hall Sees BOA Chicago Marathon To Olympic Trials 14-Week Gap As Ideal Hall also sounds like he's tired of being the rabbit: "In Boston I functioned as the pacemaker."
*Brief Chat With Ryan Hall
****
Looking Ahead (Time To Start Getting Excited For ...)
August 5-6: London Diamond League
Aug 14: New Balance Falmouth Road Race
We mention Falmouth because with New Balance on as a sponsor, it's come out recently that they've increased their American prize money a ton. It's now equal to the overall prize money and is as follows. Last year, we think it was $5,000, $3,000, $2,000 for top three.
$10,000
$5,000
$2,000
$1,500
$1,000
$800
$650
$600
$450
$350
August 27- September 4: 2011 World Championships
****
Recommended Reads
*Older, Wiser, Stronger, & Faster 5 Reasons why Magdalena Lewy Boulet is better than ever at age 38.
*Many Elite US Distance Runners Live In Flagstaff Beneath The Poverty Level Trying To Chase Their Dreams
*US 100m Hurdles Champ Kellie Wells Is Not Afraid To Admit She Was Sexually Abused As A Child - Wants To Help Others
****
Quotes Of The Day From Last Week
Monday: "When you're an athlete, confidence means so much more than anything else, and I feel I'm ready."
- Mo Farah, after winning the UK championships in 14:00 on Sunday, talking about the confidence Alberto Salazar has given him. Ignoring Farah, no Brit has run under 1:45, 3:36 or 13:26 this year (although 21-year-old James Shane ran 3:36 to win the 1,500m Trials by over 3 seconds. Brits can watch it here.
---
Sunday: "Next year and it will be me - I'm serious."
- Vivian Cheruiyot talking about the possibility of a woman breaking 14 minutes in the 5k. She only ran 14:20.87 in the Stockholm Diamond League Meet, but that was running solo for 3k and in very windy conditions. She said she was planning on going for the current World record (14:11.15, held by Ethiopia's Tirunesh Dibaba), but the conditions stopped her. She may try for it again at World Champs, as she says, "I think I'm going to do something special there."
---
Saturday: "Getting to the final is harder than running in the final itself and with the experience they have since they have competed in more than 20 races together, they must have learned their lessons from the last time. We will focus on working on tactics, tactics and tactics to ensure they all make it to the final."
- Kenyan head coach Peter Mathu talking about preparing the Kenyan 800m team (David Rudisha, Berlin silver winner Alfred Yego, and Jackson Kivuva) for the World Championships. Don't be surprised to see some team tactics out of these three (who are the only "surviving trio" from Kenya's Berlin 2009 team), as their coach knows that everyone's goal should be to make the final because once you do, anything can happen.
---
Friday: "In Boston I functioned as the pacemaker ..."
"It will be nice for me not to function as the rabbit this year, but to tuck in and enjoy the ride. I love to run fast. It would be icing on the cake to get the official American record on the course."
- 2:04 marathoner* Ryan Hall talking in a teleconference where he explained his rationale for running the 2011 edition of the Bank of America Chicago Marathon - just 14 weeks before the 2011 US Olympic Trials - and talked about new race tactics he'll try out in Chicago.
---
Thursday: "I never agree to lose to anybody, not even my daughter (Olga Lenskiy). Olga has more talent than me, but I'll continue trying to beat her as long as I can. Don't forget who is Olga Lenskiys coach."
- Isreali 100m hurdles national record holder, Irina Lenskiy (age 40), talking after beating her 18-year-old daughter, Olga, who is the Israeli 100m and 200m champion by .01 in the 100m. Mom is her daughter's coach and roommate on international trips.
---
Wednesday: "The majority of emerging elite distance runners live beneath the poverty level. In fact, many who could potentially race for the U.S. in national competition ... those athletes live off of $500 to $1,000 a month that they make working part-time jobs. Most of them don't have health insurance. All of them are very well-educated and could easily enter the work force and go the normal path, but they choose to chase their dreams."
and
"Some days you go in and you've run 20 miles, can't feel your legs, you're dehydrated and then you have someone like, 'Can you please top off my ice tea?' "It's a crazy way to try to make a living. You better love it otherwise, guess what, it's not going to be long."
- Founder and coach of McMillan Elite, Greg McMillan, talking about the financial struggles most US distance runners deal with, and Flagstaff runner Mike Smith talking about the difficulty of running 100 miles a week and waiting tables. Smith once finished a Friday shift at 11:30 p.m., got up at 3 a.m. to go win a marathon, and then got back in his car to come work his 3 p.m. shift at the restaurant.
---
Tuesday: "It's why I deal with youth -- there are no issues, no drama. All the drama is whether you win or not, and 10 minutes later, whether you did or not, you go get your chocolate."
- Carl Lewis on working with kids in the Hershey's Track and Field Games, a program that "draws millions of kids into track and field." In this article he talks about his work with the "Project 30 Report," which outlined problems with US track and field after the 2008 Olympics so we could hit the goal of 30 medals in 2012. Lewis points out a big problem in how we always choke in the relays, saying, "The reality is that we're talking about 30 medals and we still haven't figured out how to pass the baton. The last two championships, the men have not passed the baton. That's a huge problem. We had two gold medals that were guaranteed all the time and now we can't get a medal, period."
****
Last Week's Homepages
*Mon (Aug. 1) *Sun (July 31) *Sat (July 30) *Fri (July 29) *Thu (July 28) *Wed (July 27) *Tue (July 26)
---
Runner's World &
Running Times



Combined Only $22
a Year
Save $87

---

Running & Track and Field Posters
---

Great Offer: Nike Lunar Glide Sale Multiple colors of this shoe available.

*Nike Air Max Moto 7 Get 2 Pairs for a Crazy $112
---