Streaming now on WCSN.com
If you thought after Prefontaine & Bislett, the good pro meets were over for a while, you were dead wrong:
IAAF Ostrava Meet Coming Thursday - Watch Meet Online at WCSN.com at 1 pm Thursday (2 hr Delay) *Tentative Entries/Schedule *Meet Website
Preview of Thursday's Fantastic Meet in The Czech Republic The meet is going to be a great one. First of all, the two new world record holders will race. Usain Bolt will run his first 200m of the year as Tirunesh Dibaba will run in the best ladies 10k of the year as 3 others with pbs better than 30:40 will compete and Linet Masai will make her 10k debut. Jeremy Wariner will go for a world's best in the 300 meters and Abubaker Kaki and David Rudisha will renew their rivalry at 800 meters. Plus a great men's 5k and a world record attempt in the women's 1 hour run.
*Boston Champ Dire Tune Aiming For 1 Hr World Record
*Usain Bolt Ready To Compete as World Record Holder *Bolt Is Headed To Europe

More Ostrava News: Usain Bolt Turns His Attention to Michael Johnson's 19.32
*Usain Bolt Calls 100m World Record Close to Perfect
Fukushi Runs 31:30 in Japane Setting Up Great 10k at Japanese Trials
LRC: The Week That Was What a week it was as Bislett and Prefontaine were simply amazing. We recap all the action across the globe and help put it all in perspective. The action was so amzaing it seems almost unbelievable - from a woman running 14:11, to a teenager running 1:42, to a Brit winning the Dream Mile, to the world champ in the men's 800 being totally ignored on the US tv broadcast. Plus we give everyone a history lesson about the incredible 1982 Dream Mile, where the American, Irish, and New Zealand national records were all set (and all stood for 25 years, video of the mile as well).
Profile Of Track's Newest Teenage Sensation: Abubaker Kaki The 18 year old talks about his idol (Wilson Kipketer) and his desire to be an 800 and 1,500 man like Seb Coe. The scary thing is his coach Jama Aden thinks the 1,500 will ultimately prove to be his best event. He also talks about how much his success means to his country of Sudan.*2nd Profile Of Kaki
Justin Gatlin Files Suit Over Being Excluded from Olympic Trials Says it Violates American With Disabilities Act
Kenyan Athletes Given Until Wednesday to Report to Olympic Training Camp
Young Studs: Asbel Kiprop 3:36.5 Win in Kenya
*A Look at Kaki's 3:39 1500m Win Last Week We didn't focus on it but he did it 3 days before his 1:42.79
US Stud: German Fernandez Coach Knows What He's Talking About And He Says Fernandez Can Run 13:18 Next Year Fernandez ran 4:00 with no speed work faster than 30 second 200s. His coach is a big fan of Jack Daniels.
*Message board thread on this
Nate Brannen Talks About Coming Back from Back Surgery, Missing Canadian Olympic Standard
Alan Culpepper Calls Denver Half Marathon a "Hard Workout"
Culpepper Profile: "I have it all planned out"
Pre:*Results *Photos
Sweet 16 for Mutola, Bekele 26:25, Lagat Wins 2 Mile, American Record for Brad Walker in PV, Alan Webb Soundly Beaten, High Schoolers Shine link fixed
The distance races were stacked at Pre. Maria Mutola got her 16th and final Pre win (assuming she does retire), Bernard Lagat looked great like he has every time in 2008, Abdi Abdirahman just missed Meb Keflezighi's American record at 10k, and Alan Webb made his 2008 track debut and ran like we've never seen him run before. High schooler Chanelle Price ran 2:01 in the 800 and high schooler Jeff Demps was third in the 100.
Full Recap: AFP Pre Recap
Pole Vault: Brad Walker Breaks American Record in Pole Vault USA Today
Distance:*Maria Mutola Makes It Sweet 16
*Bernard Lagat Shows Fine Form at Pre USA Today
*Bekele Comes Up Short Oregonian
*On the boards: Treniere Clement Only 4:11
*On the boards: Solinsky Beats Mottram
Hurdles:*Liu Xiang DQd for False Start at Pre
*On the boards: Liu Xiang Was Faking
Shot: Adam Nelson 72' 7" 'Those were some of the easiest 22-meter throws I've had in my life' Oregonian
100m: On the boards: High Schooler Jeff Demps 3rd in the 100
*On the boards: Allyson Felix Gets Smoked
More:*Athlete Quotes
*Post Race Interview from Pre
*More Photos
On the boards: Biggest Disappointment at Pre? We actually really agree with the first poster.
Pre B Race Results: Gabe Jennings 3:40 for the win, 8:29 steeple for Josh McAdams
Asafa Powell Has No Comment on Gatlin's Drug Woes: "Justin is not the big thing anymore"
Asafa Powell Will Run Weekend Before Jamaican Trials in Trinidad
Comrades Ultra Marathon to Prevent Athletes from Dragging Others Across the Finish
Frank Shorter Throws His Hat in the Ring to be CEO of USATF
LRC Rankings: Men's and Women's 5k Lagat and Rhines #1.
Previous: US Steeple Rankings *Updated Men's 800-1500 Rankings
LRC US Steeple Rankings Last week we uveiled our US distance rankings at 800 and 1500. We'll update those tomorrow and give our 5k rankings as well. But here today are our men's and women's steeple rankings.
*Updated Men's 800-1500 Rankings
*NYC Reebok Grand Prix:USAIN BOLT 9.72 World Record!! *Meet Results *Video of Usain Bolt's 9.72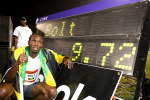 Bolt Runs 9.72.The Jamaican put on a show in the Big Apple to conclude a meet that showed exactly what track can be in this country- a large sold-out crowd, live tv and unreal performances. Tyson Gay ran a great race 9.85 but was soundly beaten. In other action (like anything else matters), Veronica Campbell Brown ran the fastest 100 of the year (10.91). In the distances, Paul Koech ran an all comers American record in the steeple, Lauren Fleshman went sub 15 for the first time, Lopez Lomong got his first big professional win, and Yusuf Kamel edged Khadevis Robinson in a very close men's 800. *Message Board Thread Here
*LRC Distance Recaps
*Photo Gallery
*Race Results Weekly Distance Recap With Athlete Quotes
*NY Daily News Recap (Only NY newspaper that delayed Sunday publication to include the Bolt article)
*Ato Boldon Wonders Whether Bolt Can Get 100, 200, and 400 World Records USA Today
*Usain Bolt Not Overly Excited about World Record USA Today
*Athlete Quotes from Reebok Grand Prix
Drug Talk: Hopefully Bolt can join some sort of baseline testing program like Tyson Gay to restore people's confidence.
*Drug Scandal Hangs Over Bolt's 9.72 Times of London
*Progression of 100m World Record
*NY Times: Is Bolt Clean? New York Times
Om the boards Please, Jesus, Let Bolt Be Clean We think he should voluntarily join a baseline testing program like Tyson Gay. And while we're at it we think that everyone's baselines should be published.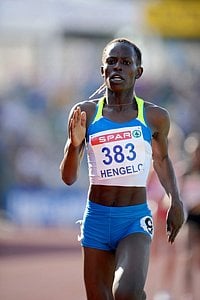 Last Weekends Action: *Results *Video Highlights
Hengelo: Pamela Jelimo 1:55.76, Geb Sub 27, Bekele Sub 13 It was expected to be an Ethiopian night in Hengelo, but 19 year old Pamela Jelimo emerged on the world scene in a big, big way with a stunning 1:55.76 800. Sileshi Sihine outkicked Haile G for the win in the 10k, and Kenenisa Bekele went sub 13 in the windy conditions. American Matt Tegenkamp ran 13:28.
*Free Video Highlights from the Meet
*Watch The Full Meet on Demand on WCSN.com ($4.95 a month)
*Irving Saladino Jumps Farther Than Anyone Else Has In the Last 14 Years Shows how week the long jump has been that 6 men have still jumped farther.
*Video of Saladino's Jump
Great Interview: Jos Hermens Talks About Saladino, Haile Gebrselassie He says Geb did NO speed work shorter than 2000m prior to the race.
On the boards: Jelimo's 1:55.76 possibly the fastest clean mark ever?

Olympic Trials:

LetsRun.com: Deena Triumphs in Boisterous Boston It was an incredible day on the streets in Boston. The fans turned out in droves to cheer on America's finest and Magdalena Lewy Boulet made it interesting by opening up nearly a 2 minutes lead before Deena Kastor came from behind for the win. We give you all the analysis, talk about Deena's strategy (no miles over 5:25), and more (Joan Benoit's final competitive marathon)
*LetsRun.com! Boston Women's Olympic Trials Photos
*4 Minute Highlight Video of Post Race Comments (Deena, Magdalena, Blake Russell and Joan Benoit all give their take)
*Victor Sailor Photos link fixed. Photos rearragned. A few captions added.
More coverage:
*USAToday article by Dick Patrick
*Joan Benoit Article in NY Times
*Olympic Trials Coverage *Splits for Every Mile Here
*LestRun.com Message Board Thread Here
*Watch on Demand Here

LetsRun.com London Men: Lel Leads 3 Under 2:05:30!!!, Ryan Hall 2:06:17
Ryan Hall Goes Through Halfway on World Record Pace
The 2008 Flora London Marathon will be remembered for a long time. The lead pack of 9 went through 5k at 14:21 (2:01 pace). They continued together (yes, all 9) through halfway on world record pace (1:02:13). Ryan Hall then went to the front soon after and asked the pacemakers to go FASTER. Soon Hall was off the back, but he would catch the leaders briefly again and go on to run 2:06:17. (Until Sunday, only 7 guys had ever run under 2:06:15, now 11 have.). Up front, it came down to a 3-man battle over the final mile before Martin Lel got his 3rd straight World Marathon Major win over the final quarter mile as he led 6 guys under 2:07 and to $50,000 bonuses each. Recap, photos, video above
This Guy Has Totally Won Back Our Respect
Maasai Warriors Finish Marathon link fixed One of them went back to the course and finished the race a day after being forced to go the hospital after a ceremonial wrap cut off his circulation. He said, "It was very important for me to do this. This is what I came to England for."
LetsRun.com Ryan Hall Reflects On his Incredible Run We tell you (and let you watch) what Ryan, his dad, his grand-dad, his coach and even Martin Lel had to say about Ryan. Lel was full of praise for the American and shocked by Ryan's attempt to get the pacemakers to go even faster. If Hall didn't already have your respect, he does after reading this article as he pays homage to a throwback type of guy - Steve Jones. Text and Video.
LetsRun.com Video: Ryan Hall Talks About His 2:06:17 at the 2008 Flora London Marathon
*More LRC London Videos Here
*Photo Gallery
2008 NCAAs D1 Underway:*Meet Schedule *Results
Day 1 Recap
Day 1 was 100% prelims and by and large most things went acccording to plan (Porscha Lucas the #1 seed in the 200 didn't make the 100 final for Texas A&M). Travis Padgett looked like the man to beat in the 100m semis. Jacob Hernandez and Andrew Wheating both advance to the 800 sems easily, and the great NCAA career of Yale's Lindsay Donaldson came to an end. Mark Wetmore's CU team got 2 steeple prelim wins, and 3 guys into the 5k final. AP recap above. 3 minute video highlight in upper left corner. No text recap as not too much happened (and we had a computer crash).
*Flooding Causes Some Teams to Move Hotels
Previous:
*Track and Field News: NCAA Women's Predictions (Three Way Battle)
*Lisa Koll Hoping To End State of Iowa's 10 Yr Drought From NCAA Title
*Arkansas' Dacia Barr Psyched Sally Kipyego Is Running 1,500
*Track and Field News: NCAA Men's Predictions 10 deep men's and women's individual predictions.
*Billy Nelson Ready To Make Some Noise At NCAAs He took up the steeplechase as a 5'5 college freshman and has only grown one inch since.
*Colorado Ready For NCAAs
*Des Moines Register Talks About How Steve Prefontaine Shined In Des Moines and Looks For Next Pre
On the boards: WEBB may be in better position than we think
*Babcock going to race 1500 at Mt Sac
*LSU trashes Rocket Bob Hayes to proclaim Trindon Holliday fastest football players ever
A Brief Chat With Abdi Abdirahman - He doesn't call himself it but we will - the favorite for the 10k at the Trials after his 27:16 10k at Pre. Abdi talks about how he was headed to Hengelo until he lost his passport.
Angelo Taylor On Comeback Trail From individual Olympic Gold in 2000 to no contract and working as an electrician just a few years ago, the American is now shooting for gold in both the 400 and 400 hurdles.

Andrew Baddeley Will Run 3k - Tom Lancashire 1,500 At European Cup Team Competition It will be Lancashire's 1st time in a British vest as a senior.
*Baddeley A Medal Hope *Baddeley Runs With Help Of Pacemaker - Literally like one that runs on batteries
Leonid Shvetsov Is Favorite For Sunday's Comrades
Shane Stroup Wins American Miler Series Meet on Monday in 3:40
Steve Cram Full of Praise for Andrew Baddeley If you weren't impressed with Baddeley's 3:49 Oslo mile win, then you will be once you learn he's an aerospace engineer from Cambridge.
More British News: Brit 400m Runner Iwan Thomas is Back Running Again
*Kelly Sotherton Has Recovered from Kidney Failure, She's Hoping to Make British 4*400 Team and Heptathlon
A Look at Chicago's Olympic Bid If McCain wins, the bid may be in trouble because he was against the IOC Salt Lake Corruption.
ExxonMobile Bislett Games *Bislett Game Results


14:11.15!!!!!! 1:42.69 for Kaki
*Photos
Tirunesh Dibaba's performance was simply amazing. Running in 78-80 weather she smashed the world 5000m record. She averaged 4:15 each 1500m and ran her last 1500 in 4:06-4:07. (Jen Rhines ran a 14:54 pb) In other action, in the much anticipated 800m matchup between teen sensations Abubaker Kaki and David Rudisha, Kaki was simple amazing. He led coming into the homestretch, then blew away the field the final 100m running 1:42.69, the first sub 1:43 clocking in 5 years and a junior world record as Rudisha ran a pr but lost for the first time in 12 races. . Pamela Jelimo showed 1:55s are easy for her as she clocked a 1:55.41, Samitova-Galkina ran a 9:14 steeple, and Andrew Baddeley went sub 3:50 to get the big upset in the mile that we're sure everyone in Britain will be writing about tomorrow. Jeremy Wariner ran 43.98, his first sub 44 clocking before the Trials. Despite our harping on his decision to switch coaches, he's running very well. (nonetheless, his lost may have cost him $200,000)
*Tirunesh Dibaba: "'I could have run faster" iaaf.org
*Athlete Quotes from Bislett
*Baddeley Breaks Through
On the boards: *Dibaba 14:11.15 WR!! -
*Andrew Baddeley 3:49.38!!
*Wariner 43.98 at Bislett
LRC: NY Mini Hilda Kibet Wins, Deena Third Deena Kastor and Madaí Pérez put up a brave fight but Hilda Kibet was too good on the streets of NY. text, photos, video
*NY Mini Results
*Photos

Justin Gatlin's Suspension Upheld
He can't compete until 2010
*Gatlin says his running career isn't over.
2008 Boston Marathon Men
LRC Robert Cheruiyot Destroys Field And Joins Bill Rodgers As a 4-Time Winner After a slow opening two miles, Robert Cheruiyot put on quite a show as he wheeled off 17 straight miles at 4:53 or better including a 4:36 19th mile that mile that fnished his only reamining challenger, Abderrahime Bouramdane. His performance in the middle miles was incredible. Recap, photos, post-race comments.
*LetsRun.com! 2008 Boston Marathon Photos
*2008 Boston Marathon Photos from Victor Sailer 75 more photos added including good race action
*Message Board Thread On Race
*IAAF: Robert Cheruiyot Wins 4th Boston
*AP: Tune wins women's race at Boston Marathon in thriller
*Hanson's-Brooks Nicholas A. Arciniaga 1st American Male (10th - 2:16:13)
*Former Drake Runner and Current Med Student Ashley Anklam Is Firs American Female Finisher in 2:48.
*Lance Armstrong Lance Recaps His 2008 Boston Marathon (Video and text)
He had high praise for the Boston crowds: "Boston was a pleasant surprise. I expected the crowds to be great but they were about ten times what I expected"
*AP Article on Lance's Run Lance talks about the Boston hills.
Boston Video:
*Watch the Race on WCSN
*Post Race Press Conference: Robert Cheruiyot, Abderrahime Bouramdane, Khalid El Boumlili Share Their Thoughts
*Lance Gives His Take
LetsRun.com Boston 08 LetsRun.com Party Photos The party hosted by Puma was a smashing success. A packed house as those passionate about running (from ages 5 to 65+) came to celebrate a great weekend in Boston. LetsRun.com fans celebrated with Rojo, Wejo, Matt Taylor, and a few legends in the sport, including former marathon world record holder Steve Jones and Olympic Silver Medallist Sonia O'Sullivan. The Harpoon beer was flowing, DJ Inkognito kept things going and contrary to popular opinion there was a healthy mix of males and females. The reviews were excellent. "It's refreshing not to see the same 50 people (industry insiders) at a party." "Most favorable female to male ration I've seen in a long time."
You'll Be Hearing About This For a Long, Long Time
*Maurice Greene, HSI Linked to Steroids A few HSI athletes have been caught doping in the past (Larry Wade the most notable), but this NY Times article brings to print some of the rumors some of you may have heard. And it is a sad, sad day for American sprinting if true.*Times Of London Story on Maurice Greene Being Accused Of Doping
Maurice Greene Defends Himself He says he never used drugs but did pay for teammates bills without asking what it was for. Greene: "This is a bad situation for me. My name's come up in something and it's not true."
LetsRun.com London Women: Mikitenko Wins Crazy Women's Race The women's race went totally not according to form. German Irina Mikitenko was the surprise winner. The race went out slow, then picked up, then slowed back again. Then Gete Wami wiped out at a water stop, nearly knocking her own teeth out, fell back off the back, then battled back only to get dropped again as Mikitenko threw it down the final 5k. And a perfectly sunny day turned into a cold rainstorm at times. Text, Photos, and Video
Other London Coverage: *Yelling Makes GB Team: A great moment when she looked rival Hayley Haining in the eye at 19 miles,. Amazingly both ended up happy as both PRd.
*British Men Could Run 25 Miles, Everyone Else 26.2 Miles And They'd Still Lose in London
*World Marathon Majors Point Standing - Lel has a huge lead. Wami's is narrowed by Mikitenko s
*Dick Patrick of USAToday Writes About Ryan Hall
*American Ryan Hall mixes it with Kenyans
*AP Story on Ryan Hall: Hall Confident About Beijing Chances
*Quotes From The Top 3 In London
*Gas Leak Causes London Marathon to be Diverted
*Paula Radcliffe Talks About Her Beijing Preparations
*Jon Brown Blasts UK Performance Director Dave Collins The 4th placer in the marathon at the last two Olympics absolutely rips Collins - a man who somehow managed not to show up at world cross country last month when it was in Scotland..
101 Years Old, Still Smoking, Running, and Drinking: Buster Martin: "I'm not worried about the fags because I'll carry them with me. Everyone says smoking kills but it's taking a long time in my case" The 101 year old legend plans on smoking while running Sunday's London Marathon.
LetsRun.com 2007 World's Coverage:
*Sunday Homepage Ndereba marathon
*Saturday Homepage
*Friday Homepage Tyson Gay
*Thursday Homepage Lagat
*Wednesday's Homepage Lagat
*Tuesday's Homepage Bekele 10k
*Monday's Homepage Tyson Gay
*Sunday's Homepage Dibaba/Goucher 10k
*Saturday's Homepage Kibet Marathon