The Week That Was June 2- June 8, 2008
Jun 10, 2008
*Last week's week in review can be found here
By LetsRun.com

What a week it was. Bislett in Europe and Prefontaine in the US. We'll start by recapping some road action in New York.
New York Road Runners Celebrates Women's Running As Well As Its 50th Birthday
On Wednesday of last week, the NYRR turned 50 years old. Considering all that NYRR does and has done for elite distance running, it certainly was a time to celebrate.
But what we (and the NYRR) found more noteworthy was the celebration of women's running in conjunction with the 37th running of the New York Mini 10k on Saturday. The New York Mini was the first women's-only road race in the world and people under the age of 40 probably have no true understanding how far women's running has come since 1972. NYRR head Mary Wittenberg summed it up perfectly by saying, "We're in a whole different place today; when the New York Road Runners began, you didn't see women in business, you didn't see women in politics, you didn't see women in the forefront of the sport of long-distance running. Today we have women doing all these things and more. We're so proud the New York Road runners has had the opportunity to open the door for these women."
We highly encourage everyone to read our recap of the press conference the NYRR held to celebrate women's running and promote the 2008 New York Mini.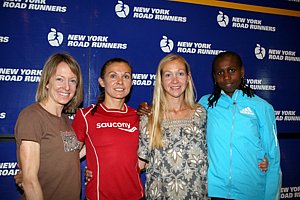 As for the race itself, pre-race favorite Hida Kibet pulled away late to win in 32:43. Mexico's Madaí Pérez was second in 32:49 with American Deena Kastor third in 33:14. Kastor had come into the race saying she wasn't in great shape but she certainly didn't race like it as she pushed the pace early. If you want to read more about Kastor and receive proof that she reads LRC.com, please see our pre-race article on her: *Deena Kastor Interview: "I want a gold medal"
Kastor's fellow US Olympic marathoners, Magdalena Lewy-Boulet and Blake Russell, also ran. We found it interesting that the order of finish was the same as the Trials, as Lewy-Boulet was fourth in 33:29 with Russell sixth in 33:40.


LRC: NY Mini Hilda Kibet Wins, Deena Third
*NY Mini Results *Photos
Pre-Race Coverage:*NY Mini Celebrates Women's Running

Exxon Mobile Bislett Games - A Teenager Runs 1:42.69, A Woman Runs 14:11.15 & A Brit Wins The Dream Mile - No, We're Not Making It Up
*Bislett Games Results

Our headline for the Bislett Games almost seems surreal but the action in Europe was simply unbelievable. It's hard to know where to begin our recap. The women's 5k produced the fastest time in women's history so we'll start there. In 78 to 80 degree weather, Tirunesh Dibaba got her first outdoor world record as she reeled off kilometer splits of 2:48, 2:55 (5:43), 2:55 (8:38), 2:49 (11:28), 2:42.7. Not exactly the even splits you often see in the men's world records but it's virtually impossible for meet directors to find rabbits that are fast enough to set the pace very long. In this case, the Russian rabbit set the pace for 2k and then Tirunesh smartly saved energy by running behind her younger sister Ejegayehu until 3k. Ejegayehu ended up with a nice race in her own right as she was third in 14:36.78. Also running well was American Jen Rhines, who was 5th in a new personal best of 14:54.29.
In the men's 800, the battle of the teenage sensations in Kenya's David Rudisha and Sudan's Abubaker Kaki more than lived up to the hype. In the end, Rudisha ran a new personal best of 1:43.72 - and was smoked in the process! He hadn't lost in 11 races, he PRs and loses? Yes, he was smoked over the final 200 as the 18-year-old Kaki, the 2008 indoor World Champion, set a new junior world record of 1:42.69 - the first sub 1:43 clocking five years!!

Since Wilson Kipketer's retirement, the 800 had lost some of it's luster. Well it's back now.
The biggest surprise from Bislett came in the Dream Mile, which was won by Britian's Andy Baddeley in a new personal best of 3:49.38. Baddeley is no flash in the pan. He just was sort of ignored a bit by the media last year given the success of Alan Webb. Baddeley had a very successful 2007, as he was third in the Dream Mile last year in 3:51.95 before making the World Championships final.
In the recap of Oslo, it was interesting to see it mentioned that the third place finisher, Ethiopia's Deresse Mekonnen, set a new Ethiopian national record of 3:49.72. Hard to imagine a distance record in Ethiopia being behind that of America, Britain and Ireland, but Ethiopia's never really had many good milers or steeplers.
The other newsworthy performances came from Pamela Jelimo who showed 1:55s are easy for her as she clocked a 1:55.41, Samitova-Galkina ran a 9:14 steeple, and Jeremy Wariner ran 43.98. Despite our harping on his decision to switch coaches, he's running very well (nonetheless, his loss may have cost him $200,000). This was only the 7th time in his life he's been under 44:00 and it was the earliest he's ever done it in a season as he'd never done it before the US champs prior to this year. Each of the previous three years he's gone sub 44.00 but last year he didn't do it until August 7th, the year before July 8th, and in 2005 it wasn't until August 12th. One could argue he's a month ahead of schedule.
Random Fact Of The Week: 1982 Dream Mile Many people probably don't know that in the 1982 Dream Mile from Bislett, the American (Steve Scott 3:47.69), New Zealand (John Walker 3:49.08) and Irish (Ray Flynn 3:49.77) mile records were all set. For 15 25 years, they all stood until Webb broke the American record last year. Talk about a Dream Mile!!!

*IAAF Recap of Bislett
*Tirunesh Dibaba: "'I could have run faster" iaaf.org *Athlete Quotes from Bislett *Baddeley Breaks Through *More on Baddeley's Win of Dream Mile *ExxonMobil Oslo Golden League Photos
On the boards: *Dibaba 14:11.15 WR!! *Andrew Baddeley 3:49.38!! *Wariner 43.98 at Bislett
Prefontaine Classic
This week's action on the domestic front was understandably dominated by a great Prefontaine Classic. We won't recap the action in great depth here. If you need a recap, please see our recap here. Our recap/analysis is very short but sweet. In fact, we were feeling a bit guilty that our recap wasn't a bit longer until we received the following email from the president of a major running club in the US:
"Your one-page summary of the Pre meet (https://www.letsrun.com/2008/pre0608.php) contains more useful information than the NBC announcers were able to provide in 2 hours. Have you guys considered offering your services to NBC? If you were allowed to speak for, say, 3 minutes out of a 2 hour broadcast, I think it could be a massive step forward for track fans, without alienating the non-track audience to whom NBC (and ESPN, etc) presumably caters as their main priority. Thanks for the great work.".
Glad to see that people enjoyed it. As for the announcing, our weekly critique appears later.
Below we comment on several things we took away from the meet. But before we get started, let's praise Nike and meet director Tom Jordan for putting on another great show. For a long time, this was the only legitimate pro meet in the US. Glad to see there are other meets but Prefontaine always is amazing.
Men's 2 Mile: Bernard Lagat Continues to Impress, But.....

In the men's 2 mile, American Bernard Lagat looked fantastic as he used a great kick to get the win in a race that showed exactly how he won the Worlds 5k last year. If he's in it with a lap to go, it's likely all over. That being said, he does have reason to be worried about the Olympics.
The guy finishing 2nd in Oregon was none other than 2005 double 800 and 1,500 World Champ Rashid Ramzi in his 2008 opener. People need to remember that last year, Ramzi had a very bizarre year as he opened up at the World Championships. This year, things are clearly going better for him.
Winning an Olympic gold is incredibly difficult and Lagat knows that better than most, but Ramzi's arrival on the scene certainly didn't make it any easier. It should be interesting come August.
One other thing to note from the 2 mile, 23-year-old American Chris Solinsky looked great. He moved up with 250 to go and pulled up along side Ramzi. He likely won't be a factor at the Olympics but he's certainly someone with a good shot at the Trials. Look for him to almost certainly move up in our LetsRun.com US Rankings this week.
If you are a fan of last year's US 1,500 Champs Alan Webb and Treniere Clement, it's officially time to get nervous.
Let's talk about Webb first. Up until Prefontaine, his 2008 season had been a disaster (he faded at the NY 8k with food poisoning, then dropped out of the Carlsbad 5000, then skipped the Drake Relays). At Pre, he ran 3:55.47 and finished seventh. For anyone in America besides Webb or Lagat, a 3:55 in your first race on the track would be a very encouraging sign but in this case, it's a cause for concern. Prefontaine really doesn't answer the question of "How is Webb doing?" as it would have been unrealistic to really expect him to open up at 3:51 or something. However, it doesn't mean he's out of the woods either.
On the message boards there are clearly two camps, Webb supporters are saying he's trying to peak better this year and have something in the tank in August. They may be right but they also may be wrong.

Alan Webb at Pre
There are 2 photo galleries
from Pre Main One
Seconday One via photorun.net
First of all, 3:55 is slower than what Webb ran in HS. Additionally, the way he ran was totally different than we've ever seen Webb run. He went out tentatively and was in the back. We actually think that was smart as he simply couldn't afford to have another disastrous blowup. So going out in the back wasn't a bad idea, but it wasn't like Webb had a lot left in the tank. His splits of 1:56 and 1:59 aren't all that encouraging. If you are Webb fan, you are saying he just needed a rust buster and he'll have a good finish in his next race. We shall see. (But it seems to us there could be a better place than Pre for Webb's rest buster. Webb with all the talent in the world has suffered from lack of confidence at times in the past. To go into a race knowing you're going to get your doors blown off doesn't seem like the best plan for someone like Webb (unless that wasn't the plan).

Clearly, given the way Webb went out in this race, something has been off with him over the last few weeks. Food poisoning or overtraining or a combination of both led to fatigue. Experience has shown us that some people can put themselves in a hole and rest up and bounce back from it (remember when Craig Mottram beat Bekele two summers ago?). However, there are a lot of guys we've seen who, once they are in the hole, never claw out of it. If Webb improves, he has plenty of time to be in shape for Beijing (assuming he makes the team) and we'd expect him to be in great form then. However, if he doesn't improve in his next race, his whole season may be down the drain.
It should be interesting to watch over the next few weeks. Webb fans can take heart in this: last year, he opened up outdoors in 3:57.93 on April 7th in Furman. Three weeks later, he ran 3:51.71 at Drake. The first round of the men's 1,500 at the US Olympic Trials is on July 3rd - three weeks and four days from Sunday. This message board poster some up the beautiful contradictions of Alan Webb best, "Webb may do anything. thats his story. he may win gold or he might not make the team."
Unlike with Alan Webb, where there is some doubt, for Treniere Clement, the US women's 1,500 champ the last three years, there is no doubt - she's in trouble. She's raced three times in big meets this year including the last two weeks and hasn't looked good in any race. In Jamaica, she ran 2:05.35 on May 3rd. At the Reebok Grand Prix, she ran 2:03.9 and finished 8th. Better, but not good enough considering she ran 1:59 last year. Then she ran 4:11.87 at Prefontaine and finished 11th. Like Webb we guess she can theoretically come down in three weeks but we doubt it.
Thumbs Down To Liu Xiang. Look, we love the guy as much as anyone, as some athletes just have a natural charisma (Haile G, Liu Xiang) that make them easy to love but what he did on his American tour has to merit a thumbs down. At the Reebok Grand Prix in New York, just over a week ago, he pulls out out of fear of a small injury scare. At the Prefontaine Classic this week, he false starts.
So you fly halfway across the world to America and don't run. Then you fly across the country and false start. Bravo.
We were impressed to see the Chinese star smiling after his DQ, staying composed. But others have a more sinister view, that the false start was intentional.

Thumbs Up To Nick Willis

The Kiwi and former University of Michigan star has to be feeling great as he's clearly never been running better and he's picked the perfect time to do it - in an Olympic year. On Sunday, not only did Willis chop more than two seconds from his mile PR when he ran 3:50.66, but the way he did it was what impressed us. He took the lead with 200 to go and was going for the win all the way to the line. In the past, Willis has run fast but never been as competitive against the world's best as one might like to see. For example, his pr of 3:32.17 in the 1,500 (which is equivalent to 3:49-3:50 in the mile) came in Paris in 2006 when he was 7th. Running 3:50 and getting edged for the win at the line is more impressive than running 3:32 for 7th.
Willis probably won't get another crack at a mile this year, which is a shame as John Walker's legendary New Zealand record of 3:49.08 from the 1982 Dream Mile isn't out of the question.
Thumbs Up To Maria Mutola
Prior to the race, we were thinking of giving the meet a thumbs down as it seemed they were doing there best to make sure Mutola won with a watered down field. Honoring her with the MVP award is a fantastic gesture
and we already praised them for that in the past but setting up a race? Not our cup of tea. (Although to be fair in looking at the field, the only difference in the quality this year from year's past was 1-2 less sub 2:00 athlete in the field. Although it was interesting to see World Champ Janeth Jepkosgei was only running 2:00 last year this time of the year ). But then the race occurred and it was great drama and Mutola ran 1:59 yet again to win and all we can say is "Bravo."
7 ladies ran 2:01 or better including US high schooler high schooler Chanelle Price who still had the lead almost 600 meters into the race. Price ended up in 6th in a new PR of 2:01.61.
To watch the 2008 Prefontaine Classic women's 800, please click here.
Thumbs Down To The Announcing of the Men's 800
Speaking of 800s. The men's 800 was won by reigning world champion Alfred Kirwa Yego of Kenya. Now Yego was a surprise winner of the world championships last year, but his win at Prefontaine was anything but a surprise. The guy is after all the reigning world champ, who ran a great race and won in his 3rd fastest performance ever (1:44.01). Somehow NBC had no idea who he was. And the winner is?? Literally they had no idea who he was. There was an awkward 5 second pause and then they totally misidentified him before acting like he was some unknown. Five television announcers and no one can recognize the reigning world champ? Sorry guys, that deserves a big thumbs down.
(To see what we are talking about, you can watch the men's 800 by clicking here.)
It's sad how the African athletes stories are just totally ignored. We understand and are all for promoting Americans (NBC promoted Nick Symmonds like has Prefontaine prior to the race - and he did a great Pre impersonation by going for it a bit too early) but is it too much to ask to recognize the reigning world champ? It probably is if you think the great African distance runners are just "falling out of the trees." Oh wait, that was last week on a different network and different announcer.
Yego's story is a great one. We will give NBCOlympics.com for having a nice bio on him. Last year he was only 5th at Pre and then he went to Europe and never finished higher than 5th before getting third at the Kenyan Trials and then winning worlds. If you watch the video above, you can see how tactically he ran a perfect race. Yego was perefctly positioned, then was patient while his big rivals made too big of moves too early and waited to the end.
Generally NBC does a decent job of announcing (as Ato Boldon makes things a lot better), but in the women's 800, we felt like they could have given more time and attention to the fact that a high schooler was winning the girls 800. Pretty impressive to us. They mentioned her age (17) like it no different than her being a 24 year old. And she's American. You think they would have been all over it.
As for the rest of the women's 800 announcing, we thought with the rest of this race that Tom Hammond did a great job of really making Mutola's quest for a 16th victory seem very dramatic. The announcers need to get excited about the races and Hammond certainly did. You can see why he headlines NBC's Olympic telecast.
Most Overlooked Runner in America Abdi Abdirahman
Abdi has been phenomenal the last 3 years (13:13, 27:16, 60:29 half marathon on a hot day in NY, 2:08:56 marathon). By far the most consistent US distance runner. Problem is he has constantly been a bit overshadowed. He has come up short of breaking Meb's American 10k record, and now is overshadowed by Ryan Hall in the marathon (it also doesn't help his one really bad race was the US Olympic Marathon Trials).
On Sunday at Pre, Abdi ran 27:16.99, an agonizing 4 seconds short of Meb's American record (27:13.98). But his consistency deserves mention (as does Bekele's 26:25.97, #4 time ever, even though we've got it in our Pre recap)
Thread: "I noticed Abdi didn't get much attention after the Prefontaine Classic. Running 27:16.99 for 10,000 meters deserves some praise."
Pre:*Results *Photos
Sweet 16 for Mutola, Bekele 26:25, Lagat Wins 2 Mile, American Record for Brad Walker in PV, Alan Webb Soundly Beaten, High Schoolers Shine
The distance races were stacked at Pre. Maria Mutola got her 16th and final Pre win (assuming she does retire), Bernard Lagat looked great like he has every time in 2008, Abdi Abdirahman just missed Meb Keflezighi's American record at 10k, and Alan Webb made his 2008 track debut and ran like we've never seen him run before. High schooler Chanelle Price ran 2:01 in the 800 and high schooler Jeff Demps was third in the 100.
Full Recap: AFP Pre Recap Pole Vault: Brad Walker Breaks American Record in Pole Vault USA Today Distance:*Maria Mutola Makes It Sweet 16 *Bernard Lagat Shows Fine Form at Pre USA Today *Bekele Comes Up Short Oregonian *On the boards: Treniere Clement Only 4:11 *On the boards: Solinsky Beats Mottram Hurdles:*Liu Xiang DQd for False Start at Pre *On the boards: Liu Xiang Was Faking *Shot: Adam Nelson 72' 7" 'Those were some of the easiest 22-meter throws I've had in my life' Oregonian 100m: On the boards: High Schooler Jeff Demps 3rd in the 100 *On the boards: Allyson Felix Gets Smoked *More:*Athlete Quotes *Post-Race Interview from Pre *More Photos
On the boards: Biggest Disappointment at Pre? We actually really agree with the first poster. *Pre B Race Results: Gabe Jennings 3:40 for the win, 8:29 steeple for Josh McAdams
---
Other Relevant US Action: A slew of wannabe Olympians competed this week as well. The links pretty much speak for themselves.
More Weekend Action:
US: Boston High Performance: Lukezic Edges Brannen (3:37), Burley 1:46.9 *Oregon: 2004 Olympian Dan Browne Goes 28:05 to Qualify for Olympic Trials *Saturn Meet: Rob Myers Gets Beat by Jeff See *Colorado: Alan Culpepper Runs 1:07:57 Half Marathon at Altitude

Relevant & Humorous Action From Kenya
We talked earlier about the African teenage sensations in the 800 and don't want to give short-shift to our favorite teenage 1,500 phenom in 18-year old Kenyan Asbel Kiprop. Kiprop doesn't race much in Europe so he doesn't get nearly the publicity he deserves. We're virtually certain he'll get plenty of press over the next five to 10 years.

Anyway, Kiprop raced at home and won the Kenya Police inter-provincial meeting at Kasarani in 3:36.2. Deep results aren't available so we have no idea how dominating of a victory it was for him. We just wanted to mention it as it shows he's running well (3:35.5 was fast enough to win the Kenyan Trials last year) and it gives us an excuse to talk about the men's 800 race at the same meet.


In the men's 800, the 'winner of the race' wasn't the person who crossed the line first and no the winner wasn't DQ'd for false starting, fouling another runner or a drug violation. The quote from the Kenyan paper says it best: "In the men's 800m, Geoffrey Kibet (Airwing, 1:48.5) was awarded victory when Gilbert Kipkurui (North Eastern), who cut the tape first in 1:48.4 was disqualified by judges. Kipkurui who had not run in the heats, competed at the finals using the bib number of team-mate Charles Mutai."

Hilarious.
*Recap of Kenya Police Inter-Provincial Meeting

Drug News: Michael Johnson Voluntarily Returns His Gold Medal:

MJ gets it. People are tired of drugs and tired of drug cheats making excuses. Medals tainted by drugs should be given back. MJ won a medal in part thanks to a drug cheat, so he's voluntarily giving it up. A nice gesture.

But we'll go a step further - all marks set by drug cheats should be wiped off the record books.

MJ's quote: "I now realise that there have been a significant number of athletes and coaches in this sport who have cheated and taken the short cut, and many of them knew who else was cheating. But I will not give up on this sport and the current group of young athletes like Jeremy Wariner, Allyson Felix, Tyson Gay, Christine Ohuruogu, Usain Bolt and Asafa Powell. I will continue to support them but the difference is that now I can certainly understand why some fans may be hesitant to do so themselves. And I can't blame them for that. And that is a huge problem for the International Olympic Committee, the IAAF, and the whole track and field community. It is also a huge responsibility for the World Anti-Doping Agency, because many of the athletes who have now had to admit to using banned substances never tested positive."


Justin Gatlin's Suspension Upheld
We don't get why he was trying to get his suspension overturned. Fast as hell dirty, he'd probably only be a 10.0 to 10.1 guy clean, which most likely won't make the US team.


*Justin Gatlin's Suspension Upheld
He can't compete until 2010.
*Justin Gatlin Files Suit Over Being Excluded from Olympic Trials Says it Violates American With Disabilities Act
*Gatlin says his running career isn't over.
*Drug Cheat Dwain Chambers Runs 10.25 to Win in Greece, Will Not Take on BOA to Try and Get on British Olympic Team

Articles Worth Reading From Last Week:
The Lomong and Teter pieces are pretty moving.
*Excellent Read on Lopez Lomong by NBCOlympics
*Nice NY Times Profile on Bob Sevene and Blake Russell
*Nicole Teter Profile: "All the pieces are there (to make the Olympics)" She Talks About Cutting off Contact With Her Family of Alcoholics
* World Leader in the Steeplechase Donna MacFarlane Hadn't Run for 6 Years in 2005 When She Took Up Running Again Pretty incredible. From fitness runner to world leader. A great read for people looking to get back into the sport or wanting to know the keys to success. A stable home environment and a good coach go a long way.

Comments, suggestions? Email us at [email protected]