The Week That Was May 19- May 26, 2008
May 27, 2008
*Last week's week in review can be found here
By LetsRun.com

Since the US D1 collegians were taking a week off before regionals and most of the US pros were taking off a week in the week between the adidas meet in LA and the Reebok meet in NY, we imagine some thought that the last full week of May would be a dull one from a running perspective. They were wrong as a lot went on.

This past week's homepages: Monday, Tuesday, Wednesday, Thursday, Friday, Saturday, Sunday, Monday

Hengelo Recap - Pamela Jelimo!!!!! Simply Unbelievable Her Run and Rise Through the Sport
The biggest meet of the week took place in Hengelo and the meet did not disappoint. The biggest development of the week was the stunning 1:55.76 win in the women's 800 by 19-year old Kenyan Pamela Jelimo - our LetsRun.com Female Performance Of The Week. Before we try to tell you how great this performance is, we urge you to just watch the highlight clip from her race.

Simply breathtaking. Now if for some reason you are on a dial-up connection and can't watch the video, let us try to put her performance in context. 1:55.76 is very, very, very fast. How fast? Well it makes her the 20th fastest performer in history. That's pretty impressive in and of itself but one needs to realize that the vast majority of the top women's 800 times in history are times from totally doped performers. For example, of the 19 performers in history faster than Jelimo, 14 of them came from Eastern Bloc countries in the 1970s and 1980s when steroid usage was systematic and drug testing a joke. Another performance is from convicted drug cheat Jolanda Ceplak. Thus some are thus wondering if Pamela Jelimo's performance is the fastest clean 800 time ever run? We say no, but it's not far off (Maria Mutola has run 1:55.19).

That doesn't impress you? Well it also shattered the world junior record. Want more? It also is a new Kenyan national record - breaking World Champ Janeth Jepksogei's 1:56.04. Still more? How about this? Jelimo is only 19 and she just started running the 800 this year. YES SHE JUST STARTED RUNNING THE 800 THIS YEAR. Last year, she ran the 200 (24.68) and 400 (54.93). This year, she's run the 800 four times and she's won four times (including the African champs). Thus she's undefeated for her life in the 800.

Early in 2008, the biggest story on the men's pro track circuit was the emergence of two young 800 stars in David Rudisha and Abubaker Kaki. It looks like the ladies have a new star as well. Athletics Kenya must be very excited about the Olympics as Kenya also has 2007 world champ Janeth Jepkosgei in the women's 800. (Until 2007, unlike the men, the Kenyan woman basically had had little success on the track at World Champs/Olympics as they averaged less than one medal total per world championship with zero success in the middle distances (0 medals until last year)).

Oh yeah, one more thing. Jepkosgei is going to open up her 2008 season on Sunday at the Golden League Meet in Berlin where she'll square off against Jelimo. A MUST SEE EVENT.

Since we're talking about the women's 800, it seems appropriate to mention that one of the women ahead of Jelimo on the all-time 800 list who actually likely was clean - Maria Mutola - is going to be honored at the Prefontaine Classic next weekend when she goes for her 16th straight and last win at the meet in the 800. The meet is going to honor Mutola by retiring her bib number and giving out a Maria Mutola Outstanding Athlete Award. Very much deserved.

Pre meet director Tom Jordan summed up Mutola's legacy perfectly when he said, "There has never been another competitor like her. An Olympic gold, three World Championship golds, seven World Indoor gold medals — she has dominated her event like no other athlete."

Rest of the Meet - Geb Impresses as Does Saladino


The rest of the Hengelo meet did not disappoint. Irving Saladino jumped farther than anyone has in 14 years (28'7.75") and extended his win streak to 21. Let's hope the win-streak continues as there is nothing like streaks to capture the attention of the average sports fan.

In the men's 5k, Kenenisa Bekele had no problems with the competition (he had a tougher time with the hot and windy conditions) as he absolutely crushed the field to win in by nearly 12 seconds in a world leading time of 12:58.94 to Edwin Soi's 2nd in 13:10.88. American Matt Tegenkamp struggled home in 13:28. Meanwhile Bekele's compatriots swept the top 3 in the women's 5k led by Gelete Burka in 14:45.84.

In the 10k, distance fans got a blast from the past as the great one - Haile G - gave everyone a thrill when he took the lead in the 5th mile and pushed the pace before finishing a surprising second in 26:51.20 to Sileshi Sihine's 26:50.53, defeating 2003 world 5k champ and 2007 world 5k runner-up Eliud Kipchoge in the process. Losing to Sihine is nothing to cry about as he's earned the silver in the 10k at the last two world champs as well as the 2004 Olympics.

The question is now whether Geb runs the 10k at the Olympics or not. We bet he doesn't as it's clear to us he really wants to go for the marathon world record in Berlin instead.

Hengelo: Pamela Jelimo 1:55.76, Geb Sub 27, Bekele Sub 13
*Results *Video Highlights *Photo Gallery
*On the boards: Jelimo's 1:55.76 possibly the fastest clean mark ever?
*Free Video Highlights from the Meet
*Watch The Full Meet on Demand on WCSN.com ($4.95 a month)
*Irving Saladino Jumps Farther Than Anyone Else Has In the Last 14 Years Shows how week the long jump has been that 6 men have still jumped farther.
*Video of Saladino's Jump
Great Interview: Jos Hermens Talks About Saladino, Haile Gebrselassie He says Geb did NO speed work shorter than 2000m prior to the race.
*Gebrselassie Talks About His Run in Hengelo, Not Wanting to Run the Marathon in Beijing, and Whether He'll Get Selected for 10k in Beijing

DIII/D2/NAIA Nationals Take Place (And Wejo Makes an Ass of Himself)
The US collegiate nationals for the smaller divisions took place last weekend. Results can be found below. There were certainly some great performance (Scotty Bauhs is a stud) but the coolest things about the nationals may have been the lap by lap splits listed for every distance runner in the D2 meet. We bet in a few years that will be standard for most meets.

Making bigger news than perhaps the nationals themselves was Wejo labeling them the "Baby Nationals" in an attempt to differentiate them from the D1 nationals for our international visitors. Lots of D2 and D3 runners took it as a slight and a huge message board thread on the issue erupted. Certainly our Thread of The Week.

Trust us, Wejo doesn't look down upon D2 or D3 athletes. He just made the classic mistake so many politicians make. Don't try to justify or explain yourself, just say you're sorry for offending people. We're sorry.

Baby Nats Completed:
*DII Results Abilene Chrisitian swept both titles, Scott Bauhs won the 5k with a 59 second last lap. They have amazing lap by lap splits for every distance runner.
*DIII Results McMurry University in Texas and Wisconsin-River Falls win.
*NAIA
*Arono Rono wins 1500m, 5k and 10k at NAIA Nationals
*News from Last Week: Boaz Lalang 800, 1500 Double at Junior College Nationals

They Are Only In High School But They Are FAST!!!
With no big-time pro meets in the US this week and with almost all D1 collegians taking a rare week off, the most newsworthy track races in the US this week took place at the high school level.

The #1 performance came from Pennsylvania's Chanelle Price (headed to Tennessee or pro) who absolutely shattered the long standing state meet record from 1981 held by the late Kim Gallagher of 2:05.47 by running 2:02.90. News reports of the meet are all also stating that the mark eclipsing the national high school record of 2:04.50 set by Joetta Clark in 1980.

We're not sure what record it breaks. They are saying it's a "National Federation" record which must mean regularly scheduled high school meet as Price ran faster (2:02.76) against high school only competition last year at the Nike outdoor nationals. Her PR of 2:02.38 came against mixed competition at the USA nationals last year when she got 7th as a 16 year old.

Anyway, Price is really, really good. How good? Well let's just say her 400 split at the state meet was 57.24. That would have won the AA 400 title and got her 4th in the AAA girl's 400. Crazy. Prior to state, Price's seasonal best was a 2:03.20 she ran on May 10th, when she dispatched the field with ease at the New Balance NYC Qualifying Challenge at Icahn Stadium..

Also in Pennsylvania, Neely Spence (signed with Shippensburg), Steve Spence's daughter, went after the state meet record of 4:41.08 from 1981 held also by Kim Gallagher. Windy conditions got in the way but a 4:44.85 isn't too bad.

But the crazy thing is Spence's 1,600 wasn't even the fastest of the weekend in the high school ranks. That would belong to California's Christine Babcock, who ran a ridiculous 4:36, which is a "National Federation" record as well.

We're not sure what we should be our High School Performance of the Week as on the men's side German Fernandez pulled off a 4:07/8:45 double that a college coach said was "like a walk in the park". Fernandez's performance was so good it almost caused us to totally not mention that in Connecticut, Donn Cabral (headed to Princeton) and Willie Ahearn (UT bound) both broke the previous Connecticut record for 2 miles as Cabral got the win in 8:56.35 to Willie Ahearn's 8:57.92 at the Danbury Dream Invitational.

So who wins the High School Performance of the Week? Well ... we're giving it to Andrea Nelson, who crossed the line 2nd in 10:40 in the 3,200 in the 4A girls state race in Washington.. Now given the exemplary performances listed above, you may be asking why is she the performer of the week? Well because in the 3,200, Nicole Cochran made a move on the last lap to break away from the field and win by 4 seconds in 10:36. One small problem for Cochran, she apparently stepped on the line on the curve with a lap to go one too many times and was DQ'd (her coaches claim there is no way she stepped on the line). During the awards ceremony, the runners that were defeated by Cochran, led by the runner-up Nelson, decided to all give their medals to the person who finished ahead of them (Nelson to Cochran, 3rd to 2nd, 4th to 3rd, etc) to right the injustice being inflicted by an overzealous official.
Nelson summed up the situation perfectly , "That's not how you win state. She (Cochran) totally deserves it. She crushed everybody."
Talk about a classy thing to do.

*German Fernandez Runs Ridiculous 4:07/8:45 Double
*Chanelle Price Runs 2:02.90
*Chanelle Price Makes Good On Pledge To Get Records
*Christine Babcock Runs 4:36 1,600 The Washington-bound senior runs one of the fastest 1,600s in history. *Message Board Thread on Babcock's 4:36 Here.
*German Fernandez ran a ridiculous 4:07/8:45 double that one college coach said looked "like a walk in the park"
*Danbury Dream Invitational Results
*Donn Cabral Runs 8:56
*Video of Babcock's Incredible Mile
*Elijah Greer Runs 1:50.60 in Oregon
*Ohio Freshman Zach Wills Runs 9:16.81 Other sports hype youngsters. Why not track?
*Andrea Nelson Gives Up Medal
*News We Didn't Report Last Week: High Schooler Joe Franklin Ran 1:48.9
US Pro Action
While most of the US-based pros had the weekend off, a few did find some meets. In the Boston High Performance Series, Australia's Sarah Jamieson ran 4:06.73 to win the women's 1,500 as American Amy Mortimer came up agonizingly short of the 4:07.00 Olympic A standard with her 4:07.93 2nd place showing. In Brazil, Delilah DiCrescenzo ran 9:41.68 to get third in the steeple over American Lisa Galaviz (9:43.18). 2004 US Trials champ Jonathan Johnson showed up with two 1:46 clockings in Brazil as well.
*Boston: Jamieson runs 4:06 & Mortimer runs 4:07 at Boston High Performance Mortimer was less than a second off the Olympic standard.
*Brazil - Sunday: Hey Delilah 3rd in Steeple Delilah Di Crescenzo finishes third in 9:41.68 - ahead of American record holder Lisa Galaviz 9:43.18. Bryan Clay in 100 and long jump. J. Johnson 1:46.84 in 800 to finish 7th.
*Brazil - Friday's Meet: Kenyan Ismael Kombich Runs 1:44.90 in Brazil A pb puts him at #3 on world list.*Jonathan Johnson was 4th in 1:46.9
*Oregon: Matt Scherer 1:46.61
Kenya News: Recommended Read: Ex-Manager Goes on the Record With How Inept Athletics Kenya Is
*Kenyan Federation Will Not Let Athletes in Olympic Training Camp Train in Iten
*Many Athletes Dragging Their Feet About Going To Olympic Training Camps In Kenya We don't blame them. Go to Hengelo and make some cash or go train wit your rivals under some random coach.
Weekly Doping News

The Good News - A World Class Sprinter That Is Clean?
Our weekly update on the happenings in the world of drug cheats seems to gets some people down as a decent number of track fans would just rather ignore the problem or at least not have to be reminded how many drug cheats have been in our sport.
So this week, we'll start with some positive news. We think that some people assume that we think all top pros are on drugs. No we do not.

We are now going to officially state that we actually believe Tyson Gay is clean. Yes, that's right. We believe the best sprinter in the world is clean.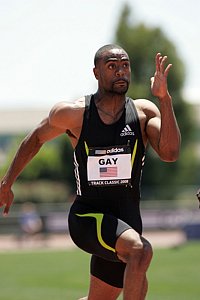 Starting last year, we began to think, "Could this guy possibly be clean?" Yes, we think he is. Why do we say it? Well for one, his anti-drug message seems so genuine as compared to the fake PR happiness that used to come out of Regina Jacobs' mouth. But we know in the past drug cheats have been great liars. Gay backs up his talk with action.
This week it came out that he voluntarily did six drug tests in two weeks to the anti-doping people so they could establish a baseline for his hormone levels which enables them to easily detect if they change through artificial means. Did Gay have to do it? No. He did it because he knows he's clean and wants to prove it.

We encourage everyone to read all about the developments in the following article from the Times of London: Tyson Gay Mr Clean.
It was a very impressive piece in our mind. Again talk is cheap. but we'll back up our confirmation with words. If Tyson Gay ever is banned for drugs, we'll pay $250 to the first person who emails us to remind us of this bet.

A clean sprinter? What if there were two? We found it refreshing this week to read that Gay's #1 rival Asafa Powell said this week that he thinks drug cheats should be put in jail. "Throw them in prison," said Powell. "Let them face some harsh time there. Taking drugs is illegal, because when police catch someone on the streets doing it, they go to prison."
No need to offer a bet to back that one up as he basically did it himself. If he's busted, we hope they punish him by throwing him in jail.
Want even more good news? Tyson Gay and Asafa Powell are actually going to race prior to the Olympics. They'll race each other in England on July 25th.
The world really must be coming to an end.
The two biggest sprint kings spend the week heading the anti-drug fight and then they agree to square off in a race.
Even more good news? Gay will face Usain Bolt - the Jamaican who has more than taken advantage of Powell's absence over the last month to establish himself as a legitimate gold medal threat at 100 and 200 - this weekend at the Reebok Grand Prix in New York.
And we did not feature this article on the homepage, but it is an in-depth report by ESPN.com and a good read: U.S. Pro Sports Leagues Still Trail in Drug-Testing Arms Race
Tyson Gay Mr Clean The Times of London takes an in-depth look at Gay and his attitude on drugs. Gay's a refreshing personality in the sport. He had a conversation with his mom on how he could compete against all the cheats. Plus he gets nervous before races, calls his mom an hour before every race, and barely gets recognized on the street.
The Heavyweights Will Finally Fight Tyson Gay & Asafa Powell To Clash At Crystal Palace On July 25th
*Video: Gay /Powell Talk About Upcoming Battle
Asafa Powell Says Throw the Cheats in Jail

And The Bad....

The soap opera that is the Trevor Graham trial continued to entertain as Antonio Pettigrew admitted it was drugs that led him to relay gold (in 1997-2001) and a sub-44 clocking (Pettigrew also won the individual gold in 1991. No word out of the trial on whether he was doping then as that was pre- Angel Heredia). The longer this trial goes on, the more we wonder why in God's name did Graham take it to trial. Since it seems totally impossible that he could possibly get off, we think perhaps he wanted all of his fellow cheats to be embarrassed and go down with him.

Trevor Graham Trial: *Antonio Pettigrew Says it Was Drugs That Pushed Him to Sub-44 400 He admitted to doping and it puts the 1997 and 2001 World Champ relay medals in jeopardy, plus the 2000 Olympic medal and the world record in the 4 x 400.
*Justin Gatlin Wore Wire for FBI
*Antonio Pettigrew Cheated Roger Black Out of Relay Gold By Doping Times of London Angel Heredia Links Antonio Pettigrew to Drugs, Judge Calls Some of His Testimony "No Believable"; Duane Ross Says He Became Outcast for Not Using Drugs Plus news that Marion Jones didn't like needles and wanted to know if she could get all her drugs in a single cocktail shot.
*Two Witnesses Point At Trevor Graham And Accuse Him of Lying
*How The Balco Case Was Cracked - Searching Through The Trash Special Agent Jeff Novitsky spent his Monday nights for a year looking in Balco's dumpster.
*Trevor Graham Trial Underway, 100s of Phone Calls Between Him and Heredia Graham 's lawyer said the calls were between him and athletes staying at Heredia's not Heredia.
*Lengthier Washington Post Article on Trial
Surprise, Surprise. World Record Holder in Women's Hammer is Banned Did we say she is Russian?
Canadian Paralympian Says Woman Stuffed Cocaine In His Mouth, His Catheter Got Contaminated so He Tested Positive (and he got off). The dude also spent $750,000 defending himself. If anyone has any insight into this case, feel free to email us.
Track & Field Needs More Rivalries - So We're Happy Try To Build One
The public at large loves rivalries - Coe -Ovett, M. Johnson - Donovan Bailey, Carl Lewis - Ben Johnson, etc. Well, we'll try to help. In case you missed the adidas Track classic the weekend before last, Jeremy Wariner won the 400 as he always does (by our count, he's won 27 times in a row at 400 meters in races that he's finished - with his last defeat coming at the World Athletics final in 2005) over 2008 world indoor championship Tyler Christopher.
Coming down the homestretch, it was unusual as Christopher definitely was gaining on Wariner, but in our minds the victory was never in doubt. Try telling that to Christopher's coach, Kevin Tyler.
Jeremy Wariner, do you read letsrun.com? Read the following quote from Kevin Tyler.

"(Christopher) had too much left in the end, it looked like he was going to catch Wariner. It was a lot closer than the time indicates."
Let's hope they start some trash talking.
Never Ever Doubt The Power Of LetsRun.com - It May Save Your Life or Get You a Raise
Over the years, the LetsRun.com community has done a lot - normally running-related stuff like exposing the fraud Regina Jacobs to preventing others banned for
drugs from running in the NCAAs. Now it's been upped a level - the LetsRun.com messageboard may have saved a life. Recently, we were forwarded an email from a guy who just found out he needs a kidney transplant. He had no idea he had serious kidney problems. Ryan Shay's death and the constant reminders from the LetsRun.com messageboard made him seek medical help.
See an excerpt from his email below:
dude, you hit the nail on the head. I went down to the Oly trials to watch****run and that was when Shay died. The next day on the letsrun message boards were all these quotes from elite guys saying how they need to get a physical and how they (take) their health for granted. Well, i threw up Sunday morning (the day after the olympic trilas. For the next two weeks i felt awful and kept on pounding out 70 miles a week, with workouts...and I couldn't hold 6:15 pace for a 30 min tempo. Then over the next couple of weeks I saw more and more articles and posts about how runners take their health for granted. Exactly two weeks after the trails, i threw up again. I went to he hospital that night. Honestly, if it wasn't for Shay, i may have kept on pounding out miles. His death and the letsrun.com message boards were 90% of the reason why i decided to go to the hospital.
Pretty scary stuff. So major kudos to all the medical types on the messageboards.
LetsRun.com also played a role in the Modesto Bee covering German Fernandez's amazing 4:07/8:45 double (click on the link to get a great photo from the 3,200). Apparently, we linked to a bunch of the Bee's coverage of Fernandez's xc exploits and the extra click-throughs played a role in the paper sending Will DeBoard to cover Fernandez in track.

His articles are quite good and they include great photos. Glad we could help without even knowing it.
Paula Radcliffe Has Stress Fracture - Still Hopes to Compete in Beijing
In a perfect world, the 2008 Olympic marathons would be won by Paula Radcliffe and Haile G. (Paul Tergat would be equally as perfect). Well Haile and Paul aren't going to be running. Paula Radcliffe will do everything she can to run but it's not going to be easy as she's got a stress fracture. For the time being, she'll cross train and hopefully start running soon. She's the only woman toeing the line who could win not at her best.

Paula Radcliffe Has Stress Fracture Still Hopes to Compete in Beijing
*Mesage board thread
*Paula Is Frustrated, but Optimistic About Beijing www.telegraph.co.uk
*Specialist Says Odds are Against Radcliffe Being Ready for Beijing www.guardian.co.uk
Paula Radcliffe Has Been Told By Some Specialist That Beijing Is "Impossible" - She doesn't care and is willing to take some risks.

You Gotta Know When To Fold 'Em
Peter Tegen To Retire From Stanford At Seasons End The coaching legend is calling it quits after 44 years of coaching. Going out in style as his ladies have won NCAAs all three years that he's been at Stanford. Kind of like Maria Mutola, Tegen must realize when they are naming awards after you, it's time to move on. The women's cross country coach of the year award is already known as the "Peter Tegen Division 1 National Women's Cross Country Coach of the Year."

*Who will replace Tegen?

And Lastly, We Swear We Aren't Making This Up
Photographer Gets Javelin Through His Leg and Takes a Picture of It
Odds & Ends Now Follow
TV Coverage
Three Cheers: IAAF Golden League to Be On ESPN, With Repeats on ESPN2, ESPN Classic IAAF This is the best running news we've heard in a long, long time. The top meets in the world will get a ton of exposure. The repeats on ESPN2 and ESPN Classic will hopefully bring a few new fans to the sport. We have no idea who negotiated this with Masback gone but they deserve major props. Somebody appears to get it. (The only bad news is that Pre and Oslo are the same weekend. Clearly, the IAAF doesn't totally get it)
China Olympic Test
Liu Xiang Runs 13.18 to Win in China, He Has 1.3 Billion Hurdles to Go 45,000 people showed up when he ran, a few thousand when he didn't. The Chinese had videos explaining to the fans what the starter's gun does at this test event at the Olympic stadium.
*Recap of Rest of Action from Chinese Test Meet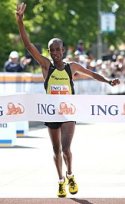 Quick cover
the Spira logo

Spira Shoes in the News Again
ING Ottawa Marathon: David Cheruiyot Gets Hat Trick at ING Ottawa Marathon, Drug Cheat Asmae Leghazoui Wins Cheruiyot got the win in his Spira shoes. And remember how USATF said Spira shoes weren't banned? Then how do they explain this letter that says USATF cannot support athletes affiliated with apparel "that does not in (sic) comply with IAAF and USATF rules". We never thought we'd see the day when Spira, not USATF, has our sympathy, but it's here. This is very simple. Either ban the shoes, or don't, but don't talk out of both sides of your mouth.
*Ottawa Photos

Ottawa 10k: Julius Kiptoo Wins Men's Race and Wins Gender Challenge at the Tape The battle of the sexes was super close. Photos below.
*Ottawa photos
ING Ottawa Marathon/Canadian Champs: New women's course record, new Canadian champions at Ottawa ING Marathon

Looking Ahead - Reebok Grand Prix
Usain Bolt Getting Ready For Next Weekend's Showdown With Tyson Gay In New York Bolt followed up his 9.76 with a 9.92 last weekend.


Justin Gatlin Appealing His Doping Decision Next Week

Comments, suggestions? Email us at [email protected]




---
Runner's World &
Running Times



Combined Only $22
a Year
Save $87

---

Running & Track and Field Posters
---

Great Running Shoe Deals Nike Lunar Glide $79.99 A very popular innovative Nike shoe on sale now.
---