The rankings are based on current form and are supposed to reflect how we think they'd end up if you lined them up and had them race right now - it's not a cumulative yearly ranking or a prediction for the Olympic Trials.
MEN'S STEEPLE
Overall: Event Analysis: The event is pretty deep at the back end as there are a lot of guys that seemingly have a chance at cracking our top 10 and running between 8:25 and 8:30. Not nearly as many guys can make the team though.
This week's action/changes: Kyle Alcorn defeated Billy Nelson to win the NCAA championship as both set prs. No other steeple action for anyone else in our top 10.
(Last week's ranking in (), big movers and shakers with the arrows):
10) Ben Bruce (NR)- DOB: 9/10/1982 PB: 8:32.68 ('08), 2008 Best: 8:34.79 Last Race: 8:34.79 2007 Best: 8:32.74
USA Men's Steeple Meter Stats
8:24.60 Olympic "A" Standard

2008 Top Times
(changes this week in bold)
8:24.34 Anthony Famiglietti adidas
8:28.21 Steve Slattery Nike
8:28.26 Kyle Alcorn NCAAs
8:28.85 Billy Nelson NCAAs
8:29.95 Josh McAdams New Balance Pre Meet 6/8
8:30.19 Jake Morse Unattached
8:32.12 Andy Smith Reebok
8:32.17 Dan Huling Reebok
8:32.47 Jacques Salberg Run With Us
8:32.65 Brian Olinger Reebok
8:34.79 Ben Bruce Pre 6/8
8:35.75 Lyle Weese Pre 6/8
8:35.95 Max King Pre 6/8
8:36.31 Lucas Meyer Pre 6/8
8:36.69 Jordan Fife Brooks Indiana
8:36.87 Ben Bruce unattached
8:37.21 Luke Watson adidas
8:37.73 Jonathan Pierce Pre 6/8
8:37.74 Jordan Desilets
8:38.03 Kyle Heath NCAAs

2007 USATF Finals
1 Joshua McAdams New Balance 8:24.46
2 Aaron Aguayo Arizona State 8:27.01
3 Thomas Brooks Oregon TC 8:27.34
4 Anthony Famiglietti adidas 8:27.64
5 Daniel Lincoln Nike 8:28.32
6 Michael Spence Asics 8:31.65
7 Benjamin Bruce Asics 8:33.12
8 Max King Oregon TC 8:33.63
9 Kevin Davis California 8:35.37
10 Corey Nowitzke E. Michigan 8:38.18
11 Tom Chorny unattached 8:43.28
12 Kyle Alcorn unattached 8:48.34 --
Anderson Smith Reebok DNF -
- Steve Slattery Nike DNF

2007 Top 10 Seasonal Bests
8:15.69 Steve Slattery Nike
8:19.29 Brian Olinger Reebok
8:20.34 Aaron Aguayo AzSt
8:21.36 Josh McAdams New Balance
8:27.34 Tom Brooks OregonTC
8:27.64 Anthony Famiglietti
8:28.32 Daniel Lincoln Nike
8:31.26 Max King OregonTC
8:31.65 Michael Spence Asics
8:32.74 Ben Bruce Asics

Bruce is most known at letsrun.com for falling on the final lap in his prelim on the water jump at NCAAs in 2005 bouncing up and still making the finals, looking great doing it. He moves into the rankings at #10 with his second place finish at the Pre morning meet. He was well beaten by McAdams but is running well heading into the Trials.
9) Dan Huling (9)- DOB: 7/16/1983 PB: 8:27.11 ('06), 2008 Best: 8:32.17 Last Race: 8:32.17 2007 Best: none After missing the 2007 outdoor season, the Miami of Ohio grad seems to be back to the form that earned him a 3rd place showing at USAs in 2006. Huling was the 3rd American at the Reebok meet (behind Slattery and Morse) in 8:32.17.
8) Andy Smith (8)- DOB: 8/1/1982 PB: 8:29.66 ('05), 2008 Best: 8:32.12 Last Race: 8:32.12 2007 Best: 8:35.16 The former NC State star seems in good form early in the Olympic year. His only race so far was his best debut ever.
7) Tom Brooks (7)- DOB: 1/10/1978 PB: 8:27.34 (2007), 2008 Best: 8:46.65 Last Race: 8:46.65 2007 Best: 8:27.34
Brooks was one of the bigger surprises of the US champs last year when he got 3rd. Those who look up and see his 2008 SB is only 8:46 probably think he has no chance in 2008. They would be wrong.
Last year, Brooks's seasonal best this time of year was only 8:47.54. He ran 8:28 at Prefontaine and then 8:27 at USAs.
6) Jake Morse (5)- DOB: 4/17/1985 Personal Best: 8:30.19 ('08) 2008 Best: 8:30.19 Last Race: 8:30.19 2007 Best: 8:51.93
Coming into the year, Morse was a guy with an 8:41 PB who only ran 8:51 in 2007. But the Univ. of Texas Longhorn has had a great 2008 (Morse is 23, but has another year left at Texas and is redshirting this spring, unless we're mistaken). He was a surprise 2nd in the mile at indoor NCAAs. He followed that up with a big PR at Reebok and took quite a few scalps, including Olinger's.

6) Billy Nelson NR DOB: 9/11/84 PB: 8:28.85 (2009) 2008 Best (8:28.85) Last Race: 8:28.85; 2007 Best (8:33.33)
Nelson improved on his fourth place finish at NCAAs last year by finishing 2nd this year and nearly catching Kyle Alcorn at the line. Pring heading into the Trials is a good spot to be in.
5) Brian Olinger (4)- DOB: 1/19/1982 PB: 8:19.29 (2007), 2008 Best: 8:32.65 Last Race: 8:49.63, 2007 Best: 8:19.29
Olinger laid a goose egg last time out in the steeple (8:49) but he has run 8:19 a couple of times and has run 8:32 this year.
He ran a 3:44.85 1500m pr this week at the Indiana meet which shows he's back from whatever plagued him at Reebok.
4) Kyle Alcorn (5)- DOB: 3/18/1985 Personal Best: 8:28.26 (2008) 2008 Best: 8:28.26 Last Race: 8:28.26 2007 Best: 8:35.71
Alcorn showed he knows how to run fast when it counts as he ran a PR (8:28.26) to win the NCAA meet. That goes along with his NCAA indoor 3k crown and runner-up in the DMR. He still needs a few more seconds (8:24.60 is the "A" qualifying standard.) to have a chance to go to Beijing, but he looks good heading into the Olympic Trials.
3) Josh McAdams (6)DOB: 3/26/1980 PB: 8:21.36 (2007), 2008 Best: 8:29.98 Last Race: 8:29.98 2007 Best: 8:21.36
The defending national champ (and Pan Am Games Champ) McAdams was a question mark heading into this week. He had opened at Stanford with an 8:40 win then followed that up with an 8:44 for 5th at Jesse Owens. He hadn't raced in a while but he responded by running on the early morning program at Pre. He won the race in 8:29.98 and appears to be rounding into form at the right time. With his surprise national win last year, he has shown he knows how to peak when it counts
.2) Steve Slattery (2)- DOB: 8/14/1980 PB: 8:15.69 (2007), 2008 Best: 8:28.21 Last Race: 8:28.21, 2007 Best: 8:15.69. Slattery had a strong year in 2007 as he ran the two fastest US times of the year, led by his 8:15.69 PR after DNFing at USAs due to injury.
2008 had been a disaster (a 14:30 5k and 2 DNF 5ks) up until his 2nd place showing at the Reebok Grand Prix when he beat a slew of his top US rivals.
1) Anthony Famiglietti (1)- DOB: 11/8/1978 PB: 8:17.91 (2004), 2008 Best: 8:24.34, Last Race: 8:24.34, 2007 Best: 8:27.64
It pleases us a great deal to put Fam #1 as he used to be Wejo's roommate out in Flagstaff. Before he had much of a contract, Fam painted Wejo a painting istead of paying rent (When Wejo left Flagstaff he left the painting and told his roommates not to lose it. Of course they then moved out of the place and left it behind). Fam has been an artist this year on the track as he has run two races virtually all alone faster than anyone else in the US. Fam ran a PR in the Trials 4 years ago to get 2nd. He seems to be a lock for the team this year. The question shouldn't be, "Does he make the team?," rather it should be, "Can he win his 2nd US title?"
\
WOMEN'S STEEPLE
USA Women's Steeple Meter Stats
9:46 Olympic "A" Standard

2008 Top Times
(changes this week in bold)
9:29.20 Jenny Barringer 6/13 NCAAs (#2 time ever by US)
9:37.00 Anna Willard Nike 05/31 Indiana
9:41.38 Lindsey Anderson Nike 06/07 Jim Bush
9:41.68 Delilah DiCrescenzo Riadha/S4 05/25 Belem GP
9:43.18 Lisa Galaviz Nike 05/25 Belem GP
9:44.46 Jenny Barringer 5/31/08 Midwest Regionals
9:44.46 Carrie Messner-Vickers Asics 05/25 Belem GP
9:45.38 Emily Brown Team USA/MN 04/26 Drake R
9:49.92. Nicole Bush, Unattached 5/31 Indiana
9:51.76 Amanda Lorenzen Brooks 05/04 Jordan
9:57.98 Ann Gaffigan New Balance 04/18 Mt SAC
9:58.56 Bridget Franek Penn State 05/17 Big 10
9:58.63 Lesley Higgins NYAC 6/7 Saturn
9:58.74 Bridget Franek Penn State 6/13 NCAAs
9:59.63 Sariah Long Weber State 05/04 Jordan

2007 USATF Finals
1 Jennifer Barringer Colorado 9:34.64M
2 Anna Willard Nike 9:34.72M
3 Lindsey Anderson Nike 9:40.74 4 Lisa Galaviz Nike 9:43.54
5 Desiraye Osburn New Balance 9:47.24
6 Liz Wort Duke 9:53.20
7 Kristin Anderson Nike 9:53.95
8 Kelly Strong Asics 9:53.99
9 Kara June Asics Aggies 9:59.91
10 Amanda Lorenzen unattached 10:01.82
11 Dawn Cromer Brooks 10:03.23
12 Bridget Franek Penn State 10:10.36
13 Carrie Messner-Vickers Asics 10:15.07
14 Brianna Dahm Oregon TC 10:17.45

2007 Top 10 Seasonal Bests
9:28.75 AR 4 Lisa Galaviz Nike 7/28 Heusden
9:33.95 1 Jenny Barringer Colorado 9/8 Paris
9:34.72 2 Anna Willard Nike 6/23 Indianapolis\
9:39.95 1 Lindsey Anderson Weber State 4/29 Stanford
9:43.06 3 Carrie Messner-Vickers Asics 7/30 Thessaloniki
9:47.24 5 Desiraye Osburn New Balance 6/23 Indianapolis
9:47.68 1 Kelly Strong Asics 3/31 Stanford
9:51.76 4 Liz Wort Duke 6/8 Sacramento
9:52.10 5 Kassi Andersen BYU 6/8 Sacramento
9:53.24 1 Amanda Lorenzen Unat. 6/10 Hillsdale
This week's action/changes: Jenny Barringer put on a show at the NCAA meet running 9:29.20, the #2 time ever by an American (recap and post-race interview). Barringer said the plan beforehand was to run 9:41. Nonetheless she showed she is super ready for the Olympic Trials.
But so did her steeple rival, Anna Willard. Willard ran a 6 second pr (4:06.26) to hit the Olympic "A" standard in the 1500. Barringer definitely does not have that type of speed.
Barringer moves up to the #1 spot however as the rankings are based on current steeple form. No other changes in the rankings.
Last week's rankings in ().
10) Nicole Bush - DOB: 4/4/1986 (10) PB: 9:49.92 ('08), 2008 Best: 9:49.92, Last Race: 9:49.92, 2007 Best: 9:56.68
We almost failed to put the former Michigan State runner in our top 10 as we barely caught the big breakthrough she had last week at the Indiana Invaders meet when she ran a big PR of 9:49.92.

9) Bridget Franek - (9) DOB: 11/8/1987 PB: 9:58.56 (2008), 2008 Best: 9:58.56, Last Race: 10:01.56, 2007 Best: 9:59.21 The 20-year-old Penn State sophomore was 12th at USAs last year. She just ran 10:01 in VERY hot conditions down in Tallahassee at the NCAA East regional and certainly is in PR shape.
8) Amanda Lorenzen - (8) DOB: 11/16/1984 PB: 9:51.76 (2008), 2008 Best: 9:51.76, Last Race: 9:44.46, 2007 Best: 9:53.27 The 24-year-old Concordia University Wisconsin grad was 10th at USAs last year and currently sits at #8 on the 2008 US list so she certainly belongs in our top 10.
7) Carrie Messner-Vickers - (7) DOB: 6/7/1977 PB: 9:39.68 (2005), 2008 Best: 9:44.46, Last Race: 9:44.46, 2007 Best: 9:43.06
The 2005 World Championship team member finished just behind Galaviz and DiCrescenzo in the 2nd meet in Brazil in late May. She appears to be rounding into PR shape but the problem is the steeple is evolving and a PR may not be good enough to make the Olympic team.
6) Lisa Galaviz - (6) DOB: 11/30/1979 PB: 9:28.75 (2007), 2008 Best: 9:43.18, Last Race: 9:43.18 2007 Best: 9:28.75
Galaviz missed going to Worlds last year after a 4th place showing at USAs, but she used that motivation to break the American record later in the summer. She's ahead of where she was at this point last year as heading into June of last year, her seasonal best was 9:47.57. That's the good news. The bad news is she lost to DiCrescenzo in her last race.
5) Lindsey Anderson - (5) DOB: 5/23/1985 PB: 9:39.98 (2007), 2008 Best: 9:41.41, Last Race: 9:41.41 2007 Best: 9:39.98
Anderson was #3 at USAs last year and she currently is #2 on the US list by time. However, we have her ranked fifth given her lost to DiCrescenzo earlier in the year.

4) Delilah DiCrescenzo - (4) DOB: 2/28/1983 PB: 9:41.68 (2009), 2008 Best: 9:41.68, Last Race: 9:41.68, 2007 Best: 10:07.72.
DiCrescenzo has gone from being a novelty act known for "Hey There Delilah" fame to a legitimate Olympic Team contender. Coming into the year, she had only broken 10:00 once in her life. Now she's sitting near the top of the US list thanks to a 9:41 PB in Brazil which came after another 9:43 in Brazil. Prior to her racing in Brazil, she beat Lindsey Anderson in California.
3) Emily Brown - (3) DOB: 3/31/1984 PB: 9:45.38, 2008 Best: 9:45.38, Last Race: 9:45.38-, 2007 Best: 10:03.77
No doubt that this ranking is going to be the most controversial of all of ours in the women's steeple. But Brown has been running great in 2008. She won the Stanford 5k in 15:19.57. Compare that time to some of her steeple rivals like Carrie Messner-Vickers who ran 16:17.38 in that race. Don't tell us that it was a terrible race for Messner-Vickers as she ran 16:17.39 in the same race last year. Just look at their PBs. Messner-Vickers's is 15:47.37,. Barringer's PB is 15:48, Willard's is 15:53, etc. The steeple certainly isn't a test of pure fitness but if you are that much more fit than everyone else, you should be able to beat them.
2) Anna Willard - (1) DOB: 3/31/1984 PB: 9:34.72 (2007), 2008 Best: 9:37.73, Last Race: 9:37.00, 2007 Best: 9:34.72
We were shocked when Willard didn't win USAs last year. Why? Because she's got great speed and the steeple ultimately is a very short event. Compare Willard's PRs at the shorter distances to that of Barringer. 800: 2:02.72 to 2:09.37. 1,500: 4:12.34 4:06.26 to 4:17.19. But Barringer has had a great year so far and we certainly know that races don't come down to who has the most speed - it's who has the most speed left.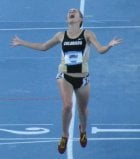 1) Jenny Barringer- (2) DOB: 8/23/1986 PB: 9:29.20 (2008), 2008 Best: 9:29.20, Last Race: 9:29.20, 2007 Best: 9:33.95
Barringer's loss at the Big 12 meet is well behind her now after her incredible solo 9:29.20 run at the NCAA meet. The mark was the #2 time by an American.
We're sure we made a few errors as this is our first attempt at this. Comments, suggestions? Email us at letsrun@letsrun.com