London More Than Lives Up To Its Hype
LetsRun.com London Men: Lel Leads 3 Under 2:05:30!!!, Ryan Hall 2:06:17
Ryan Hall Goes Through Halfway on World Record Pace
The 2008 Flora London Marathon will be remembered for a long time. The lead pack of 9 went through 5k at 14:21 (2:01 pace). They continued together (yes all 9) through half way on world record pace (1:02:13). Ryan Hall then went to the front soon after and asked the pacemakers to go FASTER. Soon Hall was off the back, but he would catch the leaders briefly again and go on to run 2:06:17. (Until Sunday only 7 guys had ever run under 2:06:15, now 11 have.). Up front, it came down to a 3-man battle over the final mile before Martin Lel got his 3rd straight World Marathon Major win over the final quarter mile as he led 6 guys under 2:07 and to $50,000 bonuses each. Recap, photos, video above
LetsRun.com Ryan Hall Reflects On his Incredible Run We tell you (and let you watch) what Ryan, his dad, his grandad, his coach and even Martin Lel had to say about Ryan. Lel was full of praise for the American and shocked by Ryan's attempt to get the pacemakers to go even faster. If Hall didn't already have your respect, he does after reading this article as he pays homage to a throwback type of guy Steve Jones. Text and Video.
LetsRun.com Video: Ryan Hall Talks About His 2:06:17 at the 2008 Flora London Marathon
*More LRC London Videos Here
*Photo Gallery

LetsRun.com : Better Late Than Never - Our Race Predictions While we think trying to predict what will happen in a marathon is absurd, we give you our predictions as we said we would. If we knew what was going to happen, we wouldn't be getting up at 4:00 am to watch this much anticipated race.
LetsRun.com Ryan Hall's Coach Terrence Mahon Assesses Ryan's Chances "I would not be surprised if he won the race on Sunday" We sat down and talked to Mahon about Ryan Hall's meteoric rise in the marathon, expectations for Sunday, the pressure Mahon feels in coaching Ryan and Deena, the mental side of coaching, the 1:02:30 half way pace, and much more. Text and video above.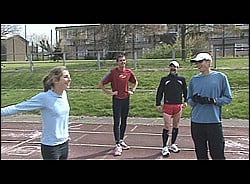 LetsRun.com! Wejo Speaks: Friday in London (With Ryan Hall) Wejo goes behind the scenes and tries to give you a little glimpse what's it's like marathon week in London. Ryan tried to keep himself entertained by watching a match race over 800m between his wife Sara and his coach, Terrence Mahon.
LetsRun.com! London Tidbits Bank of America Chicago Marathon inks with Nike, Paul Tergat's military commitment, Kenyan athletics taxes, Kenny B and of course Alan Webb.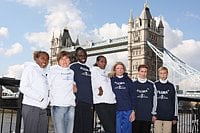 Previous:
LetsRun.com 2008 Flora London Marathon Women's Press Conference: The $250,000 and $500,000 Ethiopians Adere and Wami Set to Battle Huge paydays don't seem to have killed the desire of the two Ethiopian stars. They'll have a slew of challengers including Kenyan Salina Kosgei who was unable to leave her house for three weeks due to the violence.
*Friday: Ryan Hall Update: 34:25 Video Interview. We'll have more on Ryan, and our 2008 Flora London Marathon Predictions by Saturday but are putting this up now.
*Gete Wami Actually Is Disappointed Radcliffe Isn't Running While Wami correctly points out that Radcliffe brings out the best in her, we think she's crazy to want to face Radcliffe in the marathon. Wami's judgement is probably clouded by the 1999 world champs 10k. "I remember Paula led for 23½ laps and I won. That's my best memory."
*39 Yr Old Widow Lyudmila Petrova Runs For Her Children Two years ago the Russian set a national record to get second at London - a year after her husband was killed in a car crash.
*Profile Of 21-Year Old Phenom Sammy Wanjiru Wanjiru is not your typical Kenyan as he hails from the Central Province (not the Rift Valley), he grimaces when he runs and he is based in Japan. He's also way, way better than your average Kenyan. He's also got a great coach in 1992 Olympic marthon silver medallist, Koichi Morishita.
*100 Years Ago: The First Marathon In London The 1908 Olympic Marathon had a crazy finish as the winner was DQd after collapsing 5 times on the track. The drama resulted in the marathon distance being set at the 'London distance' of 26.2m.
*World Champ Luke Kibet Recalls Seeing "Terrible Things" & Narrowily Escaping Death In Kenya He missed two weeks of training but it could have been a lot worse as the same mob that beat him, killed Lucas Seng.
*Burundi Survivor Hoping To Realize Olympic Dream in LondonAt 18, Gilbert Tuhabonye was the sole survivor of genocide at his high school. He hid under smoldering bodies as his classmates were burned to death and then hekilled a man and escaped. Now he runs for the Olyjmpic B standard. "I fully expected someone to slit my throat but they were going to have to outrun me to do it."
*IAAF Preview of Women: Ethiopian Rivals Gete Wami and Berhane Adere Expected To Battle It Out For Title
*AP Preview of Women: With Radcliffe Absent, Women's Race Will Feature A 1st-Time Winner
*Stefano Baldini's Marathon Show Rolls On

Thursday:
*London Times Profile Of Ryan Hall We missed this one yesterday.
LetsRun.com Ryan Hall:"The Future"(And Present?) Western Civilization's great hope received the compliment of a lifetime at Wednesday's press conference when reigning Olympic champ Stefano Baldini called him "the future" and said he could win "a lot of medals." Hall himself seemed full of optimism and certainly didn't try to downplay expectations for Sunday. "Last year I proved I can do it through 23 miles (37 kilometers). This year, my expectations have grown from that."
*Video Highlight of Press Conference at link above.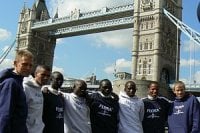 LetsRun.com Flora London Marathon Men's Press Conference The greatest marathon of the year is Sunday and we're there to bring you the action. Only in London is the field so loaded that the 2nd fastest marathoner from the year before (Emmanual Mutai) is not invited to the press conference. How can that be? Because London has Ryan Hall, Martin Lel, Luke Kibet, Stefano Baldini, Sammy Wanjiru, Abderrahim Goumri, Felix Limo, Hendrick Ramaala and others. The piece includes video from Lel and Wanjiru.
LRC: Photo Gallery from Wednesday
*Stefano Baldini's Marathon Show Rolls On
The 36-year-old doesn't think he can win in London but he's hoping to defend in Beijing.
*Paula Radcliffe Offers Training Tips and Gives Insight On Her Rebound From Injury Radcliffe missed 8 weeks due to her toe injury but has been back running for two weeks now and is feeling good.
*Nice IAAF Profile of America's Great Hope Ryan Hall The author points out that in less than a year, Hall has gone from a marathon virgin to being annointed as "the future" by the defending Olympic champ. Remarkable. Hall: "I certainly believe I can win."
LetsRun.com The Week That Was
March 31 - April 6, 2008 We give praise to potential 2008 Olympic marathoner Lisa Koll, fast youngsters & geezers, and ultra-marathon legend Bruce Fordyce, sympathy to Sam Bair III, and scorn to Dwain Chambers and Justin Gatlin for making the entire sport look bad. We also take a trip down memory lane and recall the 2002 Penn Relays 4 x mile when the much-hyped Stanford squad totally flopped (you're welcome, Grote).
Olympic Marathon Trials Are Less Than 2 Weeks Away
Colleen De Reuck Out of Olympic Marathon Trials The almost-44-year-old defending champ is out with an unspecified injury. She did run a 57:17 at the Cherry Blossom 10 miler on Sunday (which is only 2:30 pace), so maybe that made her reconsider.
*2004 10k Olympian Elva Dryer Feeling Good About Chances Despite Dropping Out of US Half Marathon in February
*Univ of Dayton XC Coach Ann Alyanak Hoping To Make Team
They Have Records For Everything
New World Record For Fastest Marathon By A Married Couple Is Set In Paris Kenyans Simon Munyutu and Martha Komu ran a combined 4:34:57, with times of 2:09:24 for him and 2:25:33 for her.
One We Missed: Dennis Simonaitis Sets Age US 45-49 5k Record at Carlsbad 14:47 is very impressive at that age.

Dwain Chambers Enjoying Rugby League Tryout He may actually play a JV game this weekend.
London Marathon is Sunday (US visitors can watch for free on WCSN, UK visitors can watch it on the London Marathon website)
Marathon Cup Given Away at 1908 Olympics is Returning to Olympics This Year and Being Insured for $1 Million
We'll really start our blowout coverage on Wednesday with Ryan Hall's press conference. (Ryan is going to get a lot of attention this week as he has two press conferences). But the London betting odds are already out.
The Greatest Marathon In The World Is Coming Sunday And We'll Be There To Cover It (US fans can watch it on WCSN, UK fans on the BBC)
Liz Yelling Confident In Her Fitness Heading Into London She's hoping to nail down Britain's final marathon spot in London this weekend
More Info on US 10k Champs: Richmond Times Dispatch Newspaper Article on Abdi's Win at US 10k Champs More here.
*Weldon Wins $2500 in AT&T Dash for Cash Unfortunately it's wasn't Wejo as he'd have trouble beating Abdi with a 3 mile head start.
Texas Relays
Leo Manzano Runs 3:56.98, Darren Brown Runs 3:59.99 to Complete First American/Father-Son Sub 4 Combo Brown is the son of the late Barry Brown, who was in the Florida Track Club with Frank Shorter. The Browns had received a lot less attention than the Bairs in their attempt for the father/son sub 4, but D. Brown had run 3:42 last year. In sprint action, LSU's Richard Thompson one-upped Manzano by wining the men's 100 with a 10.00. *Message Board Thread Here
*Tyson Gay, Jeremy Wariner, Sanya Richards All Run Relay Legs At Texas Relays
*More on Darren/Barry Brown
*Leo Manzano Profile in Dallas Morning News
*Video
Lisa Koll Runs American Collegiate 10k Record at Stanford 32:11.13 for the unheralded Koll and she's only a (redshirt) sophomore. She beat Blake Russell (32:14) and Magdlena Lewy Boulet (32:33), who both were prepping for the Olympic Marathon Trials in 2 weeks. Koll's claim to fame in high school was an 8th place finish at the Iowa state meet in XC, but she is showing how much upside this likely future American star has. She was 2nd at NCAA indoors in the 5k.
*10k Results
*Full Stanford Results
*Lisa Koll Interview *Last 3 Minutes of Her Race
LetsRun.com The Week That Was


March 24 - 30, 2008 Since April Fool's day was yesterday, we decided to recap the previous week in distance running a day later than normal. We give praise to Australian women, Keninsa Bekele, the Dibaba sisters, James McIlory, Jorge Torres and others. We're sure our thumbs down will rankle some as we yet again refuse to be PC and give thumbs down to Europe and Moroccan-born EPO cheats. We even give you a list out all of the convicted EPO cheats since 2003.

Good Riddance: Drug Cheat Dwain Chambers To Play 1st Pro Rugby Match Just 9 Days After 1st Touching Rugby Ball The coach doesn't want to waste any-time as Chambers is doing a one-onth unpaid trial.

Justin Gatlin Makes Our Sport Look Bad: Forget about getting busted for drugs, Gatlin did even wrose. He only ran a 4.42 40 at the NFL combine (slower than a ton of NFL prospects).
Blade Runner Oscar P To Have Appeal Heard At Highest Court (CAS) on April 29-30

(Link fixed) New Zealand: Outdoor Champs: Nick Willis 3:44, Kim Smith 15:19 Wins Willis crushed the field by 6 + on the last lap
World XC
Men *Results *Race Reports
Bekele Amazes Again
Wins 6th Long Course Title Despite Losing His Shoe
Bekele tried to give the rest of the runners in the world a chance. He lost a shoe 2km in to the race, stopped, and put it back on (losing 15 seconds or so). He then wasted no time and zoomed back to the front, pretended to be tired for a little while, then crushed the field over the final loop. Unheralded Leonard Patrick Komon (4th last year in juniors) was 2nd and Tadese 3rd. As we predicted Jorge Torres finished 19th place and no non-African finished in the top 10 as Craig Mottram finished 31st. *Men's Results
*Message board blow by blow here
*Leonard Patrick Komon Barely Made Kenyan Team for Worlds, But Leaves Worlds With Silver Medal At the Kenyan Trials, he got a stitch, faded back to the 40s, and then battled back to finish 7th.
*Race Results Weekly Recap of 2008 World Cross Country Champs
On the boards: What would the US have finished in World CC team results w/ best lineup racing?
*Photo of Bekele Looking Like a 70 Year Old Scottish Man
*Bekele's Wife Almost Feinted When His Shoe Fell Off Times of London
*Recap of World XCs from the Scotsman
*Photos
*More World XC Photos
Junior Boys: Ethiopia's Ibrahim Jeilan Wins Junior Race at World XCs IAAF
*On the boards: GERMAN FERNANDEZ #1 US finisher!! Take that all you non believers!! -
2008 NCAA Indoors: Complete Results
D2 & D3 Info Here
*Kyle Who?
Arizona State Wins Men's & Women's Team Titles as Kyle Alcorn Shocks Field & Wins 3k To Lead Sun Devils To Team Title Over FSU On Friday, Alcorn led ASU to a surprise 2nd in the DMR. On Saturday, he shocked everyone once again and blew away the 3k field with a big kick in the next to last event to put his team into a tie with FSU. It came down to the 4 x 400 and ASU edged FSU by a second to win. Alcorn's never been a real big collegiate name before today, but he apparently had a gnarly 55 second last lap in HS in the 3200.
*3k Thread Here
In other action, Texas' Leonel Manzano completed the DMR/Mile sweep as was expected by winning the mile with the big surprise being that his teammate Jake Morse was 2nd. The other big surprise was how average the field looked considering you had to run 4:00 to get in. In the ladies' distance races, it was all FSU as Hannah England won the mile and Susan Kuikjen won the 3k.
*Baylor Wins 3rd Straight 4*400
2008 World Indoors : *Results
*Event by Event Recaps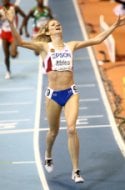 Sunday: Recap Soboleva 3:57.71 WR in 1500, 18 Year Old Kaki Wire to Wire 1:44.81 in 800, Bekele JR Wins 3k, Bryan Clay Wins Heptathlon
*Race Results Weekly Distance Recap Here
The performers at worlds saved the best for last. Most impressive was the women's 1500 where Yelena Soboleva broke her own wold record and picked up $90,000 as she led 4 women under the 4 minute barrier as the top 5 all set PBs. 18 year old Abubaker Kaki was almost as impresive in the men's 800, as the 18 year old led wire to wire to win in a 1:44.81 personal best as the entire field set personal bests including Nick Symmonds who finished last (6th). Tariku Bekele was nearly as impressive as his older brother as he went 3:56 the last 1600 to get the win in the 3000m as Craig Mottram finished out of the medals. Lastly, Australia's Tasmyn Lewis shocked the field to win the women's 800
Video: *Tamsyn Lewis Wins 800 at Worlds
Video: *Defar Wins 3k at Worlds
Video: *Liu Xiang Gets Gold over Allen Johnson in Hurdles
*On the boards: *Kaki=Awesome (Nick Symmonds= Runnersworld Model)
*Soboloeva wins $90k
*Women's 1500 WR, 4 Sub 4:00, 5 PBs
*T Bekele averages 29.1 sec's for the last 7 laps of World Ind. 3k! (3:56 last 1600, 3:54 pace last 1400)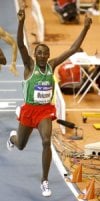 Saturday: Is there anything left for the Kenyans? Deresse Mekonnen Dan Komen Deresse Mekonnen Wins 1500 Mekonnen originally won the race but was DQd along with Nick Willis (for stepping on the infield.). In other action Meseret Defar blew away the field in the women's 3000m with a 28.8 last lap. Nick Symmonds looked incredible in his 800m semifinal. Liu Xiang got his first indoor gold and all that is left is gold in Beijing. American veteran Allen Johnson got the silver.
High Jump: Stefan Holm Wins 4th World Indor High Jump Title
Hurdles:*Lolo Jones Gets World Indoor Gold
*Liu Xiang Gets His First World Indoor Gold
Long Jump: Britain's Chris Tomlinson Gets Silver in World Long Jump
Photos: *Saturday PM *Saturday AM (Qualifying)
*Friday
Video on Demand and Highlights: Entire meet on demand on WCSN
*Day 2 Highlight Video: 2 Minutes
*Dayron Robles Thinks There is a False Start and Stops in 60m Hurdles
*Cantwell Wins Shot
*Fasuba Wins Men's 60
*Angela Williams Wins 60
*Photos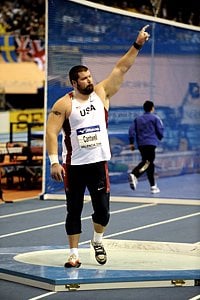 *Friday Recap: Christian Cantwell Wins Shot, Angela Williams and Olusoji Fasuba Win 60 Olusoji Fasuba got Africa's first gold in the indoor 60 as Britain's Dwain Chambers ran a pb to get silver in what may be his final race as everyone is trying to blackball the ex drug cheat from the sport.
*Day 1 Evening Distance Recap: Maria Mutola Takes First Step Towards Eighth World Indoor Title
Shot: Cantwell Wins Shot Gold, Says Critics Can Kiss His Ass IAAF
60: *Dwain Chambers Gets Silver at World Indoors Guardian
Heptathlon:Tia Hellebaut Wins Heptathlon IAAF
*Kelly Sotherton Comes Close But Settle for Silver in Heptathlon
IAAF Previews: Men *Women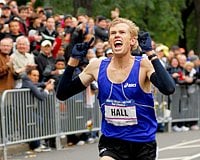 RYAN HALL 2:09:02 Ryan Hall put on one of the most impressive performances ever in American marathoning history, as he destroyed the field and coasted to victory in an incredible 2:09:04 (after a 1:06:17 1st half, yes that's a 1:02:47 2nd half on the hills of Central Park) on the very difficult NYC course. Dathan Ritzenhein ran a very impressive 2:11:07 to get 2nd while Brian Sell got the 3rd Olympic spot in 2:11:40. Former World Record holder Khalid Khannouchi ran a very gutsy race to finish 4th.
Ryan Hall is the real deal in case you didn't know. Here are his 5k splits on the very difficult NY course to prove how incredible he is at the marathon: 16:44, 15:41, 15:27, 15:12, 15:05, 14:48, 14:28. Yes that's right a 14:28 from 30 to 35k. Hall pumped his fist, pointed to the heavens, and waved to the crowd the final mile savoring the incredible run and still ran a 15 minute 5k pace for the final 7.2k (14.56 from 35 to 40k)
*Results
Race Recap From RunnersWorld's Amby Burfoot Amby did an excellent job covering the lead up to the Trials so it is fitting we link to his race article.
*NBCOlympics Recap of 2008 Olympic Marathon Trials: Triumph and Tragedy
*Quotes
*Video: Watch the on Demand (For Free, Skip to Any Crucial Point Instantaneously. Thank you NBC)
*Post Race Press Conference Videos Top 3, Meb, Culpepper, Khannouchi, Lehmkuhle
*Dathan Ritz Quotes
*Brian Sell Quotes
*Khalid Khannouchi 4th at Trials A great great run for Special K. He got 4th hobbling around the park.
*Photos Excellent ones from letsrun.com message boarders skylon
LetsRun.com London Women: Mikitenko Wins Crazy Women's Race The women's race went totally not according to form. German Irina Mikitenko was the surprise winner. The race went out slow, then picked up, then slowed back again. Then Gete Wami wiped out at a water stop, nearly knocking her own teeth out, fell back off the back, then battled back only to get dropped again as Mikitenko threw it down the final 5k. And a perfectly sunny day turned into a cold rainstorm at times. Text, Photos, and Video
Other London Coverage: *Yelling Makes GB Team: A great moment when she looked rival Hayley Haining in the eye at 19 miles,. Amazingly both ended up happy as both PRd.
*British Men Could Run 25 Miles, Everyone Else 26.2 Miles And They'd Still Lose in London
*World Marathon Majors Point Standing - Lel has a huge lead. Wami's is narrowed by Mikitenko s
*Dick Patrick of USAToday Writes About Ryan Hall
*American Ryan Hall mixes it with Kenyans
*AP Story on Ryan Hall: Hall Confident About Beijing Chances
*Quotes From The Top 3 In London
*Gas Leak Causes London Marathon to be Diverted
*Paula Radcliffe Talks About Her Beijing Preparations
*Jon Brown Blasts UK Performance Director Dave Collins The 4th placer in the marathon at the last two Olympics absolutely rips Collins - a man who somehow managed not to show up at world cross country last month when it was in Scotland..
Rotterdam:William Kipsang sets 2:05:49 course record in Rotterdam
You'll Be Hearing About This For a Long Long Time
*Maurice Greeen, HSI Linked to Steroids A few HSI athletes have been caught doping in the past (Larry Wade the most notable), but this NY Times article brings to print some of the rumors some of you may have hard. And it is a sad, sad day for American sprinting if true.*Times Of London Story on Maurice Greene Being Accused Of Doping
Maurice Greene Defends Himself He says he never used drugs but did pay for teammates bills without asking what it was for. Greene: "This is a bad situation for me. My name's come up in something and it's not true.
Turin Marathon:
Kibiwott Takes his Second Career Win in 2:10 at 5 Break 2:11 Former Olympic and Boston champ Gelindo Bordin ran 3:05
101 Years Old, Still Smoking, Running, and Drinking: Buster Martin: "I'm not worried about the fags because I'll carry them with me. Everyone says smoking kills but it's taking a long time in my case" The 101 year old legend plans on smoking while running Sunday's London Marathon.
US 100k is Saturday - Greg Crowther To Defend Title
*Nice Profile Of Greg Crowther The microbiologist thinks of how to cure malaria while racing
Marion Jones' 8 Relay Teammates Told To Return Medals The IAAF told Jerome Young's teammates to do the same thing but lawyers stopped the IAAF from making them do it.

The mysterious flash banner explained
LetsRun.com Party in Boston hosted by Puma
Next Saturday April 19
Free beer, tshirts, and more. If you want to come click above.
Hot Early Season 1,500 Chris Lukezic, Kevin Sullivan, Gareth Turnbull, Liam Reale To Sqaure Off At 1,500 On Friday at Sea Ray Relays
Head of WADA Warns Olympic Hopefuls About New HGH Test He says the belief that HGH can be cycled through the body quickly and not get detected by a drug test is a thing of the past. The new test will supposedly last longer.

Not So Simple: London Times Looks At Kenyans Changing Nationalities and Spanish Athletic Boss Says They Are Exploited Like 'Slaves' Comparing it to slavery totally glosses over how abhorrent slavery was.-
Profile Of Steeplechase World Champion Yekaterina Volkova Training at a high level isn't easy for Volkova, who is forced to leave her 3-year-old son for long periods of time. She, in turn, uses him for inspiration.
May 3rd Jamaica Meet Will Feature Ridiculous Sprint Action in Veronica Campbell-Brown, and Americans Tyson Gay and Kerron Clement.

How Will Jews Do At The Boston Marathon? Passover starts two days before.
IOC Likely To Strip Marion Jones Teammates of Their Relay Medals From 2000 They aren't sure if they will re-allocate the medals or not. We're not sure why they re-allocated her individual gold to a fellow drug cheat. Again, once you are banned for drugs, all of your performances should be erased. Period.
Alan Webb's DNF Ended Up Being A Bit Embarrassing As 10,000 Spectators Wanted To See Him Win This commentary by Loren Nelson is pretty good and includes quotes from Raczko and Webb who both appear to be guessing for answers.
Webb: "For the most part, I felt pretty good for this race. I'm doing a little more (training) than I can handle right now, I guess."
Raczko: "He, like everybody else, is going to have setbacks from time to time. When you're trying to train at such a high level, sometimes you bonk a little bit, I guess."

Paula, Paula, Paula - She isn't running London but that doesn't stop the British press from obsessing about her the week of the marathon
Fore!!! Paula Radcliffe Won't Be Hit By Golfers In Olympic Buildup in Macau The world record holder is certainly meticulous in her preparations. Any fears she'd be nailed by a golfer have gone by the wayside as the British have secured a longer period of time for training on the golf course.
Paula Radcliffe Not Really Worried About Pollution - Heat is More of A Concern
European Cup 10,000 Is This Weekend Lornah Kiplagat To Run 1st Track Race In Nearly a Year She'll be after the Olympic A standard but will have her hands full with former 5k world record holder Elvan Abeylegesse as well as her own cousin Hilda Kibet, who just finished 5th at world cross country.

Olympic Torch Has to Be Extinguished 5 Times Due to Protests in Paris Up next: The torch comes to the US. Hillary Clinton has called for a boycott of the opening ceremonies, but we have a better idea. The athletes, instead of waving, should do the sign language symbol for SPEECH, which a letsrun.com fan tells us is a wave with the back of the hand facing out.
*Polo to Outfit US Team at 2008 Olympics in Opening Ceremonies If the ceremonies are boycotted, no one will be able to see all the clothes made in China.
*Seb Coe Puts On Brave Face in Light of Olympic Torch Protests
More Weekend Action:
Young 1500m Star Asbel Kiprop Wins Slow 3k in Mauritius to Start His 2008 Season IAAF
Underreported: Tyson Gay 45.2, Jeremy Wariner 43.4 Relay Splits in Texas
Tariku Bekele and Mestawat Tufa Win XC Race in Sardinia Tariku needs to start running world cross.
Doris Changeywo and Abraham Chebii Win Great Ireland Run BBC
Tons Of Weekend Road Action
2nd Straight Disaster: Time To Panic?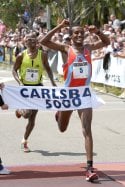 Alan Webb DNF's at Carlsbad 5k As Ethiopia's Terefe Zewdie Edges Mo Farah A 16th place finish in the US 8k a few weeks ago was attributed to food poisoning, but Alan Webb is now at a total loss to explain his shocking DNF from Sunday. Making things even worse for Webb is the fact that the opening pace was slow (4:25 opening mile) and Webb was struggling to keep up.
*Photos
On the boards: Alan Webb - Doesn't look good
*Alan Webb crashes and burns....in early season road races..
More: *San Diego Tribune Article on Webb: "Pretty much after 800 meters, I was hurting"
*AP Article on 2008 Carlsbad with more quotes from Webb Webb: "I was going to just jog it in, but I couldn't even jog."
*North County Times Article on Webb Not Making it to the Finish and the Announced Telling Everyone to Cheer for Him When He Came In
Paris Marathon: Yet Another Ethiopian Phenom? Wind/Rain Don't Prevent 20 Year Old From Running 2:06:40 Kenyans took 8 of the top 10 spots on the men's side but the Ethiopian Tsegaye Kebede, who had run 2:08 in his debut in October, stole the show. In the women's race, Kenyan Martha Komu was a surprise winner with a 7 minute pb of 2:25. *Japan's Toshinari Takaoka was 16th in 2:11

Cherry Blossom 10 Miler In DC: Ridouane Harroufi and Lineth Chepkurui Win Harroufi took the first 5 miles out in 23:05 and then outkicked Nicholas Kamaky by 1 second to win in 46:14. Chekurui, who was 14th at world xc last week, won in 54:21 as Catherine Ndereba was 4th in 54:52 . *Prerace Profile: Ndereba Focused on Winning Gold in Beijing Interesting to see that her agent says she hasn't been invited to Boston for 3 years.

Great Ireland 10k: Doris Changeywo Pulls Away From Jo Pavey - B. Johnson was 7th- Abraham Chebi Wins Men's Race in 28:48 Pavey left the race pleased with her fitness as Changeywo, who was 4th at world xc last week, only pulled away from her on the last hill and Pavey isn't a good hill runner. The good news for Pavey: there will be no hills in the Beijing 10k in August.
Berlin Half: Patrick Musyoki Wins Again In 1 Hr Flat - Peninah Arusei Run 68:22 To Win Women's Race
Stramilano Half; Philemon Kipchumba Successfully Defends Title in 62:44

Suicide Bomber Kills 12 at Sri Lanka Marathon Olympic Marathoner K.A. Karunaratne was one of those murdered.
Sri Lankan Minister: "This should serve as a wake-up call to the international community to redouble its efforts to combat terrorism in all its forms and manifestations"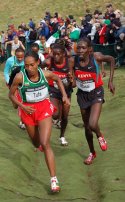 World XC Women: Tirunesh Dibaba Back on Top link fixed Ethiopia swept all the individual titles as Tirunesh Dibaba used her strong finishing kick to regain her individual crown after she battled back from being dropped by the leaders. Former Minnesota star Emily Brown led the US women to a fourth place finish.
*Benita Johnson Leads Sonia O'Sullivan Coached Australian Team to Bronze Team Medal IAAF
*Race Results Weekly Recap of 2008 World Cross Country Champs
*Women's Results
*All Results
*Message board blow by blow here
*Photos
*More World XC Photos
Junior Girls: Genzebe Dibaba, Tirunesh's Little Sister, Gets World Junior XC Win The genetic lottery of life some times isn't fair. IAAF
LetsRun.com Jorge Torres, Shalane Flanagan Win in Central Park (link fixed)
Food Poisoning Does Webb In
*Recap, analysis, interviews and photos above *Results
Torres is probably the only guy in American who can say this: every time he has raced Alan Webb, he has beaten Webb. Torres, now training under the legendary Steve Jones, got the win in the final 800m over the very impressive of late Andrew Carlson. Alan Webb had some food poisoning on Thursday and despite leading at 5k faded to finish 16th. Shalane Flanagan had some stomach problems of her own on Thursday but they only seemed to limit her margin of victory as she won over Katie McGregor.
*Photos, video, analysis
*NY Times Article on US 8k Champs
Former 100m Olympic Champ Donovan Bailey Wants Lifetime Bans for Drug Cheats
High School Indoors: Puskedra 8:49 2 mile/ Lowe 8:50
*Photos More coverage here and here
On the boards: *Why did Kastor pull out of Lisbon?
*Fallujah, Iraq Holds Its First 5K Road Race
*How good was Shalane Flanagan in high school?
And only on LetsRun: Is NY Gov David Paterson a Marathon Cheater? The guy is blind and likely ran without a chip or before they were turned on but nonetheless clearly the sleuths on the message boards do not discriminate on physical disability. In other news, Eliot Spitzer went for a long run in the Park once he knew the news of his prostitution ring was going to break.
*LetsRun.com NCAA Basketball Pool
Pre-Race Coverage Of New York City 8ks


LetsRun.com Alan Webb, Carrie Tollefson, Shalane Flanagan on the Road to Beijing America's finest addressed the media and letsrun.com was on hand to cover it. From, Shalane Flanagan's praise of Mary W. "What Phil Knight (chairman of the board of Nike) is to Nike, Mary (Wittenberg) is to distance running.", to our 50 minute audio/video interview with Alan Webb on page 2, we've got it all. Text, photos, and video and even and mp3 you can download.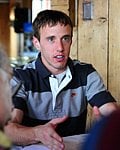 Page 2: More Relaxed, Confident Zen-Like Webb Ready for 2008 We sat and talked to Webb for 50 minutes and have a recap plus video and audio. Webb talks about his 2007 season, his goals for 2008, his desire to win races and how in high school he "did not know what he was doing".
*Shalane Flanagan in NYTimes
*Race Website
Above photos courtesy of Steve Starr.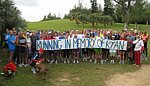 Ryan Shay Run in Bermuda a Huge Success
Organizers Ashley Couper Estwanik and Chris Estwanik were expecting a handful of people, but instead hundreds showed up.
LaSalle Bank Chicago Marathon Women
Unbelievable
Adriana Pirtea Blows It
Just watch the video above. Shorter video here if you're impatient
*Chicago Tribune Recap of Ivuti's Narrow Win
Adriana Pirtrea, a runner basically no one has heard of (including ourselves) (she did finish 2nd at an NCAA indoors once), was on her way to winning the Chicago Marathon. She had been clear of Berhane Adere for miles. Pirtrea, as she took the final turn, was high fiving the crowd. She had a 15 second lead with 58 seconds of runing left. Little did she know that Adere had overcome whatever problems she had had and was quickly making up ground. Pirtrea never looked back and was strolling into the finish thinking about her career changing win. Meanwhile, Adere was in an all out sprint on the other side of the road. She flew by Pirtrea and Pirtrea had no chance to respond. A truly incredible turn of events as Adere made up a 15 second deficent in 47 seconds. Watch it to believe it.
*Former Yalie Kate O'Neill 3rd in Her Debut
*Wheelchair Race Decided by 1 Second All the races in Chicago were close.
LaSalle Bank Chicago Marathon Men
Unvelievable:
Invuti Wins Unbelievable Finish in Chicago Words don't do it justice just watch the video above.
*Chicago Tribune Recap of Ivuti's Narrow Win
It's hard for words to describe the greatest finish in (Chicago) marathon history. It came down to two time world champ Jaouad Gharib and former track/xc star Patrick Ivuti, fresh off his 59:27 half marathon. Gharib surged ahead going up a slight incline down the finishing straight. Ivuti then battled back and took the lead on the downhill. Gharib dug back and retoook the lead as they barreled towards the finish and the two guys still standing there with the finish tape which is only about 5 feet wide. Ivuti surged back right at the finish and it was too close to tell but Ivuti got the win. Hot weather took its toll on everyone.
*Video: Patrick Ivuti Talks About His Narrow Win In Chicago
Millrose
*Results

LetsRun.com! 2008 Millrose Games Recap: Lagat Gets #6, Nelson Entertains, and Goucher Gets It Done Track and field's biggest indoor event saw Bernard Lagat capture his 6th Wanamaker mile, Kara Goucher get an exciting woen's mile win, and our hero Adam Nelson throws some bombs and entertains the crowd. Plus, upsets in the women's pole vault, women's hurdles and more.
*NY Times: Lagat Outduels Mottram
*LetsRun.com! Recap of 2008 Millrose Games High School Miles The boys mile is always the loudest event at Millrose.
*On the boards: Congrats to LetsRun.com Poster Crazystreaker on Winning the Boys' High School Mile
*Distance Photos

LetsRun.com 2007 World's Coverage:
*Sunday Homepage Ndereba marathon
*Saturday Homepage
*Friday Homepage Tyson Gay
*Thursday Homepage Lagat
*Wednesday's Homepage Lagat
*Tuesday's Homepage Bekele 10k
*Monday's Homepage Tyson Gay
*Sunday's Homepage Dibaba/Goucher 10k
*Saturday's Homepage Kibet Marathon