The Week That Was March 31 - April 6, 2008
April 7, 2008
*Last week's week in review can be found here
By LetsRun.com
After a lull in action due to the end of indoors and cross country, the road racing and spring track season got underway in a major way last week as there were big meets in Texas and California as well as hotly-contested road races all over the planet.
We generally try to keep The Week That Was fairly upbeat as far to many people just complain about things in track and field. Thus there are normally way more thumbs up than thumbs down. But this week, we'll start with some thumbs down. We'll start with scorn as we seemingly are in a foul mood due to a lack of sleep.
Thumbs Down To Drug Cheats Justin Gatlin and Dwain Chambers For Making The Entire Sport Look Bad

One of the biggest marketing angles used and track and field athletes is how the world 100 meter champion is the "World's Fastest Man." Similarly, the winner of the decathlon is often labeled the "World's Greatest Athlete."

Better throw those marketing tags out the window after this week. 2004 Olympic 100 meter gold medallist Justin Gatlin decided since he's serving a 4-year drug ban that he'd try out for the NFL. You think he'd impress people with his amazing speed, right? Think again. Somehow he only ran 4.42 for the 40 at the NFL combine - a time that is slower than what many other NFL prospects ran. We really don't get how that is even possible. Drugs can't possibly help that much, can they? Thanks for embarrassing all sprinters.
Fellow drug cheat Dwain Chambers didn't help the cause of any sprinters who are trying to claim they are superb athletes. Chambers is currently on a one-month rugby league tryout (we've learned there is apparently a difference between rugby and rugby league). Initially, he was going to play last weekend but then it came out that he couldn't play because it was against league rules. It's a good thing he had that excuse as it seems he's not too good at rugby. He can barely catch and he has no stamina. At least he can apparently outrun the average rugby guy (his coach was super impressed with his speed).
Instead of making the entire sport look bad out of desperation for a few buck$$$, can these guys just crawl under a rock and say out of the public's eye?
Articles on Chambers/Gatlin: Drug Cheat Dwain Chambers Won't Compete This Weekend In Rugby Afterall
Earlier it had been reported: Drug Cheat Dwain Chambers To Play 1st Pro Rugby Match Just 9 Days After 1st Touching Rugby Ball
*Justin Gatlin Makes Our Sport Look Bad: Forget about getting busted for drugs, Gatlin did even worse. He only ran a 4.42 40 at the NFL combine (slower than a ton of NFL prospects).

Stagflation is Here: $50 for a 5k?


We think Carlsbad is a great race and give them a lot of props for bringing a ton of excitement to the race this year by adding Alan Webb to the field (more on that later below). We imagine Webb didn't come for free but aren't sure if charging $50 for a 5k is reasonable. Yes, we know everything in California is ridiculously expensive but $50 for a 5k is a bit much isn't it? Thus we have to give them a thumbs down for charging that much. (but obviously they believe a few people will most definitely pay it, and if they do, then don't expect the price to change). Come to think of it, we should keep our mouths shut and start our own 5k.
On the boards: Carlsbad 5000 $50 Get used to it.
Stanford Invite: Every year some very impressive marks are put up in the perfect distance running conditions found at Stanford. The Stanford Invite in April normally sees
a slew of top collegiate marks before the pros show up at the Peyton Jordan Stanford Meet in May. This year did not disappoint. The top performance came from Iowa State's Lisa Koll, who set an American collegiate record in the 10k with her 32:11.13 clocking. Coming out of HS, Koll was largely unheralded as she was only 8th in the Iowa state meet in cross country as a senior.
Now a redshirt sophomore, it's clear that Koll excels at longer distances. Second indoors in the 5k at NCAAs, Koll had won her only previous 10k - the Big 12 10k last spring. Winning a Big 12 title as a frosh is impressive. This is way, way more impressive. But to us, what's even more impressive is her description of the race. "Halfway through, I felt fine and was pacing myself behind Blake (Russell)," Koll said. "I was really relaxed. With about two miles to go I looked at coach (Ihmels) and we decided to go for it. I sped up the laps, to 75 and 76 and with 800 (meters) left I heard on the PA that 32:19 was the American Collegiate record. I guess the last lap was 73. I'm amazed. I am confident and the longer the race, the more comfortable I am. Because I was comfortable I could run those fast laps. I am waiting for someone to pinch me."
Sounds like a natural born marathoner to us. Speaking of the marathon, US Olympic Trials hopefuls Blake Russell and Magdalena Lewy Boulet were 2nd (32:14.91) and 3rd (32:33.02) at Stanford. Pretty good 10k times for people properly doing marathon training. They both could make some noise at the 2008 US Women's Olympic Trials in Boston next weekend. Lewy Boulet's time is actually a small pr.
In men's action, LaSalle's Sean Quigley gunned down E. Kentucky's Jacob Korir in the last 50 meters to grab the win in 28:03.72 - a huge improvement off of his 28:29 pb from last year. A very fine showing for the former MA prep runner who came into college with very modest PBs of 4:20 and 9:16
*Lisa Koll Runs American Collegiate 10k Record at Stanford
*10k Women's Results
* Sean Quigley winning in 28:03
*Full Stanford Results
*Lisa Koll Interview *Last 3 Minutes of Her Race
*8 Years Later: Michael Stember Returns To Stanford 8 Years After Winning NCAAs and Leading Team To NCAA Title Includes quotes from Koll.
*On the boards: Why Stanford for post collegiates? I
Texas Relays - Great Sprint Action - Great Mid-D Action



The Texas Relays took place in Austin and fans did not go home disappointed. Sprint fans certainly had nothing to complain about as arguably three of the greatest sprinters on the planet competed. Jeremy Wariner split 43.4 in the 4 x 400, Tyson Gay opened his 2008 campaign with a 45.2 split and Sanya Richards ran as well. Heck, in the men's 100 meters, LSU's Richard Thompson pr'd in a super fast 10.00.
Mid-d fans were treated to a show by Jason Vigilante's boys yet again. In the 4 x 800, the Horns ran 7:17 to win. In the open mile, Leonel Manzano threw down a 3:56.98 meet record. But Manzano running fast isn't big news as he's a stud. The real big news was Darren Brown running 3:59.99 in third to make the Brown family the first father-son sub-4 combo in American history. Brown is the son of the late Barry Brown, who was in the Florida Track Club with Frank Shorter and had a 3:58.8 pb in the mile.
In running 3:59.99 (perhaps someone should doublecheck the photo?), Brown crushed the dreams of the Bair family as Sam Bair III has been desperately trying to join his father Sam Bair Jr. in the sub-4 club for more than two years. Sam Bair III has come agonizingly close several times. In 2006, Bair opened up in 4:00.14. This year, he opened up in 4:00.16. Throw in two other times that Bair ran between 4:00 and 4:01 and two other times between 4:01 and 4:02 and you're talking about a cursed athlete as all told that's 4 times under 4:01 and 6 times under 4:02 but no sub 4. Now that the race for history is over, maybe he'll be able to relax and a bit and break four.
Looking at UT's mid-d squad, they now have two sub 4 guys in Manzano and Brown. Indoors, the NCAA runner-up was Jake Morse who has run 4:00.41 and Kyle Miler also ran 4:00.50. Too bad Morse is redshirting outdoors, as that would be a hell of a 4 x mile team for Penn. Sub 16? We really, really, really doubt it. Michigan with two studs, Nick Willis and Nate Brannen, couldn't get it done.
A Trip Down Memory Lane: 2002 Penn Relays 4 x Mile
Anyone remember back in 2002, when Lananna talked about the possibility of a sub 16 for Stanford in the 4 x mile at Penn with his team of Don Sage, Grant Robison, Jonathon Riley and Gabe Jennings? There was talk that all 4 could go sub 4 on the same day. Turned out none of them went sub 4 and they actually lost the race to Arkansas. Arkansas ran 16:09 to Stanford's 16:17.* 2002 Penn Relays 4 x Mile Recap

Leo Manzano Runs 3:56.98, Darren Brown Runs 3:59.99 to Become First American/Father-Son Sub 4 Combo Brown is the son of the late Barry Brown, who was in the Florida Track Club with Frank Shorter. The Browns had received a lot less attention than the Bairs in their attempt for the father/son sub 4, but Brown had run 3:42 last year. In sprint action, LSU's Richard Thompson one-upped Manzano by wining the men's 100 with a 10.00. *Message Board Thread Here
*Tyson Gay, Jeremy Wariner, Sanya Richards All Run Relay Legs At Texas Relays
*More on Darren/Barry Brown
*Leo Manzano Profile in Dallas Morning News
*Video of Mile From Texas Relays
Underreported: Tyson Gay 45.2, Jeremy Wariner 43.4 Relay Splits in Texas
US 10k Road Championships
The championships proved once again that no one is better at picking up cash on the roads in the US than Abdi Abdirahman and Dan Browne. The guys always seem to clean up at the cash cows that are known as the US champs. Abdi showed that his disappointing DNF at the Olympic Marathon trials is a thing of the past as he got the win in 28:32 to Browne's 28:36. Something that hasn't gotten a lot of press is the disappointing 29:44, 9th-place showing put up by Alan Culpepper. Is Father Time catching up with the 35-year-old? We shall see in the next few weeks.
Abdi Abdirahman Wins US 10k Champs over Dan Browne at Ukrop Monument Ave 10k in Richmond $7,500 for Abdi.
Richmond Times Dispatch Newspaper Article on Abdi's Win at US 10k Champs More here.

Ukrop's Monument Avenue 10-K (9th) -(U.S. Men's 10-K Championship)
Richmond, VA; Saturday, April 5
Distance: 10 km - Finishers: 24,055

MEN (gun times) -
1. Abdi Abdirahman, 30, Tucson, AZ 28:32 $7500
2. Dan Browne, 32, Beaverton, OR 28:36 4000
3. Fasil Bizuneh, 27, Flagastaff, AZ 29:03 3000
3. Josh Moen, 24, Readlyn, IA 29:06 2500
4. Ryan Sheehan, 24, Rochester Hills, MI 29:17 2000
5. Clint Wells, 32, Superior, CO 29:20 1500
6. Fernando Cabada, 25, Boulder, CO 29:30 1250
7. Macharia Yuot, 26, Chester, PA 29:38 1000
8. Josh Eberly, 27, Gunnison, CO 29:40 750
9. Alan Culpepper, 35, Lafayette, CO 29:44 500
10. Paul Jellema, 23, Rochester Hills, MI 29:47 500
11. Michael Smith, 28, Flagstaff, AZ 29:53 500
12. Jason Schoener, 24, Richmond, VA 29:56
13. Derek Kite, 36, Colorado Springs, CO 30:03
14. Nick Hirsch, 25, Gunnison, CO 30:19
15. Charlie Hurt, 24, Scottsville, VA 30:38
16. Anderson Smith, 25, Boulder, CO 30:48
17. Ross Martinson, 30, Conshohocken, PA 30:56
WOMEN (gun times) -
1. Leah Kiprono, 27, KEN 34:19 $2000
2. Cheryl Anderson, 26, Richmond, VA 34:22 1000
3. Maria Elena Calle, 32, Richmond (ECU) 35:14 800
4. Atalelech Ketema, 25, Bronx, NY (ETH) 35:15 600
5. Jeanne Collonge, 21, Salem, VA 38:31 400
Fast Youngsters (And A Fast Geezer)


Asbel Kiprop
And His Finger Wave
Photo by Action Pixs

Is there anything better than to be very young and very talented? We don't think so. One who fit that label is Florida high school sprinter Jeff Demps who ran a sensational 10.17 100 meters on Friday - just .09 off the hs record. Demps, unlike Gatlin or Chambers, appears to be a complete stud of an athlete as he's going to play football for Florida next year (and run track). The last two years in HS, Demps has run for 3,162 yards.

18-year old Kenyan Asbel Kiprop, who was 4th in the world last year in the 1,500, started his international season in style as he won a tactical 3k in Mauritius. Both those guys likely will be names you keep hearing over and over in the years to come.


If there is nothing better than being young and a stud, we guess being old and a beast is probably a close 2nd. Major props to Mohammed Ezzher who at 41 is a 2:10 marathoner.

*HSer Demps Runs 10.17 in 100
Messageboard: High Schooler Demps runs 10.17 at FL Relays
*Young 1500m Star Asbel Kiprop Wins Slow 3k in Mauritius to Start His 2008 Season
*Mohammed Ezzher, 41 yr old 2:10 'thoner

Paris Marathon: Yet Another Ethiopian Phenom in the Making?
Following up on the young and talented phenom ... It's getting scary at how many good Ethiopians there are popping up all over the place. Bekele has been the king of the long distances for quite some time and he took that mantle from Geb. Last month, Ethiopia seemed to generate a new 1,500 star as 20-year old Deresse Mekonnen impressively won the world indoor 1,500 title. Well it looks like they are getting some more company as 20-year old Tsegaye Kebede ran a stellar 2:06:40 to win the Paris marathon.
*Wind/Rain Don't Prevent 20 Year Old From Running 2:06:40 at Paris Marathon Kenyans took 8 of the top 10 spots on the men's side but the Ethiopian Tsegaye Kebede, who had run 2:08 in his debut in October, stole the show. In the women's race, Kenyan Martha Komu was a surprise winner with a 7 minute pb of 2:25. *Japan's Toshinari Takaoka was 16th in 2:11


Carlsbad 5k - Alan Webb Drops Out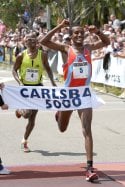 A decade from now, 2008 will be remembered for by distance running fans primarily for one thing - the 2008 Summer Games. For the first time in probably 20 plus years, the US has an American-born threat in the 1,500 in Alan Webb. Maybe for the first time since Jim Ryun, one could envision a scenario where he could take down the gold although in our minds a medal of any color would be a huge, huge accomplishment.
It'll be interesting how Alan Webb's shocking DNF at the Carlsbad 5k last week will be viewed some 20 years from now. Was it a meaningless early season trouble spot that Webb overcame to have an amazing Olympic year? Or was it the 2nd straight disaster in a disastrous Olympic year?

Time will tell.
Webb's participation in Carlsbad was hyped by former American mile record-holder Steve Scott as the greatest thing to ever happen to Carlsbad. Clearly when he said that, he wasn't even considering the possibility of Webb having his 2nd straight disastrous early season race. 16th at the US 8k in March, Webb was unable to finish the Carlsbad 5k.
We would point out though that the fact that Webb struggled doesn't really mean anything (People may forget that Webb ran 8:23 in the 2 mile at Pre last year after running 8:11 the year before). The fact of the matter is some of his 1,500 American rivals like Chris Lukezic are probably pretty pleased to run 13:52 5ks on the track early in the season. Thus, the fact that Webb struggled to run sub 13:30 on the roads isn't really important, assuming - and this is an important assumption - that Webb's training has been going well and that he doesn't let it effect his confidence.
We do think that it's important when you race to race well and two straight subpar races can't help one's confidence. Webb's #1 problem in the past has been an inability to truly peak when it counts most. The fact that he has been so off early this year certainly isn't going to help him believe that his training has geared him to perform at a top level whenever he toes the line. Certainly the pressure is now building for his next outing.
There are a lot of advantages and disadvantages to being a big name like Alan Webb. You certainly get a lot of $$ but you also get a lot of $crutiny. We haven't seen a single comment about Olympic steeplechase hopeful Steve Slattery's sub-par 14:30 at Carlsbad.
After Webb dropped out, the fans got a very entertaining race as Ethiopia's Terefe Zewdie edged Mo Farah by 1 second for the title.

Alan Webb DNF's at Carlsbad 5k As Ethiopia's Terefe Zewdie Edges Mo Farah
*AP Article on 2008 Carlsbad with more quotes from Webb. Webb: "I was going to just jog it in, but I couldn't even jog."
*Photos by Victor Sailer
On the boards: Alan Webb - Doesn't look good
*Alan Webb crashes and burns....in early season road races..


2008 Carlsbad 5k

ELITE MEN -
1. Maregu Zewdie, 24, ETH 13:34 $5000
2. Mo Farah, 25, GBR 13:35 3500
3. Haron Lagat, 24, KEN 13:36 2000
4. Collis Birmingham, 22, AUS 13:36 1000
5. Josphat Boit, 25, KEN 13:36 800
6. Shadrack Kosgei, 24, KEN 13:50 700
7. Boniface Songok, 27, KEN 14:01 500
8. Michael Aish, 30, NZL 14:06 400
9. Julia Cesar Perez Morales, MEX 14:13 300
10. Dmitry Safronov, 26, RUS 14:27 200
11. Steve Slattery, 27, USA 14:30
12. Nick Bromley, 25, AUS 14:47
Alan Webb, 25, USA DNF
40+ (separate race):
1. Dennis Simonaitis, 45, USA/UT 14:47 $1000
2. Peter Magill, 46, USA/CA 14:50 500
3. Christian Cushing-Murray, 40, USA/CA 15:38 200
50+ Rich Burns, 53, USA/CA 16:30



ELITE WOMEN -
1. Vivian Cheruiyot, 25, KEN 15:14 $5000
2. Rose Kosgei, 26, KEN 15:21 3500
3. Genoveva J. Kigen, KEN 15:41 2000
4. Sara Slattery, 26, USA/CA 15:59 1000
5. Korene Hinds, 31, JAM 16:04 800
6. Everlyne Lagat, 27, KEN 16:08 700
7. Kathy Butler, 33, GBR 16:13 500
8. Lisa Blomme, 29, SWE 16:23 400
9. Ida Nilsson, 26, SWE 16:36 300
10. Jane Kibii, 22, KEN 16:41 200
11. Mandi Zemba, 25, USA 16:49
12. Mardrea Hyman, 34, JAM 17:07
13. Amanda Occhi, 30, USA 17:12
40+ (Separate Race):
1. Heather Fuhr, 40, USA/CA 17:11 $1000
2. Carmen Troncoso, 49, USA/TX 17:35 500
3. Tania Fischer, 42, USA/CA 17:46 200
4. Ceci St. Geme, 44, USA/CA 17:53
5. Beth Ellickson, 41, USA/AZ 18:10
50+ Marcella Teran, 52, USA/CA 19:41
Article & Quote of The Week:
Many runners may not even recognize the name Bruce Fordyce. True aficionados of the sport will probably at least know to associate him with ultra-marathoning. We certainly knew he was an ultra-marathoning legend as he's a 9-time winner of Comrades.
What we didn't realize is how amazing his life story is. When they talk about sport heroes, this guy should be exhibit #1. If you don't know about Fordyce, read this quote from him about his first Comrades victory and then read the profile on him.
"I regard my first Comrades win in 1981 as the most memorable. I wore a black armband in protest against the decision to align the race to the apartheid government's 21st anniversary celebrations. I was pelted with tomatoes and water and booed all the way. But I won with a record."
April 1, 2008
Many of you failed to realize that last Tuesday was April 1, 2008 otherwise known as April Fools day. As a result, many of you seemed to believe that Bob Knight was a finalist for the USATF CEO job or that Bruce Hyde ran a 3:55 mile.
April Fools Day 2008 Home Page
April Fools Archives:
*2007 *2006
*2005 (we didn't have one)
*2004 *2003
*2002 *2001
Moses Masai Run World Leading 10k To Win Parallel Loop 10km in Belgium The Kenyan shows what type of shape you have to be in to get 5th at world's in cross country (which he did the week before) as he ran 27:22 to get the win over course record-holder Micah Kogo.
*Masai Runs 27:22
Parelloop 10-K Brunssum, NED

MEN -
1. Moses Masai, KEN 27:22 WL/PB
2. Micah Kogo, KEN 27:29
3. Joseph Ebuya, KEN 27:33 PB
4. Mourad Marofit, MAR 28:11
5. Jamel Chatbi, MAR 28:33
6. Nicolas Koech, KEN 28:37
7. Saji Bouazza, MAR 28:58
8. Julius Kuto, KEN 28:59
9. Elijah Mbogo, KEN 29:14
10. Boniface Biwott, KEN 29:16
11. Mohammed El Hachimi, MAR 29:20
12. Jamal Baligha, MAR 29:21
13. Mark Tanui, KEN 29:21 (correct)
14. Greg van Hest, NED 29:23
15. Emmanuel Biwott, KEN 29:23 (correct)
16. Guy Fays, BEL 29:25
17. Patrick Stitzinger, NED 29:26
18. Samson Chebii, KEN 29:48
19. Abraham Tandoi, KEN 29:59
20. Hans Janssens, BEL 30:02


WOMEN -
1. Nancy Kipron, KEN 32:43
2. Flomena Chepchirchir, KEN 32:59
3. Fatiha Baouf, BEL 33:10
4. Anitha Kiptum, KEN 33:34
5. Masila Ndunge, KEN 34:18
6. Regina Nguria, KEN 34:53
7. Meriyem Lamachi, MAR 36:11
8. Nadja Wijenberg (40+), NED 36:23
More News That Was Important From The Homepage (we've got to catch a flight to London, so we need to copy and paste it for expediency)

Suicide Bomber Kills 12 at Sri Lanka Marathon Olympic Marathoner K.A. Karunaratne was one of those murdered.
Sri Lankan Minister: "This should serve as a wake-up call to the international community to redouble its efforts to combat terrorism in all its forms and manifestations"
Just As We Thought: Ethiopian Coach Says He Can't Run 10k In Beijing - The article is also includes information that actually may even be more newsworthy but is being missed by many - Bekele is unlikely to double in Beijing.
*Jos Hermens Says Geb is Serious About Running Olympic Marathon in 2012

Good News: WADA Will Be Able To Test All Olympic Athletes For HGH Inside the Games broke the story and now it is in the New York Times. The problem is this apparently is the old HGH test that only can detect HGH if it was taken recently (no athlete unless they are an idiot would take HGH right before their event) and not the new "old" HGH test by Peter Sonksen that detects HGH use farther back in time.
A Quote That Almost Made Quote Of The Day As It Sums Up Our Key Belief About How To Train for Distance Running
Seb Coe: Distance Runners Needs More XC Training Lord Coe is right on the money when he says that Europeans need to emphasize xc more if they are going to compete with the world's best. The #1 training tip of LetsRun.com forever is Strength = Speed. Coe: "It is no coincidence that the decline in European distance and middle-distance performances has followed the drop in cross-country running....The truth is that too many British coaches have fallen out of love with a discipline that, in my view, provides the essential conditioning that underpins endurance events."
NYRR's Mary Wittenberg Helping Pete Julian and Boulder Go After World Cross Country Julian did a phenomenal job with the 2007 USATF XC Nationals in Boulder, the greatest XC race in US history, and with the post race party as well. Soon LetsRun.com (and Reebok) may be partying world-wide. Supposedly the event costs up to $3 million to stage.
*Message board thread: How Worlds Costs $3 Million
Cherry Blossom 10 Miler In DC: Ridouane Harroufi and Lineth Chepkurui Win Harroufi took the first 5 miles out in 23:05 and then outkicked Nicholas Kamaky by 1 second to win in 46:14. Chekurui, who was 14th at world xc last week, won in 54:21 as Catherine Nderba was 4th in 54:52 . *Pre-race Profile: Ndereba Focused on Winning Gold in Beijing Interesting to see that her agent says she hasn't been invited to Boston for 3 years.

Great Ireland 10k: Doris Changeywo Pulls Away From Jo Pavey - B. Johnson was 7th- Abraham Chebi Wins Men's Race in 28:48 Pavey left the race pleased with her fitness as Changeywo, who was 4th at world xc last week, only pulled away from her on the last hill and Pavey isn't a good hill runner. The good news for Pavey: there will be no hills in the Beijing 10k in August.
Berlin Half: Patrick Musyoki Wins Again In 1 Hr Flat - Peninah Arusei Run 68:22 To Win Women's Race
Stramilano Half; Philemon Kipchumba Successfully Defends Title in 62:44

---
Runner's World &
Running Times



Combined Only $22
a Year
Save $87

---

Running & Track and Field Posters
---

Buy the Nike Lunar+ Glide Today at a Great Price
---