Page 2 of Shalane Flanagan, Carrie Tollefson and Alan Webb Address the Media
by: LetsRun.com
March 13, 2008
*Page 1 of this story on the US 8k Press Day (Shalane Flanagan and Carrie Tollefson) here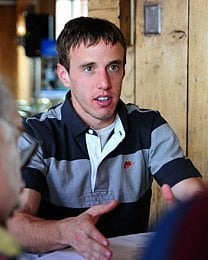 Alan Webb
photo by Steve Starr
Confident, Relaxed Webb Ready to Start Quest for Beijing
Alan Webb had the best season of his career in 2007: a stunning Paris Golden League win at 1500 where he ran the world's top time in 2008 (3:30.54) (which Webb said was the highlight of his year), an American record in the mile (3:46.91), and the world's second fastest 800 (1:43.84).
Webb's season fizzled out a bit at Worlds as he finished a disappointing 8th. He then continued racing and struggled at the Weltklasse Golden League meet (7th), rebounded a little at the Grand Prix Final (4th), before finishing things out with a win in New York at the Continental Airlines Fifth Avenue Mile on September 29th.
Webb now has had one of the longest breaks in his career from racing, five and a half months. Webb said he took a couple weeks off from running (where he snuck in one or two runs), then a month of light running (40 miles a week) and has been building up ever since (now up to 80 miles a week).
Webb gave the indication he is very pleased with his preparations for Beijing. With a slight chuckle in his voice he said, "There have been some good workouts in there. I'm not going to name anything but some good stuff."
Having had some time to look back at his 2007 season, Webb was very pleased as the wounds from Worlds had healed and he could appreciate the season in its entirety: "As a whole, I think the season was a great success....I did a good job to use the momentum I had early in the season to push me to a level I had never been to before."
Zen Like Webb
A philosophical and, in the words of Runnersworld editor and former Boston Marathon Champ Amby Burfoot, "zen-like" Webb almost took it for granted that his 2007 season had to play out like it did, with him peaking a bit too soon. "I honestly don't have a whole lot of regrets in terms of the workouts I did or the races I did. It kind of had to happen the way it did. I raced a lot earlier in the year, but I wouldn't have been where I was (later in the year) without those earlier races. So the year was what it was, and it had to be that way. It couldn't have been any other way. Now that I've seen what my potential is I think that will kind of dictate how things will be a little bit different this year," he said.
Each year Webb likes to take what he did the year before and build on it. "Every season is like a new adventure. I try not to duplicate things. I try and have each year and each season be something new and I try and do something I've never done before."
For 2008, doing something he has not done before means an Olympic medal in Beijing. When pressed what time goals Alan has for 2008, he said sub 3:30, but clearly indicated everything was secondary to Beijing. While Webb said in 2004 his focus was on the Olympic Trials and just making the Olympic team (he admitted to being "mentally drained" by the time the Olympics came around), in 2008 his focus is on the Olympics. Alain said, "As long as I take care of my training and get myself physically prepared for the Trials, I think I'm going to be very confident I can make the Olympic team." Later he added, "I'm in a little different position (than in 2004) and can have a little more foresight and look at the Olympics as a very real possibility, with everything, (pause) mentally, training wise geared towards that."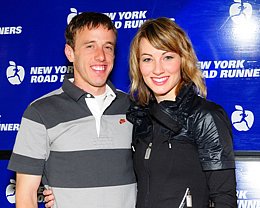 Webb and Tollefson
by Steve Starr aka Skylon
Webb said he first really got into the Olympics and thought about them when he was a competitive swimmer before his running days. During the 1996 Olympics after his seventh grade year, Webb got mono and had to miss his All Star swimming meet which really got him down. While he couldn't swim, Webb said he watched nearly every minute possible of the 1996 Olympics in Atlanta. He remembered Michael Johnson's incredible 19.32 200m world record. His sister got him a knock off Athens Olympic shirt when she was in Athens the next year and Webb began to dream of Athens, but in swimming (he said he kept the shirt and wore it to warm up in during the 2004 year).
Webb Admits to Not Having a Clue in High School
Webb would go on to make his mark in high school in running with his incredible 3:53.43 mile at the Prefontaine Classic his senior year in high school (where Webb interestingly pointed out he was just behind Bernard Lagat (.3 of a second)). Webb has progressed enormously physically and perhaps more importantly mentally from the 18 year old high schooler who took the running scene by storm. Webb admitted on Thursday that in "high school, I had no idea what I was doing." He added that, "There wasn't a need for me to get nitpicky. If I had an off day I won by ten seconds instead of twelve."
The knock on Webb in the past was that perhaps mentally he was too tough on himself when things were down, stressed too much on the little things, complicated things too much, and perhaps got a little too wound up for big races. A more mature, relaxed Webb was on display in New York on Thursday. Webb seemed truly confident that his training and talent could get him to where he needed to be no matter what happened. He said, "I've learned to not stress about things..... There is no reason to get all stressed out. Now it's just a matter of like 'Allright go do it.' If you want to win the race, go win the race. Don't make it so complicated."
Webb showed this maturity when asked whether he was worried about the pollution in Beijing and whether he was going to do anything special to prepare for it. Webb wasn't worried, "Come on man it's going to be equal for everybody".
Webb is driven by the desire to improve and a fierce desire to win races. As he said on Thursday, "There's nothing like winning a race." When first asked about his 2007 season he first commented, "The things I did well are the races I won." Alan said, "I try not to enter races I don't think I can win." There's no race bigger than the one on August 19th of this year, the Olympic 1500m final. And Alan Webb figures to have as good as shot as anyone of winning it.
***
Webb did talk about Saturday's race. The race lost a little luster when Dathan Ritzenhein pulled out this week with an injury, but still has an incredibly strong field. 2006 US 10k champ Jorge Torres (who Webb has never beaten), last week's Gate River Run 15k champ Andrew Carlson and recent US half marathon champ James Carney are all in the field. Webb acknowledged all of them and said Alberto Salazar's US 8k record of 22:04 is a possibility depending on how the race goes. The winner get $10,000 and there is a $10,000 bonus if the record is broken.
Webb said if he wasn't racing this weekend he'd probably be doing a 5 mile tempo run so clearly this race fits nearly perfectly into his schedule.