The Week That Was Match 24 - March 30, 2008
April 2, 2008
*Last week's week in review can be found here
By LetsRun.com
The last week in March of 2008 featured the single greatest race on the planet - world cross country. There is no other race with so many studs all in the same event. The Olympics are great but people are broken down into different events and each country is limited to three per event - thus there are a lot of studs mainly from Africa that could do very well that are left at home. In world xc, each country (on the men's side) can run nine. Also, unlike top marathoners or even the world champs or the Olympics in track, there is team scoring and thus a huge incentive to finish the race. At the world track championships in August, we saw a number of Qataris that ran all out for a medal and then just dropped out when a medal clearly wasn't in the cards. Thus people like Galen Rupp finish 11th in the 10k, which is very good for a collegiate athlete. But if you think he's anywhere near the 11th best 10k runner on the planet you are a fool.
World xc puts things more accurately in their proper perspective.
As a result, we'll start with some thumbs up and thumbs down from the event and then move on to recap the world in running from last week.
Thumbs Up To
Kenenisa Bekele

We must admit that in the past we've never been in love with Kenenisa Bekele. Much of it wasn't his fault as our idol once we got serious about running was the great one - Haile G. To see his successor as the king of distance come while Haile's career is still going on and to see his successor come from the same country was a bit too much. Add in the fact that no one in distance running seems to have half the natural charisma of Haile G (his amazing smile which transcends language or culture) and it's clear that Bekele was going to have a tough time winning us over.

In the past, we realize we've been too harsh on him. There literally was nothing Bekele could do to win us over. In 2005, he even won two titles just weeks after his fiancee dropped dead on a training run and we didn't give him his proper due.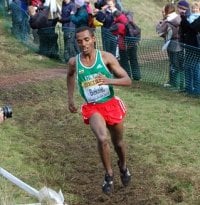 Bekele All Alone

More Photos from
Annadale Sriders Here
It wasn't Bekele's fault that his victories have always seemingly come too easily and with little drama. Bekele has never really had a worthy rival - a Tergat or sorts to go up against. Moreover, it wasn't his fault that we held our resentment of cross country being ruined with the addition of the short course against Bekele (it didn't bother Bekele, he went out and won both races 5 straight years, truly, truly incredible). It wasn't Bekele's fault that the whole appeal of cross country - everyone lining up in one race, on the same course, in the same conditions in a true competition had been lost.

After 2008 worlds however, we give up and admit that Bekele has finally won us over. A record 6th title done in a race where he lost his shoe, but not his mind, is truly remarkable. The added drama of the lost shoe certainly didn't hurt him in his efforts to win hearts. But we weren't the only ones. The Irish Olympic Marathoner, Jerry Kiernan, the announcer for worlds called it the "best running performance I've ever seen".

It's very, very impressive for sure. We'd like to say it's the greatest thing we've ever seen, but unfortunately the race was not on in the US so we still haven't seen it (well Wejo watched it on an Irish feed. For some reason the IAAF did not have the feed on WCSN).

Regardless, Kenenisa, you are truly the man!!!!! (but we still love Haile more).
Audio/Podcast: *Wejo's 2 Minute Take on Why Bekele Doesn't Get The Title of Greatest Ever Yet (No 5k Titles)
*This Week's 10 Minute Runnerville Podcast With Toni Reavis, Wejo, Amby Burfoot, Matt Taylor, and Chris Lear
Thumbs Up To The Dibaba Sisters
The stats don't show it - an individual silver at world cross country and then an individual gold in the 10k on the track at the world champs in Osaka - but 2007 was a trying year for Ethiopia's Tirunesh Dibaba. Chronic stomach pains greatly reduced her racing as she only laced it up twice outdoors. Plus silver for her in cross country, where she had already won four golds in world xc.
Heading into the 2008 World Cross Country Championships, there were a lot of questions regarding Tirunesh as her stomach problems had limited her to only one indoor race. No worries. Dibaba ran a conservative race in Edinburgh, running behind the lead pack early on, but ultimately got the job done and ended up on top, garnering her 5th world xc gold.

First is first no matter how you slice it. Very well done. We're also pleased to see her race at major championships despite pain as far too many athletes seem to skip events when they aren't at 100%.
Dibaba's younger sister also impressed us mightily at worlds as 17-year-old Genzebe captured the junior race by five seconds.

One thing many running aficionados may not realize is that the most accomplished of the Dibaba sisters at the Olympic level is Ejegayehu Dibaba who won the silver in the 10k at 2004. Crazy to think that the one who may be the least talented of the three sisters mentioned here is an Olympic silver medallist.
*Tirunesh Dibaba Back on Top
Junior Girls: Genzebe Dibaba, Tirunesh's Little Sister, Gets World Junior XC Win The genetic lottery of life some times isn't fair. IAAF
Thumbs Up To 1:44 Man James McIlroy For Not Being Afraid To Tell The Truth

If you ever think that the life of a professional track athlete is glorious, think again. Well it may be glorious and full of high living for people like Bernard Lagat or Alan Webb, but for some very talented people, it's simply a struggle. Take 1:44 800 man James McIlroy, who has quit the sport due to a lack of funding. In our minds, he did everyone a great deed by not being afraid to tell people exactly how much of a struggle it was for him to run. Last year, just two years removed from his 1:44, he made a grand total of £500 (that's basically $1,000). The most he ever made in a year was £15,000 ($30,000). Entry level administrative staff start at £12,000 for UK Athletics.
He had to miss out on world indoors this year as he couldn't afford to go see a doctor and UK Athletics told him he'd need to wait until he got to Spain to see one. Also at another meet this year, he didn't have the money to pay for his parking and had to call his sister to get him out of the parking lot. Unbelievable.
McIlroy, thanks for sharing your story. We think you summed up things perfectly when you said:
"I hope this isn't deemed very badly, but you've got to be honest. I don't know why athletes don't talk about it, whether it's through proudness, or through fear of getting dropped off the next team or whatever, because you know you're completely reliant on the people that select you. People don't want to rock the boat, I don't want to rock the boat, either. But after 12 years I want a clear account of what it's actually like.'

1:44 800m Man James McIlroy Talks in Detail About Quitting the Sport Due to Lack of Funding He couldn't even pay to get his car out of the parking lot after a pro meet. Guardian

Thumbs Down To Europe

Well, not all of Europe, but most of it. We'll single out Italy, France and Germany for particular ridicule.

We are ripping them for the weak participation at world xc. In 1973, 85% of the athletes at world cross country were from Europe. This year, the percentage fell to 29%. The decline in the percentages is a good thing in some regards as it shows that the sport is global. The problem though is that as the Africans have started to dominate - Europe has just given up.

Germany didn't enter a single male athlete into world cross country this year. Yes that's right. Zero. France entered one and Italy only four. Pathetic.
France has a history of not fighting, but aren't the Germans always up for a fight? (Editor's Note: The potshot and joke at France was just too easy. A viewer has written in to put the record straight: "drop the intellectually infantile French-bashing. Discounting the wars fought during it's early history from the Frankish kingdoms, through the Middle Ages, the Hundred Years War, early Modern France, the Revolution, the Napoleanic Era, and World War 1, France fought a savage 6-week defense against the Nazi blitzkrieg prior to its occupation during WW2. It also fought wars in Indochina and Algeria and most recently has assisted in the Balkans and in support of government forces in it's former colony of Chad. And don't forget French assistance to the colonies during the American Revolutionary War. The French alliance was crucial in the decisive victory of the Patriots at Yorktown, which could not have been achieved if not for the French Navy under Admiral François Joseph Paul de Grasse, and effectively ending the war")
We're pleased to report that Europe's lackluster participation is at least starting to get noticed:
*IAAF Meeting to Discuss Decline of XC in Europe The big news is the IAAF is finally going to act and try and increase the popularity of XC in Europe. The African dominance has basically meant the Europeans have stopped showing up.
*Seb Coe Says XC Was Very Important to His Track Preparations
*Steve Cram Talks About Decline of British XC Running

Thumbs Up To Australian Women

Most men love women with an accent but we as running fans have speed goggles. Congrats to the Australian women who won the annual battle to see who might be the only non-African team to win a medal in the senior ranks - a battle that takes place every year for the women at world xc. After Kenya and Ethiopia, it's always wide open for third as women's running isn't nearly as deep as men's quite yet (there were only 12 teams competing on the women's side at worlds), particularly in Africa. The last four third-placers on the men's side in the long race have been Uganda, Ethiopia, Qatar (made up of all African runners) and Eritrea. Compare that to Morocco, Japan, Portugal and the UK for the women.
Anyway, the Australian women were led to a bronze by former world xc individual champion Benita Johnson who finished 11th. 11th may not sound all that good for a former champ, but in reality, Johnson had a remarkable performance as she was competing after only six weeks of training.
We give our long lost sister a huge thumbs up. Not only for getting 11th but also just for realzing the importance of world xc and making it a priority for her and just toeing the starting line.
Johnson was understandably thrilled with per performance. "I may as well have won the race today, that's how happy I feel," she said after competing on what she estimated was 70% fitness. Indeed, a great individual showing and great team success. Well done.
The coach of the Australian team was none other than Irish legend (and now Australian citizen) Sonia O'Sullivan.

*Benita Johnson Leads Sonia O'Sullivan Coached Australian Team to Bronze Team Medal
*Benita Johnson As Happy as When She Won the Race After Her 11th Place Finish at World XCs on 6 Weeks of Training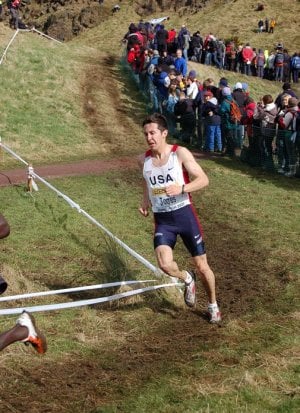 Top Non Africa is a Lonely Spot

More Photos from
Annadale Sriders Here
Thumbs Up To Jorge Torres (and LetsRun.com)
Jorge had in our minds a very strong showing at world cross country. At worlds, Jorge finished 19th and was the top non-African born runner. We were very impressed by Jorge's performance. A top 20 showing for a non-African is very good. A top 10 showing would probably be nearly equal to medalling on the track in a world championship.

We like the fact though that Torres wasn't happy with his performance. "I wanted top ten today. These guys are really fit,' said Torres. "I'm a little disappointed." There's no reason to train your ass off and devote yourself to running when you are as talented as Jorge unless you dream of being amongst the world's elite.

Even more impressive than Torres' performance at worlds however, was our very own. We predicted the Bekele win, Tadese would get 3rd and we predicted Torres would finish 19th. It all happened exactly as we said. Not too bad. Maybe there is a reason why you come to this site all the time.

Stat of the week.
While Torres ran very, very well at worlds, it's important that people realize how good Bekele is and realize how daunting of a task it is for an American to consider medalling at worlds. Bekele beat Torres by 1:25 on Saturday. That's a lot. To put that in perspective, one needs to realize that Torres actually finished closer to the 63rd finisher in the race (Great Britain's Thomas Humphries) who finished 1:24 behind Torres, than to Bekele.


Thumbs Down: Yet another Moroccan-born athlete tests positive for EPO

The big news on the drug front coming out this week was that 2005 world champs bronze medallist at 1,500, Bouchra Ghezielle, was busted for EPO. Surprise, surprise, she says she's innocent. EPO and Moroccan-born athletes seem to go hand in hand. Last year, at least 3 of the 4 EPO busts involved people of Moroccan descent.
She joins former world cross country champion Mohammed Mourhit and former world record holder Brahim Boulami as very famous EPO cheats. One thing we thought readers might relish seeing is the total list of people busted for EPO since 2003. The good news is the #s have dropped in a major way. Hopefully, that means that the sport is much, much cleaner than it was in the late 1990s (We think it is) and not that they've moved onto other drugs.
2007
Hind Dehiba - Moroccan/French
Omar Jimla - Moroccan
Adil Kaouch - Morocann
Khalid Zoubba - French but perhaps of Moroccan descent?
Jolanda Ceplak- Czech
Fernando Silva- Portugal

2006 -
Yulia Mochalova - Russian
Fernando Sergio Rigos Silva - Portugal

2005
Qin Aihua - China
Maria Papadopoulou - Greece

2004
Ricardo Fernanez - Spain
Eddy Hellebuyck - USA
Cathal Lombard - Ireland
Amaia Piedra - Spain
Nadezda Vorobyeva - Russia
Jerome Young - USA
Deeja Youngquist - USA
Qingbao Zhao - China
2003
Brahim Boulami- Morocco
Pamela Chepchumba - Kenya
Fouad Chouki - France -
Alberto Garcia - Spain
Asmae Leghazoui - Moroccan
Huiquan Li - China
Madrizete Rezende - Brazil
Maria Tsirba - Greece
Yongji Zheng - China

2002
Mohammed Mourhit- Belgium/Morocco
The other big news on the drug front was that Patrick Arnold, the mastermind of the drugs behind the Balco scandal, apparently lacked common sense. Very book smart to develop an undetectable steroid but street dumb as he only charged $10-$20 per dose instead of hundreds or even thousands.

*Patrick Arnold's Ex-Girlfriend Says He Didn't Make Much Money From Designer Steroids Because They Were So Strong
*2005 world champs bronze medallist at 1,500, Bouchra Ghezielle, is busted
*Ghezielle says she's innocent
*On the boards: List of Moroccan EPO cheats.
Articles of The Week
Each week there are a ton of links on the site and sometimes it's hard to know what to read. Thus we're helping you out by putting in a recommended read or two in our "Week that Was."
We found the following article (Kaki's World Title At 800 Is Still Resulting in Huge Celebrations In Sudan) to be a great article that helps one understand how in small impoverished countries, track and field athletes can be absolutely huge heroes - way bigger than Michael Jordan ever was here. When the youngest ever world indoor champion returned home, thousands showed up at the airport to celebrate. A famous singer even flew in from Egypt to sing a new song, entitled "Kaki, Kaki." We're pleased to say that we called him a sensation before he won.

Another article worth reading is The Unbelievable Story of Kenyan Captain Mark Kiptoo. The 32-year old was a career military man who didn't run his first race until 2004. Yes, that's right, 2004. Then he was posted overseas and didn't resume racing until 2006. Now he's the 2nd best xc runner in Kenya.
If you didn't read the already mentioned article on James McIlroy, we think you should read it as well as it's very informative.
*Runner's High Proven For First Time by Scientists in Germany Gina Kolata's articles are almost always interesting including this one. New York Times
Thread(s) of The Week??
Hmmm. Not sure. Get back to us next week.

Other Action:
Jeremy Wariner and Sanya Richards Run Low-Key Meet In Arlington, TX
We're the first to admit we know very little about sprinting but we do know that a focus on speed work has been the death of many a distance runner. Hopefully, it's not the same for the sprints as two of the likely stars for the 2008 Olympics from the American side, Sanya Richards and Jeremy Wariner, ran some shorter distance sprints to get them ready for bigger and longer races later on this year.
*Jeremy Wariner Wins 200, Sanya Richards 100, 200 in Arlington, Texas Richards apparently is running the 100 hoping to get put on the 4*100 team at the Olympics so she can leave with 3 golds.
*UT Arlington Results: Jeremy Wariner 20.37 200, Sanya Richards 11.28 100, 22:56 200

There was tons of other action but nothing we have time to recap. See it below.
Non Worlds News:
Alan Webb Running Carlsbad 5000 April 6 Webb is wasting no time in getting back on the roads after his bout with food poisoning in New York.
New Zealand: Outdoor Champs: Nick Willis 3:44, Kim Smith 15:19 Wins (Link fixed) Willis crushed the field by 6 + on the last lap
Arizona: Lopez Lomong Now Running for Nike Gets 1:51 Win in Arizona
Florida State Relays: Mark Carroll 13:53 5k Win, Kevin Sullivan 3:41 1500m Win
Raleigh: Chris Lukezic 13:52 5k at Raleigh Relays
Chicago: Brian Olinger Defeats Luke Watson at Bank of America Shamrock Shuffle
Italy: Clint Verran 2:17, Jason Mayeroff 2:23 at Treviso, Italy Marathon
Clint Verran Running the Treviso Marathon in Italy
US Masters Orville Rogers Runs 4:19 800m at US Masters Champs, A WR