2008 Flora London Marathon Coverage
April 2008 - By LetsRun.com
The world's greatest marathon took place on Sunday, April 13th and we were in London to cover it for you as only LetsRun.com can. See our special coverage below. More coverage will be put up this week after the race.
Saturday April 12

LetsRun.com London Women: Mikitenko Wins Crazy Women's Race The women's race went totally not according to form. German Irina Mikitenko was the surprise winner. The race went out slow, then picked up, then slowed back again. Then Gete Wami wiped out at a water stop, nearly knocking her own teeth out, fell back off the back, then battled back only to get dropped again as Mikitenko threw it down the final 5k. And a perfectly sunny day turned into a cold rainstorm at times. Text, Photos, and Video
*Women's Post Race Interviews

LetsRun.com London Men: Lel Leads 3 Under 2:05:30!!!, Ryan Hall 2:06:17
Ryan Hall Goes Through Halfway on World Record Pace
The 2008 Flora London Marathon will be remembered for a long time. The lead pack of 9 went through 5k at 14:21 (2:01 pace). They continued together (yes, all 9) through halfway on world record pace (1:02:13). Ryan Hall then went to the front soon after and asked the pacemakers to go FASTER. Soon Hall was off the back, but he would catch the leaders briefly again and go on to run 2:06:17. (Until Sunday, only 7 guys had ever run under 2:06:15, now 11 have.). Up front, it came down to a 3-man battle over the final mile before Martin Lel got his 3rd straight World Marathon Major win over the final quarter mile as he led 6 guys under 2:07 and to $50,000 bonuses each. Recap, photos, video above
*Men's Post Race Videos/Interviews Lel, Ryan Hall, Ryan Hall's dad and granddad, More.

LetsRun.com Ryan Hall Refelcts On his Incredible Run We tell you (and let you watch) what Ryan, his dad, his grandad, his coach and even Martin Lel had to say about Ryan. Lel was full of praise for the American and shocked by Ryan's attempt to get the pacemakers to go even faster. If Hall didn't already have your respect, he does after reading this article as he pays homage to a throwback type of guy Steve Jones. Text and Video.
LetsRun.com Video: Ryan Hall Talks About His 2:06:17 at the 2008 Flora London Marathon
*More LRC London Videos Here
*Photo Gallery
Saturday April 12
LetsRun.com 2008 Predictions We do the impossible and try to predict a marathon.

Friday - April 11, 2008
LetsRun.com Ryan Hall's Coach Terrence Mahon Assesses Ryan's Chances "I would not be surprised if he won the race on Sunday" We sat down and talked to Mahon about Ryan Hall's meteroic rise in the marathon, expectations for Sunday, the pressure Mahon feels in coaching Ryan and Deena, the mental side of coaching, the 1:02:30 half way pace, and much more. Text and video.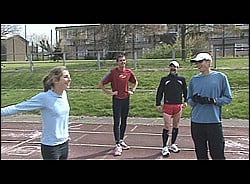 LetsRun.com! Wejo Speaks: Friday in London (With Ryan Hall) Wejo goes behind the scenes and tries to give you a little glimpse what's it's like marathon week in London. Ryan tried to keep himself entertained by watching a math race over 800m bewtween his wife Sara and his coach, Terrence Mahon.
LetsRun.com! London Tibbits Bank fo America Chicago Marathon inks with Nike, Paul Tergat's military comitment, Kenyan athletics taxes, Kenny B and of course Alan Webb.
*Ryan Hall Update: 34:25 Video Interview. We'll have more on Ryan, and our 2008 Flora London Marathon Predictions by Saturday but wanted to get this up.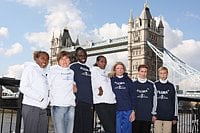 Thursday - April 10, 2008
LetsRun.com 2008 Flora London Marathon Women's Press Conference: The $250,000 and $500,000 Ethiopians Adere and Wami Set to Battle Huge paydays don't seem to have killed the desire of the two Ethiopian stars. Gete Wami is actually upset Paula Radcliffe isn't here to push her.

LRC: 2008 Flora London Marathon Women's Press Conference Photos

Outside media: *100 Years Ago: The First Marathon In London
Men:*Profile Of 21-Year Old Phenom Sammy Wanjiru *World Champ Luke Kibet Recalls Seeing "Terrible Things" & Narrowily Escaping Death In Kenya *Burundi Survivor Hoping To Realize Olympic Dream in London
Women: *39 Yr Old Widow Lyudmila Petrova Runs For Her Children *Gete Wami Actually Is Disappointed Radcliffe Isn't Running *IAAF Preview: Ethiopian Rivals Gete Wami and Berhane Adere Expected To Battle It Out For Title*AP Preview: With Radcliffe Absent, Women's Race Will Feature A 1st-Time Winner
Wednesday - April 9, 2008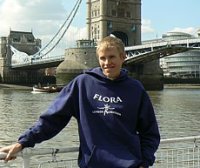 LetsRun.com Ryan Hall:"The Future"(And Present?) Western Civilization's great hope received the compliment of a lifetime at Wednesday's press conference when reigning Olympic champ Stefano Baldini called him "the future" and said he could win "a lot of medals." Hall himself seemed full of optimism and certainly didn't try to downplay expectations for Sunday. "Last year I proved I can do it through 23 miles (37 kilometers). This year, my expectations have grown from that."
*Video Highlight of Press Conference at link above."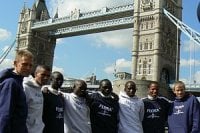 LetsRun.com Flora London Marathon Men's Press Conference The greatest marathon of the year is Sunday and we're there to bring you the action. Only in London is the field so loaded that the 2nd fastest marathoner from the year before (Emmanual Mutai) is not invited to the press conference. How can that be? Because London has Ryan Hall, Martin Lel, Luke Kibet, Stefano Baldini, Sammy Wanjiru, Abderrahim Goumri, Felix Limo, Hendrick Ramaala and others. The piece includes video from Lel and Wanjiru.

LRC: Photo Gallery from Wednesday
Outside media:*AP Article on Ryan *IAAF Article On Ryan *Stefano Baldini's Marathon Show Rolls On*London Times Article on Ryan

---
Runner's World &
Running Times



Combined Only $22
a Year
Save $87

---

Running & Track and Field Posters
---

Great Offer: Nike Lunar Glide Sale Multiple colors of this shoe available.

*Nike Air Max Moto 7 Get 2 Pairs for a Crazy $112
---