The Week That Was March 17- 23, 2008
March 25, 2008
*Last Week's Review Here
With the indoor season over both collegiately and professionally and world cross still a week away, this week was very light in terms of actual competition. However, there was plenty of action off the track.
Meb Pulls Out of London

2004 Olympic silver medallist Meb Keflezighi pulled out of the 2008 London marathon this week because he's doesn't think he's fit enough to compete with the world's best. Meb still is intent on trying to make the Olympic 10k team for Beijing. A 3-time champion at 10k in the US as well as the US record holder, Meb has a very good shot at making the team in the 10k. For most runners, making the Olympics is a career goal. For someone like Meb who already has a medal and doesn't stand much of a chance of doing well at 10k, it shows the power of the Olympics that Meb is focusing on making the 10k team. Running the 10k in Beijing certainly won't get in the way of him running a late fall marathon. We full expect to see Meb on the start line in New York next October.
*Meb Keflezighi Pulls Out London Because He's Not Fit Enough
James McIlroy Hangs Them Up
Britain and Northern Ireland's James McIlroy, who ran 1:44 in 2005, abruptly retired from the sport this week. To see a guy who just set an indoor pr retire (2:18.84 for 1k on Feb 24) is rare. To see a guy retire in an Olympic year is even more bizarre. However, McIlroy was tired of living the life of a pauper and thus he's giving up the sport. He summed things up perfectly when he said, "I wasn't prepared to lose my house (for Beijing)."
Seems reasonable enough to us, but the Olympics are only 5 months away. Maybe LetsRun.com should sponsor him. We wonder how much James would need to keep training. If anyone knows how to contact him, please contact us at suggestion@letsrun.com.
McIlroy burst onto the scene back in 1998 when he ran 1:45.32. A semifinalist at the 2000 Olympics, McIlroy missed the 2004 Games but then came back with his 1:44.65 pr in 2005. One of the favorites for the 2006 Commonwealth Games, McIlroy failed to make the final in what was the biggest disappointment of his career.
McIlroy, however, leaves the sport with a good understanding of his own career.
"Things (my career) started off brightly. I had a few bad years but I came back into it...People always say, 'you didn't progress' but I think I progressed better than anybody else in Britain over the last 20 years... I thoroughly enjoyed my time in running but now it's time to call it a day."
*McIlroy Retires From Sport

Kluft Doesn't Want To Be The Greatest Female Athlete On The Planet Anymore
Continuing on down the road of who's not running what, the biggest pullout of the week came this week in Sweden where it was announced ton Wednesday hat
Carolina Kluft
will not defend her Olympic Heptathlon title. Kluft says she doesn't have the drive she needs to compete in the Heptathlon, but will do the long jump and triple jump. "It takes 1000% commitment (not a typo). For two years I've not had the same hunger," said Kluft.
The bad new for Kluft is that at the Olympic level, nearly ever event takes 100% commitment. Certainly the multis require more commitment in terms of time, but even in a jump, we doubt she'll find it easy to do well unless she's training her ass off. Hopefully, she'll be motivated to train for the jumps.
Considering that Kluft is one of Reebok's top athletes, it certainly wasn't a good day for the shoe giant. In fact, Wednesday is probably a day they'd rather just forget as also on that day, they were hit with a record $1 million fine for distributing bracelets in the US with toxic levels of lead in them. One of them was ingested by a child who died.
Carolina Kluft to Not Defend Olympic Heptathlon Title
*With Carolina Kluft Out of Olympic Heptathlon, Battle for Gold Could be Between 2 Brits (Jessica Ennis and Kelly Sotherton)
*Message board thread
*$1 Million Fine for Reebok for Putting Lead in a Children's Bracelet That Came in Shoe Box That Killed a Kid

Ramzi To Focus on 1,500 in Beijing
Tired of figuring out who won't be running what, let's move on and talk about something someone will be running. Rashid Ramzi, the 800 and 1,500 world champion in 2005, announced this week that he'll focus on the 1,500 for the 2008 Olympics. Ramzi's double win in 2005 was simply shocking. Since then, he's been good but nothing like the unbeatable force he was in August of 2005. The 1,500 in Beijing is going to be a great, great event as there likely isn't going to be a huge overwhelming favorite as there so often was when El Guerrouj and Morceli were competing.
*Rashid Ramzi Only Going to Run 1500 at Olympics
We're Not Making This Up - Sprint Titans Might Actually Race Each Other Before Beijing
In all sports, the playoffs or championships are obviously the most intense and exciting time of the year. However, great regular season matchups are what keep the public motivated to pay attention to the sport long enough to get to the playoffs. Just look at the NBA regular season this year.

In track in recent years, the big guns have been ducking each other a little too much for our own liking. In the distances, Defar and Dibaba rarely race each other. In the sprints, Powell and Gay rarely race.
Nothing is bigger than the men's 100 meters in track and with two bona-fide big-time superstars in Asafa Powell and Tyson Gay, there is all the makings of an unbelievable rivalry that could grip even the casual sports fans interest. The only problem is - there can't be a rivalry if the two never compete against each other. Thankfully, it appears they'll race twice prior to the Olympics in Europe.

Our desire: We want them to: 1) split the matchups. 2) learn to talk a little trash (hell just agree to make up the trash talk like boxers do to sell fights). That way they'll build up a ton of excitement for the Olympics.
*Asafa Powell and Tyson Gay May Race Twice in Europe Before Olympics
The Next Possible Sprint King Opens His 2008 Outdoor Campaign
Speaking of sprint sensations, the man who may very well steal some of Gay's and Powell's thunder in Beijing this summer (particularly at 200 meters) Florida State's, Walter Dix, opened up his 2008 outdoor campaign in sensational fashion this week. Dix is the man who ran a ridiculous 19.69 at the NCAA regional meet last year. This week he opened up outdoors by running a leg on a 4 x 400. Apparently, he ran a 45.24 split and outdueled 2007 NCAA 400 meter champ Ricardo Chambers.
Very impressive.
Dix may end up being the greatest 100 to 400 man in history.
*Walter Dix runs 400m relay in 45.24 ---beats Ricardo Chambers
*Video of Dix's 19.69
Weekly Drug Update
Moving on to our weekly drug update,, Stanford researchers have reviewed previously published studies and said there is no proof that using HGH helps athletic performance. One of the lead scientists said, "It doesn't look like it helps and there's a hint of evidence it may worsen athletic performance."
We don't buy it. They said the same thing about steroids back in the day.
The scientists admitted HGH changes appearance a great deal but there was no proof it positively changed performance. Hmm. They admit that it led to gaining 5 pounds of muscle and losing 2 pounds of fat. To us, that's all we need to know.
Perhaps the analysis failed to conclude HGH improves performance because the analysis only included a few studies that measured performance and those that studied performance don't include the levels or frequency of HGH used by professional athletes.
We're not sure why anyone would waste their time on such an analysis.
*Scientists Do Study Saying HGH Doesn't Help Athletic Performance
*Stanford Research Finds HGH Doesn't Help Athletes
*Study: HGH may worsen performance
Meanwhile, the IAAF released it's doping statistics for last year. There were over 3,200 drug tests conducted and just 10 positive tests. Thus a .3% positive test rate. The good news here is to 8 of the 10 positives came from a targeted out of competition testing. It's good to see that the higher ups are actually trying now to catch and stop the drug cheats instead of look the other way as they did in the past and still are doing in sports like the NFL and MLB.
The IAAF has started doing blood screens to get a pretty good guess of who is doping and then follows that up and tries to catch the person for whatever wonder drug they are on.
The athletes at this stage of the game generally are smart enough to not show up at a competition showing any traces of the drugs. Thus you have to catch them out of competition.
IAAF Doping Statistics Released: 0.3% of Tests Were Positive
*List of Tested Athletes in 2007 One athlete was targeted 12 times.
*IAAF Yearly Doping Statistics
Ryan Shay's Autopsy Finally Comes Out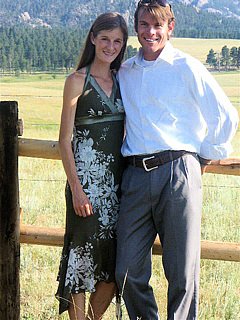 Ryan Shay's death in the middle of the US Olympic Men's Marathon Trials last October was a real tragedy for the entire sport. Naturally, people wanted to try to make sense of the tragedy. Well this week, the autopsy report finally was released. Those who were hoping that the autopsy was going to be some sort of magic bullet that made sense of this seemingly unexplainable tragedy will be disappointed.

The toxicology reports were negative and it ultimately was determined that Ryan Shay died of what people thought at the time - heart problems. What caused the heart problems? No one really still knows. At the time of Shay's death, his heart was already scarred. What caused that? No one knows.

Not the chief medical examiner's office in New York City: "The heartbeat went into an irregular rhythm due to an enlarged heart with old scars. It's an unknown source — we're not able to identify what caused the scaring... It's a natural-cause death."


Not Ryan Shay's father, "They just don't know what caused it. It could have been from a heart attack. It could have been a virus — he was diagnosed with an enlarged heart at 14, when he had pneumonia. They just don't know."

Just a sad tragedy.

Ryan Shay Died Of Natural Causes
*Runnersworld.com tries to explain the science behind the autopsy.
*Chicago Tribune's article on Shay's autopsy
On the boards: *Official Ryan Shay Autopsy Results Are Here

Oregon Announces It's Recruiting Class
The last two years it seemed like Oregon was getting every big name distance recruit in the country. The money had to run out at some point, and thankfully this year, this year they didn't get everyone. We say that only because we don't want to see them just run away with the NCAA meet for years to come. Their 2008 recruiting class was announced and the headliner was Luke Puskedra of Utah. Puskedra is no slouch - 5th at Footlocker XC Nationals, he has been the top indoor distance guy in the country as he won the Reebok mile in 4:08 before running a ridiculous 8:49 two mile on a flat track at Nike.

Ever wonder why so many people go to Oregon? Where else does a track recruit get his own profile in the local paper? The Eugene Register Guard did a very nice profile of Puskedra in which Puskedra said he's a blue-collar runner.

The thought of a guy who is committing to the Mercedes of track and field programs, Oregon, thinking of himself as a blue collar runner is worth a chuckle. Underwater and anti-gravity treadmills, closets full of Nikes, all very blue-collar. We had to take a poll as a result and 67.5% of you said that no Duck could be considered blue-collar anymore. Ultimately some blue-collared people achieve too much success and leave their roots behind.

We agreed with the pollsters until we happened to watch the Simplot games on TV on Monday morning. There Puskedra ran a 4:10 virtually all alone pushing all the way in very, workman-like fashion.



Two Oceans Ultra
The biggest race of the week actually was an ultra-marathon - the Old Mutual Two Oceans ultra marathon S. Africa. Given the title of the 56k race, it probably was only appropriate that the Nurgalievea twins went 1-2 on the women's side, with Oleysa winning her first title in a course record 3:34:53. Twin sis Elena was 2nd in 3:35.25, In the men's race, Marco Mambo of Zimbabwe won his 3rd title.

Marco Mambo of Zimbabwe Wins His 3rd Two Oceans
*Nurgalieva Twins Go 1-2 at Two Oceans
*2008 Two Oceans Ultramarathon Results

Stat of the Week:
1.7% of Marathoners Broke 3 Hours in 2007
*Messageboard thread here

Question of the Week
Who is the national leader in the NCAA men's 1,500 so far for 2008? Find out here. He'd better enjoy it while he can.



Got an opinion, news, info, or results? How about a name for our column? "The Week That Was" is not too catchy. Email us at letsrun@letsrun.com