LetsRun.com 2008 World XC Men's Predictions: Bekele Will Win Again
Can a Non-African Finish in the Top 10 For the First Time Since 2001?
by: LetsRun.com
March 27, 2008

Updated: March 28, 2008 4:03pm eastern to incorporate Sileshi Sihine being in the race.
Men's Preview: Let us start with the obvious, Kenenisa Bekele will win the 2008 World Cross Country Championships in Edinburgh, Scotland on Sunday.
There Never Will be a World XC
Like Last Year More Photos Here, Videos Below)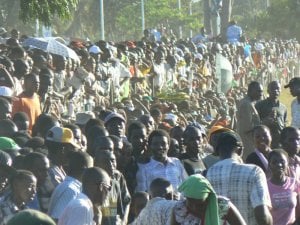 ---
Listen to the Crowd:
---
Bekele in 2nd:
---
Yes we know that Bekele lost last year in the cauldron, carnival, and craziness that was the World Cross Country Championships in Mombasa, Kenya (if you don't know what we're talking about, click here. 50,000 people jammed body to body, some hanging from trees, in oppressive heat and humidity, all to say they were at the World Cross Champs. Runners passing out left and right, runners being dragged and tossed into tubs of ice water*, and then the unthinkable, Bekele falling behind and dropping out.).
Bekele is the greatest cross country runner to grace the planet. As far as we're concerned, the elements and the Kenyan nation (50,000 people erupted in a joyous cheer last year when Bekele dropped out), not Zersenay Tadese, defeated Bekele last year.
(*Last year after the race, USOC exercise physiologist Randy Wilber, who was at the race, told us he really was surprised no athletes DIED at the championships, the heat was so oppressive. When we got back to the States a very high up industry professional criticized us for not being critical enough of the medical facilities in Mombasa, where runners were being dragged and dropped into ice cold tubs of water. This insider said that was indicative of the poor medical care at the Championships. However, Wilber told us in actuality that it was exactly these ice baths that saved the runners lives. He said with severe heat stroke, the first thing that needs to be done is to lower the core body temperature and throwing runners in the ice baths (not waiting to see if they truly have heat stroke) is the way to save lives.)
Bekele started running the senior men's cross country long course race in 2002. He won it and every short course race for 5 straight years. Truly incredible. Usually Bekele's long course wins were walks in the park. His closest margin of victory was 3 seconds (2006) but usually his margin of victory was closer to 100 meters (14 seconds, 18 seconds, 13 seconds and 6 seconds) than 10 meters.
If you want to argue Bekele has lost a step (he only had a 3 second win in 2006, he dropped out last year, and had a true dogfight with Sihine at the World Champs 10k last year (last lap of the race of the year here)), go ahead. We're not changing our pick.
Zersenay Tadese is the runner most likely to challenge Bekele. Clearly Tadese is the only runner in the field who has shown himself to be close to Bekele's caliber. In addition to his win last year, Tadese was runner-up to Bekele in 2005, and Tadese only lost to Bekele by 1 second when they raced in Edinburgh over the world's course in January. Tadese is super efficient (physiological testing done last year, showed Tadese may be the most efficient runner ever) but that does not mean he'll triumph over Bekele. Someone has to finish second and it might as well be Tadese.
An up-and-coming star who may challenge Tadese or Bekele is Uganda's Moses Kipsiro. Kipsiro is only 21 and got a bronze at the World Champs last year at 5000m (and ran 12:50 last year). He has raced only once in 2008, and he defeated Tadese in a sprint finish in Seville in January.
The Kenyan charge is being led by Gideon Ngatuny. Ngatuny, a Japanese based athlete in 2007, is far from a household name, but he did finish 4th at Worlds last year. He has been on a hot streak in 2008 with wins at the Kenyan Prison Champs and the Kenyan Trials. However, making the next leap to challenge Bekele is a tall-order. Ngatuny is only 21 - so if he pulls off the unthinkable in Edinburgh, Kenya will have a star for the next decade.
Before we move on to the non-African contenders, let us be clear, the winner will be one four above-mentioned men: Bekele, Tadese, Kipsiro and Ngatuny.
Updated: In our analysis, we left out one of our favorite runners on the circuit and one of the most overlooked runners in the World (even by us in this case), Ethiopia's Sileshi Sihine. Sihine is the world's greatest runner most of you probably have barely heard of. If Kenenisa Bekele did not exist Sihine would have won the last 3 Olympic and/or World 10,000m titles. Instead he's had to settle for silver every single time (plus a silver at 5,000m in 2005 when he doubled).
How Could We Forget This Guy?

Last year Sihine did what we've never seen anyone else do, push Kenenisa Bekele to the wall. Sihine opened up a gap on Bekele on the final lap of the world 10,000m final and made Bekele did really, really deep to get the win. (Video of the final lap to the right in case you don't believe it)
Sihine is very versatile (12:47 for 5k, 26:39 for 10k) and has had success at cross country (2nd at Worlds in 2006, 3rd in 2004). Last year, Sihine like pretty much the entire Ethiopian team, did no do well at Worlds (16th). However, in Scotland he will not have to contend with the killer ea. The only question mark on Sihine is his fitness. He only raced once this winter, the 3000m where Tariku Bekele ran 7:31, and Sihine dropped out. We assume he wouldn't show up at Worlds unless he was ready to run. Sihine came came closer than anyone else to defeating Bekele when Bekele was on his winning streak (3 seconds behind in 2004). We expect Sihine to run well here, but his prescence does not change the winner of the race in our mind.
You want to know something really, really sick, both Sihine and Bekele are only 25.