Wejo Speaks: Friday in London
by: Weldon Johnson
LetsRun.com
April 11, 2008
*LRC: Exclusive London LetsRun.com Coverage Here
Friday the elites had a break at media day and the celebrities took over. I was a bit upset that I missed Buster Martin, the 101 year old bad-ass who still works, drinks, smokes and runs and is trying to become the oldest person to finish a marathon. I saw the name "Buster" and at first though it was somehow something related to Craig "Buster" Mottram. Thankfully Victor Sailer (photorun.net) was there to capture Buster smoking a fag as they say in Britain (photo on right). Buster had this to say about the race: "I'm not worried about the fags (cigarettes) because I'll carry them with me. Everyone says smoking kills but it's taking a long time in my case. I don't change. If I do, I will make myself ill."
Meanwhile, I was off to a municipal running track to watch the Showdown over 800m between Terrence Mahon (Ryan Hall's coach) and Sara Hall (Ryan's wife). Not sure how I got roped into the ordeal, but at Ryan's press conference yesterday somehow the topic of the 800m match race came up, and next thing I knew Ryan was urging me to come and film it.
I know people are pretty curious as to what actually goes on behind the scenes at these races, so I'm going to recap the part of my day with Ryan. Basically, it's not too much different than what you might be doing if you were in a new town a few days before a race (trying to find a track to run on nearby, trying to stay occupied, etc).
Match Race Between Terrence Mahon and Sara Hall For Ryan's Entertainment
Terrence and Ryan told me to meet them at the track at 11 am. I asked if I could walk there from the hotel. They said no it was running distance away and just pointed that it was over there (across the river). I asked the concierge where the track was. He didn't know.
So I went back to my hotel room, fired up google maps, and found the first track near the hotel and figured that was the one I needed to go to.
I was going to get up early and call Terrence at his room to double check, but was dead tired from working way too late on the website the last two nights, so I just decided to go straight there.
I decided to take a cab even though I knew it would cost me a ton. London is super, super expensive. Two dollars equals one pound and the prices are pretty much what they'd be in American dollars.
30 pounds and 45 minutes later I made it to the track. I was relieved on the way out there in the cab to see Ryan, Terrence, Sara and NYC Marathon Elite Athlete Coordinator David Monti running together down the road. Clearly, I was going to the right track.
When I arrived the track appeared to be locked. (The tracks in England are usually fenced-in and you have to go through a recreation building where you pay a fee to use the track). Stefano Baldini ran by on the outside of the track, so I began to wonder if anyone would get in.
Ryan and crew then showed up and it was time to get inside the track. The door to the recreational building said to knock. So we knocked, but to no avail. Various people walked around the track trying to get in and David Monti even climbed on the prison windows trying to get a guy's attention who we heard inside using an electric drill.
It seemed useless; perhaps the track was closed for renovations. Then a local guy showed up, walked to the door, knocked using the metal lock and just like that, within 10 seconds he was let in. Clearly we were amateurs.
We all scampered in and got on the state-of-the art track.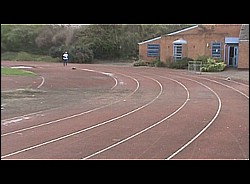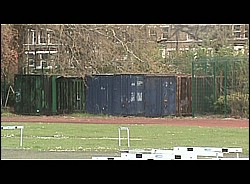 State of the Art Track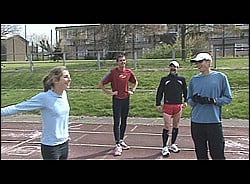 Sara Hall, Chad Johnson, Kyle O'Brien, Ryan Hall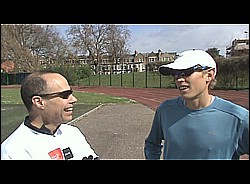 David Monti Pondering How Much
It Will Cost Him to Get Ryan
(That's a joke. While virtually everything in London associated with the marathon is first class, this track definitely was not. See the photos)
Soon Chad Johnson (a guy who I once seriously thought might be the future of US marathoning when he was in Hanson's the first time) and Kyle O'Brien of Brooks Team Hanson's showed up. I had know idea they were even running London. But as Chad told me, "2:15 guys" don't even make the list here. O'Brien was on the US Worlds team in the marathon, but no one here cares.
Also running around the track was Adriana Pirtea, the women who had the 2007 Chicago Marathon won and then did this. Pirtea is out to prove that her 2nd place in Chicago was no fluke (she only ran 2:33:52 but it was killer hot).
Terrence and Sarah did their drills, did some strides, and then it was time for the 800. It was very windy and kind of cold (it started raining like mad after we got back from the hotel). After a first lap of around 60, the 2nd lap was slower, and as a result you're not going to see the video.
Pacemaking
I then hitched a rid in a cab with Ryan and David back to Ryan's hotel. We talked about pacesetting in general in the marathon and how it often goes awry. Ryan said last year he was a bit confused as to why the lead group went so slow in London (last year Ryan intended to go out in 1:03:30 with the 2nd group, but he ended up catching the first group). Ryan plans on making sure he's comfortable with what the various pacing arrangements before Sunday's start (the plan is for a 1:02:30 half, but for instance he might want to know what the plan is in case of bad weather)
I then asked Ryan and David a trivia question? Who was my #1 lieutenant when I paced Paula Radcliffe to her World Record in Chicago in 2002?.... 2008 US Olympian Brian Sell. Clearly he's come a long, long way.
We also talked about Ryan's 2:09:02 win at the Olympic Marathon Trials. I think the Olympic Marathon Trials course is much more difficult than the NYC Marathon course, so clearly Ryan would have possibly been right up there with Martin Lel if his race was the next day. The NYC course record is 2:07:43 and Ryan's run seemed pretty comparable to that (Ryan's coach Terrence Mahon agreed in this exclusive letsrun.com interview).
Ryan had an NBC interview later in the day, and then a boat cruise later in the evening with the marathon. He still seems very calm and collected, but everyone here can definitely sense that d-day is much closer. There is definitely a nervousness creeping into the air.
Most people are in agreement that for whatever reason, maybe it's the laid back nature of the Brits or the meet hotel being a bit more isolated, but that the atmosphere in London is more relaxed than what you might find, say, in the media hotel in New York.
The meet hotels usually are full of circling vultures (agents, shoe reps, and other race directors), and that is the case in London as well, but it does seem more relaxed.
Other Running Facts/Tidbits I've Learned While in London:
*The Bank of America Chicago Marathon is now (as of yesterday) officially sponsored by Nike. With Bank of America being a national company, don't be surprised to see Chicago try and get some sort of national TV deal. I'm a firm believer that the future of our sport rests on keeping it exposed to as large an audience as possible. It is therefore essential that the Marathon Majors get their races (even if its just a highlight show) on network TV. Thousands of people watch races online, millions of people are exposed to it on tv.
*Paul Tergat pulled out of the Fukuoka Marathon because of his military commitment to the Air Force. In the past, Paul occasionally has gone for part-time military training, but this time in advance of the Kenyan elections, he was called into full active duty and could not train for running. To us it seems likely Paul will not be on the Kenyan Olympic team, but the Kenyan officials can appoint whoever they want to the team so Tergat still has an outside chance.
*Kenyan athletes are supposedly required to pay a 7-9% commission on all their winnings to Athletics Kenya (I only heard this from one source but totally trust him). This is in addition to however many millions Nike pays Athletics Kenya to sponsor their teams. We hope they Athletics Kenya officials are enjoying their free vacation this weekend in one of the World's most expensive cities.
*5 time World XC Champ and Olympic 5000m gold medallist John Ngugi is in London promoting his foundation racingforglobalaid.com
*Kenenisa Bekele plans on building a track on his property in Ethiopia. Tracks are very expensive in Ethiopia (hundreds of thousands of dollars if done right), but that is a worthy investment if it keeps him healthy.
*Best explanation for Alan Webb's debacle at Carlsbad (someone needs to explain to Webb that unless you're injured, and you're invited and paid to run a road race, and there are a ton of people there to watch you run it, then you need to finish it.): The pace went out slow and Webb found it to be more difficult than he thought it should be. Then things metally cascaded from there. This seems similar to what happened to Ryan Hall at the Gate River Run last year where he went in thinking he might coast to a US record after his incredible 59:43 half marathon and instead ran slower for 15k than he did for the half marathon and was beaten by Meb Keflezighi. At World XC, Craig Mottram likely suffered more mentally than physically as well. He went in talking about contending for the win, but in reality wasn't in winning form. So instead of finishing in the second 10, he totally bagged it and finished 31st.
*The heat (not the pollution) is going to be the problem in Beijing. It is a bit strange that the Summer Olympics are held in environments totally different than what athletes compete in the rest of the year. The weather was killer in Mombasa for World XC last year and Beijing isn't supposed to be much better (although the races won't be held in the middle of the day like in Mombasa). Heat exhaustion has ended more than 1 runner's career and we learned this interesting stat from TFN's Sean Hartnett: not a single runner who ran for Kenya men's team in the heat of Mombasa last year at World Cross made the World Championship team on the track. Pretty incredible.
*LRC: Exclusive London LetsRun.com Coverage Here