Soboleva's World Record Caps World Indoor Championships
By Bob Ramsak
(c) 2008 Race Results Weekly, all rights reserved

VALENCIA, Spain (09-Mar) -- Yelena Soboleva broke her own world record in the 1500m, capping a thoroughly thrilling final day of the 12th IAAF World Indoor Championships here at the Palau Lluis Puig Velodrome.

In what was the highest quality field on the track at these championships, the 25-year-old Russian knocked 0.34 seconds from her own month-old record, clocking a spectacular 3:57.71, allowing her to pocket an additional $50,000 (on top of the $40,000 first prize) for setting a world record at these championships.

Taking the lead from the gun, Soboleva reached the first 400 meters in 1:03.26 and remained in the lead until compatriot Yuliya Fomenko took command, moving to the front with about 1000 meters to go. Behind the Russian pair, Maryam Yusuf Jamal, the reigning outdoor world champion, and Ethiopian Gelete Burka followed comfortably, but only Soboleva regained the lead as she approached the bell. Fomenko remained in hot pursuit but would never threaten to catch her teammate, eventually crossing the line second in a personal best 3:59.41.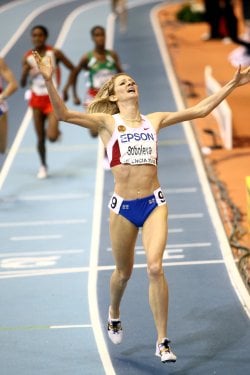 Photo by Jiro Mochizuki
Photorun.net

Just behind, the battle for third was stiff, with Jamal having a slight advantage until she made a critical mistake some 10 meters from the finish. Looking to her right she saw no one within striking distance. In the meantime Burka sneaked by her on the left to snatch the bronze in 3:59.75 to Jamalís 3:59.79. Both performances were continental indoor records.

One of the most talked about middle distance runners in the world at the moment is Abubaker Kaki Khamis, and tonight the Sudanese teenager displayed precisely why.

Belying his 18 years, Kaki producing a scintillating gun-to-tape victory in the 800 with a 1:44.81 world leader to boot, to become the youngest-ever world indoor champion. Opening with a fast 24.92 first lap, he passed the half in 51.26, leading by more than five meters on the chase pack led by South African Mbulaeni Mulaudzi. While Mulaudzi and Yusuf Saad Kamel of Bahrain gained on Kaki expecting him to slow, he didnít. Kaki powered to the line beating back Mulaudziís closing effort.

Mulaudziís efforts were rewarded by a 1:44.91 national record, and Kamel, the son of former outdoor world champion Billy Konchellah of Kenya, clocked a 1:45.26 Asian indoor record. Former NCAA star Dmitrijs Milkevics of Latvia was fourth in 1:45.72, a national record. American Nick Symmonds, running in his first World Indoor Championships, finished last, but set an indoor personal best of 1:46.48. All six finalists ran the fastest indoor times of their careers.

In the women's race the storybook ending most fans hoped for --an unprecedented eighth title for Maria Mutola of Mozambique-- did not come to pass. Instead, Australian Tamsyn Lewis pulled off one of the weekendís biggest surprises. Deciding to make a strong move past Maria Mutola when everyone else in the field refused, the Australian champion ran away to a tactical 2:02.57 victory. It was the slowest winning time in the history of these championships.

"I didn't have anything to lose," said Lewis who looked shocked after her victory. "I saw the gap and I took it."

The opening she found came on the backstretch, about 120 meters from the bell. Lewis passed her on the inside and sped by while two others moved to the defending championís outside, trapping Mutola and forcing her off of her rhythm.

"I had to go back to sixth place before I could start racing again," said Mutola after the race.

Ukraine's Tetyana Petlyuk was best able to react to Lewis's move, actually getting past the Australian and was in the lead coming out of the final turn. But Lewis ran her down in a brilliant stretch run, taking the lead for good in the final ten meters. Regrouping as she entered the final bend, Mutola fought her way back to take the bronze, defeating the best kicker in the race, Mayte MartŪnez of Spain, for whom the crowd was roaring in support. For Mutola it was her ninth World Indoor Championships medal (seven gold, one silver, and one bronze).

It shouldnít come as a shock to anyone that the first time a major global title was transferred between siblings that the family name would be Bekele. With his dominating second half performance, Tariku Bekele succeeded older brother Kenenisa as World indoor 3000m champion.

Tariku, sixth behind his brother two years ago in Moscow, played the favoriteís role admirably, biding his time in the race's first half before taking control over the second en route to a convincing 7:48.23 victory. Kenyan Paul Kipsiele Koech, who controlled the race in the early stages, held on to finish a distant second in 7:49.05.

"It was a very good race," said Bekele, who arrive in Valencia as the world leader at 7:31.09, notably faster than his brother this year. "Winning is not easy but I have been training hard. My tactic was to run really fast during the last kilometer."

Another teenager, Abreham Cherkos of Ethiopia, followed Koech across the line to take bronze (7:49.96) in his first World championships appearance, followed by Edwin Soi of Kenya (7:51.60). Australia's Craig Mottram was fifth.

The 13th edition of the IAAF World Indoor Championships will be held in Doha, Qatar, in 2010.
*Full Results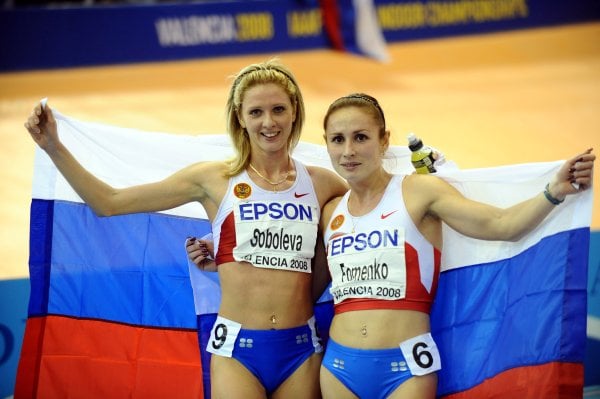 Photo by Jiro Mochizuki
Photorun.net
---
Runner's World &
Running Times



Combined Only $22
a Year
Save $87

---

Running & Track and Field Posters
---

Running Shoe Savings: Nike Lunar Glide 20% Off Super popular shoe from Nike featuring Flywire and Lunar Foam
---