2023 NCAA XC Breakdown: Tuohy's Heroics, Valby's Historic Season, OSU Dethrones NAU, & More
Tuohy did not get the repeat individual title but today's gutsy run may have been her finest hour
By
Jonathan Gault
EARLYSVILLE, Va. – The 2023 NCAA Cross Country Championships, held on Saturday at the University of Virginia's Panorama Farms Course, delivered exactly what we have come to expect from one of the best events on the racing calendar: individual excellence, dramatic team races, and a grand stage on which the future stars of distance running are allowed to shine.
There was something for everyone on a gorgeous fall morning in central Virginia. Individual greatness? May we present Florida's Parker Valby, who capped one of the greatest seasons ever by a collegiate distance runner with a dominant 18:55.2 performance over the 6-kilometer course. Her winning margin of 10.6 seconds over Alabama's Doris Lemngole was the largest since Texas Tech's Sally Kipyego won by 16.9 in 2007.
Back-and-forth racing? The men's race had plenty of it, and while Harvard's Graham Blanks referred to himself as a "dumbass" for responding to every single move from a loaded front pack, he was so darn strong it did not matter. Blanks still had enough in the tank to make a move of his own with one kilometer remaining, dropping two-time World U20 medalist Habtom Samuel of New Mexico to become the first Ivy League man to win an NCAA XC title.
Rivalries? We have a good one on our hands now as the Oklahoma State men, devastated to lose the team title via tiebreaker to Northern Arizona a year ago, are headed back to Stillwater with their first championship since 2012. The 2023 NAU squad was one of the Lumberjacks' strongest of their dynastic run, scoring 71 points – fewer points than five of NAU's six title teams in the last eight years. But OK State, bolstered by the addition of Kenyan freshmen Denis Kipngetich (4th overall) and Brian Musau (8th) were even better, scoring just 49 points – the lowest score by an NCAA men's squad since Wisconsin's 37 in 2005.
But we may have buried the lede. If there was a defining image of this NCAA championship, it was Katelyn Tuohy, in what may have been her final collegiate race, willing her North Carolina State Wolfpack to a third straight team title. NC State had already been dealt a cruel blow on Wednesday when Kelsey Chmiel, a three-time top-10 finisher at this meet, was ruled out with a lower leg injury, leaving the Wolfpack in an uphill battle against a #1 NAU squad that had beaten them by 43 points at last month's Nuttycombe Invitational. 
Things grew even darker when Tuohy, the reigning champion, came down with illness the day before the meet. Tuohy decided to run but knew a repeat individual title was unlikely.
"I was afraid that [she] wouldn't get through the race today," NC State coach Laurie Henes said. "I can't imagine for her individually how tough this was."
As Valby ran away with it up front, Tuohy put herself in the chase pack, and at halfway she was 5th with NC State narrowly ahead in the team battle, 117-122 over NAU. Then, Tuohy began moving backwards. By 4k, she was 11th, and with no Chmiel, NC State had no margin for ever. Tuohy, despite running at less than 100%, battled back like a champion, passing six women over the final two kilometers to finish 5th overall. The Wolfpack would need every one of those points as they edged NAU, 123-124, to win their third straight title (the tiebreaker would have gone to NAU, so NC State needed to win outright).
Tuohy has won four NCAA individual titles across track and cross country, but considering how she was feeling and what NC State was up against, this may have been her greatest moment in a Wolfpack uniform. What a way to go out, if this was indeed Tuohy's final collegiate race (she is expected to turn pro ahead of the 2024 track season).
Article continues below player.
"I can't imagine a braver race for her to have run today, to stay in there and pass those people," Henes said.
Below, five takeaways from a terrific day of racing in Virginia.
#1 NC State pulls it out in a thriller
The women's race had echoes of the men's race in Stillwater a year ago. Like the NAU men last year, the NC State women were chasing a third straight title. And like last year's men's race, the women's race at Panorama Farms was one of the closest in meet history – this was just the second time the NCAA women's title had been decided by one point, after #12 Oregon's victory over Michigan in 2016.
Prior to today's meet, OK State coach Dave Smith said that one of his biggest takeaways from falling short against NAU last year was that "if you're going to beat the champ, you've gotta knock them out." That adage proved true in the women's race this year as well. NAU, seeking its first women's title in program history, did not have its best day today as Elise Stearns (4th at NCAAs last year and 4th at Nuttycombe this year) was only 20th and Aliandrea Upshaw (12th Nuttycombe) was just 57th. That left Gracelyn Larkin (13th) as NAU's #1 runner, and that lack of a true low stick – only four teams in the meet's 43-year history have won without a top-10 finisher – left NAU vulnerable. Going into the meet, Henes thought it would take under 100 points to win. Instead, 123 was enough to get it done, the highest winning score since Oregon's 125 in 2016.
A one-point victory in cross country is always a team effort and the list of heroes on NC State extends well past Tuohy. Here's who got it done for title #3:
Amaris Tyynismaa (25th, 19:55.3): An Alabama transfer, this was the first cross country race Tyynismaa had finished for the Wolfpack. A stress reaction in her fibula caused her to miss training time over the summer, but after DNFing ACCs and regionals, Tyynismaa, who was 3rd at NCAA XC in 2020 and 9th last year, stepped up when the team needed her.
Samantha Bush (28th, 20:00.7): Last year, Bush passed 20 women over the final kilometer to clinch the title for the Wolfpack. Today, she came up clutch again and passed 14.
Leah Stephens (43rd, 20:08.2): Chmiel's absence placed a lot of pressure on the true freshman Stephens, who was struggling badly down the stretch but held things together just enough to deliver the win. She went from 30th to 43rd over the final kilometer – but crucially, not 44th. Three runners were credited with finishing times of 20:08.2 – Stephens, Leane Willemse of Wisconsin, and Yasna Petrova of Cal Baptist. Stephens beat both of them by hundredths; had either of them passed her, NC State would have lost.
Grace Hartman (63rd, 20:24.4): A redshirt freshman running her first NCAA meet, Hartman likely would not have scored for the Wolfpack had Chmiel been healthy, but she stepped up when called upon.
We are used to seeing Tuohy power across the finish line victorious, but her illness and six kilometers of hard racing left her totally spent, and she received medical attention soon after finishing the race.
A teary Katelyn Tuohy is supported by coach Laurie Henes after learning NC State has won its third straight NCAA women's cross country title pic.twitter.com/8cdiVj6MjG

— Jonathan Gault (@jgault13) November 18, 2023
Tuohy would ultimately end up in the medical tent (she declined an interview request from LetsRun) but before that, she snuck out from the finish area to find Henes, who was monitoring the scores on the video board next to the finish line. An official told Tuohy NC State had won, but as she found Henes, she still could not quite believe it. As the two shared a long, embrace, Tuohy apologized for not running better.
"She thought we might have lost and she thought that because she didn't get two or three more people," Henes said. "She said, I'm sorry."
No apology necessary. Tuohy and the rest of her NC State teammates did their job, closing out a third straight title with a true champion's performance.
#2 Parker Valby puts the finishing touch on a season for the ages
It is difficult to compare cross country performances across eras given the different course lengths and conditions (a "6k course" could mean anything from 5500m to 6100m). But Parker Valby's 2023 campaign belongs firmly in the discussion of the greatest seasons by a collegiate distance runner. Here is what she did in her four races this fall:
| | | | | |
| --- | --- | --- | --- | --- |
| Date | Meet | Time | Winning margin | Note |
| October 13 | Nuttycombe Invite | 19:17.2 | 12.3 secs | Course record in terrible weather |
| October 27 | SEC champs | 18:37.5 | 33.7 secs | Course record |
| November 10 | NCAA South regional | 17:59.6 | 3.1 secs | Course record |
| November 18 | NCAAs | 18:55.2 | 10.5 secs | Course record; largest win margin since '07, first sub-19:00 at NCAAs |
Four races, four course records. Almost every top NCAA athlete of the last decade has run the Nuttycombe course, and Valby has the fastest time despite running on a windy, rainy course this year. She also beat reigning NCAA champion Tuohy in that race by 12.3 seconds and the rest of the field by 35.7 seconds. At SECs, Valby beat the eventual NCAA runner-up, Doris Lemngole of Alabama, by 33.7 seconds. And she was completely unchallenged today after taking off at 1k, with her lead growing as large as 20.6 seconds at 4k before Lemngole closed it to 10.6 at the finish after Valby picked up her first-ever side stich in a race at 5k.
Valby was already an NCAA champion on the track heading into the season, but she has reached an even higher level this fall. We've heard Valby will be among the women taking a crack at a fast 5k at Boston University on December 2 and it would not shock us if she becomes the first collegiate women to break 15:00.
The most incredible thing about Valby is that she typically only runs two or three days a week – she'll do workouts on the ground but spend the rest of the week cross-training, particularly on her beloved Arc Trainer. Valby said that by cranking up the resistance and incline, she can do a good job of simulating hilly cross country courses. So dedicated is Valby to the Arc Trainer that she sought one out in Charlottesville to run on two days before the NCAA meet.
"I swear this Arc Trainer was from the 1940s or something," Valby said.
Valby admitted that when Will Palmer came to Florida from Alabama to replace Chris Solinsky as distance coach after the 2022 cross season, it was a "very rough" transition for her (she did not compete at the 2023 NCAA indoor meet due to injury). But Valby said she gradually came to trust Palmer and the results have been incredible.
"Once I started believing and trusting that everything happens for a reason and I started trusting Palmer, I obviously won two national championships," Valby said. "…He's a very established coach, I know that he knows what he's doing. I just have a very different approach to training. We work very well together now, and I'm very grateful for him and Sam [Palmer, Will's wife and fellow Florida coach]."
#3 Oklahoma State reloaded to win its first title since 2012, and they are going to be hard to beat moving forward
In the aftermath of last year's NCAA championships, it looked like Oklahoma State could have missed its shot. NAU was returning its top four, including the 2nd and 3rd place runners overall, Nico Young and Drew Bosley. OSU, meanwhile, was losing #2 man Isai Rodriguez (8th overall). Northern Arizona then strengthened their squad by adding grad transfer Aaron Las Heras (26th last year) from Wake Forest giving them five returning All-Americans. They were going to be tough to beat.
Meanwhile OSU coach Dave Smith was still scrambling to put together his team this summer.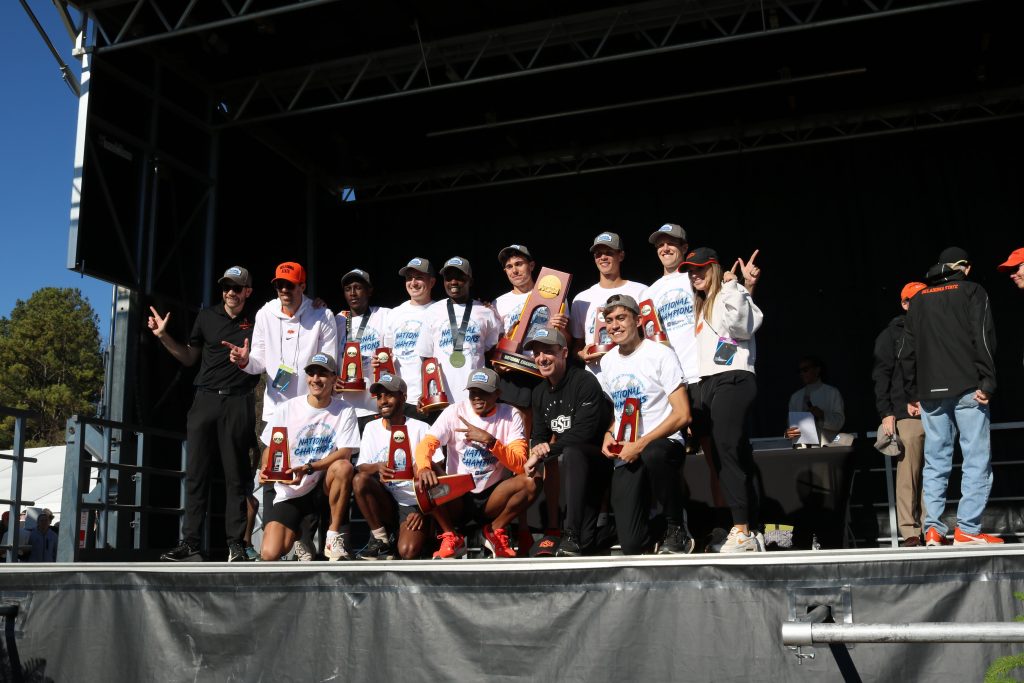 "We had another athlete we thought was coming who at the last minute did not come, basically in July," Smith said. "And then we had another athlete we thought was returning (Rory Leonard, 32nd at '22 NCAA XC), who in July called and told me he was not returning. And so all of a sudden, I had money available and holes in my roster."
It's hard enough to find one guy who can step in and finish in the top 10 at NCAAs as a freshman. Smith found two in Denis Kipngetich and Brian Musau.
"I had some connections that had talked to me about Denis and Brian both, but that connection wasn't comfortable really committing that they were at this level," Smith said. "And in July, I said, I don't care. Whatever they are, wherever they are, I need them."
Kipngetich, who has run well against top senior competition in Kenya and ran 13:43 at altitude in February, looked set to have an immediate impact. Musau, more of a middle distance guy, was someone Smith thought might take two or three years to adjust. It wound up taking just over a month, as he ended the season as the Big 12 individual champ and a top-10 finisher at NCAAs.
"He came in and struggled for four or five weeks training and then just popped and he's been really good since," Smith said. 
Smith said that after trying a come-from-behind strategy at NCAAs last year, he urged his men to be more aggressive in 2023 because he knows that is how NAU likes to run. After trying a front-running plan at Big 12s this year, he decided to run it back at NCAAs.
"[We thought] well, it worked there, let's do it again," Smith said. "We don't have to be leading, but let's be with the leaders."
OSU wasn't at the very front early, but their live score was down to 54 points at halfway and would stay around there the rest of the way.
The result was a best-case scenario outcome for the Cowboys. Kipngetich, Musau, Fouad Messaoudi (NCAA 3k champ), and Alex Maier (5th last year) were all potential top-15 finishers and all finished in the top 15. 
The one wild card was Victor Shitsama. Shitsama has been a part of all four of OSU's recent podium squads, finishing 34th in 2020, 29th in 2021, 31st in 2022, and 12th today. But it was far from certain he would deliver today. Shitsama was 4th at the team's season opener at the Cowboy Jamboree, but his form dipped during the middle of the season (he was only 45th at Big 12s). As Shitsama began to struggle in practice, Smith said that he had him spend three weeks just doing easy running – no workouts – in order to get back on track. The plan clearly worked as Shitsama delivered his best race in an OSU singlet today. 
Thanks in part to Shitsama's clutch run, the 2023 OSU squad – featuring Kenyans Kipngetich, Musau, and Shitsama, Moroccan Messaoudi, and Texan Maier – will go down as one of the best in recent history. Smith, who also coached OSU to championships in 2009, 2010, and 2012, said they had to be that good to dethrone the champs.
"We had to beat one of the greatest teams of all time in the NCAA, not just in cross country, but in all sports," Smith said. "To win six out of seven, be going for seven out of eight, NAU has raised the bar for everybody and said, now if you want to win, it's this level. And we had to go to that level."
This could be the start of something special for OSU as Kipngetich, Musau, Messaoudi, and Shitsama all have eligibility remaining. Only Maier will graduate, but Ryan Schoppe (3:37/7:41/13:37, 53rd '22 NCAA XC) redshirted this year and will be back next fall. Oklahoma State is the early favorite for 2024, but as we saw this year, things can change quickly in this sport.
#4 One of the best NAU teams ever forced to settle for second behind "historic" OSU squad
Northern Arizona coach Mike Smith was far more jovial after the race today than one would expect from a coach who brought two #1-ranked teams to NCAAs and left without a title. And while the one-point defeat on the women's side will sting, Smith was justifiably proud of his men's team on Saturday. The fact is, this team ran better at NCAAs than five of NAU's six title teams. Heck, in the last 17 years, only three teams – 2014 Colorado (65), 2020 NAU (60), and 2023 OSU (49) – scored fewer points than NAU did today. 71 is a great score for a winning team. The Lumberjacks just happened to run into a buzzsaw.
"I told [my team] we were going to be between 80-120 [points today], something like that," Mike Smith said. "That outdid my prediction. They were fantastic. That's one of our best races ever at the national meet. We got beat by a historic team. They were lights-out."
Mike Smith also paid tribute to Dave Smith after the race, saying it was an honor to do battle against him and his team.
"When I got into college coaching, Dave was on his run," Mike Smith said. "I remember thinking, shoot, that's the coach I want to be like. What they're doing is phenomenal. He's one of the best coaches, they've got tremendous athletes…There's an NAU without Coach Smith. I don't know if there's an Oklahoma State without that Coach Smith."
#5 Graham Blanks said he made plenty of "dumb moves," but his biggest one paid off
One year ago, Nico Young, Drew Bosley, and Charles Hicks took off early in the NCAA championship and never came back. Blanks was 6th in that race and was determined not to get gapped this time around. He said he felt there were multiple occasions in the race where he was the only one responding to a move and was worried he had wasted mental and physical energy.
"You don't want to make a move and then just come right back to the pack when I could have just sat in the pack the entire time," Blanks said. "I think that happened one or two times. Honestly, I'm not sure if it actually has that much physical consequence, [maybe] it's just in my head."
Blanks said that as soon as he saw the NCAA course map a few weeks ago, he knew he wanted to make his move from 1k out, and that is how he has prepared in training. Blanks does not have the reputation as a kicker like Ky Robinson, but he showed at Nuttycombe (with just over 400 to go) and today that he can make the sort of hard, sustained move necessary to win big-time cross country races.
"What he has done and what we've worked on is to learn how to wind the last 1000, the last 1200," Gibby said. "I don't think he's classically fast, but he can change gears like nobody's business."
Harvard is not a traditional distance powerhouse – the men still have not won a Heps cross country title since 1972 – but Gibby, now in his seventh year in Cambridge after stints at William & Mary, Michigan, and Charlotte, has taken the program to new heights since coming on board in 2017. The men have finished 15th, 12th, 17th, and 15th at the last four NCAA meets (that's after qualifying just once from 1980-2018) and Harvard now has the NCAA men's XC champ and NCAA women's 1500 champ (Maia Ramsden, who was 10th in the women's race today).
As for Blanks, he took an untraditional path to the top of the NCAA. Coming out of Athens (Ga.) Academy in 2020 with a 9:04 3200 pb, Blanks said he wanted to go to a strong academic school.
"I wasn't sure how running would play out so I wanted to at least get into a school that I wouldn't have been able to otherwise," Blanks said. "And Harvard, I certainly would not have been able to get into without running. So really grateful for the admissions office for letting me in."
But before he arrived in Cambridge, Blanks had a decision to make. Blanks' freshman year of 2020-21 fell during COVID and he would not have had full in-person classes at Harvard. The Ivy League also announced that it would not be holding championships in any of its sports that year. The day before the deadline to enroll, Blanks received a text from Harvard runner Acer Iverson that most of the distance team would be taking a gap year. Blanks elected to join them at the last minute.
"That made for a stressful 12 hours with my parents, but I think we made the right decision," Blanks said.
Effectively, Blanks gave himself a redshirt year on (figurative) steroids (altitude). He was able train with his future teammates, with coaching from Gibby, at altitude (Fort Collins and Flagstaff) and without the stress of classes. Blanks ran 13:27 for 5,000 at the end of that gap year in May 2021 and entered NCAAs that fall far more prepared than a typical American freshman (or redshirt freshman). Now he's the youngest American to win the NCAA XC title since Dathan Ritzenhein 20 years ago. The sky is the limit moving forward.
More post and pre-race interviews can be found on our youtube page.
Be a fan and talk about 2023 NCAA XC on our messageboard / fan forum.
Talk about the race on our messageboard.
*2023 NCAA Men's Flash Recap
*2023 NCAA Women's Flash Recap
*Complete 2023 NCAA XC Coverage