Parker Valby Dominates as NC State Three-Peats Thanks To An Epic 1-Point Win
The much-anticipated women's NCAA cross country championship lived up to the hype
By
LetsRun.com
EARLYSVILLE, Va. – The Parker Valby – Katelyn Tuohy rematch proved to be no contest as Florida's Parker Valby laid waste to the 2023 NCAA Women's Cross Country Championship field and won her first NCAA Cross Country title in 18:55.2, but Katelyn Tuohy and #2 NC State surprisingly got the three-peat in the team battle as they edged #1 Northern Arizona by a single point 123-124.
The Race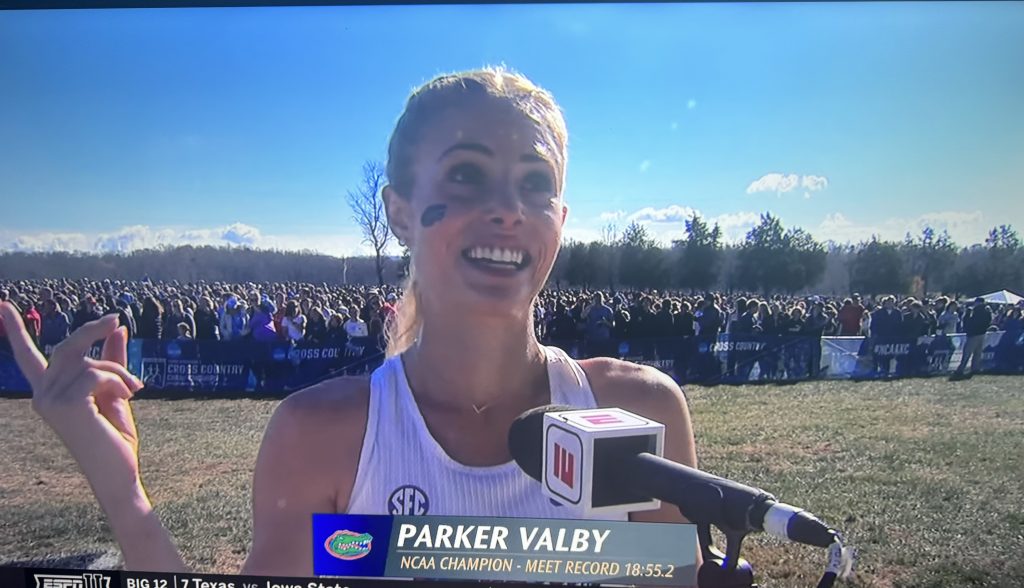 Boxed in at the start, Valby took a couple of minutes to work her way to the front of the NCAA women's field but once she got to the front she threw the hammer down. She led by 1-second a 1k, 9-seconds at 2k, 18-seconds at 3k and 20.6 seconds at 4k. Around 5k, Valby picked up the first side-stitch of her life in a race but she still led by 18.1 seconds and this one was never in the doubt. In the end, Valby won by double digits – 10.5 seconds over Alabama freshman Doris Lemngole of Kenya.
Last year's champion, Katelyn Tuohy was near the front of the chase pack through 3k but surprisingly faded all the way back to 11th at 4k. After the race, we'd learn she was battling illness but Tuohy did not give up as NC State was battling for the team crown, even though they were without the injured Kelsey Chmiel, who was 3rd overall last year.
Tuohy rallied, moving up to sixth at 5k and fifth (19:23.0) at the finish and NC State would need every single one of those points to three-peat. Behind Tuohy, Amaris Tyynismaa finished her first race of the year in 26th, Samantha Bush  passed 14 runners in the final 1k to finish 28th, while freshman Leah Stephens held on for 43rd (losing 13 spots in the last 1k) and freshman Grace Hartman finished the scoring off in 63rd to give the Wolfpack a 1 point win over Northern Arizona which almost came from behind to win.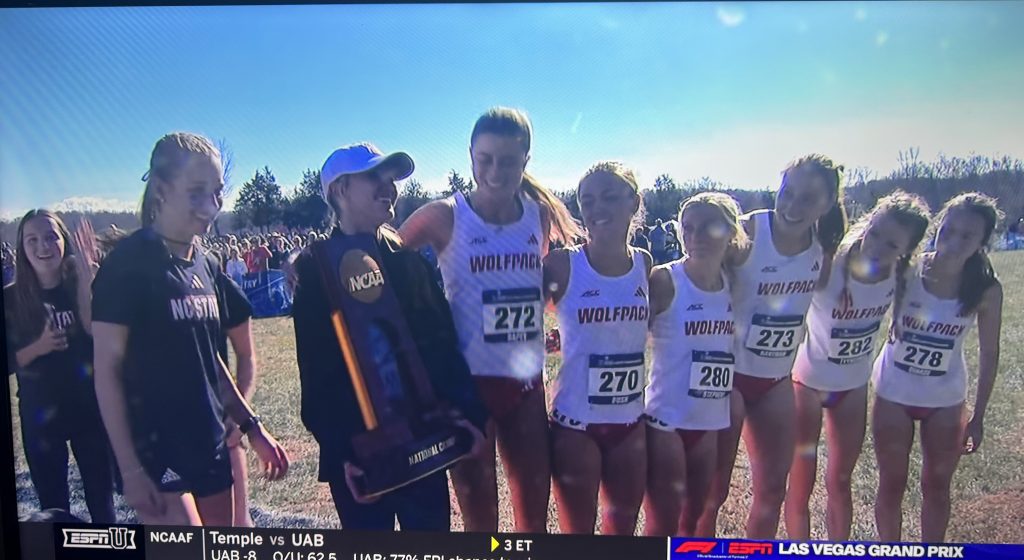 In the end, NAU went 11, 13, 15, 41, 44 to score 123 – just 1 point too many. NC State led by 12 at 4k and 8 at 5k. 
"There's just been so much adversity in the past few weeks, but we talk about it a lot — being able to manage your emotions and the stress at this time of the season and they just did t remarkably today," said NC State Laurie Henes. "I don't think I ever thought they were out of it (NCAA title contention due to Kelsey Chmiel's injury).  At the coach's press conference last year, they asked everyone would you rather be the favorite or the underdog and every coach said underdog. So you know, we kind of felt like we just had a different role coming in but they stepped up and just executed each one of them amazingly for each other." *Full results here.
Article continues below player.
A teary Katelyn Tuohy is supported by coach Laurie Henes after learning NC State has won its third straight NCAA women's cross country title pic.twitter.com/8cdiVj6MjG

— Jonathan Gault (@jgault13) November 18, 2023
This is a flash recap. Our analysis of the meet can be found here: 2023 NCAA XC Breakdown: Tuohy's Heroics, Valby's Historic Season, OSU Dethrones NAU, & More Tuohy did not get the repeat individual title but today's gutsy run may have been her finest hour in what may have been her final race for NC State. Our Jonathan Gault breaks it down in 3,000+ words.
Check out our many post-race interviews up on youtube. Also, be a fan and talk about the meet on our world-famous fan forum / messageboard.